More than 36 tons of face masks was shipped overseas from HCMC within one week even though the domestic market is falling short of the product and the Government is finding ways to shore up mask supplies.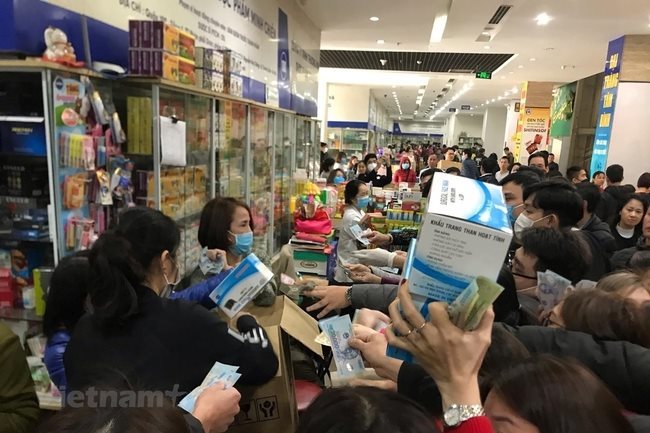 A big crowd of people are seen elbowing one another to buy face masks at the Hapulico Medicine Market in Hanoi in this file photo. Over 36 tons of masks was shipped overseas by air from Tan Son Nhat International Airport within one week
The customs agency at Tan Son Nhat International Airport said it had completed procedures for the outbound sales of over 36 tons of masks from January 30 to February 4.
Most of the masks were exported to China where the coronavirus outbreak is raging, while the remainder went to Singapore and Malaysia.
As the flu-like virus is spreading, the Ministry of Finance has proposed a pricing control system for face masks and hand-sanitizing gels.
Last week, Minister of Finance Dinh Tien Dung signed a decision exempting several hygiene products from import tariffs in the fight against the viral epidemic.
The list of products includes medical face masks, liquid handwash and the materials needed to produce them as well as protective gear, helmets, goggles and gloves approved by health authorities. The exemptions will last until the end of the epidemic.
Mask prices have been soaring across the country, and drugstores are running out of supplies as locals are seeking protection from the deadly pneumonia-causing virus.
Local mask manufacturers are running at full capacity but are struggling to source raw materials since China has banned exports as it seeks to contain the spread of the virus.
The Ministry of Finance has proposed Prime Minister Nguyen Xuan Phuc assign the Ministry of Health to seek out import sources for masks to meet the domestic demand. SGT

At Dong Xuan Knitting stores throughout Hanoi, crowds of people have been seen queueing up in recent days as they try to purchase face masks to combat the novel coronavirus (nCoV) epidemic.

A pharmaceutical company in the Central Province of Thua Thien-Hue has been slapped with a fine worth VND50 million (US$2,140) after being caught selling a box of face masks at VND200,000 ($8.5), about four times higher than the regular price.