The food delivery apps are becoming familiar with Vietnamese people.
Food delivery apps have become more important for both business owners and their customers as more people order takeout during the coronavirus pandemic in Vietnam.
According to a survey conducted by Q&Me in December, with the participation of about 1,000 people aged 18 to over 30, more than 80% of respondents said they used to order online through food apps. Hanoi takes the highest ratio of people using social media to order food, while Ho Chi Minh City use apps more.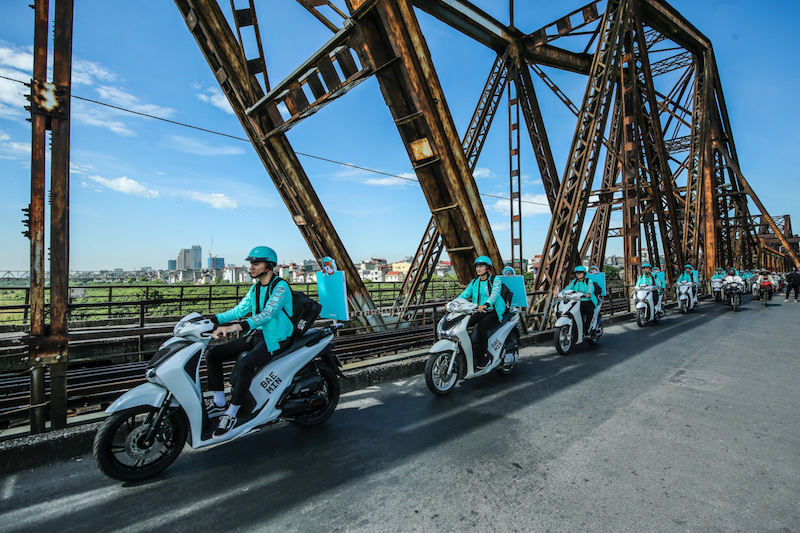 Baemin showed the biggest growth in terms of number of delivery usage during April-December.
The survey showed that besides time-saving and food variety, the Covid-19 pandemic has accelerated the usage of online food delivery. More than 80% are satisfied with app delivery and quick delivery, in addition to attractive promotion which is seen a factor satisfying people most.
However, high shipping cost are the reasons for dissatisfaction among the respondents. 
Vietnam's food delivery market is estimated to reach a value of $38 million this year, according to market research firm Euromonitor. The food delivery app market is still in a growth phase, albeit from a very low base and at a speed that is good but not phenomenal.
Major players
Grab Food and Now (Singapore) lead the food delivery app market in Vietnam, followed by other main players such as Baemin and Go Food (Indonesian decacorn Gojek). Among the players, Baemin showed the biggest growth in terms of number of delivery usage during April-December, according to the latest survey conducted by Asian Plus Inc.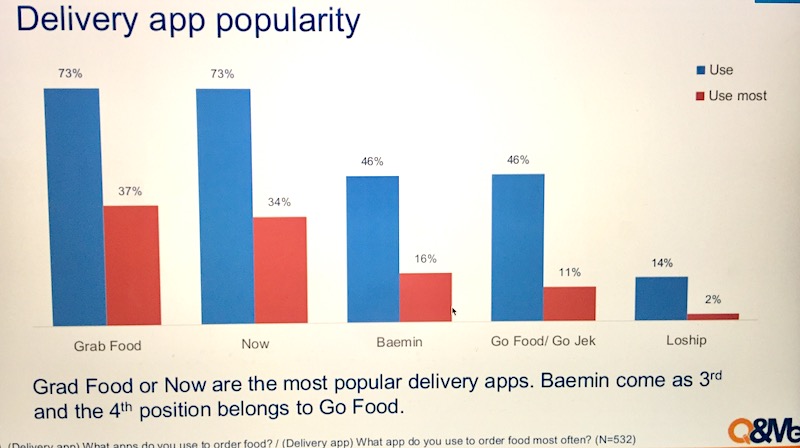 Source: Q&Me 2020. Screenshot: Nhat Minh
According to Q&Me survey in December, 73% of respondents used Grab Food and Now to order food. However, the percentage of respondents ordering through Grab Food is higher than those using Now.
Baemin, the South Korean player funded by Woowa Brothers tech unicorn, caught up with Gojek in terms of number of usage (46%) and even surpassed its rival to gain the number of people who order most often (16%). 
The survey also revealed that Grab Food is more popular among the elderly while Baemin is chosen most by the young people. It is also the most frequently used in Ho Chi Minh City - one of the two largest cities in Vietnam. Now is more favored by women and in Hanoi.
Regarding app satisfaction by brands, Baemin (with 93% respondents) has highest satisfaction score followed by Grab Food (81%), Now (81%), Go Food (82%).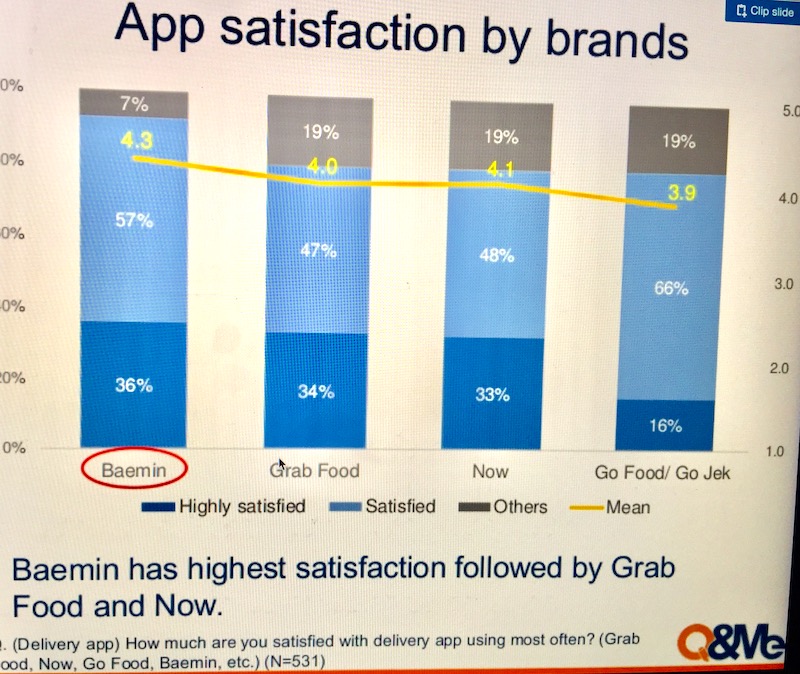 Source: Q&Me 2020. Screeshot: Nhat Minh
On the same view of the results, Mr. Hoang Tung, founder/CEO of Pizza Home, said that the findings about Grab Food and Baemin are quite correct. Particularly, the South Korean app only focuses on serving inner districts for better optimization, including the reduction of delivery time. 
The South Korean player entered Vietnam in 2019 and took over the customer base of Dutch-owned Vietnamm app - one of the pioneering players in the sector in 2011, after the acquisition of the latter. The customers of Vietnamese app are mainly expats living in Hanoi and Ho Chi Minh City, particularly, at least there are more than 100,000 Korean expats living in Vietnam.
"Currently, Baemin took over Go Food in the competitive food delivery market," Mr. Tung said.
Meanwhile, taking relatively cautious steps in Ho Chi Minh City and then in Hanoi, Baemin is in the process of burning cash and handing out a lot of vouchers to new customers. "As a result, customers prefer Baemin because there are more promotions for customers," Mr. Tung told Hanoitimes.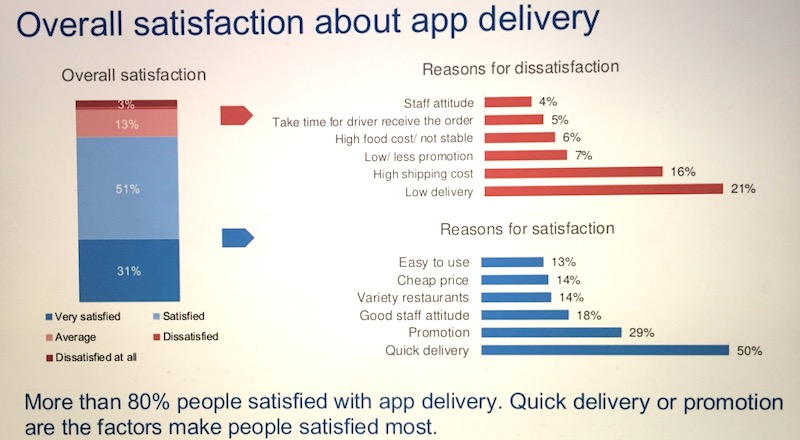 Source: Q&Me 2020. Screeshot: Nhat Minh
However, to take over Grab Food, Baemin would have to make great efforts. There are two critical differences between two players, according to Ms. Doan Kieu My, founder of YellowBlocks - a Vietnam tech gateway. 
My said Grab is a 'super app', which offers ride-hailing, parcel delivery and other services. This has allowed Grab to acquire and retain customers at a much lower cost, and also offer more value to its network of delivery riders. 
Grab also invested "hundreds of millions" into Moca, a mobile wallet. The addition of payment allows the company to form a full ecosystem, which is not only more cost-effective, but much more defensible compared to a company that does only food delivery, she said.
"Promotions would drive volumes up very quickly, and after promotions, everything goes back to the original volume, instead of clinging to a higher level," My added. Hanoitimes
Nhat Minh

Continuously launching promotion programs and promising 'free shipping', fast food delivery apps have been trying every possible means to win customers' hearts.