While several sectors are being hit by the coronavirus outbreak, the pharmaceutical and healthcare industry is taking an advantage, with numerous expansion strategies among players being placed in the gun barrel.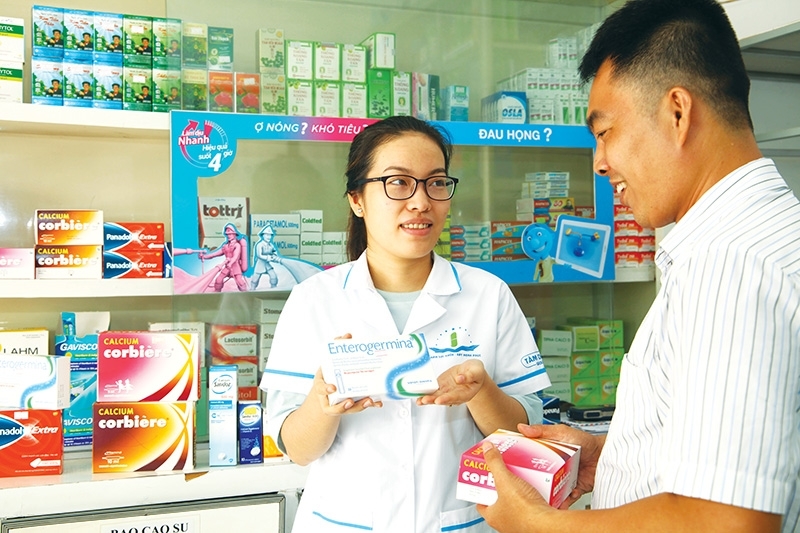 Pharmaceutical firms are among the few who could profit from recent global events and are planning to extend operations further 
 

According to the latest report on the novel coronavirus (nCoV) crisis from BIDV Securities, there are positive signals for companies in pharmaceuticals and healthcare, with them expecting to be one of the beneficiaries from the outbreak. Conversely, aviation, oil and gas, tourism, and other sectors that consist of strong exports to China are set to suffer the most.
Shares of pharmaceutical firms have gained in recent days, with Imexpharm Pharmaceutical JSC (IMP), Hau Giang Pharmaceutical JSC (DHG), and OPC Pharmaceutical JSC being the most impressive. IMP, DHP, and Ha Tay Pharmaceutical JSC are gaining from an increase in demands for antibiotics, while Binh Dinh Pharmaceutical and Medical Equipment JSC and OPC Pharmaceutical JSC are benefiting from bactericides.
"The drug firms trading via the over-the-counter (OTC) channel and with a high rate of products related to the nCoV outbreak will gain as local demands are growing," the report stated.
IMP, DHG, OPC, and Traphaco JSC are among the biggest drugmakers in Vietnam. Traphaco now has one distribution company and 28 distribution branches, while DHG has 37 distribution branches and OTC is one of their main business lines.
In addition to growing demands, the government's newly-approved policy that gives an exemption from import duty for medical masks, materials for local healthcare mask production, and water disinfection to further efforts to prevent and fight against the nCoV outbreak will become another boon for those trading these products.
A representative of Dai Uy Pharmaceutical JSC, which produces masks, said that it has about six quintals of filters for gauze mask production. If its factories run at the maximum capacity of three shifts a day, they can produce nearly 100,000 units on a daily basis. However, this means they will run out of filters within the next 10 days.
In this trend, along with domestic drug makers, multinational corporations (MNCs) are also earning an advantage. 3M Vietnam, established in 1994 as a leader in personal protective equipment, has been growing steadily in the country. In recent days amid the nCoV epidemic, 3M-branded gauze masks have been the most sought-after in Vietnam. "3M is increasing global production of respiratory protection products as quickly as possible in response to the outbreak," a representative of 3M told VIR.
Novartis, Sanofi, GSK and Pfizer, which are the leading producers of medicines and vaccines, are also important players in the medicine supply chain. "The epidemic does not affect our operations in Vietnam. We are working to ensure the supplies of brand-name drugs and necessities for patients," said Roeland Roelofs, country president at Novartis Vietnam.
In 2019, the value of Novartis medicines in Vietnam reached more than $120 million.
To expand in Vietnam, Novartis last month inaugurated its new legal entity in the country, Novartis Vietnam Co., Ltd., becoming one of the first MNCs in the country to successfully transform from a representative office to a foreign-invested enterprise importer. This new move will enable the firm to ship more branded drugs to Vietnam.
Similarly, at a regional and global level, Sanofi is currently leveraging its unique expertise in infectious diseases to help China and the rest of the world combat the emerging outbreak.
"At this moment, our focus is ensuring there is no discontinuation in the production and distribution of our medicines and vaccines in China by closely monitoring the situation," said Haissam Chraiteh, general manager of Sanofi Indochina.
After 50 years of presence in Vietnam, Sanofi developed a leading position in the national pharmaceutical market. In 2019, Sanofi made a significant contribution to developing the local healthcare industry by providing around 50 scientific training sessions, offering integrated care solutions to help millions of Vietnamese patients prevent and treat ailments, and bringing millions of vaccine doses to help protect adults and children from infectious diseases.
Last year also marked an important one for Sanofi after it received an import license from the Ministry of Health, thus enabling it to ensure and stabilise product supply to Vietnamese consumers.
Vietnam is now open to receive many kinds of branded pharmaceuticals and vaccines produced in third countries. MNCs tend to produce branded drugs and vaccines in related nations to reduce costs and to tap into local advantages and Vietnam, where drug spending per capita rose 10.6 per cent on-year in 2018, and is forecast to increase further in the coming time.
With two-digit growth forecast in the next five years, reaching an estimated $7.7 billion in 2021 from the current $5 billion, Vietnam's lucrative pharmaceutical industry continues to be on the radar of many MNCs.
Vietnam is likely to see strong business and investment activities from such groups in the near future, driven by the enforcement of the EU-Vietnam Free Trade Agreement. VIR
Bich Thuy

Pharmaceutical stocks are experiencing an upsurge as fears of coronavirus have boosted demand for healthcare products and services, lifting demand for shares.  

Vietnam's pharmaceutical market has a lot of potential coming from the demographics, rising income and priority policies of the government.