With the current low prices, farmers will take a loss of VND2 million when selling a pig. If the prices keep decreasing, farmers will give up farming, resulting in pork shortage for Tet (lunar New Year) sale season.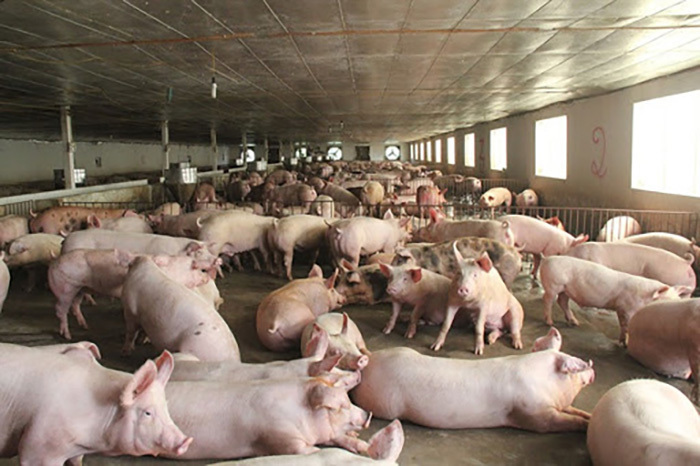 More than 10 days ago, Nguyen Cong Bac, the owner of a pig farm with 10,000 pigs in Son La, had to sell pigs at VND42,000 per kilogram of live weight, which made him incur big loss. And he sold another 600 pigs on October 6-7 at VND36,000 per kilogram only.
"With the current price, I take a loss of VND2 million for every pig sold," Bac said. "The households farming in small scale would incur a bigger loss, VND2.5 million per pig."
Meanwhile, the prices are continuing sliding. In the north, the prices are between VND36,000 and VND42,000 per kilogram. In the central region, the price is VND40,000-43,000 and in the south, the figure is VND42,000-45,000.
These are the lowest price levels since late 2019, when ASF epidemic appeared for the first time in Vietnam.
According to the Ministry of Agriculture and Rural Development (MARD), the total herd of pigs in the country has increased by 3.8 percent compared with 2020, raising the total amount of live weight pork to VND3.06 million tons, up by 5 percent compared with the same period last year.
The herd is gradually recovering from ASF, but farmers are facing difficulties as animal feed prices have increased by 16-30 percent since late 2020, while pork prices have been decreasing since late April because of the demand decrease.
Nguyen Van Trong from MARD confirmed that pork prices are decreasing because of the sharp fall in demand in large markets. The husbandry sector is under pressure because of the disruption of the supply chain during Covid-19. Meanwhile, the transportation cost increase has led to a big difference between the prices of pigs at farms and the prices of pork at retail markets.
Trong warned that as farmers incur big losses, they are reluctant to re-herd.
"If things keep going this way, the possibility of pork shortage for Tet sale is very high," he said, adding that it would take 40 days only to re-herd fowls, but it would take six months to have merchandise pigs to launch in the market.
Therefore, local authorities need to support pig farmers to re-herd and avoid farming interruption. It's also necessary to create favorable conditions for the transport of pigs, animal feedp, breeding and merchandise pigs. Commercial banks should extend debt payment deadline or freeze debts to help farmers keep farming.
MARD said it is working with livestock companies on re-herding pigs to ensure sufficient pork supply for the year-end sale season. 
Chau Giang

The price of live pigs is from VND47,000 to VND49,000/kg in some northern provinces and VND48,000 to VND52,000/kg in the central and southern regions, a strong drop compared to the previous months.  

Despite disruptions from the COVID-19 pandemic, higher feed costs and lower meat prices, livestock companies in Vietnam still recorded positive...