Despite a small supply of new projects at rather high prices, both investors and experts are optimistic about the prospects of this market – with good reason.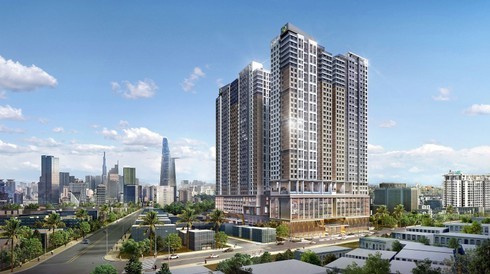 Being rolled out since the end of 2018, The Grand Manhattan is one of few projects in District 1 achieving impressive sale performance
The improving infrastructure, the rise of the Vietnamese middle class, and the arrival of rich foreign people are expected to give the market a new push in the near future.
Short supply, rising prices
A recent report by the Ho Chi Minh City Real Estate Association (HoREA) showed that the municipal city's real estate market was on a declining trend in the first nine months of 2019. Meanwhile, the market witnessed a scarcity in housing supply in the central business district (CBD) despite high residential demand.
Nguyen Hoang, director of DKRA Vietnam's R&D Division, said that real estate products in the CBD remain in limited supply. Land bank in the CBD are becoming scarce compared with District 2, or the southern and western areas of the city.
Another reason is the local authorities' tight control over granting licenses for new housing projects in the CBD to relieve population pressure on transportation, electricity, water, and infrastructure. Due to the scarcity, most projects in the CBD are luxury apartments and office buildings as investors aim to make the most of the land fund in the city centre.
"Real estate prices in the CBD are continuously increasing and are set for a new record in the future. Meanwhile, high-end luxury projects achieve healthy take-up rates despite rather high prices," Hoang said.
On October 11, real estate information portal Batdongsan.com.vn released a list of real estate prices in Ho Chi Minh City, with the CBD on top. Specifically, premises in District 1 had the average selling price of VND490 million ($21,304) per square metre as of the third quarter. The price was around VND314 million ($13,652) in District 3, VND261 million ($11,347) in District 10, VND230 million ($1,000) in Phu Nhuan district, and VND189 million ($8,217) in Binh Thanh district.
Condominiums in District 1 have the average selling price of VND114 million ($4,956) per sq.m on the online platform. Meanwhile, the price is VND55 million ($2,391) in District 10 and VND50 million ($2,173) in Phu Nhuan district. The average selling price of apartments reached VND43-46 million ($1,869-$2,000) per sq.m in Tan Binh and Binh Thanh districts, respectively.
The survey indicates that this is only the average price online calculated from big data. As the market is experiencing a land fever and supply scarcity, the ceiling price of real estate across the Ho Chi Minh City varies at a very high level compared to the average price, at times twice as expensive and even higher.
Optimism about long-term prospects
Experts believe that prices for CBD real estate will rise in the future due to the shortage of supply and the growing demand for housing. To take advantage of the prime location, investors will build iconic projects in the CBD. This, coupled with the increasing land tax and input costs, will set new prices for CBD property in the coming time.
At the recent Real Estate Conference 2019 held by Forbes Vietnam in Ho Chi Minh City, Le Anh Tuan, deputy chief investment officer at Dragon Capital, said that the CBD real estate market in Ho Chi Minh City converges on four factors that are the pillars for the long-term, sustainable development.
These factors include the expanding middle class, a stable macro-economy, improved and new infrastructure, as well as rapid urbanisation due to high economic growth.
"In light of these factors, the real estate market is undergoing its longest growth cycle in the past 30 years. It has proved that in the past three years buyers were right to be optimistic and economists' pessimism was misplaced," he added.
In the high-end residential segment, according to Tuan, the market is "overheating". Housing prices in this segment have increased by 30-50 per cent compared in just 12-18 months. At the same time, the price gap between the primary and secondary markets was wide, between 30-50 per cent.
There are many reasons for "overheating" in the segment. The projects are ideal for foreigners and come at lower prices than those in developed markets such as Korea, Singapore, or China. Statistics from Dragon Capital show that about 30 per cent of the high-end residential projects are owned by foreigners. They see their property as a long-term investment. Most high-end projects are located in District 1.
Le Anh Tuan added noted that property developers may have had difficulties in raising capital in the last two-three years as real estate credit was tightened. However, the critical times may be over as property developers have been able to mobilize capital through bonds with reasonable capital costs. VIR

Ho Chi Minh City is named among top three markets for real estate investors in Asia-Pacific, according to a survey unveiled in Singapore on November 12.

Viet Nam's growing tourism industry and thriving economy have drawn interest in the country's hotel and resort market from investors across the region, making Viet Nam one of the most talked about markets in Asia Pacific.  

Vietnam's real estate market continues to attract foreign investors because of its growth potential, especially Korean investors, according to real estate consulting companies.