Saigon Co.op has officially taken over 18 Auchan supermarkets in the country after the French retail group announced its withdrawal last month from the Vietnamese market by selling its loss-making business.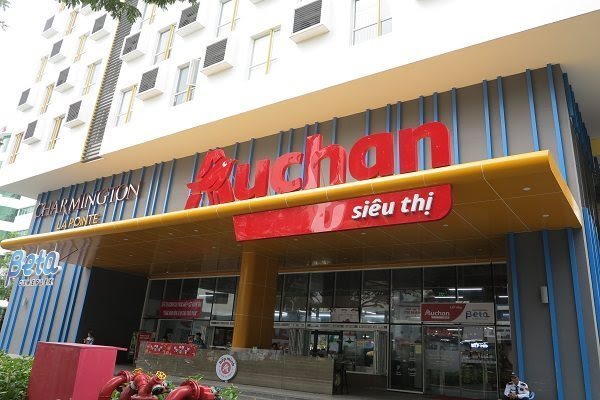 The Auchan supermarket at 181 Cao Thang in HCMC's District 10. Saigon Co.op will take over 18 Auchan outlets in Vietnam
Representatives of Saigon Co.op and Auchan Retail on June 27 announced that they had agreed on the transfer of Auchan's retail business in the local market. The cooperation agreement was signed the same day after a brief negotiation.
Given the deal, the local retailer will take over all operations of Auchan in Vietnam, including 18 supermarkets and its online business. Besides this, Saigon Co.op will manage the Auchan brand from now until the traditional Lunar New Year holiday in 2020, before beginning new negotiations.
Saigon Co.op also pledged to protect the benefits of Auchan member customers, who will be converted to Saigon Co.op members if they wish. The two retailers stated that they are willing to negotiate new cooperation opportunities in the future, according to Tuoi Tre Online newspaper.
Nguyen Anh Duc, deputy general director of Saigon Co.op, noted that Saigon Co.op will restructure the 18 Auchan stores and some will be shut down.
It will reopen the remaining stores under Saigon Co.op brands such as Co.opmart, Co.opXtra and Finelife. Most Auchan supermarkets are small and located in condo complexes, Duc remarked.
Before the transfer agreement was signed, Auchan Vietnam had closed 15 supermarkets and maintained the operations of only three: Auchan Crescent Mall and Auchan Era in District 7 and Auchan Hoang Van Thu in Tan Binh District. The retailer suspended its online business on May 16.
In May this year, the group announced its decision to sell its 18 stores in Vietnam after four years in the market. These Vietnam outlets generated revenue of 45 million euros in 2018.
Auchan Retail is the last European retailer in Vietnam, after France's Casino Group left the country in 2016 by selling its Big C Vietnam supermarket chain to Thailand's Central Group. Previously, Germany's Metro also announced the sale of its wholesale business in Vietnam and its related real estate portfolio to Thai company TCC.
Regarding the agreement, the representative of Saigon Co.op stated that the deal covers many issues. Neither party was willing to disclose the value of the transfer deal. SGT

The departures of the 24-hour convenience store chain Shop & Go, the e-commerce site Robins.vn and now the supermarket chain Auchan mirror the fierce competition in Vietnam's retail market. 

It is still unclear who will take over the Auchan chain in Vietnam, though the announcement about the departure was made many days ago.