Nine industries could be negatively affected in the short term by the fallout of the coronavirus epidemic, according to SSI Securities Corp.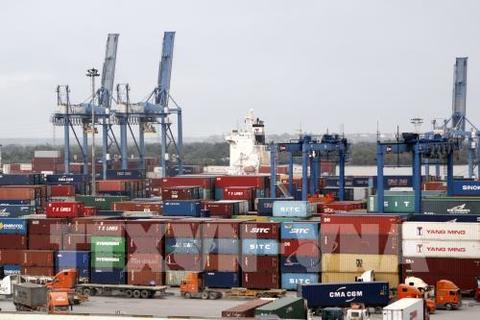 A seaport in HCM City. Ports are among nine sectors expected to be affected by the coronavirus in the short term. 
In its report on the impacts of the epidemic on 23 industries, SSI listed textile, retail, seafood, beer, oil and gas, securities, seaport - shipping, airport services, and aviation as the most vulnerable.
It said aviation would be most negatively affected because travel demand has plummeted, especially China-related tourism.
In 2019 Chinese national passengers accounted for 40 per cent of all arrivals in Viet Nam.
Freight transport from and to China is also set to reduce due to lower demand from Chinese consumers and limited production.
While there is no direct impact on the Vietnamese garment industry's exports since it does not export to China much, production is likely to be affected since many textile factories in China have been shut down and they are the biggest suppliers of fabric to Viet Nam.
The retail industry will be affected since people are wary of going to public places due to the coronavirus epidemic.
Beer consumption will face the same situation. The industry has already been reeling under the effect of Decree 100, which has exponentially increased penalties for driving under the influence of alcohol.
Seafood exports to China are also forecast to decline due to lower demand there. Last year the market bought 16.5 per cent of Viet Nam's seafood exports, including 16.1 per cent of shrimp and 33 per cent of pangasius exports.
For the oil and gas industry, the price of Brent crude ended 16 per cent lower on January 30, 2020, from a temporary peak formed earlier in the month. The fall in oil prices has been attributed to investor concerns about weakening oil demand in China.
The epidemic also had a negative impact on the psychology of securities investors in the short term, but the market is expected to immediately recover strongly when the disease is controlled, as has happened in the past.
With consumer demand in China negatively affected in the short term due to disease concerns, SSI said Viet Nam's exports to China would be adversely affected in the first quarter, thereby affecting ports' business.
SSI expected four industries to benefit from the epidemic: pharmaceutical, information technology, electricity, and water. It had a neutral assessment for 10 industries -- automobile, dairy, housing, industrial park real estate, banks, insurance, construction, steel, cement, and fertilisers.
Other experts pointed out that consumers would shift from traditional to modern trade channels and online shopping to ensure hygiene and safety.
Thus demand for e-commerce and express delivery services are also expected to increase sharply. — VNS

The new strain of coronavirus has killed nearly 500 people and infected more than 24,000 across the globe. Tran Duy Dong, director of the Domestic Market Department, speaks about its plans to ensure supplies of essential goods.

Minister and Chairman of the Government Office Mai Tien Dung mentioned two growth scenarios for the country amid the coronavirus outbreak, during a press conference in Hanoi on February 5 following the government's monthly meeting.