Instead of investing millions of dollars to build properties in HCM City's inner districts, real estate developers are renting properties and furnishing apartments and putting them up as mid-priced serviced apartments for rent.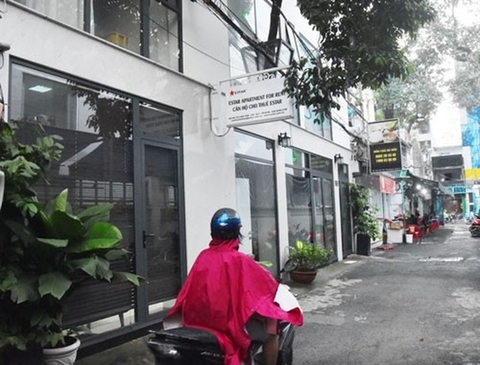 Serviced apartments in HCM City's District 3. — Photo nld.com.vn
A survey by Nguoi Lao Dong (Labourers) newspaper found a number of such serviced apartments available in places such as Districts 1, 3, 4, and Phu Nhuan with monthly rents of US$300-500.
A 30sq.m apartment on Nguyen Dinh Chieu Street in District 3 with a kitchen and washing machine, refrigerator and wifi costs $450.
For shorter terms, they cost up to VND900,000 ($38) per day.
A person who turned a three-storey building he rented on Vo Van Tan Street in District 3 said it was the third house he rented to lease out.
He pays VND60 million a month for it, and invested VND400 million to renovate and buy furniture before leasing it out.
With its six bedrooms, it is expected to fetch VND110 million per month.
Tran Huyen Nga, owner of a house on Nguyen Dinh Chieu Street in the same district, said she has refused to rent a new house she bought for VND18 billion (nearly $1 million) to a lessee for VND45 million.
Instead, she plans to turn it into a serviced apartment and get more than VND45 million.
Nguyen Hong Hai, CEO of Pax Land Real Estate Co. Ltd., said mid-priced serviced apartments have mushroomed in the last two years with average monthly rents of around $500.
These are targeted at relatively wealthy tenants who have to work in these areas for short periods, he said.
Recently, they have also been seen in suburban districts like Tan Binh, Binh Tan and Go Vap, he said.
"In the past few years, serviced apartments have been recognised as a safe and profitable channel for investment."
Nguyen Hoang, head of R&D at DKRA Viet Nam, said mid-priced serviced apartments are preferred by young tenants. While expatriates working for multinational groups usually prefer regular apartments in inner districts, the young tenants prefer comfortable mid-range serviced apartments which offer them privacy, instead of apartment buildings and boarding houses.
Most of them are in five- to seven-storey complexes built on smallish plots of land in inner districts. A complex could have seven to 30 units measuring 20-40sq.m and costing $350-$380 per month.
In suburban districts such as Binh Thanh and Go Vap, they could cost VND4-6 million for 20-40sq.m units.
Hoang said these are targeted at medium-income civil servants and workers who spend long hours at work. — VNS.
Theo bizhub.vn