Shares are forecast to rebound this week on the positive Q1 earning results and stable cash flow, analysts said.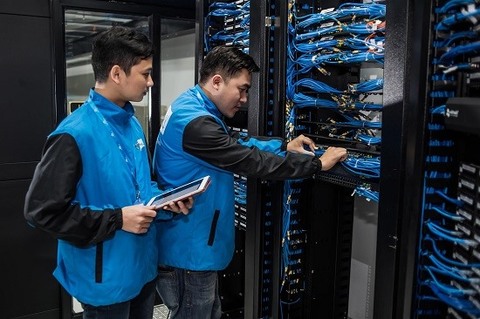 Workers at a data centre of ICT group CMC Corporation in Ha Noi. CMC rose 4.1 per cent last week. — Photo CMC
The market benchmark VN-Index on the Ho Chi Minh Stock Exchange (HoSE) closed Friday at 1,248.53 points, falling by 1.69 per cent or 20.71 points.
The southern market index had gained 0.79 per cent last week.
An average of 787 million shares were traded on the southern exchange during each session last week, worth VND20.9 trillion (US$909.1 million).
According to SSI Securities Joint Stock Company (SSI), at the end of last week, the trading volume decreased by 6.56 per cent but still maintained well above the 50-day average. This signal showed that the cash flow into the market was still stable.
Thus, after falling back to the support area of ​​1,200 - 1,227 points and rebounding, the VN-Index showed a possibility of returning to the uptrend. The uptrend of the VN-Index will be strengthened when it surpasses the nearest resistance at 1,286 points.
Analysts from MB Securities Joint Stock Company (MBS) said that, at the end of last week, the market regained its momentum thanks to the boom in financial banking stocks and this uptrend spread across all other sectors.
This is the period in which stock prices, especially large-caps, were gaining thanks to positive first-quarter business results. This uptrend may continue in the first week of May 2021, MBS said.
Technically, with the current increased speed, the resistance level of 1,300 points can be soon conquered. However, correction to test support levels will occur before the VN-Index moves to new highs, with a short-term target of around 1,300 - 1,330 points, MBS said.
Sharing this same point of view, Viet Dragon Securities Joint Stock Company stated that, at the end of last week, VN-Index had recovered after a series of dropping sessions. This recovery had regained investors' confidence.
Meanwhile, most stocks have rebounded impressively, meaning that the market had entered a positive period.
Saigon-Hanoi Securities Joint Stock Company (SHS) said the VN-Index had witnessed the fourth consecutive week of gaining with a slight increase in liquidity. That showed the great interest of investors in the market during this period.
During last week, VN-Index struggled and shook strongly around 1,250 points, it said.
Last week, foreign investors net sold more than VND1.13 trillion on both exchanges. They net sold more than VND1.1 trillion on HOSE and more than VND25 billion on HNX.
Regarding the movements of the stock groups, the information technology group increased the most last week, mainly thanks to the rise of pillars such as FPT Corporation (FPT), rising 4.1 per cent, and CMC Group (CMG), gaining by 0.3 per cent.
They were followed by consumer services, mostly thanks to the increase of giant mobile retailer Mobile World Group (MWG), up 10.1 per cent.
Banking pillars also performed well, with Vietcombank (VCB) up 8 per cent, Saigon-Hanoi Bank (SHB) gaining 4.7 per cent, VPBank (VPB) rising 4.2 per cent, Asia Commercial Bank (ACB) going up 0.9 per cent, Military Bank (MBB) up 0.3 per cent, Techcombank (TCB) increasing by 0.1 per cent.
On the other side, petrol stocks dropped the most with losers including PetroVietnam Technical Services Corporation (PVS), dropping 9.4 per cent, Petrochemical and Bio-Fuel JSC (PVB) losing 8.6 per cent, Binh Son Refining and Petrochemical Co Ltd (BSR) losing 7.8 per cent, PV Oil (OIL) dropping 7.1 per cent, The PetroVietnam Drilling & Well Service Corporation (PVD) decreasing by 6.2 per cent.
"This week, VN-Index will continue to be supported by the 1,217-1,225 zone. If the index goes out of this zone, it might enter a dropping stage into deeper short-term support zone," said Tran Xuan Bach, a stock analyst at Bao Viet Securities Co (BVSC).
"With today's increasing momentum, the market might keep heading to challenge the resistance zone of 1,255- 1,268 points in the first session of this week. However, the index is likely to drop again when approaching this resistance zone.
"Investors should maintain the proportion of shares in the portfolio at 20-35 per cent of stocks. Prioritise holding medium-term positions. Those with plenty of cash can consider opening long positions with existing positions if the market retests the 1,200-1,220 zone next week," BVSC said.
On the Ha Noi Stock Exchange, the HNX-Index lost by 1.18 per cent to close Friday at 283.63 points.
The index had lost 3.23 per cent last week.
An average of 160 million shares were traded on the northern exchange during each session last week, worth VND3 trillion. — VNS