Sharp Electronics Vietnam has complained that Asanzo Vietnam had given fake evidence about its co-operation with Sharp Roxy Hong Kong.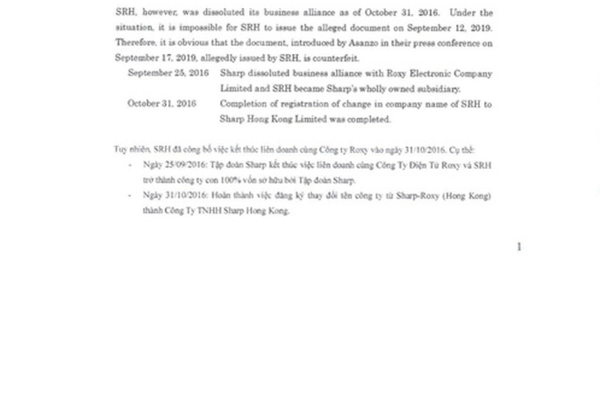 An announcement signed by Sharp Vietnam General Director Masashi Kubo and posted on its website on September 19

According to announcement signed by Sharp Vietnam General Director Masashi Kubo and posted on its website on September 19, Asanzo Vietnam held a press meeting on September 17 to inform the public that it has resumed business operations following a three-month shutdown. At the press meeting, Asanzo showed a document, allegedly issued by Sharp Roxy Hong Kong on September 12, 2019, as evidence that Asanzo co-operated with Sharp and used Japanese technology. 
However, Sharp Roxy Hong Kong dissolved its business alliance with Sharp Corporation on October 31, 2016, and so it was impossible that Sharp Roxy Hong Kong issued the alleged document on September 12, 2019. And that means Asanzo's document was fake, Sharp Vietnam announced.
Meanwhile, according to Asanzo's documents, presented at the press meeting on Tuesday, Sharp Corporation ended its joint venture with Roxy Electric Company in 2016 and bought the entire stake of SRH to turn it into a subsidiary. As such, Asanzo explained, it had not cheated clients by stating that it used Japanese technology.
However, Sharp Vietnam rejected this statement, announcing that Sharp Corporation had ended its business alliance with Roxy Electric Company on September 25, 2016, and that Sharp Roxy Hong Kong became Sharp's wholly-owned subsidiary. October 31, 2016, marked the completion of the change of the company name Sharp Roxy Hong Kong to Sharp Hong Kong Limited.
Based on the facts, Sharp Vietnam stressed that Asanzo's claim that its business contract with Sharp Roxy Hong Kong is still valid and covers various fields such as electronics spare part sales, software transfer, technology, manufacturing and related services is untrue.
Asanzo's fake document seriously damages the Sharp brand, which Sharp Group has fostered over its 107 years of history, and is absolutely unacceptable, the firm noted in a press release. Sharp and Sharp Vietnam are currently exploring the possibility of pursuing legal action against Asanzo, it added.
On June 21, Tuoi Tre Newspaper reported that Asanzo Vietnam Electronic Company sells finished products imported from China and devices assembled from Chinese parts under the guise of Made in Vietnam goods.
Tuoi Tre has discovered that Asanzo Vietnam imported TV components, including LCD panels, from China into its factory in Vinh Loc Industrial Park in Ho Chi Minh City, where workers assembled them into finished products.
The final products would be labelled as Made in Vietnam TVs with Japanese technology.
At the meeting with Tuoi Tre, Asanzo's CEO, Pham Van Tam admitted that nearly 100 percent of the electronic parts of an Asanzo TV set are Chinese imports.
He underlined that the company does not directly import goods from China, but it sources them from many Vietnamese suppliers.
"We only take care of the assembling and testing processes before selling the finished products in the local market," he said.
Many electronic stores in Vietnam have stopped selling Asanzo products after the scandal.
SGT/Dtinews