Sharp Electronics Vietnam has once again sent a letter of denunciation to six ministries and agencies, accusing local electronics company Asanzo Vietnam of falsifying documents.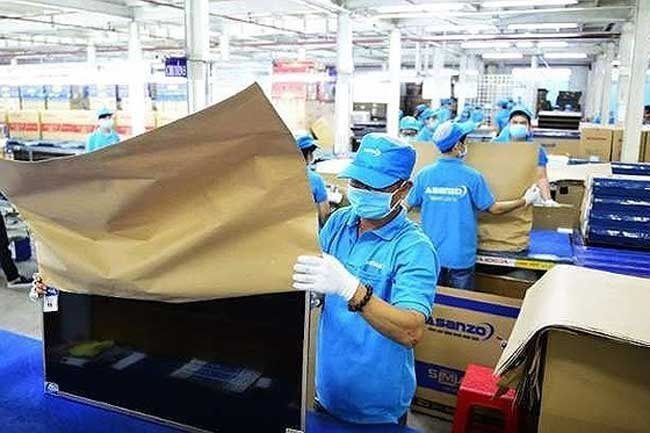 Workers package televisions branded Asanzo. Sharp Electronics Vietnam has once again accused Asanzo of forging documents – PHOTO: SGGP
The letter was sent to the ministries of Public Security, Industry-Trade, Justice, Planning-Investment and Science-Technology, as well as the General Department of Vietnam Customs' Anti-smuggling and Investigation Department, the local media reported.
Sharp said in the letter, signed by its general director, Masashi Kubo, that Asanzo's statement during a press briefing on September 17 claiming to own Japanese technology, and that it collaborates with Sharp-Roxy Hong Kong (SRH), was completely inaccurate.
Also, a letter that Asanzo claims was issued by SRH to confirm the cooperation with Asanzo was fake, said Sharp.
According to Sharp Electronics Vietnam, Japan's Sharp Corporation and Roxy Electronics Company had earlier formed a joint venture called Sharp-Roxy. However, Sharp ended its business alliance with Roxy on September 25, 2016, and SRH became Sharp's wholly-owned subsidiary.
The change of the company name from SRH to Sharp Hong Kong Limited was done on October 31, 2016.
Officials charge that Asanzo had intentionally falsified documents in an attempt to deceive local consumers, leading them to believe that Asanzo was working in collaboration with Sharp Corporation, and that Asanzo-branded products came from Sharp.
Sharp charged that Asanzo's actions had seriously damaged the prestige of Sharp and affected the interests of consumers.
Sharp Electronics Vietnam proposed that the relevant ministries and agencies investigate Asanzo's actions and impose strict penalties on it to protect consumers' interests and Sharp's prestige.
In late September, Sharp Electronics Vietnam denounced Asanzo's violations to the Ministry of Public Security and the HCMC Police Department. The Ministry of Public Security later asked Sharp to provide additional evidence.
At a meeting with the relevant ministries and agencies on October 24 to discuss Sharp's claims against Asanzo, the General Department of Vietnam Customs stated that Asanzo had shown signs of violations, including cheating customers, committing origin fraud, using counterfeit labels and evading tax.
In October, the HCMC Tax Department referred the alleged tax regulation violations committed by Asanzo Vietnam to the HCMC Department of Police for investigation.SGT

Asanzo only assembles products instead of manufacturing them, because the added value created after assembling accounts for just 1 – 2% of the total cost of a product, while accessories and components imported from abroad make up the rest.

Sharp Electronics Vietnam has sent a letter of denunciation to investigators of the Ministry of Public Security, denouncing local electronics firm Asanzo for using falsified documents to prove its business ties with a Sharp subsidiary.