It is unclear whether the GIC-led consortium has fully withdrawn from VCM or transferred its stake to other investors.
The respective amounts of holding of Singapore's sovereign wealth fund GIC and Credit Suisse Singapore Branch at VCM Services and Trading Development Company (VCM), the operator of the Vinmart chain, have been reported at 0%, according to data at the Vietnam National Business Registration Portal.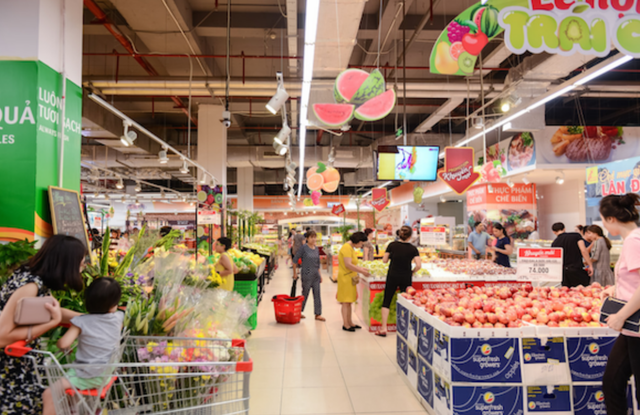 Illustrative photo. 
VCM's registered capital, however, remains unchanged at VND6.43 trillion (US$277.04 million).
Last September, the GIC-led consortium collectively invested US$500 million to buy a 16.26% stake in VCM, in which Credit Suisse Singapore Branch held 6.5% and Ardolis Investment Pte, a subsidiary of GIC, 9.76%. The deal valued VCM at US$3.08 billion.
On January 1, Masan announced its acquisition of 540 million shares or a 83.74% stake in VCM from Vingroup as a final step to take over the latter's retail business.
It is unclear whether the GIC-led consortium has fully withdrawn from VCM or transferred its stake to other investors.
VCM was established last August with registered capital of VND1 billion (US$43,121), in which Vingroup held a 64.3% stake and Deputy General Director of Vingroup Mai Huong Noi served as VCM's chairwoman.
By mid-September 2019, VCM raised its registered capital to VND6.43 trillion (US$277.19 million) and owned a 100% stake at Vingroup's retail arm VinCommerce, the operator of super markets and convenience stores VinMart and VinMart+.
On December 3, Vietnam's leading privately-run conglomerates Vingroup and Masan annouced their agreement to merge some of their businesses to create "the largest retail group in Vietnam", said Vingroup.
As a result, Vingroup's VinCommerce and its farming subsidiary VinEco would merge into Masan Consumer Holdings, the consumer business of Masan. The latter would take charge of the new company.
Vingroup would swap its stake in VinCommerce for that of the new company and become a stakeholder. 
The agreement with Masan allows Vingroup to focus on its emerging businesses namely manufacturing and technology, while Masan obtains its last piece of a puzzle to build an empire of consumer retail, with the ultimate aim of expanding to international markets.
The new company would own VinCommerce's network of 2,600 VinMart and VinMart+ outlets across 50 provinces and cities in Vietnam, along with a customer base of millions.
In a latest move, Mai Huong Noi is no longer the chairwoman of VCM and replaced by Truong Cong Thang, chairman of board of Masan Consumer Holdings.
The current chairman of VCM is Nguyen Dang Quang, who is also chairman of Masan Group.
Notably, Ardolis Investment is currently holding a 5.64% stake in Masan Group.
VinMart and VinMart+ are Vietnam's largest retail network in terms of the number of stores, accounting for 25% of Vietnam's retail market share, according to Masan. Hanoitimes
Ngoc Thuy

The profit margin of VinMart+ has been improving over the last three years, and despite current losses, the retailer expects to turn a profit next year.

In less than a month, Masan Consumer, a consumer business of major conglomerate Masan Group, has initiated two deals to take its businesses beyond the food and beverage sector.