Le Phuoc Vu, president of Hoa Sen Group, a large steel sheet manufacturer, continues to lead a secluded life on a mountain. However, he continues to make important decisions for Hoa Sen, which had an impressive business performance in 2020.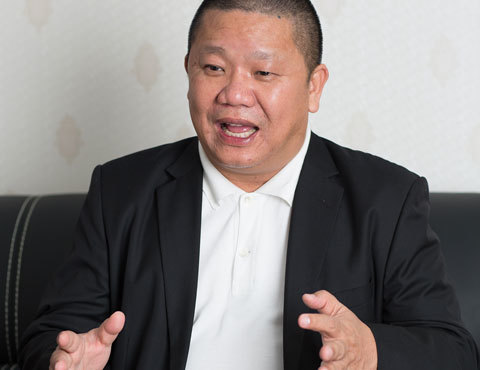 Hoa Sen Group's chair Le Phuoc Vu
A Hoa Sen Group shareholders' meeting recently approved the business results in 2020 and a business plan for 2021. The post-tax profit of the 2019-2020 fiscal year, which ended in September 2020, was 288 percent higher than planned, reaching VND1.153 trillion.
Hoa Sen shares have seen the price increase by five times over the last year, from below VND5,000 per share to VND26,700 per share. The enterprise's capitalization value increased by VND9 trillion during that time.
Hoa Sen was able to make high profits because it stored input materials when the prices were low and sold finished products when the prices increased.
The group has projected a 30 percent increase in post-tax profit in 2020-2021 to VND1.5 trillion.
Le Phuoc Vu is a well-known businessman in Vietnam. Local newspapers have reported that he underwent a Buddhist ceremony and took refuge at Three Jewels in July 2020.
However, the businessman continues to make important decisions on issues related to Hoa Sen, including input materials for production. He visits the office once a month to attend meetings to make important decisions.
The ceremony, which is an important step for a person accepting Buddhism, does not require a person to stay full time at a pagoda.
For many years, Vu has made many impressive deals that have brought high profits.
Hoa Sen Investment Company recently sold 27 million HSG shares from December 4, 2020 to January 2, 2021 at VND23,000-24,000 per share in early January, a peak price in the history of the shares.
It is still unclear to whom Vu sold shares or transferred shares, but the move was taken when the HSG price increased sharply by five times compared with earlier this year.
It was noteworthy that Vu's enterprise sold shares when Hoa Sen officially gave up the $10 billion Ca Na project.
The project was initially listed in the steel industry development strategy by 2025. However, it was later excluded from the strategy, as the Prime Minister suspended the project to clarify issues related to the environment, industry and equipment.
Prior to that, Hoa Sen had experienced many ups and downs. In 2018, the enterprise fell into an unprecedented difficult situation, incurring big losses and owing a lot of money.
Vu plans to completely leave Hoa Sen by 2026 when he is expected to sell all of his shares. 
V. Ha

The HCM City Stock Exchange (HoSE)'s technical system was under significant pressure with billions of new shares recently listed and to be listed on the bourse and huge cash inflow which boosted the market liquidity to record levels.

The Vietnamese stock market is forecast to maintain an upward trend this week on upbeat investor sentiment, after seven consecutive gaining weeks of the market with increased liquidity.