The family of Vietnam's steel tycoon Tran Dinh Long will mark a turning point in power if Long's son successfully buys more shares of Hoa Phat Group (HPG).
Hoa Phat Group (HPG), one of the largest steel producers in Vietnam, has announced an internal transaction. Accordingly, Mr. Tran Vu Minh, son of Hoa Phat Group's chairman Tran Dinh Long, has registered to buy 5 million HPG shares from May 21, 2021 to June 18, 2021. If this deal is successful, Minh will hold 53 million shares, equivalent to 1.6% of Hoa Phat Group's shares.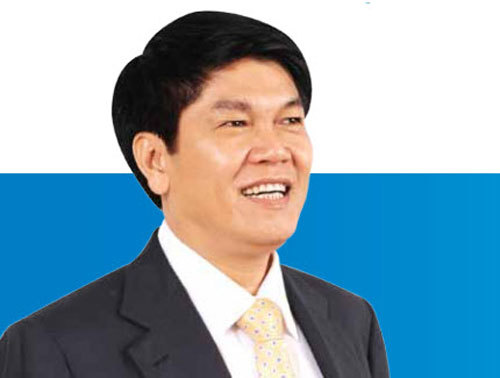 Hoa Phat Group's Chairman Tran Dinh Long.
With the current price of more than VND63,000 per share, Long's son will have to pay about VND320 billion to buy the registered shares.
This was the first move of Long's family after the annual General Meeting of Shareholders of Hoa Phat Group allowed Long and his son to receive HPG share transfer without making public offers.
In early 2020, Long's son Tran Vu Minh, bought 40 million HPG shares. These shares are currently worth more than VND2.5 trillion, nearly 4 times higher than the time of purchase.
In late 2020, Long also bought 24 million HPG shares from Vice Chairman Doan Gia Cuong, at the estimated value of about VND800 billion at that time.
If Minh successfully buys the above registered shares, the second richest family on the Vietnamese stock market will hold more than 35% of Hoa Phat Group's shares.
Currently, Long directly holds 864 million shares (equivalent to 26.08%); Long's wife - Vu Thi Hien holds 243 million shares (7.34%); Dai Phong Trading and Investment Company Limited, led by Mr. Tran Vu Minh, holds 1,560,000 shares (0.05%).
According to regulations, the decision of the General Meeting of Shareholders of an enterprise is approved by the shareholders who represent at least 65% of the total votes of all attending shareholders.
Therefore, holding over 35% shares of Hoa Phat Group, Long's family will have the right to veto decisions of the General Meeting of Shareholders.
This move took place after HPG shares doubled in price within 6 months, from about VND30,000 to VND63,000 per share at present. Within the past 1 year, HPG shares rose more than 3 times.
Long currently has net assets worth $3.1 billion and is the second-richest person in Vietnam, just behind Vingroup chairman Pham Nhat Vuong.
HPG stock in particular and stocks of the steel industry in general have increased strongly thanks to good business results. In the first quarter of 2021, Hoa Phat Group recorded a high profit after tax of more than VND7,000 billion, an increase of more than 200% over the same period last year.
The shortage of steel while demand increased thanks to economic stimulus around the world was the reason for the sharp rise in steel prices. Many steel firms such as Hoa Sen Steel, Tien Len Steel (TLH)... all recorded soaring profits.
V. Ha

The Vietnam Association of Construction Contractors (VACC) has asked the Government Office to investigate the price hike and find out if steelmakers were cooperating with each other to push up prices.  

The Ministry of Industry and Trade has proposed the Government consider policies to tighten exports of steel products to stabilise the domestic market amid soaring steel prices in recent months.