Prime Minister Nguyen Xuan Phuc has recently issued a decision to establish a national steering committee to implement Viet Nam's marine economic development strategy by 2030, with a vision to 2045.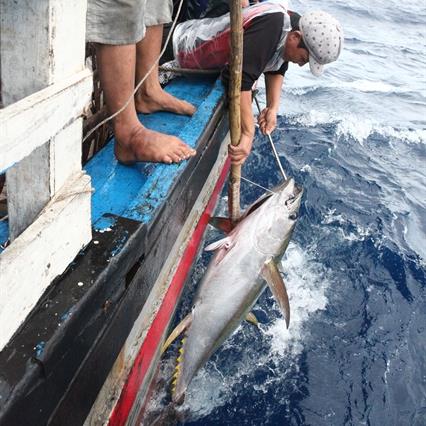 Fishmen catch at sea in the southern province of Kien Giang. 
The committee is an interdisciplinary organisation that advises the Prime Minister on studying, directing and solving important and interdisciplinary tasks related to the sustainable development of the Vietnamese marine economy.
Resolution 36 issued by the Party Central Committee focusing on the strategic development of the Vietnamese maritime economy by 2030, with a vision to 2045, was enforced in October, 2018.
Viet Nam has set a target of at least 58 per cent of its GDP coming from the maritime economy.
Coastal provinces should also be looking to gain 65-70 per cent of their GDP from maritime activities.
The strategy states clearly that coastal provinces and brackish water regions should adopt their economic development policies based on maritime economic development.
The resolution also sets a goal for the country to become a strong maritime nation by 2045, with the associated sector making an important contribution to the country's economy and solving international and regional issues at sea.
As part of the strategy, the country should focus more on the balance between the environment, natural resources and culture.
The country should also adopt a green economy as the foundation for sustainable maritime economic development.
Huge potential
Viet Nam has a coastline of 3,260 kilometres, standing in 27th place among 157 coastal countries around the world.
Viet Nam's maritime economic potential stands out in five main areas including resources, transportation, seafood exploitation and processing, tourism and coastal economic areas.
In terms of resources, Viet Nam is one of the 10 centres of marine biodiversity and has one of the 20 seas with the world's largest economic interests.
Viet Nam's waters are home to about 12,000 species of creatures with over 2,000 fish species, of which about 130 have economic value.
Regarding tourism, along with thousands of islands and hundreds of white sandy beaches, Viet Nam is also home to Ha Long Bay, Nha Trang and Da Nang.
28 coastal provinces and cities account for over 70 per cent of the country's tourism revenue.
Oil and gas is a key economic sector, which annually contributes 10-13 per cent of national GDP, while making an important contribution to the State budget.
According to a summary of 2008 to 2017, gross regional domestic product (GRDP) in coastal provinces grew on average 7.5 per cent per year, higher than the national growth average.
The GRDP of coastal provinces accounted for 60.5 per cent of national GDP in 2017, reaching per capita of VND64.9 million (US$2,800), higher than the national average of VND53.5 million.
By the end of 2017, coastal economic zones had attracted more than 390 foreign investment projects with total registered investment of $45.5 billion. Disbursement reached $26.5 billion.
Thanks to policies to support fishermen, annual fishing output increased rapidly from 1.8 million tonnes in 2016 to 3.2 million tonnes in 2017.
Total fishing production reached over 3.59 million tonnes, of which marine exploitation reached over 3.37 million tonnes in 2018, according to data from the General Department of Fisheries under the Ministry of Agriculture and Rural Development.
Total fishing production reached over 1.88 million tonnes in the first six months of last year, up 6.2 per cent over the same period in 2018. Of which, marine exploitation reached over 1.79 million tonnes. — VNS

New regulations and development in the global economy will have a strong impact on Vietnamese shipping, a conference held to discuss Viet Nam's Maritime Future heard in HCM City on Wednesday.  

An international conference on sustainable maritime economy and climate change adaptation will take place in the central city of Da Nang in late March 2020.