While concerns over interruption of global supply chains linger due to serious outbreaks of COVID-19, Vietnam is attempting to remain on the front foot with continued business confidence and inflow of foreign investment.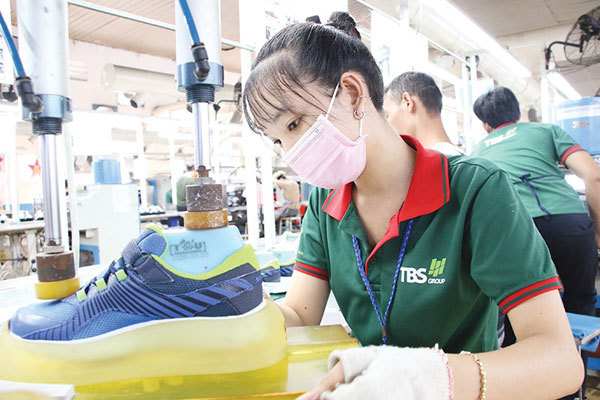 Sunny FDI outlook amid supply strains. -- Illustration photo
In late April, Nguyen Thanh Truc, Deputy Chairman of Binh Duong People's Committee, met with Finnish Ambassador to Vietnam Kari Kahiluoto and a delegation of enterprises from Finland seeking business and investment opportunities in environmental hygiene, water, waste treatment, education, technology, construction, and architecture.
Kahiluoto said he and the embassy will strengthen ties between Finnish businesses and Binh Duong, while organising seminars on sharing experience in smart city creation.
Finnish businesses' move is in line with the country's acceleration in sustainable development and digital transformation. And also importantly, they are gearing to benefit from the EU-Vietnam Free Trade Agreement.
Finnish businesses are among those from the EU eyeing more opportunities in Southeast Asia and Vietnam in particular, showing their strong confidence in improvement of the local business climate, despite serious regional developments of the pandemic in Cambodia, Thailand, and the increasing humanitarian disaster unfolding in India.
New data from the European Chamber of Commerce in Vietnam (EuroCham) shows that European business leaders started 2021 positive and optimistic about Vietnam's trade and investment environment. As shown in EuroCham's Business Climate Index, the index hit 73.9 points in the first quarter of 2021 – the highest score recorded since the third quarter of 2019 before the COVID-19 pandemic hit global trade and investment. This continues a positive upward trend in the index, with the score rising more than 47 points over the last 12 months.
Elsewhere, new movements from South Korea, Singapore, and Japan have been made. "Business and investment activities in Vietnam are still stable and continue thanks to good control of the pandemic by the local government," Hong Sun, vice chairman of the Korea Chamber of Business in Vietnam, told VIR. "Many South Korean companies are facing difficulties in countries afflicted by COVID-19, including in India and other nations. Many are seeking to shift investments to ease risks, and Vietnam is a target."
Jeffrey Wandly, vice president of the Singapore Business Association Vietnam added, "At this moment, it is too early to predict what impact COVID-19 may have on investments in Vietnam as the situation is constantly developing. However, I am cautiously optimistic that the impact of the pandemic on Singaporean business and investment activities in Vietnam would be minimal."
While there may be a dip in inflows in the immediate aftermath of COVID-19, Wandly noted, Vietnam still remains a key economy for Singaporean business and investment activities due to its long-term economic prospects for businesses and investors, especially with COVID-19 kept under control in Vietnam.
Meanwhile, business and investment activities in Vietnam among companies from the likes of India, Cambodia, Thailand and EU nations remain stable. Despite a general improvement in investment activities in Vietnam, money coming in from these regions remains modest, thus not much affecting the country's overall foreign direct investment (FDI) picture.
The Indian Business Chamber in Vietnam expected the two governments' recent efforts to promote mutual trade and investment ties will strengthen bilateral cooperation in the fields of energy, science and technology, AI, 5G network, and startup links.
The confidence is reflected in the latest statistics from Vietnam's Ministry of Planning and Investment (MPI). In the first four months of 2021, Vietnam attracted $12.25 billion worth of total newly-registered, added FDI and stake acquisitions, equal to 99.3 per cent on-year, while FDI disbursement rose 6.8 per cent on-year to $5.5 billion. And in the first quarter, the country's total FDI even reached $10.13 billion, up 18.5 per cent on-year.
The MPI's Foreign Investment Agency said that foreign-invested enterprises are continuing their recovery, and maintaining their business operations in Vietnam. Investment from the country's biggest FDI contributors – Singapore, South Korea, and Japan – keeps flowing. Singapore remains Vietnam's biggest foreign investor, accounting for 39.6 per cent of the country's total FDI. Japan ranks second, making up 20.5 per cent, and South Korea is third at 12.1 per cent.
Nguyen Mai, senior economist and chairman of the Vietnam Association of Foreign-Invested Enterprises said, "This is a positive result and better performance than previous months of 2020, demonstrating strong business confidence."
This confidence is helping to ease concerns over the breakup of global chains and its impacts on Vietnam. With India considered a fairly new power in the global supply chain, unprecedented collapse in the demand due to the pandemic sits alongside widespread supply chain disruptions due to the unavailability of raw materials.
Industry insiders said that as international businesses experienced the interruption of global supply chains last year when the pandemic emerged, they have made future scenarios for possible breaks again – therefore, negative impacts may be dampened compared to 2020.
Sun from KorCham admitted, "South Korean businesses in Vietnam do not rely on supply chains from India and Thailand, but from South Korea, Japan, and China. Moreover, the global market is recovering fast thanks to COVID-19 vaccination programmes."
VIR

Foreign investments in Vietnam have the ability to change the economics of many of the country's support industries, who are continually struggling to be part of the larger supply network.

A key strength in Vietnam's business environment is the country's proliferating membership of free-trade agreements.