Cigarette smuggling on the rise as the year ends and it is not easy for the State agents to fight it in southwester provinces and cities such as Long An and HCM City.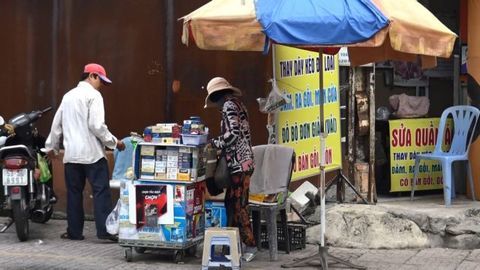 Cigarette packs without lables of origin are sold by a street vendor in HCM City.
Pham Duc Chinh, acting director of Long An's Market Watch Department, said dealing with cigarette smugglers and their actions is still an urgent task as Viet Nam and Cambodia share a long border with plenty of shortcuts and paths, which makes it difficult to oversee travelling people and vehicles, he said.
Moreover, smugglers not only hire local poor people but also employ those that have criminal records. Those people often fight back to get rid of the goods when encountering State agents, Chinh said.
Smugglers also transport counterfeits by car at high speed and they are a danger on the roads, he said.
For example, 22-year-old Truong Minh Nhut on December 13 drove a car in HCM City to transport 20,000 packs of cigarette and hit the median strip, panicking other people on the road.
Smuggled cigarettes are channelled to retailers after being imported. In southwestern provinces, illegal cigarette imports are sold publicly in retail and grocery stores without the State agencies' control.
In big cities like HCM City, smuggled cigarettes are displayed and sold at retail stores, restaurants and street vendors in the areas like Hoc Lac Market in District 5 and Tran Quoc Hoan Market in District 3.
And it's not only cigarettes that are causing problems, a large number of vapes – electronic cigarette device – are found available for sale in the country without origin certificates.
On November 19, Da Nang economic police division seized 207 electronic cigarette devices, more than 1,600 flavour tubes and 20 accessories boxes that were not labelled with origin and quality certificates.
According to Pham Van Canh, vice chairman of Long An People's Committee, there are difficulties to deal with smugglers.
Those with violations related to smuggling more than 1,500 packs of cigarettes are subject to the Penal Code.
"Even if the police and market watch department seize the goods, they cannot proceed with the case because they cannot find the right person responsible for transporting the illegal products," he said.
"As they cannot address the violators, they cannot proceed with the case even if it is prosecuted. Therefore, the investigation is suspended," Canh said.
To improve the situation, the Government Office on November 15, 2019 issued the Document 10492/VPCP-VI, in which the Standing Deputy Prime Minister Truong Hoa Binh, also the Chief of the National Steering Committee for Anti-Smuggling, Counterfeit Goods and Trade Fraud asked the ministries of Finance, Industry and Trade, Public Securities and National Defence, and the centrally-run provinces and cities' people's committees to direct law enforcers and state agents to implement Directive 30/CT-TTg dated September 30, 2014 on anti-cigarette smuggling and relevant cases. — VNS

Nguyen Huy Quang, head of the Ministry of Health's Legal Affairs Department talks to about the ministry's proposal to ban e-cigarettes and shisha.