As the Vietnamese economy strives to become more prosperous, the country is fostering the development of major private enterprises considered to be a focus of national pride and a new source of prosperity.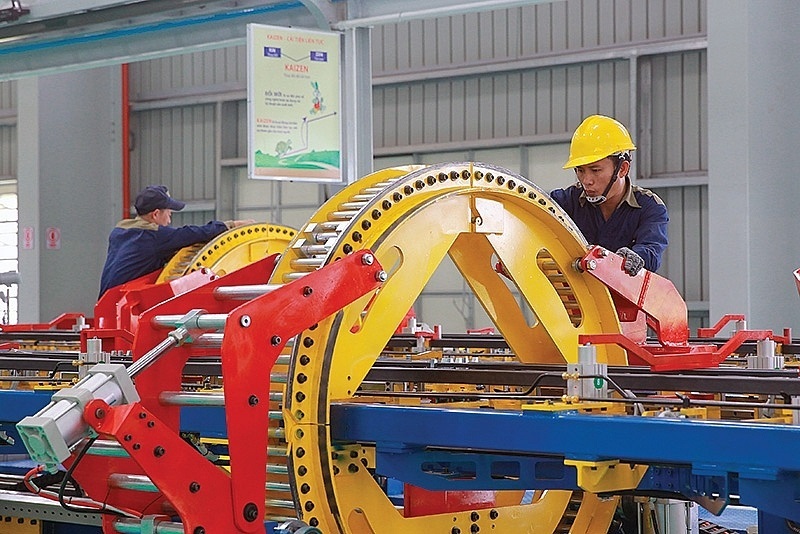 The top Vietnamese enterprises are creating prosperity on their journey to the top
In the Forbes list of the richest billionaires in the world in 2019, Vietnam boasted five slots on the list, the biggest being Vingroup chairman Pham Nhat Vuong.
Vuong, said to hold a total asset value of $6.6 billion, is ranked 239th, higher than US President Donald Trump ($3.1 billion), former CEO of Uber Travis Kalanick ($5.8 billion), and many globally-famous ­figures.
This is the seventh consecutive year Vuong has been named on the Forbes list. Last year, his total assets were ­valued at $4.3 billion, making him the 499th richest person at the time.
Second in Vietnamese terms is Nguyen Thi Phuong Thao, general director of Vietjet, who has been named for the third time on the Forbes ranking. Thao holds a total asset value of $2.3 billion and is now ranked 1,008th.
THACO chairman Tran Ba Duong made his second appearance, placing 1,349th with total asset value of $1.7 billion. The two new Vietnamese billionaires as cited by Forbes are Ho Hung Anh, chairman of Techcombank ($1.7 billion and placed 1,349th), and Masan chairman Nguyen Dang Quang ($1.3 billion and ranked 1,717th).
Tran Dinh Long, chairman of Hoa Phat Group listed by Forbes last year, does not appear in the 2019 edition, but in the real-time list of the magazine, Long's existing assets are valued by Forbes at around $1 billion.
These Vietnamese billionaires show that though Vietnam remains a developing nation, its private economic sector has been growing spectacularly. Their strong development has been partly thanks to the government's business-friendly policies, and that Vietnam's law system has been made more favourable for enterprises.
However, the success of major groups such as Vingroup and THACO, or many other big enterprises like Vinamit, Tan Tan, TH, and Thanh Thanh Cong has been made by specific individuals.
These are enterprising businesspeople who have used their own business and investment methods to drive their enterprises forwards, through novel values and innovation.
They have one thing in common: instead of trying to joining global value chains via co-operation with foreign-invested enterprises, they developed their businesses on their own strengths. After their businesses have grown strongly enough, they then established investment chains which later became magnets to other enterprises.
This fact is manifesting the increasing growth of Vietnamese enterprises, and also mirroring their big responsibility in making the country more affluent.
National pride
Almost all major enterprises in Vietnam's private economic sector are trying to make themselves the focus of national pride through the improvement of the material and mental life of Vietnamese people.
Inamori Kazuo, one of Japan's biggest entrepreneurs, said, "Such businesspeople must first place their biggest priorities into making their employees happy in terms of material and spirit. To this end, they must have an ambition to develop their company to a national level, then a regional level, and finally a global level.
"Furthermore, they must be impartial, always make efforts to develop, display ­patience in their business, and know how to grasp opportunities."
Vietnam now can take pride in these strongly-growing private enterprises which are taking the lead in many sectors, and contributing remarkably to national development.
However, the country needs to create a level playing field for all private enterprises to play. They must be entitled to engage in the sectors currently largely invested in by state-owned enterprises, such as infrastructure in roads, waterways, railways, and aviation, as well as modern transport means.
These entrepreneurs also contribute to inspiring other enterprises to grow, with the startup spirit beginning to show nationwide.
Huynh The Du, lecturer in public policy at Fulbright School of Public Policy and Management, said that Vietnamese billionaires are a point of national pride thanks to the big values they create.
"We can talk about Vietjet as an example," Du said. "For me, Vietjet is the pride for Vietnam and a bright example for inclusive development because this firm has enabled almost all Vietnamese people to travel by air. In another case Vingroup, despite some debate over its development, is a pride story because it has provided better homes to hundreds of thousands of people thanks to their housing and urban development projects."
"I have also visited THACO, and see that this is a success story of Vietnam's industrial manufacturing industry that many big enterprises in the country have failed to replicate," Du added.
Journey to prosperity
Nguyen Dinh Cung, head of the Central Institute for Economic Management, has been mulling over the question on whether Vietnam can become a prosperous nation by 2045, when the country will be celebrating the 100th anniversary of National Day.
Cung helped compile the landmark Vietnam 2035 report, a joint Vietnam-World Bank Group study titled "Toward Prosperity, Creativity, Equity, and Democracy".
Cung said, "A prosperous economy can be measured by such criteria as GDP and per capita income. However, people are not interested in those criteria theoretically. They are only interested in how they can increase their income, how can they develop themselves fairly and safely, and what opportunities they can grab."
According to Cung, all issues must be solved by internal strength, such as national competitiveness, innovation, and renewal which must be developed based on modern state governance, transparency, and respect to law.
He said that all Vietnamese people have their own aspiration to make themselves rich and make their nation prosperous. This dream can be realised if they have favourable conditions.
"During the wars, Vietnam's leaders won great confidence from people, creating aggregate strength to liberalise the country. Now in more peaceful times, we must do the same: to foster confidence among people toward an affluent nation," Cung stressed.
"To this end, the country's leaders must have strong aspiration for national prosperity, and must have specific actions in order to inspire all people."
Aspirations for 2035
By 2035, 60 years after ­reunification, Vietnam aspires to become a modern, ­industrialised economy - next in a succession of East Asian economies to have made the transformative journey to upper-middle or high-income status.
The many achievements since the launch of doi moi have certainly contributed to the ambitious goals. The strong record of regional peers such as South Korea, Singapore, Malaysia, and China, together with the fear of being permanently left ­behind, have further fuelled Vietnam's ambitions. There is still an inherent desire to catch up with the world and the modern institutional norms of countries within the Organisation for Economic Co-operation and Development for living standards, the rule of law, and creativity. Vietnam has also signed up to the UN's Sustainable Development Goals, which set a comprehensive global development agenda for the next 15 years and will give more concrete shape to some of Vietnam's key long-term goals. The Ninth Party Congress adopted the phrase "socialist-oriented market economy" as the official way to describe Vietnam's economic system in 2001, codified in the 2013 revision of the Constitution. The 2011-2020 Socio-economic Development Strategy set forth the ­objective to become a basic industrialised country with the foundation of a modern and industrial country by 2020.
Some objectives have been set for 2035:
- A GDP per capita of at least $18,000, roughly equivalent to Malaysia in 2010.
- A majority (over 50 per cent) of the Vietnamese population living in urban areas.
- A share of industry and services in GDP at more than 90 per cent, and in ­employment at more than 70 per cent.
- A private-sector share in GDP of at least 80 per cent.
- A score of at least 0.7 on the UN's Human ­Development Index.
Source: Vietnam 2035 Report
 VIR