The government's establishment of a task force to resolve challenges revolving around the disbursement of registered capital for large-scale foreign-invested projects is expected to help problematic ventures push forward in implementation.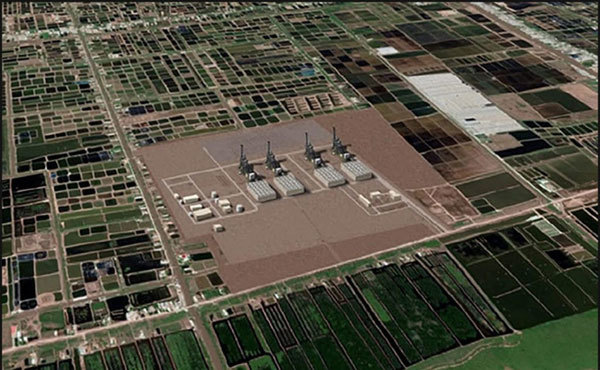 3D image simulating 4 combined cycle gas turbines of Bac Lieu liquefied natural gas power plant. Photo: vnexpress.net
Delta Offshore Energy Pte., Ltd., the investor of the $4 billion Bac Lieu liquefied natural gas-to-power (LNG) project in the Mekong Delta province of Bac Lieu, is urgently completing works so that construction will be kicked off on time as committed. The investor is both completing procedures with Vietnamese parties and negotiating with international partners to sign engineering, procurement, and construction contracts and other contract packages, while also negotiating with international financial organisations for capital arrangement. However, the investor of the LNG Bac Lieu project is facing difficulties in negotiating the power purchase agreement (PPA) as the relevant parties involved have yet to reach a compromise over the selling price of power and the power purchase volume.
According to Delta Offshore, delays in reaching a compromise over these issues will impact the order of gas turbines because, according to the regulations, the company orders gas turbines only three months after the company signs the PPA with state-run Electricity of Vietnam. It will take Delta Offshore at least three months from the signing ceremony to complete procedures to sign contracts with relevant partners such as lenders, equipment suppliers, construction and installation contractors, and fuel suppliers. Signing the PPA contract with EVN is the key factor marking the point from the investment preparation period to the project implementation phase.
Ian Duc Thang Nguyen, director Delta Offshore Energy told VIR, "We welcome the establishment of a taskforce to align with the government's dual goal policy agenda. We would like to see the task force to coordinate solutions for the issues that are within the authority of the prime minister."
According to Nguyen, the company is about 95 per cent ready to move ahead with its investment of a large amount of capital, but some outstanding items remain for the government to resolve. This task force will complete the investment process and assure the benefits for all stakeholders. "Only this way we can get our PPA executed within the third quarter this year and keep the schedule as stipulated in the Power Development Plan revised for this project where the first turbine is mandated to be commercially operational by 2024."
The task force (see box) is expected to not only help smooth the process for foreign-invested enterprises, but can also help the government complete the capital disbursement targets mentioned in the Politburo's Resolution No.50-NQ-TW released in 2019 on enhancing the quality and efficiency of foreign investment cooperation through 2030. Notably, the Politburo targets to reach the total disbursed FDI of $100-150 billion in the 2021-2025 period, and $150-200 billion between 2026 and 2030.
Phan Huu Thang, senior director of investment consultancy GIBC, told VIR that the above target is feasible if the government can disburse an average of 10 per cent of the registered $150 billion in collaboration with the annual disbursed capital from newly-registered capital. For example, in 2020, the disbursed capital was $19.98 billion.
According to accumulated statistics published by the Foreign Investment Agency under the Ministry of Planning and Investment, by the end of the first quarter of 2020, there were 31,665 valid projects across the country with the total registered capital of $403.47 billion. The accumulated disbursed FDI capital reached $217.7 billion, equaling 53.9 per cent of the registered capital of valid ventures. Thus, $186 billion of registered FDI capital has yet to be disbursed.
Numerous large-scale foreign-invested projects are lining up to complete procedures to be implemented. Examples include the Long An I and II LNG-fired power plants funded by VinaCapital GS Energy Pte., Ltd. with the registered capital of $3 billion; the $293 million Fukang Technology initiative in the northern province of Bac Giang; and a $500 million solar photovoltaic cell factory by Jinko Solar Hongkong Ltd. in the northeastern province of Quang Ninh licensed in late March, among others.
One investment promotion specialist based in Bac Lieu told VIR, "We highly appreciate the government's move to establish the task force. By our province's experience, when the investors of a billion-dollar project face problems during implementation, these problems exceed the provincial leadership's authority, and the province has to work with the government, ministries, and relevant authorities to deal with them. However, it is not easy to set up a meeting with the prime minister."
The specialist expected that the task force will be decentralised in order to deal with issues that provinces and investors outline. "Task force members will be ministers and deputy ministers, so we believe that they will be able to deal with the issues that investors bring up," he added.

In mid-July, Prime Minister Pham Minh Chinh signed Decision No.1242/QD-TTg to establish a task force to deal with difficulties for foreign-invested projects, while simultaneously promoting implementation of initiatives in ministries, authorities, and localities.
This task force will be established on the basis of one responsible for attracting foreign investment as Vietnam strives to boost its post-pandemic economic recovery.
The task force will be headed by Deputy Prime Minister Pham Binh Minh while Minister of Planning and Investment Nguyen Chi Dung will be its standing deputy head.
Its main roles include collecting information on projects' problems, introducing and guiding regulations relating to investment, and offering relevant progress to investors.
Besides that, the task force will consult the prime minister on mechanisms and policies to deal with problems that arise during the process of project implementation, while chasing up and monitoring the process of resolving difficulties.
Projects under the management of the task force will combine with public investment ventures, including those using official development assistance and preferential international loans, foreign-invested projects, domestic ones, and public-private partnership projects.

Alain Cany - Chairman, European Chamber of Commerce

Over the last few decades, Vietnam has become more open, competitive, and attractive to foreign investment. However, despite significant progress, both short- and long-term challenges for European companies remain.
In the short-term, the interruptions to normal business because of COVID-19 have an inevitable impact on foreign investment. However, we hope that an ambitious and accelerated vaccination programmes will help to re-open borders and restart normal trade and investment soon.
In the long term, Vietnam remains on the radar of various European companies following the recent implementation of the EU-Vietnam Free Trade Agreement. To unlock the full potential of this wide-ranging agreement, the government's new taskforce could create positive momentum for further modernising the legal framework and improving the business environment.
In this spirit, we encourage the government to continue its simplification of administrative procedures and streamlining of business conditions. We also urge further implementation of e-government initiatives and the digitalisation agenda. Both would help to reduce the bureaucratic burden on businesses and enable them to free up capital to reinvest into their companies and staff.
Meanwhile, further upgrading Vietnam's logistics infrastructure and improving transport links between ports, industrial zones, and major cities would help to secure further overseas investment.
Marko Walde - Chief representative, Delegation of German Industry and Commerce in Vietnam

In 2020, Vietnam recorded economic growth of 2.9 per cent and is expected to achieve a growth rate of 7.5 per cent this year. The simultaneous implementation of free trade agreements will help Vietnam's GDP increase by up to 3.2 per cent in this decade. Unfortunately, many companies have been feeling the initial impact of the virus, and investors from Germany must postpone their investment plans or stop the execution of their projects.
Vietnam's travel restrictions – supported by other measures – help explain the country's apparent mastery over the virus. Everybody who does get into the country has to submit tests and wait out a mandatory quarantine period under state supervision in a military-run facility or designated hotel, plus 14-day home quarantine. For those entrants with full vaccinations, Vietnam should reduce the quarantine duration to a week, which would relieve the burden on quarantine zones and reduce expenses for entrants.
Moreover, the government should act now to accelerate vaccination and find the way out of this pandemic, while continuing to scale up production, ensuring that necessary logistics and healthcare infrastructure are in place, providing further financial and in-kind support to COVAX, and developing long-term strategies that include commitments to making vaccines available.
Laurent Genet - General director, Audi Vietnam

The lockdowns are weighing heavy on many companies. Whether open or classified as non-essential business, economy is restricted and projects also take longer to implement and get off the ground.
In Audi's case, the new dealership Audi Tan Binh under construction in Ho Chi Minh City is now delayed, which means that costs are piling up on top of suspended revenues since vehicle registration offices closed.
The start of a widespread vaccination campaign in large cities is a strong positive development. Vaccinations are the only affective way to protect the community and maintain economic activities.
The fast adoption of vaccine passports – for instance by using QR codes on smartphones, like the European Union is now implementing – will allow vaccinated people to be visibly identified when coming to Vietnam for business.
Ben Gray - General manager, Cushman & Wakefield Vietnam

C&W welcomes a taskforce to review and remove obstacles that are in the path of those seeking to invest here.
Looking at real estate, and specifically at development projects, Vietnam has the ability and the capability to drive sustainable, quality projects across the value spectrum.
The government needs to streamline the process of buying land under an urban master plan, to start constructions. The framework for this, specifically looking to the process of compensation has become particularly challenging and is easily frustrating. It is impossible for developers to see a clear path within the existing planning processes to realise their projects on time and on budget.
This shortage of projects that are viable restricts the supply of products and this constriction in the development pipeline has driven land prices to a level that is not sustainable. Developers should also be able to reset the tenure of land use certificates as part of the process.
The task force can also look at the process to register a project or a company in Vietnam and consider how some regional markets are able to have fully foreign-owned companies, capitalised and ready for business in under 24 hours.
The recent barriers raised with respect to foreigners with work permits is proving a challenge, however. The intent of the legislation, whilst admirable, is not aligned with the need from many multinational corporations coming to the market.
David Salt - COO, LOGIVAN Technologies

As we are a technology company, the new stay-at-work regulations have not affected us much. While we lose some quality time together for training and collaborating, we can achieve our objectives by working remotely, and we have been fully remote in Ho Chi Minh City since May.
Food and beverages have remained strong, with the only noticeable contraction being in the distribution channels of hotels, restaurants, and cafes. However, the many police checkpoints and requirements for regular testing of drivers have put pressure on companies. Nevertheless, we all understand the situation and respect that these measures are helping to curb the infection rate and keep people safe.
We are excited about the progress of the vaccination programme, noticing that many companies have already received their first doses. The programme will not only help to protect the elderly and other vulnerable but also help increase mobility for work and leisure.
Ngo Dang Khoa - Country head, Global Markets, HSBC Vietnam

Challenges for Vietnam's economic growth stem from internal factors. Although the macroeconomic data for the first six months of 2021 shows a relatively stable trajectory, the current wave of the virus could take a serious toll on the country's GDP growth target of 6.5 per cent.
The recent outbreak has also raised concerns that long-term production disruptions will affect Vietnam's sustainable economic recovery. The distancing directives have led to a deterioration in the outlook for consumption and the recovery of the service and tourism sectors.
As a result, HSBC Research downgraded Vietnam's GDP growth forecast to 6.1 per cent. However, in the long term, Vietnam's growth engine remains very strong. Once the pandemic is under control, Vietnam will benefit from a strong tech-led recovery and promising foreign investment prospects, making it one of the most potential countries in the region.
For sustained recovery, it is crucial to quickly contain the virus and accelerate a nationwide vaccination programme. With the closure of major industrial zones, particularly in the south of Vietnam, the growth momentum in the third quarter has encountered many roadblocks. Therefore, it is necessary to have timely policies in both fiscal and monetary terms to further support businesses and people overcome these difficulties.
Nguyen Van Toan - Vice chairman, Vietnam Association of Foreign Invested Enterprises

The establishment of a task force is a good idea because it will be a win-win solution for both investors and localities. Investments will be deployed on time, while immediately generating jobs for the local community, and provinces will have more benefits from tax revenues.
The smooth cooperation between the task force, departments, and investment promotion agencies in cities and provinces is important to follow registered projects' progress and study difficulties case-by-case. Along with following the progress of feasible projects, the task force should pay attention on long-delayed projects due to the investors' lack of experience or financial capacity, as well as those projects with wrong purposes compared to their commitment.
Tran Duc Anh - Head of Macro and Strategy, KB Securities

Data collected at the end of the second quarter showed certain impacts of the latest resurgence which caused many provinces and cities to implement social distancing, and interrupted many businesses and industrial parks.
The driving force for domestic growth in the latter half of 2021 should come from exports and investment. However, the speed of large-scale vaccination programmes and Vietnam's successful control of the pandemic are two drivers of economic growth in the last six months of the year. Thus, we lowered our forecast for 2021's GDP growth from 6.5 per cent to 5.8 per cent, reflecting the impact of the ongoing pandemic.
Export growth, especially in processing, manufacturing, and traditional industries like textiles, footwear, wood, and fishery is expected to rebound thanks to the increasing consumption demand in developed countries.
Source: VIR

Investors are calling for significant improvements to the operations of management boards of Vietnamese industrial zones to accelerate administrative procedures and better meet the tremendous appetite for investment.

In the last days of 2020, the rumor that Taiwanese group Foxconn - Apple's supplier – was moving part of its Ipad and MacBook production line to Vietnam at Apple's request created a stir.