The taxes on imported cars from Europe to Viet Nam will drop to zero per cent in the next nine to 10 years, creating new competitiveness in the automobile market.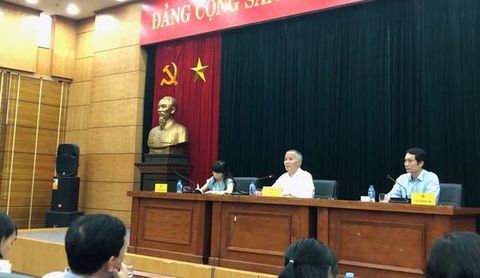 Deputy Minister of Industry and Trade Tran Quoc Khanh at the press conference. 
Deputy Minister of Industry and Trade, Tran Quoc Khanh made the statement at a press conference held in Ha Noi on Thursday.
Viet Nam and the European Union officially signed the Europe-Vietnam Free Trade Agreement (EVFTA) and the Europe-Viet Nam Investment Protection Agreement (EVIPA) in Ha Noi on June 30.
The agreements allow many goods, including cars, imported from the EU into Viet Nam to enjoy zero per cent tax according to the tax reduction roadmap over the next seven to 10 years.
Currently, imported cars from the EU to Viet Nam face taxes of 70 per cent, including those from luxury brands such as Audi, Mercedes-Benz, BMW, Volvo, Maserati and Volkswagen.
According to commitments under the agreements, the automobiles with engines above 2,500 cubic centimetre (cc) would enjoy tax cuts to zero per cent after nine years while those of less than 2,500 cc would be reduced to zero per cent after 10 years.
Khanh said there would be a shorter roadmap on tax reductions for automobile spare parts from the EU.
Owners of luxury cars imported from the EU would pay lower fees for maintenance and warranties, he added.
However, the deputy minister said the impact would not be too big as the Vietnamese car market is already diversified.
The EVFTA stipulates that Vietnamese tax cut commitments will not apply for used cars. — VNS