Thirty-eight Vietnam's textile and garment companies recently attended 'Global Sources Fashion and Global Sources Lifestyle', the biggest fashion exhibition in Hong Kong, to seek buyers.
"We have big partners but we need to seek new buyers to have $1 million in revenue each month," said Alvin An, a high-ranking manager of DKC Apparel, a foreign invested enterprise in HCM City.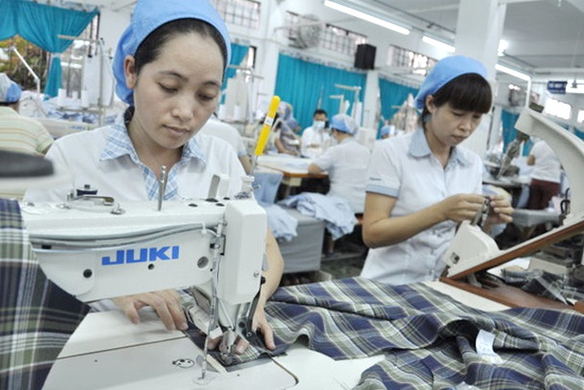 He said the company has set a target of $5 million in revenue and 200,000 products a month, and has to look for more orders. DKC Apparel does outsourcing for Giordano, GAP and Puma.

According to the Vietnam Textile and Garment Association (Vitas), Vietnam's total textile and garment export turnover in the first nine months of the year was $29.24 billion, up by 9.23 percent over the same period last year.
As such, 74 percent of the yearly business plan has been implemented, and the industry only has three months to fulfill the plan of exporting $40 billion worth of products.

However, since there are many small orders and few big orders, it will be not easy for enterprises to increase revenue.

Vietnam's total textile and garment export turnover in the first nine months of the year was $29.24 billion, up by 9.23 percent over the same period last year.
"We are making products for Columbia and Decathlon. We want to seek new buyers, but the orders must be big enough, at least 3,000 products," the representative of a sportswear company with four factories in HCM City, Quang Nam and Ba Ria – Vung Tau said.

The business director of a company specializing in making backpacks, bags and household-use goods in Binh Thanh district, HCM City, said many international buyers were trying to apply Chinese FOB prices on Vietnam's products.

"Vietnam's FOB prices are higher than China's, but many buyers still compare Vietnam's prices with China's. So, it is difficult for the two sides to reach a common voice," he said.

Prior to that, a study of Fiin Group found that for reflected-light shirts, Vietnamese enterprises can sell at $55 per product, and Chinese at $27.

However, experts and businesses are optimistic about the prospects of the industry, saying that the demand for relocating production lines and seeking new suppliers by fashion retail brands still exists.

"I think that many buyers from the US are interested in Vietnam's manufacturers. This morning, we met GAP and they said they are focusing on seeking more Vietnamese suppliers," said Ronald Ng, general director of Global Sources Lifestyle Group.

Meanwhile, the business director of a company in HCM City said it would be more difficult for Vietnamese enterprises to approach buyers if their FOB prices are higher. However, buyers will accept the prices because of the growing tendency of diversifying supply sources amid the US-China trade war.
 Mai Lan

It is becoming more difficult for textile and garment companies to recruit workers aslabor costs keep increasing and workers quit to move to higher paying jobs. The only solution is changing the production method.

The textile and garment industry is the second biggest polluting industry. Textile factories are the most energy-intensive in the world, consuming 1/10 of the total electricity used by industries in Vietnam.