The textile - garment industry is expected to thrive and earn 40 billion USD in exports next year, when the COVID-19 pandemic is forecast to ease in Vietnam and the world.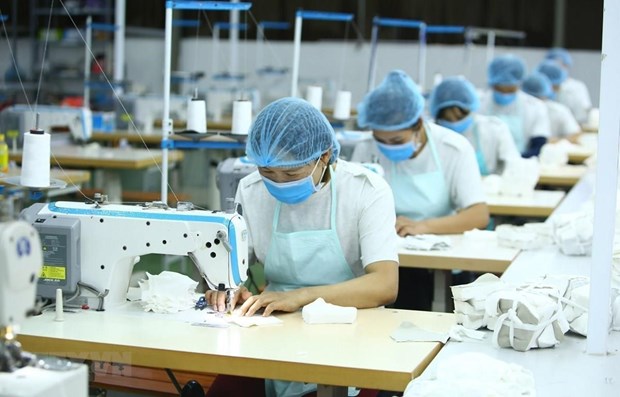 The textile - garment industry is hoped to bounce back next year (Photo: VNA)
Many experts and businesses said given the positive market- and manpower-related signs, the textile - garment industry of Vietnam can grasp opportunities to raise export revenue to 40 billion USD in 2022.
Pham Xuan Hong, Chairman of the Ho Chi Minh City Textile - Garment - Embroidery - Knitting Association, said businesses have received relatively abundant orders for the last three months of 2021 while manpower changes are not too big, which are positive signs for the recovery of textile - garment firms in HCM City, as well as the southern region as a whole.
The HCM City-based Viet Thang Jean Co. Ltd has resumed operations since the start of October and is striving to produce 1.2 million products for export to eight European countries.
The company said its apparel products have been shipped to Europe for sale in the Christmas and New Year holidays, adding that it has received orders for production until the end of June 2022.
The Vietnam National Textile and Garment Group (Vinatex) held that despite uncertainties, thanks to economic recovery, the demand for apparel import in large markets like the US, the EU, Japan, the Republic of Korea, and China will bounce back to pre-pandemic levels in 2019.
Outlining three scenarios, Vinatex said in the first scenario, in which production resumes in the fourth quarter of this year and Q1 of 2022 and more than 80 percent of workers return to factories, exports may reach 40 billion USD, higher than the revenue of 39 billion USD in 2019.
In the second scenario, in which production resumes in Q4 of 2021 and Q1 next year, but only more than 70 percent of workers come back, and the number of returning workers increases by 10 percent quarter on quarter, overseas shipments may reach 38 billion USD.
Meanwhile, in the third scenario, if production is unable to regain complete stability in Q1 next year, and less than 60 percent of workers return to their workplace, and the number rises by 10 percent quarter on quarter, exports would reach only 36 billion USD, according to Vinatex.
Hong believed that the pandemic situation in Vietnam and the world will ease in 2022, and the market will warm up. Besides, rivals have not had too many advantages compared to Vietnam.
Therefore, businesses should seize opportunities next year, he said, expressing his hope that they will partner with one another to tap into the growth potential of the world's textile - garment market./.
Source: VNA