Three companies are dominating the consumer lending market in Vietnam, with FE Credit, HD Saison and Home Credit firmly on top.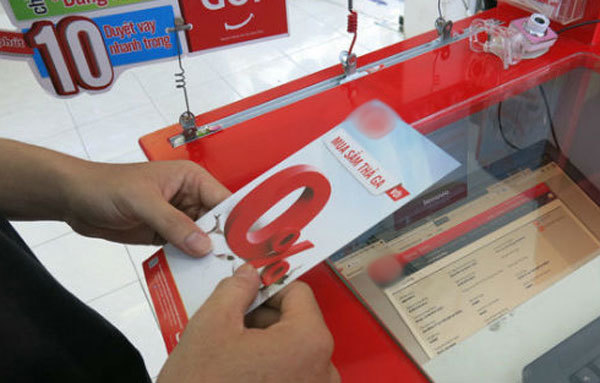 Vietnam's consumer credit market had significiant potential for development. — Photo giadinh.net.vn
According to the State Bank of Vietnam (SBV) 16 finance companies are licensed to provide consumer lending with their total charter capital worth more than VND22 trillion (US$948 million) as of the end of 2020.
Those with the largest charter capital include FE Credit (VND7.328 trillion), SBIC Finance (VND2.532 trillion), EVN FC (VND2.5 trillion), Home Credit (VND2.05 trillion) and HD Saison (VND1.4 trillion).
A report from Fiingroup on the domestic consumer lending market showed that consumer credit now accounts for 20.5 per cent of the total outstanding loans in the economy, 2.5 times higher than 2012, with an average annual growth rate of 20 per cent.
FE Credit, HD Saison and Home Credit altogether account for 80 per cent of the consumer lending market. FE Credit alone has a share of more than 52 per cent, much bigger than Home Credit in second with a share of 17 per cent and HD Saison with a share of 11 per cent.
A report from VPBank, which owns FE Credit, showed the company holds a market share of more than 55 per cent. In 2020, FE Credit provided new loans worth VND63 trillion, about VND10 trillion lower than 2019 but still the company with the highest value of new loans in the market last year.
The total outstanding loans of FE Credit were estimated at around VND66 trillion as of the end of 2020, a slight increase from 2019. The bad debts were estimated at about VND4.3 trillion.
With total assets worth more than VND16.1 trillion by the end of last year, HD Saison's outstanding loans were estimated at VND14.23 trillion, up 13 per cent against the previous year.
Home Credit's outstanding loans were estimated at more than VND20 trillion.
Despite higher risks than bank loans, the consumer lending market is still attractive to investors thanks to its profitability.
According to SBV statistics, finance companies have the highest profitability among credit institutions in Vietnam.
The latest updates available in October showed a return on asset (ROA) and return on revenue (ROE) of finance companies were respectively 2.19 per cent and 10.55 per cent, highest among credit institutions. The ROA of finance companies was even 2.8 times higher than commercial banks.
A number of banks have launched finance companies, such as VP Bank with FE Credit, HDBank with HD Saison, SHB with SHB Finance and MBBank with Mcredit.
Banking expert Can Van Luc said Vietnam's consumer credit market had significant potential for development. Consumer loans are estimated to account for around 18-20 per cent of the total outstanding loans in the economy.  VNS

Vietnam currently has 16 finance companies, including six fully foreign owned ones.