Property projects in Quang Ninh, Bac Giang and Thanh Hoa are expected to attract northern investors in the last months of 2021 thanks to the development of infrastructure and IZs.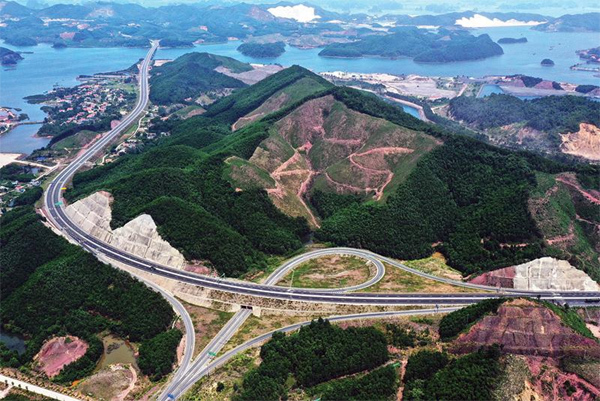 Van Don - Mong Cai Highway
Bac Giang successes
As the first locality attacked by the fourth pandemic wave, Bac Giang had to impose social distancing measures, which raised worries for investors. However, the wave was quickly controlled and production and business activities returned to normal.
The great efforts by local authorities to fight the pandemic, plus the development of infrastructure and industrial parks, and the abundant land bank with reasonable prices all have made Bac Giang an attractive investment destination.
Despite the serious impact caused by the pandemic, BacGiang still attracted $746.87 million worth of investment capital, or 4.5 times higher than the same period last year.
This included VND1.482 trillion worth of capital registered by 19 domestic newly invested projects and $601 million by 10 foreign invested projects.
The province ranked seventh in the country in attracting FDI with large-scale projects, including the $210 million photovoltaic cell technology project of JA Solar PV Vietnam, and the $293 million project of Fukang Technology.
From now to 2030, Bac Giang is expected to become a key province for sustainable industrial development, and one of the industry centers of the region by 2030, comprising 29 IZs and 66 industrial clusters, covering an area of 6,400 hectares with connected infrastructure. They will attract investment projects using modern technologies and thousands of foreign specialists.
Quang Ninh striving for new heights
The province plans to gather strength on three key projects, namely Van Don – Mong Cai Highway, Ha Long – Cam Pha sea route and Cua Luc 1 Bridge, with total investment capital of VND17 trillion, expected to cause the local property value to increase.
The total investment capital of the province was VND39.292 trillion in H1, an increase of 10 percent over the same period last year. It allocated a budget of VND58.7 trillion for public investments in 2021-2025, including VND11.7 trillion in 2021.
Experts believe the strong economic development and high investments will pave the way for Ha Long, Mong Cai and Cam Pha to become rising stars in the real estate market.
Thanh Hoa sees big investments
Experts predict that the Thanh Hoa market will be hotter than ever before in Q4 as three leading real estate groups Flamingo, Sungroup and Vingroup implement super-projects on 3,000 hectares with total investment capital of $3 billion.
The province is expected to attract investors who see great potential from the strong local infrastructure development. including the road connecting Sam Son and Nghi Son EZ, East-West Boulevard in Thanh Hoa City. Around 43 transport projects with total investment capital of VND35 trillion will be executed from now to 2025. 
Ngoc Minh

Real estate businesses in Ho Chi Minh City are gingerly reopening, mostly consulting and carrying out transactions online due to the COVID-19 prevention and control regulations still in force.

Realtors with strong financial capability are collecting land for large projects in the future.