Biotech shares, especially the shares of vaccine producers, are being sought by investors.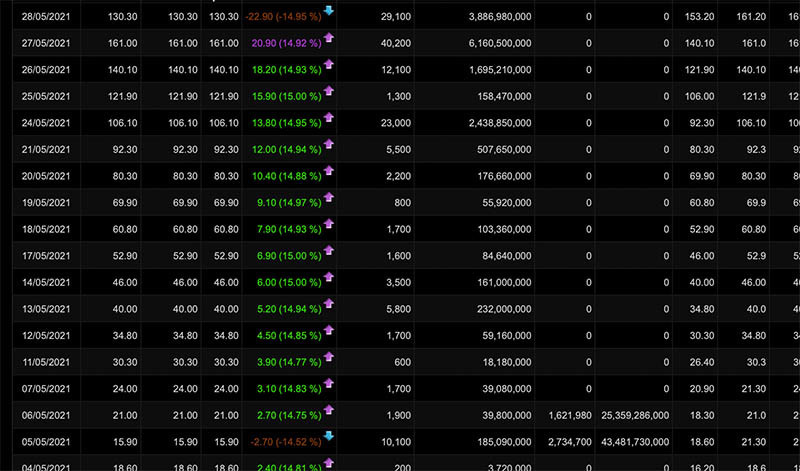 Biopharco has seen its share prices increasing in recent months. In the last 15 out of 18 trading sessions since the beginning of May, the price hit ceiling levels. The prices fell to floor levels in two trading sessions and increased in the remaining.
BIO share prices soared from VND17,400 per share earlier this month to the highest peak of VND161,000, or nine times, before going down again to VND130,300 per share. However, the price is still seven times higher than that of early May.
Biopharco has announced dividend payment of VND300 for one share. The payment will be made on August 4, 2021.
Le Dinh Phan, Biopharco president, has bought an additional 2.73 million shares, raising his total ownership ratio to 39 percent with 3.34 million shares. The transaction was carried out on May 5, 2021.
Phan took office as President of the company on April 12, 2021.
Nguyen Thi Kim Chung, member of the Board of Directors, has also bought 1.63 million shares. Prior to that, Chung had been a big shareholder with 1.36 million BIO shares (15.98 percent).
Biopharco reported net revenue of VND36 billion in 2020, the same as 2019, which mostly came from product sales. The post-tax profit increased slightly by 4 percent to VND5.1 billion.
The prices of vaccine producers are also increasingly sharply in the world market. CEOs of Moderna and BioNTech, with assets of over $4 billion, are topping the list of emerging billionaires from Covid-19 vaccines.
The list also includes the names of two founders of Moderna and president of the company, as well as the CEO of a company obtaining an agreement on producing and packing Moderna vaccines.
At least nine billionaires have emerged since the Covid-19 outbreak, thanks to the huge profits of the big pharmaceutical companies that produce vaccines.
In Vietnam, Hau Giang Pharmacy, another big name in the pharmacy sector, has announced a dividend payment of 40 percent. With nearly 131 million shares in circulation, DHG needs to pay VND523 billion for dividends.
In 2020, DHG earned VND821 billion worth of pre-tax profit. The company plans to obtain the same profit in 2021 and maintain a dividend payment of 30 percent until 2025.
NDC shares of Nam Duoc have also seen an impressive price surge from VND59,800 per share early this year to VND84,000 per share, or 40 percent. IMP, PMC and DCL have also seen two-digit price increases.

According to the Vietnam Construction Securities, the stock market is sprinting towards a new peak of 1,400. 
M. Ha

Vietnam's stock market remained among the world's best performers in the first five months as the benchmark Vn-Index rose by 16.31% against early 2021 to 1,283.93 points at the close on May 21, according to StockQ.

Vietnam's stock market is expected to continue to grow, helped by strong economic growth and increasing local liquidity. The positive outlook will attract foreign investors back to the market, according to HSBC.