The local retail sector is set to maintain its encouraging growth towards the end of the year, with new drivers coming online.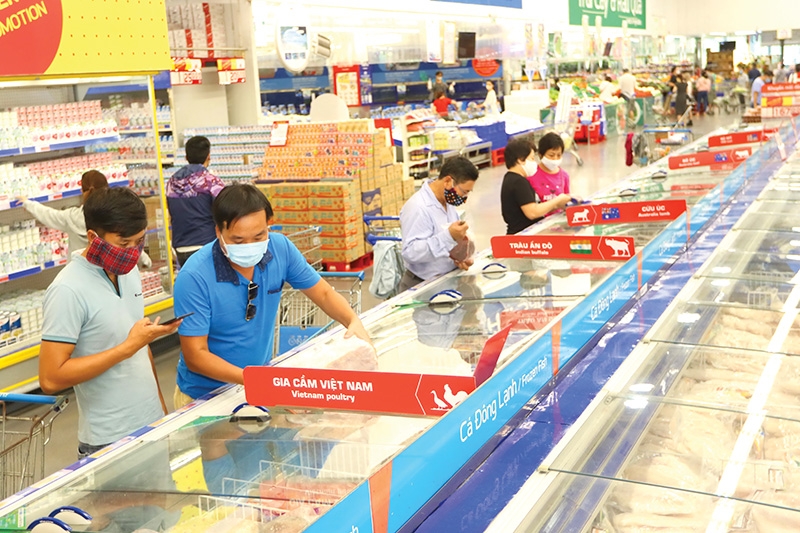 Shopping habits are expected to upend on a massive scale later this year, Photo: Le Toan
In the first eight months of the year, retail sales increased 4 per cent on-year to VND2.55 quadrillion ($110.87 billion), showing signs of socioeconomic recovery.
Economist Dinh Trong Thinh told VIR that the increase is much lower than in previous years. However, any growth is good news in the context of the pandemic, as during social distancing, entire manufacturing and trade activities were disrupted. In addition, the income of a large portion of the populace decreased, leading to a reduction in the consumption of non-essential goods.
"Thus, the 4 per cent rise reflects the efforts of manufacturers to maintain operations as well as the efforts of the distribution and marketing segment to bring goods to customers," Thinh said.
The pandemic was the last drop in a cup filled with massive debts and shifting shopping habits, triggering bankruptcies and store closures in the past eight months. As a result, JCPenney, Gap, Victoria's Secret, and more than 40 other retailers were forced to close thousands of stores.
Despite the outbreak, Vietnam is expected to remain one of the fastest-growing economies in Southeast Asia. This is due in large part to its early and decisive containment efforts, as well as robust and resilient economic fundamentals.
"Retailers tried to restructure distribution activities to meet the new trends, including online shopping. They not only tried to stabilise the supply of goods but also diversified distribution channels," Thinh said.
Notably, the pandemic contributed to promoting the development of omnichannel distribution that offers customers a wider range of shopping and payment alternatives. In addition, online sales tools like chatbots and QR codes are making payments more convenient.
According to figures published by the General Statistics Office of Vietnam (GSO), in the first three months of this year, retail sales increased by 10.7, 9.8, and 7.7 per cent a month, respectively. However, in April, the retail revenue suddenly stalled, with only a titular increase of 0.4 per cent on-year due to the national social distancing policy.
From May to August the figure increased again by 1.2 per cent on-year in May, 3.4 per cent in June, 3.6 per cent in July, and 4 per cent in August.
Notably, statistics from the GSO showed that revenue from retail and consumer services in August fell by 2.7 per cent against the previous month. Accommodation and food, and travel services were hit the hardest, falling 14.7 and 61.8 per cent against July.
Overall, retail sales and consumer services in the first eight months fell by a slight 0.02 per cent on-year. As shown before, retail sales rose by 4 per cent on-year, primarily driven by revenue from food (up 8 per cent) and household goods (5.4 per cent) while revenue from the textile and garment decreased by 0.6 per cent, from vehicles by down 2 per cent, and cultural and educational goods went down 4.5 per cent.
The cities and provinces seeing above-average growth in retail sales included Haiphong (11 per cent), Hanoi (9.8 per cent), Dong Nai (9.4 per cent), and Ho Chi Minh City (9.4 per cent). These increases were thanks to consumers quickly adapting to the new normal, echoed by a spike in online shopping.
According to iPrice Group, a privately-owned online shopping aggregator based in Malaysia, over the first half of 2020, local consumers spent 31 per cent more on-year on online shopping.
A survey performed by Deloitte in July showed that more than 50 per cent of respondents have cut expenses at supermarkets, grocery stores, and markets. About 25 per cent of them have enhanced spending on online shopping platforms due to COVID-19.
In the last four months of 2020, the growth momentum is expected to stay thanks to new drivers such as the anticipated development of anti-coronavirus vaccines in Vietnam and other countries, forecasting an impending economic rebound that will buoy up the retail sector.
"Also, many countries, including Vietnam, have been rolling out measures to prevent the pandemic and restructure their economies at the same time. Thus, the recovery will be easier," said Thinh. "Moreover, the coming New Year will be a great opportunity for local companies, especially those focusing on export-import, to boost sales in the EU markets."
"Growth may not be as high as in the previous years, but it will be there and will make for a solid basis for the coming hikes," he added.
The ability to adapt to the dragging pandemic is a factor that will make or break companies. Specifically, about 63 per cent of CFOs supposed that adding new features and services to their products is most important, according to a PwC report. According to Amity Millhiser, vice chairman at PwC, the period will see the extraordinary rise of several companies which have quickly adapted to the COVID-19 lockdown and adjusted activities. VIR
Vy An

The Ministry of Industry and Trade (MoIT) plans to consolidate traditional markets in rural areas while developing a large number of convenience stores and diversifying types and methods of modern business.

While most enterprises have had to scale down their business during Covid-19 and give back their retail premises to landlords, Japanese retailers have continued to open more shops in Vietnam recently.