The profit of Vietnam Airlines Corporation will be strongly affected by the spread of COVID-19 in countries around the world, according to the preliminary report of the Committee for Management of State Capital at Enterprises (CMSC).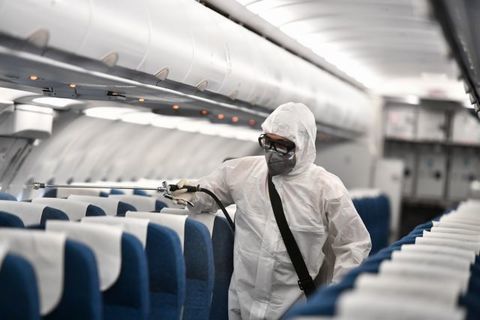 A worker sprays disinfectant on a plane. — Photo Vietnam Airlines
The report was released as the corporation has had to cancel many flights to its key markets in Asia and Europe and spend money sterilising its service system to ensure safety for passengers.
It is predicted that the corporation's revenue could drop 16 per cent, or VND12.5 trillion (US$538 million), compared with its plan this year, marking a loss of VND4.3 trillion (while the profit plan is nearly VND1.6 trillion). Therefore, it is difficult to complete the production and business plan previously approved by the CMSC.
It said that 17 companies, which contribute to the corporation's capital, will also have a sharp decrease in revenue and corresponding profit. These companies' pre-tax profit is estimated to fall by at least VND320 billion, dividends profit sharing for the corporation will also drop by at least VND250 billion.
CEO of Vietnam Airlines Duong Tri Thanh said the corporation is being directly affected by the COVID-19 outbreak, which is "unprecedented in aviation history."
"The key markets of Viet Nam aviation are all affected by the coronavirus. China has now closed, while South Korea and Japan, where are the two most important markets of Vietnam Airlines in Northeast Asia, are also suffering the spread of the COVID-19. The outbreak in Italy makes the European route very difficult," Thanh said.
"Reduced ticket prices and increased operating costs due to sterilisation to ensure safety for passengers will erode the profit of Vietnam Airlines in 2020," he added.
Thanh said the outbreak of COVID-19 has caused 40 per cent of Vietnam Airlines aircraft to be 'exposed to the sun'. Its 20,000 domestic and foreign employees are affected by the epidemic as the corporation applies unprecedented solutions including senior leadership salaries reduced by 40 per cent and subordinate officials reduced by 30 per cent, meanwhile employees rotate to be off work, foreign pilots take temporary leave and some representative offices are closed.
"The goal of Vietnam Airlines now is no longer about profits but cash flow and how to survive in the current context," Thanh said.
Coping the on-going COVID-19 epidemic, Vietnam Airlines said it would conduct sterilisation of all international flights to Viet Nam. Flights that record passengers with abnormal health are also reported to the authorities and disinfected immediately.
Disinfection is carried out after the aircraft arrives at the apron. The entire cabin area, cockpit and flight attendant preparation area are disinfected. The most important areas for disinfection are places where there are many people contacting by hand such as luggage compartment locks, armrests on the seats and toilet door handles. Disinfection spray CH2200 is used according to the standards of functional health units, approved by the aircraft manufacturers for use on aircraft and does not affect passenger health.
To limit the spread of COVID-19 virus, Vietnam Airlines takes body temperature measurements of all passengers departing from Europe before boarding and provides passengers with masks to use during the flight. Passengers are encouraged to stabilise their seats, limit movement and communication during the flight.
For domestic flights, Vietnam Airlines has conducted disinfection spray immediately after each flight at places where passengers are usually in manual contact. Used headsets are disinfected with Chloramin B solution. The equipment to serve passengers at Noi Bai and Tan Son Nhat international airports include ladders and passenger cars are also frequently cleaned with disinfectant solutions. — VNS

Vietnam Airlines has moved to thoroughly disinfect all aircraft that operate on international routes to prevent the spread of the novel coronavirus and ensure the safety of passengers, flight crews, and the wider community.

The outbreak of the novel coronavirus has severely hurt Vietnam Airlines, with 40% of its aircraft lying idle, senior executives' salaries being cut by 40% and some representative offices being closed, stated general director Duong Tri Thanh.