Da Nang allows foreigners to buy houses in 17 projects
The Construction Department of central Da Nang city has listed 17 commercial housing projects in which foreign organisations and individuals can buy units.
The projects include Blooming Tower, Golden Square complex, Quang Nguyen Apartment complex, Thuy Tu urban area, Harmony Tower, and Da Nang FPT Technological Urban Area.
The city also disallows foreigners from owning property in three projects, namely F-Home Apartment complex, Da Nang Diamond Tower, and IndoChina Riverside Tower.
The department suggested the Department of Natural Resources and Environment and relevant agencies review the grant of licences to foreign organisations and individuals in projects that are off-limits to foreign buyers./.
Coffee exports fall by over 11 percent in Q1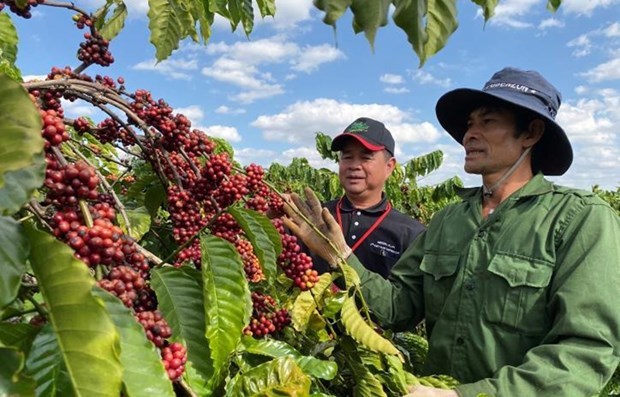 Coffee exports earned 771 million USD for Vietnam in the first quarter of 2021

Vietnam exported 428,000 tonnes of coffee worth 771 million USD in the first quarter of 2021, down 17 percent in volume and 11.3 percent in value year on year, according to the Ministry of Agriculture and Rural Development (MARD).
In March alone, 145,000 tonnes of coffee were shipped abroad, bringing home 275 million USD. The figures respectively rose 18 percent and 27.3 percent month on month, but declined 21.1 percent and 11 percent compared to the same period last year.
Despite a drop in both export volume and value, export prices still increased in Q1, the MARD said, noting that prices of Vietnamese coffee averaged 1,897 USD per tonne in March, up 7.9 percent from the previous month and 12.8 percent year on year.
During Q1, average coffee export prices grew 6.8 percent from a year earlier to 1,801 USD per tonne.
MARD statistics also showed that in the first three months, the country exported 10.61 billion USD worth of agricultural, forestry and fishery products, up 19.7 percent year on year. Meanwhile, imports hit 7.74 billion USD, up 44.7 percent.
That resulted in a trade surplus of 2.87 billion USD for the agricultural sector during the period./.
VinFast selects NVIDIA DRIVE to power next-generation intelligent autonomous electric vehicles
VinFast Trading and Production LLC announced that it has selected NVIDIA DRIVE Orin for its new generation of autonomous electric vehicles designed to deliver a superior driving experience to customers.
VinFast recently announced it is developing and preparing to start mass production of smart electric cars in all segments, including: the VF e34 mid-size SUV (Segment C), the VF e35 mid-size SUV (Segment D), and the VF e36 full-size SUV (Segment E). All three models have Level 2 - 3 autonomous capabilities, with 30 smart features.
VinFast EVs will first ship with the NVIDIA DRIVE Xavier system-on-a-chip (SoC) starting in 2022. The automaker will upgrade to NVIDIA DRIVE Orin across its entire range of upcoming premium EV models.
NVIDIA DRIVE Orin is the industry's highest performing AV processor. Built with more than 21 billion transistors, it features the latest NVIDIA Ampere GPU architecture, 12 Cortex-A78 ARM64 CPUs, along with programmable vision and deep learning accelerators. The SoC is capable of processing more than 254 trillion operations per second to handle the large number of applications and deep neural networks running simultaneously to support special vehicle features. This includes capabilities such as cruise planning, locating charging stations and dealerships, theft-risk warning, user habit preferences, self-driving on highways, parking and more.
As a result, VinFast's electric cars will offer increased safety and enhanced autonomy to outperform existing models on the market; and deliver these safe, intelligent EVs at large scale. In addition, the NVIDIA DRIVE Orin system is designed to ISO 26262 ASIL-D safety standards to ensure the highest level of automotive electronics safety.
"VinFast's strategy is focused on cooperating with global technology companies to pair their latest advancements with our products," said Thai Thi Thanh Hai, Vice Chairwoman of Vingroup and CEO of VinFast. "Enabled by NVIDIA, our new fleet of EVs will have the latest AI capabilities and features essential for safe self-driving and over-the-air software updates."
"VinFast's selection of NVIDIA DRIVE will accelerate development of the automaker's intelligent EVs - delivering new levels of safety and convenience that will help shape the future of transportation in Vietnam, throughout Southeast Asia and the world," said Rishi Dhall, Vice President of Autonomous Vehicles at NVIDIA.
VinFast is the leading Vietnamese car manufacturer across every segment in terms of sales in Vietnam. In early 2021, VinFast announced three electric SUVs with autonomous features up to Level 3, in which VF e34 is the first model to be launched in Vietnam first by the end of 2021. All three models are using artificial intelligence technology with many outstanding smart features, VF e35 and VF e36 are expected to export to the US, Canada, and Europe in the year 2022./.
VNPAY-QR payment solution secures strong position following rapid growth
VNPAY-QR payment solution, a national brand that has consistently recorded impressive growth during the early part of the year, has been helping users to quickly pay for their shopping bills and other services in a manner which is both safe and convenient whilst not using cash.

Due to the complicated nature of the novel coronavirus (COVID-19) pandemic, this represents the optimal form of payment as it serves to limit the contact and spread of the disease which may occur from making cash payments.
According to the latest figures provided by a VNPAY representative, VNPAY-QR has enjoyed strong growth across all aspects, with the number of VNPAY-QR payment transactions during the first quarter of the year expanding by 300% compared to the same period from last year. This is along with payments rising by up to 100,000, with this figure set to continue expanding moving forward.
Most notably, VNPAY has moved to strengthen links with many major banks, including Vietcombank, VietinBank, BIDV, and Agribank, with a specific view to helping users gain easy access to modern payment methods, with the data of a large number of customers integrating with utility on Mobile Banking.
At present, VNPAY-QR has linked with more than 30 banks and eight e-wallets. March saw VNPAY launch its latest version of the VNPAY e-wallet, featuring VNPAY-QR integration that allows any customers to use this form of payment. 
Furthermore, VNPAY-QR covers all sectors and services, ranging from supermarkets, transportation, telecommunications, health care, education, catering services, and to cinemas, thereby bringing a convenient shopping experience to customers. There is also a QR code for payments which are capable of meeting the "standard QR Code basis" set by the State Bank of Vietnam.
Along with attracting fresh customers through convenient service experiences, VNPAY has continued to offer a range of promotions that aim to change the habits of users from cash payments to payments via VNPAY-QR code. Since late 2020, VNPAY has moved to implement a promotional scheme known as "Scan VNPAY-QR, for cars and houses", with many valuable prizes on offer, such as luxury apartments, motorbikes, phones, and laptops, which were awarded to customers.
Ngo Anh Tuan, director of VNPAY-QR, outlines the firm's vision by stating, "VNPAY is going ahead with promotional programmes to thank customers who are using the VNPAY-QR payment method. For customers who still use cash, these valuable gifts will motivate them to change their habits of switching to mobile payments by scanning QR codes. Our ultimate goal is to bridge the gap towards a cashless society in Vietnam as quickly as possible."
With great potential existing in terms of service and customer market, VNPAY-QR services hope to create changes in Vietnamese payment habits whilst increasingly asserting its position in e-payments, which is seen as a smart, modern, safe, and optimal payment system for customers. 
Global market share of Vietnamese mangoes remains modest
Despite recording impressive growth in recent times, the global market share of Vietnamese mangoes stays modest, as the value of its mango exports last year reached over US$180 million out of a total global export value of US$12.3 billion, according to the Agro Processing and Market Development Authority.
The Agro Processing and Market Development Authority (Agrotrade) states that Vietnamese mango export turnover endured a drop of 9% to US$180.8 million last year in comparison to 2019. The fall is largely caused by the impact of the COVID-19 pandemic interrupting the flow of goods globally.
At present, China is the largest consumer of Vietnamese mangoes, with turnover reaching US$151.8 million, or 83.95% of Vietnam's total export turnover. It is followed by Russia, Papua New Guinea, the United States, the Republic of Korea (RoK), the EU, Japan, and Hong Kong (China).
Most notably, several demanding markets, including the US, the RoK, and Australia have moved to increase their import of Vietnamese mangoes.
According to statistics released by the Ministry of Industry and Trade, Vietnam represents the 14th largest mango supplier to the US, shipping 2,100 tonnes worth US$4.61 million last year, up 66% in volume and 70.1% in value compared to 2019.
The average import price from the country is relatively high at US$2.2 per kilo, representing an increase of 2.5% compared to figures from 2019. Despite this growth, the market share of local mangoes continues to remain low, accounting for only 0.3% of the US' total mango imports. Fresh and frozen mangoes are popular export items.
Moreover, Vietnam ranks fourth among the largest mango suppliers to the RoK, making up 6.2% of their total mango imports.
At present, Vietnamese mangoes enjoy plenty of advantages after the products were licensed to enter the US and Australia due to the use of 30-day storage technology. Additionally, tax preferences from numerous free trade agreements Vietnam has signed with its partners make it easier for the local fruit to access both regional and global markets.
Experts have therefore underscored the importance of the development of value chains by strengthening connectivity among producers, buyers, and export businesses, along with processing and packaging stages, in line with the stringent regulations set out by foreign importers.
The Ministry of Agriculture and Rural Development has also recommended that localities continue to register mango-growing areas whilst issuing codes of farming zones, and apply competent agricultural practices in production. 
Cassava exports enjoy surge in Q1
Vietnam's export of cassava and cassava products stood at an estimated 1.07 million tonnes worth US$396 million during the first quarter of the year, a year-on-year increase of 40.3% in volume and 53.3% in value, according to figures released by the Ministry of Industry and Trade (MoIT).
This comes following the market share of Vietnamese cassava chips as part of China's total imports increased sharply throughout the reviewed period.
March alone witnessed the country export roughly 385,000 tonnes of cassava and cassava products worth US$142 million, posting a rise of 17.1% in volume and 23.9% in value compared to the same period from last year.
The average export price of cassava in March recorded an increase of 1% compared to February, whilst rising by 5.8% compared to March, 2020, to US$369 per tonne.
During the initial three months of the year, the nation shipped 1.07 million tonnes of cassava and cassava products abroad worth US$396 million.
According to figures compiled by China Customs, during the initial two months of the year, China's import of cassava chips surged by 151.9% on-year to US$222.65 million, with Thailand, Vietnam, Cambodia, Laos, and Tanzania being the five largest cassava chips suppliers to the East Asian giant.
The nation ranks second among the largest suppliers of cassava chips to the Chinese market, with export turnover reaching US$41.72 million, up 209.9% against the same period from last year, with the country's share of the cassava chips market accounting for 18.74% of China's total imports.
Throughout the reviewed period the northern neighbour mainly imported cassava starch from Thailand, Vietnam, Indonesia, Laos, and Cambodia, with Vietnam representing the second largest supplier to China with 158,220 tonnes worth US$70.57 million, up 38% in volume and 53.4% in value over the same period from 2020.
Singapore's Draper Startup acquires Hatch Ventures Vietnam
Draper Startup House, a global network of spaces connected to services, education, and investment, announced today that it has acquired Hatch Ventures Vietnam (HATCH!), a startup ecosystem builder. The deal brings to Draper a presence in Vietnam, and enables HATCH! access to the Draper Venture Network. 

HATCH!, which offered training, business incubation, and investor matching, was founded in 2012 by US entrepreneur Aaron Everhart. HATCH! organised the HATCH! FAIR from 2012-2017, and coorganised the inaugural TechFest, which is now Vietnam's largest annual gathering for innovation and entrepreneurship.
Draper Startup House, founded by Vikram Bharati in Singapore in 2018, began as Tribe Theory, a concept for digital nomads to live, work, and cocreate companies. It joined the Draper Ecosystem to form Draper Startup House in 2019. Danang, Vietnam is the newest location, joining its existing locations.
Draper Startup House Singapore wholly acquired HATCH! and subsequently will co-own Draper Startup House Vietnam. The cash and equity deal will result in a new Vietnamese entity.
Vikram Bharati, CEO of Draper Startup House International (Singapore) said, "The acquisition of HATCH! supports Draper Startup House vision to create one million companies by 2030. The systems, network, and brand recognition of HATCH! in Vietnam enables Draper to gain an influential presence in Vietnam, starting in Danang city."
Companies joining in Draper Startup House programmes will get access to the 23 global venture capital funds in Draper Venture Network. 
Aaron Everhart, who will assume the role of CEO for Draper Startup House in Vietnam said, "I envisioned HATCH! to help 'made in Vietnam' innovations to compete internationally, and this aligns with the vision and direction of Draper Startup House. Now participants and alum can take advantage of programmes like Draper Startup House Academy for learning, and Draper Startup House Ventures for funding."
Industry analysts recognise Vietnam's large population of highly skilled technical, scientific, design, and artistic talent. Draper Startup House, according to them, concentrates on venture building with globally diverse teams, resulting in a steady flow of quality investment targets. This acquisition brings entrepreneurs and startups in Vietnam a faster path for global reach.
Local airlines add more flights, increase prices for upcoming holiday
Local airlines have increased flights to popular destinations to meet travel demand during the upcoming national holiday season.
However, the fares are rising by the hour.
Vietnam Airlines Group, including Vietnam Airlines, Pacific Airlines and Vasco, is offering 500,000 seats, equivalent to about 2,600 flights to and from Ha Noi, HCM City, Da Nang, Quy Nhon, Da Lat and Phu Quoc, among other localities, between April 4 and May 3.
The number represents an increase of 100,000 seats compared to off-peak periods.
Bamboo Airways has plans to add about 110 to 150 flights per week, which is equivalent to 22,000 to 30,000 seats, with many routes operating at a frequency of up to four to five flights per day.
Popular routes are Ha Noi/HCM City to Phu Quoc, Nha Trang, Quy Nhon or Vinh, Thanh Hoa and Hai Phong.
Meanwhile, in addition to launching five new routes from Vinh, Da Nang, Thanh Hoa, Nha Trang and Da Lat to Phu Quoc, Vietjet will also increase flight frequency to meet passengers' needs on the holiday.
Even though more flights have been added, many locals are upset about how expensive and rare some tickets are.
This can be seen from the limited number of flights from Ha Noi to Phu Quoc on April 30. According to the online ticketing site Abay, Vietjet offers the most affordable price at over VND1.8 million per way, but only 25 tickets at 5pm on April 30 were seen at this price.
On the same day, Vietnam Airlines had five flights but they were priced at VND2.9 to 4.2 million per ticket, depending on the ticket class.
Bamboo Airways has the highest price, with VND3.6 million per way at the cheapest and VND4.26 million the most expensive.
Prices on flights between Ha Noi and Nha Trang and between HCM City and Quy Nhon have increased significantly compared to two weeks ago.
While many airlines have launched more flights and discounts to stimulate travel demand, all of the announcements are accompanied by the phrase "not applicable during peak period", which covers the upcoming holiday period.
Representatives of some travel agencies pointed out that local tourism is in a demand stimulus stage to recover from a year of bad luck.
The biggest problem now is boosting sales and encouraging locals to travel. However, it is essential for travel agencies to not increase their package prices immediately, but keep everything under control to build trust and confidence among customers.
"During this difficult period, some customers have helped local tourism revive. It seems unfair if travel agencies decide to increase their prices now," a representative said.
Domestic garment and textile industry sees positive signs
The country's garment and textile exports have seen recovery with turnover of US$7.2 billion in the first quarter of the year, slightly increasing 1.1 per cent from the same period last year, according to the Ministry of Industry and Trade (MoIT).
Although this was not a big increase, the result demonstrates positive signs for the sector. The local garment and textile businesses have found a suitable direction despite the impact of the COVID-19 pandemic. The global textile, garment and footwear market has gradually become active again as many countries have provided COVID-19 vaccines to people, contributing to promote consumption demand.
Vu Duc Giang, chairman of the Viet Nam Textile and Apparel Association (VITAS), said the recovery of Viet Nam's textile and apparel industry in 2021 has been forecasted by many experts and organisations. This recovery was firstly due to the efforts of the Government and the MoIT in policies and moves to support the implementation of trade promotion, market research and commodity trading.
In addition, the impacts from Free Trade Agreements (FTAs) that Viet Nam has signed, such as the EVFTA and RCEP have created favourable conditions for textile enterprises to easily exploit the benefits of the FTAs and promote regional production chains, especially in rules of origin and trade facilitation.
The initial export recovery of Viet Nam's textile and apparel sector has opened up positive signs for the second quarter of 2021. Currently, many textile and garment firms have signed orders until the end of the year, Giang said.
However, the ministry said the complicated developments of the COVID-19 pandemic around the world may cause problems in transporting goods, affecting Viet Nam's exports in general and textiles in particular.
The MoIT would help firms exploit and take advantage of opportunities from FTAs to find solutions to develop markets. It would continue to closely monitor developments of the COVID-19 pandemic in the world to take response measures.
It would prioritise export promotion activities to markets which recover soon after the pandemic while highlighting products with high import demand.
Le Tien Truong, chairman of the Viet Nam National Textile and Garment Group (Vinatex), said in the first half of the year, the market would have high demand for essential goods with relatively cheap prices.
Vinatex has big and reputable enterprises. When the market recovers, its subsidiaries will have orders.
Truong said some of its traditional importers faced difficulties in 2020, especially in the US market where more than 10 major brands had to close.
"However, in the first two months of the year, Vinatex caught up with the market demand, especially the yarn industry, with a growth rate of 41 per cent. In the rest of 2021, we have striven to improve efficiency, but may not be able to return to the same export turnover in 2019. We targeted a growth rate of 30 – 35 per cent higher than last year," he added.
Mixed bag for first phase of CPTPP deal
Vietnam's attraction of foreign direct investment from countries participating in the Comprehensive and Progressive Agreement for Trans-Pacific Partnership has shown mixed results since its commencement, with expert opinions diverging on interpretation of developments. 

After two years of implementation, the Comprehensive and Progressive Agreement for Trans-Pacific Partnership (CPTPP) has created some positive initial impacts, especially in new markets, but benefits for Vietnam from remain modest.
Nguyen Cam Trang, deputy director of the Agency of Foreign Trade under the Ministry of Industry and Trade, said that the growth rate of exports to CPTPP markets was 7.2 per cent lower than the 8.4 per cent growth rate of exports worldwide in the same period.
There is very little information about the effects and impacts of the CPTPP on foreign-invested enterprises (FIEs), what they know about this agreement, and how to take advantage of it, as well as what is preventing them from accessing what is considered significant opportunities from the agreement.
In Vietnam, the effectiveness of the CPTPP depends partly on estimates and actions of foreign direct investment (FDI). Nguyen Thi Thu Trang, director of the WTO and International Trade Centre under the Vietnam Chamber of Commerce and Industry (VCCI), noted differences in understanding the legal framework between domestic enterprises and FIEs. Meanwhile, the latter accounts for the highest proportion in imports and exports, with special relations regarding issues of investment protection and openness as well as methodical policy and legal matters.
"The biggest reason why Vietnamese businesses have not taken advantage of the incentives from this trade agreement is that they do not know about the tariff incentives under the CPTPP," Trang said.
The CTTPP is an ambitious agreement that covers every important aspect of trade and investment. During the first period of implementation, FDI flowing into Vietnam has witnessed increases after a quiet period observing US-China trade tensions in 2019, as well as shifts in supply and production chains towards diversification.
In both trends, the inflow of FDI is expected to increase, especially in East Asia and Southeast Asia. The CPTPP is thus considered to be a favourable factor for the overall FDI attraction process. However, the results of attracting FDI during this period did so far not seem to reflect the trends.
Several problems have been identified from this unexpected fact. In 2019, Vietnam attracted approximately $9.5 billion in registered FDI from CPTPP countries, down nearly 36 per cent compared to 2018. While the total registered capital decreased, the number of new projects increased by 13 per cent compared to 2018, according to data from the Ministry of Planning and Investment.
The average size of new foreign-invested projects from CPTPP countries also fell sharply in 2019, from nearly $11 million per project in 2018 to about $4.7 million in 2019, down 56.9 per cent.
In terms of each partner, investment from Japan into Vietnam had the deepest drop in value from nearly $9 billion in 2018 to just over $4 billion in 2019, equivalent to a downfall of 52 per cent. In terms of speed, FDI decreased sharply from traditional sources such as Australia (down nearly 63 per cent) and Malaysia (down 50 per cent) as well as other markets.
Overall, 2019 was a year for Vietnam that seemed to be less optimistic in terms of attracting FDI through the CPTPP. While FDI from private CPTPP sources fell overall by nearly 36 per cent, newly attracted FDI from private CPTPP sources decreased by even over 61 per cent.
However, the results of attracting investment from CPTPP partners in 2020 were more positive than in 2019, as the Ministry of Planning and Investment recorded $11.8 billion last year.
Trang hoped that the government can make appropriate adjustments in a number of aspects to commit to all business sectors, supporting potential opportunities from the CTTPP that could become more feasible for investors.
However, it is the increase in FDI from the CPTPP in 2020 that has resulted in differing opinions. Some analysts think it is necessary to take a cautious look at the increase in FDI from CPTPP countries in 2020 as it seems to be overblown by comparison with the declines of 2019.
Others argue that the CPTPP and other free trade agreements are contributing to creating Vietnam's own FDI attraction with transfers from China under the influence of the global health crisis.
CPTPP members, including Australia and Vietnam, have responded to the pandemic by fulfilling commitments to rules-based trade and maintaining open, informative, and transparent supply chains.
David Gottlieb, counsellor for economics and development cooperation of the Australian Embassy in Vietnam, commented that COVID-19 "present the global economy with an array of unprecedented challenges including to the principles of free and open trade."
"But this crisis has demonstrated the importance of cooperation and strong trading relationships," Gottlieb said at last week's Hanoi-based CPTPP conference backed by the Aus4Reform programme aimed to support Vietnam's reform efforts. "CPTPP members, including Vietnam and Australia, have responded to the crisis by demonstrating our commitment to rule-based trade and by maintaining open supply chains, active communication and transparency.
Asia Pacific property market to remain strong for years: real estate business group
Real assets are a play into the region's structural megatrends that will outlive the pandemic, the Asia Pacific Real Estate Association has predicted.
Asia's economic transformation over the past 60 years has been unprecedented with the 21st century being described as the 'Asian Century,' it told an online meeting on Tuesday.
Despite the turmoil caused by the pandemic, Asia remains the locus of future global growth and is expected to have the largest economies in the world including China, Japan, India, and ASEAN by 2030 and beyond, it said.
Driven by demographic tailwinds, it said, urbanisation in the Asia Pacific is an epic boom that would drive the growth of its middle class and, with it, a cycle of rising consumption.
It quoted a report by the Asian Development Bank which estimates that the region will need to invest US$26 trillion between 2016 and 2030 to maintain its growth momentum, eradicate poverty and respond to climate change, or US$1.7 trillion a year until the end of this decade.
But currently only around $900 million is estimated to be invested annually.
In other words, if policies are conducive for the private sector to step in to fill this void, the Asia Pacific provides an infrastructure investment opportunity worth over $8 trillion over the next 10 years, the association said. 
John Lim, chairman of APREA and co-founder and deputy chairman of ARA Asset Management Limited, said: "Infrastructure is ultimately what translates the impact of urbanisation into benefits for real estate. With the requirements needed by the rapidly developing economies that will eventually host more than half of the world's megacities, investments in infrastructure development in the Asia Pacific is a cycle that will be played out over decades."
Infrastructure requirements are expected to increase exponentially, thus enabling financing of these projects to gain traction, and there will be opportunities for the private sector to participate as many of the infrastructure initiatives align with ESG allocations, re-development, connectivity, and economic growth, he said. 
The economic ambitions of the region would provide the necessary impetus for infrastructure spending and lift it out of the coronavirus slump, he said. 
APREA chief executive officer Sigrid Zialcita said: "As it stands, Southeast Asia's $2.4 trillion economy is the seventh-largest in the world and is forecast to jump to fourth largest in Asia Pacific by 2050. Its workforce will grow by a further 60 million while its urban population is expected to rise by an additional 90 million by 2030. The reality is that ASEAN needs infrastructure development if it wants to sustain its economic growth."
According to APREA, by 2030 seven of the world's 10 largest megacities will be in the Asia Pacific.
"The benefits of investing in institutionalised assets will be more evident as the world inches towards a post-pandemic future," Lim said.
"Allocations to the region from global investors can only continue to rise and the securitisation of the very assets so critical in driving its growth will be a massive investment opportunity. Asia Pacific remains primed to take advantage of this revolution in real assets. APREA's goal is to pave the way for the advancement of investment opportunities into the region's real assets." 
Dragon Capital buys more 1.2 million shares of steel giant Hoa Phat
Hanoi Investments Holdings Limited, run by Dragon Capital, announced it has purchased an additional 1.2 million shares of steel giant Hoa Phat Group (HPG), raising its ownership in HPG from 15.95 million to 17.2 million shares.
This move caused the HPG share volume owned by Dragon Capital's investment funds to increase from 198.7 million to 199.92 million shares.
HPG shares are being traded at VND49,550 per share on the stock market, up 10 per cent since the end of March but almost flat in recent sessions. Temporarily calculated according to this price, Dragon Capital group owns a volume of HPG shares worth VND9.9 trillion (US$430 million).
In 2020, the enterprise recorded VND90.1 trillion in revenue, up 41.5 per cent. Post-tax profit was VND13.5 trillion, up by 80 per cent thanks to its flourishing steel and agriculture business.
Hoa Phat's Board of Directors plans to submit to shareholders this year's revenue plan of VND120 trillion and post-tax profit of VND18 trillion, both up by 33 per cent compared to the previous year.
In the first quarter, Hoa Phat achieved a sales volume of more than 2.16 million tonnes of various types of steel. Finished construction steel hit 855,000 tonnes, an increase of more than 17 per cent, in which finished steel for export was 147,000 tonnes, up 10 per cent.
Exported steel billet was more than 386,000 tonnes, up 27 per cent over the same period last year. Hot-rolled coil (HRC) products reached 665,000 tonnes, up 75 per cent compared to the fourth quarter of 2020.
CAAV proposes installing night lighting at Con Dao Airport
The Civil Aviation Authority of Vietnam (CAAV) has sent a document to the Airports Corporation of Vietnam (ACV) proposing that research be made on the possibility of installing lights at Con Dao Airport in the southern province of Ba Ria-Vung Tau, to improve operational capacity.
The Con Dao Airport is located on Con Dao Island and investing in lighting for night operations is difficult due to weather and environmental conditions. As the airport is not permitted to operate 24 hours a day, flights only take off and land during the daytime.
According to the CAAV, this affects operational capacity at a time when Vietnamese carriers are opening more flights to Con Dao - one of the most beautiful and pristine islands in Vietnam.
A lighting system would therefore help the airport increase capacity, facilitating travel and promoting local socio-economic development.
FLC Group, the owner of Bamboo Airways, has proposed Ba Ria-Vung Tau province and the ACV approve funding for the installation of lights at the airport to allow it to increase flight capacity at night.
Two Vietnamese airlines currently conduct flights to Con Dao - Bamboo Airways and VASCO, an affiliate of Vietnam Airlines. Bamboo Airways conduct flights linking Con Dao with Hanoi, Hai Phong, Vinh in Nghe An province, and Ho Chi Minh City, while VASCO operates HCM City-Con Dao flights./.
An Giang looks to attract five FDI projects in 2021
The Mekong Delta province of An Giang has set a goal of attracting at least five foreign-invested projects and over 60 domestic projects this year with total investment of over 15 trillion VND (650 million USD).
It also aimed to put at least 50 percent of all licensed projects into operation.
Considering agriculture as its economic pillar, and services, tourism, and industry as key drivers for development, An Giang will focus on shifting from agriculture to industry, commerce, and services; improving the quality and value of the agriculture, services, and tourism sectors; bolstering the competitiveness of economic entities; and promoting the development of sectors that help improve both people's income and State budget revenue.
It hopes to attract at least five hi-tech agriculture projects worth 2 trillion VND and 10 projects in tourism, infrastructure, commerce, and services totalling at least 3 trillion VND.
To that end, the province has planned three online investment promotion conferences with European countries, Japan, the Republic of Korea, Australia, the US, Israel, Thailand, and Singapore to push international cooperation and call for investment in hi-tech agriculture, logistics, industrial infrastructure, and supporting industries.
Vice Chairman of the provincial People's Committee Le Van Phuoc said local authorities will give priority to projects using advanced and clean technologies and modern management models and those connecting to global production and supply chains.
An Giang attracted 49 projects last year with total registered capital of nearly 9.9 trillion VND.
Nguyen Thanh Binh, Chairman of the provincial People's Committee, said the province will pay attention to completing the building of a database for investment promotion activities and accelerating administrative reform, making it easier for investors to find investment information./.
Exports, imports via Lao Cai int'l border gate soar 75 percent
The export and import of goods and services via the Lao Cai international border gate stood at nearly 950 million USD in the first quarter of this year, up 75 percent year-on-year.
Exports surged 63 percent to around 406 million USD during the period, mostly yellow phosphorous, dragon fruit, mangos, watermelons, and bananas.
The province has targeted total exports-imports of around 4.6 billion USD this year, up 30 percent year-on-year.
The Lao Cai international border gate is one of eight major border economic zones receiving State budget funds for development during 2021-2025. The province is stepping up planning to expand its border economic zone to 16,000 ha, with priority given to infrastructure, investment attraction, and logistics.
The provincial customs department is improving its working efficiency to save time and costs in handling administrative procedures, realising the Government's resolution on continuing with key measures to improve the business environment and national competitiveness in 2020 and a provincial decree on measures to boost local exports-imports.
It is also working to improve satisfaction among businesses, conduct drastic and synchronous administrative reform in various areas, and adopt modern technology to ensure the smooth operation of automated customs clearance and e-customs systems./.
Fitch Ratings upgrades PetroVietnam's outlook to 'positive'
Fitch Ratings has revised the outlook for the Vietnam Oil and Gas Group (PetroVietnam) to "positive" from "stable".
It also assessed PetroVietnam's standalone credit profile (SCP) at "BB+" and long-term foreign-currency issuer default rating (IDR) at "BB".
The assessments followed Fitch Ratings' upgrade of the outlook for Vietnam, with the "BB" rating, from "stable" to "positive" earlier this month.
Like other oil and gas firms around the world, PetroVietnam encountered numerous difficulties in 2020 due to impacts of the COVID-19 pandemic and the oil price nosedive.
Facing that fact, it has carried out drastic response solutions to achieve last year's targets.
In 2020, the group recorded 11 trillion VND (476.3 million USD) in consolidated after-tax profit and 313.3 trillion VND in revenue and contributed 83 trillion VND to the State budget./.
Central bank expects credit growth to exceed 12%-target for 2021

Demand for credit may increase sharply since the second quarter, especially in fields of industrial production, exports, trade and tourism, said a senior official of the central bank.
In case the COVID-19 pandemic is contained and the rollout of vaccination programs remains effective, Vietnam's credit growth may hit 14% year-on-year for 2021, exceeding the original target of 12%.
This is among the three scenarios for credit growth set up by the State Bank of Vietnam (SBV).
In a less optimistic scenario when the pandemic would persist until June, along with social distancing measures in place and prolonged vaccination, the credit expansion is expected to be around 10-12%.
And for the last scenario with the pandemic staying serious until the end of the year, the credit growth may be in range of 7-8%.
Director of SBV's Credit Department for Economic Sectors Nguyen Tuan Anh said as of March, credit growth reached by 2.3% against late 2020, significantly higher than the 1% rate recorded in the same period last year.
"Demand for credit may increase sharply since the second quarter, especially in fields of industrial production, exports, trade and tourism," said Anh, adding this comes from strong recovery of growth driving forces such as domestic consumption, exports, FDI inflows and public investment.
KB Securities Vietnam (KBSV) in its latest report expected the credit growth to be around 12-14%, which came from strong economic recovery and current low-interest rate environment.
"Capital mobilization rate has reached its bottom in early 2021, and is on track to rise up in the second half of the year," it added.
For greater efficiency in credit expansion, banking expert Nguyen Tri Hieu suggested more solutions are needed to stimulate credit demand, saying "many enterprises are not seeking loans at the moment."
Meanwhile, banks should ensure customers to have financial capabilities to repay their debts, as this is a key step to maintain credit quality.
Chilli prices drop sharply after spring harvest
Farmers in Phu My District, the chilli hub of Binh Dinh Province, are facing losses due to the falling prices of red chilli.   
According to the farmers, bird's eye chilli prices were VND120,000 (USD5) to VND150,000 per kilo before Tet Holiday. But now the prices have dropped to VND11,000 to VND12,000. While cayenne pepper prices dropped from VND7,000-8,000 to VND3,000-5,000 per kilo.
67-year-old Duong Thi Hang said, "We're already used to the situation when the prices drop during bountiful harvests. We're just sad that our effort is not rewarded."
She went on to say that the cost to set up a 500-square-metres chilli garden is about VND2.5m (USD108), not including the expenses on pesticide. By the harvest season, each garden would cost at least VND4m. Then they have to spend VND5.5m to VND6m to hire people to pick the chillies.
The farmers in Binh Dinh depend greatly on their biggest buyer, China. However, the market is volatile. According to a trader, during a peak season, they transported 50-60 tonnes of chilli to China a night. But as demand from China dropped, they have struggled to find a new outlet.
Tran Minh Tuan, head of Phu My District Department of Agriculture and Rural Development, said the farmers in Phu My grew 1,262ha of chilli this spring, 29ha larger than the previous year. Thanks to favourable weather, they harvested 1-1.5 tonnes of chilli per 500-square-metre garden.
Tuan said the prices were so unstable because the farmers couldn't find a reliable distribution company yet. They are mostly dependent on traders who export produce to China via border gates.
"We'll consult on suitable solutions with the district authorities to help the farmers. In the long-term, the farmers need to work more closely with distribution firms and the authorities should issue support policies for chilli exported through official channels," he said.
Healthcare focus for Brit investors through UVFTA
The official entry of the bilateral UK-Vietnam Free Trade Agreement in May will open up more opportunities for innovative British healthcare investors to further penetrate the Vietnamese market. 

Emily Hamblin, UK consul general in Ho Chi Minh City and trade director for Vietnam, said that May 1 is the next milestone to celebrate in the United Kingdom and Vietnam's timeline of implementing the free trade deal (UVFTA), when the agreement will legally enter into force.
However, the benefits of it have already been in place for several months, being provisionally applied from January 1. Some 65 per cent of all tariffs have already been eliminated and this will increase to 99 per cent over the next six years. This equates to tariff savings of $134.65 million per year on Vietnamese exports to the UK by full implementation, and of $42.52 million per year on UK exports to Vietnam.
Among them, there are huge cooperation opportunities in the field of healthcare. Hamblin said that in an age of growing challenges from non-communicable diseases, and emerging threats from infectious diseases such as COVID-19, digital health has the potential to offer new solutions and alleviate pressure on overstretched health systems. Digital health technology can empower patients to actively participate in their care, improve clinical outcomes, and enhance operational efficiency.
Innovation and technology have touched many aspects of life in Vietnam and healthcare is no exception. In a concerted effort to embrace Industry 4.0, the Vietnamese government has committed to a national agenda that seeks to harness the potential of digital solutions across the healthcare system. This has set a solid foundation for digital transformation in Vietnam, and the UK shares many of the same aspirations.
"We seek to utilise digital innovation to expand equitable access to quality care, in line with United Nations Sustainable Development Goal 3 on good health and wellbeing. At the early stage of digital transformation, Vietnam has plenty of opportunities to avail of innovative solutions from the UK," Hamblin stressed.
Meanwhile, Nitin Kapoor, chairman and general director of AstraZeneca Vietnam, said, "As AstraZeneca continually strives to put patients first, we appreciate the UVFTA that is helping to ensure continued access to our innovative and high-quality medicines for millions of Vietnamese patients.
British pharmaceuticals like AstraZeneca can enjoy the increased protection and enforcement of intellectual property rights, internationalised standards and technical regulations, and enhanced transparency of policies on government procurement and reimbursement, which in turn will allow us to better serve local patients."
Kapoor stressed that the UVFTA entering into force is especially meaningful when the UK and Vietnam are looking forward to another decade of bilateral strategic partnership, cooperating ever more closely in numerous areas, including healthcare, to strengthen the livelihoods and economic prosperity of the people.
Indeed, a number of UK healthcare investors have started to set up their presence in Vietnam. Last year London-based Real Capital London launched a $156 million Hong Anh Medical Campus project in Ho Chi Minh City. The facility will be a state-of-the-art healthcare system incorporating a 462-bed hospital, a medical training centre, a network of general practice clinics and pharmacies, and senior residencies and nursing homes, adding much needed facilities and services to Vietnam's healthcare system.
The project is divided into four stages, with the final phase expected to be completed by 2030. The fund's vision is to build a state-of-the-art medical campus under British standards, offering the highest standards of healthcare in Vietnam
As of present, British investors have poured $3.87 billion across over 400 projects in Vietnam and is the 15th-largest foreign investor in the country. Established British actors already here include financial services companies like HSBC, Standard Chartered Bank, and Prudential; Jardines in real estate; and healthcare companies such as AstraZeneca, GSK, and Reckitt.
In the past decade, Vietnam and the UK already enjoyed a strong growth cycle – with bilateral trade growing on average 12 per cent per year. The UVFTA is built upon that strong basis and is opening the doors to increase capital flow between the two nations, according to Hamblin.
She stressed that the UVFTA provides better market access for services, as Vietnam has committed to opening up markets beyond that set out within the World Trade Organization's baseline, which delivers greater market access for UK service providers. These and other measures set out in the FTA represent real benefits for both businesses and consumers.
In the same vein, Kenneth Atkinson, executive chairman of Grant Thornton Vietnam and a board member of Britcham Vietnam, said that the UVFTA is one of the first signed and entered into by the UK, after leaving the European Union last year. The agreement reflects the importance both the UK and Vietnamese government place on the strategic partnership and the growing importance of the bilateral relationship.
Atkinson expected that a reduction in regulatory barriers and red tape will attract UK investors to Vietnam, particularly in the healthcare space.
Divestment slow off the blocks for banks
Foreign investment in state-owned banks could quench the thirst for capital while assisting with consolidation, but major problems continue to hinder the process.
State-owned lender Agribank has been stuck for years with divestment efforts because its real estate assets could not be approved by the Ministry of Finance due to their large size and complex procedures.
"At the end of last year, the Ministry of Finance also made a comprehensive assessment on the equitisation goal of state-owned enterprises. Specifically, only about 28 per cent of enterprises were equitised, which means that nearly three-quarters did not meet the plan. The main issue is that many large corporations' land use rights remain unclear, as can be seen in the cases of VNPT and Agribank," explained Chu Manh Hung, deputy head of the Equitisation Department at Agribank.
"Since the equitisation plan during 2016-2020 has not been completed yet, Agribank will continue carrying out this task for the 2021-2025 period," he added. "However, there are still major roadblocks hampering the process, associated with determining the value of land and affiliated enterprises."
While Agribank has been constantly pushing the equitisation process, the complex valuation procedures have been a major obstacle slowing down progress. The bank also has to cope with the myriad challenges arising from its large number of affiliated enterprises, multi-level authorisations required, as well as delayed approval of land use schemes.
Agribank has a total of around 294 real estate properties with a total area of 2.6 million square metres, with diverse origins and incomplete legal documents. While these assets can help the bank's equitisation value reach record levels and enhance its efficiency, they have also delayed divestment for years.
"Agribank currently has more than 100 land plots with unclear legal status. We hope to receive support from relevant units and agencies to quickly equitise this large volume of assets," Hung told VIR.
Despite its ongoing equitisation, Agribank jumped 17 spots to rank 173rd in the recently-announced Brand Finance Banking 500 list for 2021, which featured the most valuable and strongest banking brands in the world.
As of December 31, Agribank's total assets reached nearly VND1.57 quadrillion ($68.26 billion), with its capital exceeding VND1.45 quadrillion ($63 billion). According to Brand Finance, as governments scramble to stimulate economic growth in the face of the ongoing global health crisis, and profits and interest rates taking a hit, nearly two-thirds of the world's 500 most valuable banking brands have recorded brand value losses.
As per Decree No.01/2014/ND-CP released in 2014 on foreign investors' purchase of shares of Vietnamese credit institutions, a foreign strategic investor shall not hold more than 20 per cent of the charter capital of a Vietnamese credit institution. Foreign investors shall not hold more than 30 per cent of the charter capital of a Vietnamese commercial bank.
Besides Agribank, other local lenders have been enjoying the attentions of foreign partners looking to increase their footprint in Vietnam.
In 2019, a strategic co-operation between Vietnamese bank BIDV and South Korean KEB Hana Bank turned the former into the lender with the largest market capitalisation in Vietnam with around $1.73 billion. KEB Hana invested capital in exchange for a 15 per cent stake in BIDV, while BIDV received long-term technical assistance from the South Korean lender and its parent company, Hana Financial Group. The tie-up also quenched the bank's thirst for capital as BIDV announced it has now satisfied Basel II requirements.
Elsewhere, Singapore's sovereign wealth fund GIC in 2019 purchased over 94 million new shares and now owns a 2.55 per cent stake in Vietcombank. Mizuho, one of the largest Japanese financial services providers purchased an additional 16.6 million new shares to maintain its existing 15 per cent stake in the bank.
"The equity investment by GIC and Mizuho increases Vietcombank's charter capital and creates a solid capital buffer for the bank to meet capital requirements under Basel II Accord as well as maintain its leading position in the Vietnamese banking sector," a GIC representative stated.
Last year, the International Finance Corporation (IFC), a member of the World Bank Group reduced its stake in VietinBank by 1.5 per cent, following an earlier divestment.
The IFC and equity subsidiary IFC Capitalization Fund also reduced their combined ownership in VietinBank from almost 6.49 to 4.99 per cent last year, leaving more room for other foreigners.
Besides the IFC, Japanese financial institution Bank of Tokyo-Mitsubishi UFJ holds 19.73 per cent in the state-run bank. However, VietinBank has not signalled any new potential partnerships since IFC pulled out.
On the other hand, under Vietnamese regulations, state-owned enterprises (SOEs) must complete the sale of shares within four months of having their equitisation plans approved. This time limit may not be enough for overseas investors to conduct due diligence and negotiate representations and warranties, special rights, and other conditions for share acquisitions with the authority representing state capital in the SOE, according to ASCV Legal.
HoSE de-lists ATG shares
The Hochiminh Stock Exchange (HoSE) has released an announcement cancelling the listing of An Truong An JSC's (ATG) shares on the bourse as the firm has reported losses over the past three years, reported Bnews news site.
HoSE said that it received ATG's separate and consolidated financial statements on April 12, which showed that its parent company's net losses in 2020 reached VND12.95 billion and undistributed net profit as of December 31, 2020, was negative VND35.76 billion.
Overall, over the past three years, the firm reported net losses of VND11.87 billion in 2018, VND12.11 billion in 2019, and VND12.95 billion last year. An audit agency also declined to give its feedback on ATG's 2020 financial report associated with issues such as the possibility of continuous operations, revenues and expenditure and half-done basic construction costs of the firm.
Earlier, HoSE placed ATG shares under surveillance on April 3 due to the firm's poor business performance in 2018 and 2019.
HCMC's budget revenue up in Q1
HCMC's budget revenue in the first quarter of this year was over VND104 trillion, meeting 28.5% of the year's target and increasing over 15% year-on-year, vice chairman of the city Vo Van Hoan said at the fifth meeting of the Executive Board of the 11th HCMC Party Committee on April 13.
This year, the city was assigned to collect VND365 trillion, or VND1.5 trillion a day on average. In 2019, the city collected nearly VND410 trillion in tax revenue but the figure dropped to VND371 trillion last year due to Covid-19, the local media reported.
Over the past few years, the city accounted for 25%-27% of the State budget revenue.
Hoan said the city's gross regional domestic product (GRDP) in the first quarter reached nearly VND330 trillion, up 4.5% over the same period last year. Of which, services picked up 3.96%; industry and construction, 5.35%; and agriculture, 1.33%.
The total retail sales of goods and services hit VND249 trillion. Meanwhile, the city's spending in the first three months was VND13.7 trillion.
In general, key sectors have posted positive growth, proving the effectiveness of the city's solutions, Hoan said, adding that the tourism sector continues suffering from the impact of the Covid-19 pandemic so its revenue stayed at VND23.1 trillion, down 1.77% year-on-year.
At the meeting, secretary of the Party Central Committee Nguyen Van Nen said the city basically achieved the dual goals of fighting the pandemic and ensuring stable socioeconomic development.
The city's socioeconomy is recovering significantly as many targets have been met. Its GRDP grew 4.58%, 11 times higher than the figure in the same period last year.
However, the deployment of key and breakthrough programs is asynchronous and the administrative reform remains slow.
In the quarter, the number of newly-established enterprises tumbled 21%, while the number of suspended firms surged 36%.
Nen added that the city continues to battle with environmental pollution, traffic congestion, fires, explosions and social problems.
Source: VNA/VNS/VOV/VIR/SGT/Nhan Dan/Hanoitimes