Vietnamese fruit and vegetable sector targets export revenue of $10 billion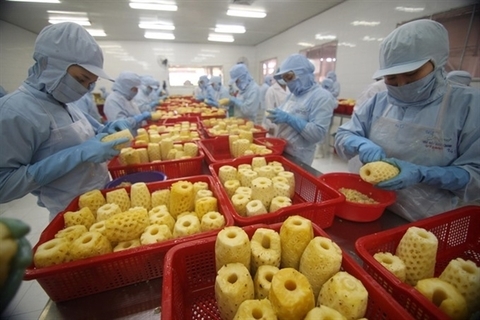 A fruit processing line at An Giang Fruits-Vegetables and Foodstuff Joint Stock Company.
 
 
 
The agricultural sector has determined to improve quality to meet import market standards and achieve the export target of US$10 billion by 2030.
Dang Phuc Nguyen, general secretary of the Viet Nam Vegetables Association, said that new-generation free trade agreements (FTAs) such as the EU-Viet Nam Free Trade Agreement (EVFTA); the Comprehensive and Progressive Agreement for Trans-Pacific Partnership (CPTPP); or Regional Comprehensive Economic Partnership (RCEP) were helping pave the way for Vietnamese businesses to increase fruit and vegetable export turnover this year.
Regarding the market, vegetables and fruit exported mainly to the Chinese market in the first two months of this year, reached $352.83 million, up 17.5 per cent over the same period last year, accounting for 62.5 per cent of the total export value of vegetables and fruit of Viet Nam.
The increase in exports to the Chinese market is due to a sharp growth in consumption demand during the Lunar New Year. Besides China, some other major markets for Vietnamese fruits and vegetables are the US, Thailand, Japan, and South Korea.
Notably, the export value of vegetables and fruits to Taiwan, Australia and Malaysia rose significantly. Export value to the Taiwanese market reached $12.87 million, up 43.1 per cent; Australian market reached $11.9 million, up 30.6 per cent; and the Malaysian market reached $9.2 million, up 32.5 per cent over the same period last year.
In addition to familiar markets, Viet Nam's fruit and vegetable industry has also been promoted for export to many other large potential markets, such as Egypt, Kuwait, Ukraine, and Senegal.
The UK – Viet Nam Free Trade Agreement (UKFTA) promises to create a new driving force for economic co-operation in the future, said Nguyen.
When the agreement takes effect, more than 94 per cent of the total 547 tax lines for vegetables and fruit will have a tax rate of 0 per cent.
Many key products such as litchi, longan, rambutan, dragon fruit and pineapple will have additional market access advantages as tropical fruits originating from competing countries such as Brazil, Thailand and Malaysia do not have FTAs with the UK.
To take advantage of market opportunities and boost exports, businesses need to improve the quality of fruit and vegetable products and meet the standards required by the importing market, said experts.
Recently, the Prime Minister has approved a project to develop the fruit and vegetable processing industry in the 2021-2030 period with the goal that export turnover of fruits and vegetables will reach $8-10 billion by 2030.
Of which, the proportion of export turnover of processed fruit and vegetable products will reach 30 per cent or more; fruit and vegetable processing capacity will reach two million tonnes per year, nearly double that of last year.
On the other hand, the project also aims to attract investment for 50-60 new large and medium-sized fruit and vegetable processing establishments by 2030; to build and successfully develop a number of modern fruit and vegetable processing groups and enterprises at regional and international level.
To achieve these goals, the agricultural sector will boost investment in improving the capacity of fruit and vegetable processing in the future; develop establishments for preliminary processing and preservation of fresh fruits and vegetables as well as promoting key fruit and vegetable products and high value-added products.
In addition, the agricultural sector will promote deep processing, diversify products from raw vegetables and fruits and from post-processing by-products. The industry will also strive for value-added growth of 10 per cent per year on average in the 2021-2030 period.
The sector will also build and form specialised areas in vegetable and fruit production to ensure the supplied materials to have quality and food safety for processing activities.
Vietnam Airlines proposes raising airfare caps
Vietnam Airlines has proposed that the Civil Aviation Authority of Vietnam raise airfare caps by VND50,000-250,000 per passenger, the local media reported.
The national flag carrier proposed raising the airfare caps to VND2.25 million per ticket from VND2.2 million per ticket for air routes with a distance between 500 and 850 kilometers and to VND2.89 million per ticket from VND2.79 million per ticket for air routes between 850 and 1,000 kilometers.
Besides this, Vietnam Airlines proposed setting the floor prices of air tickets, which would be equivalent to 35% of the airfare caps or of the average variable cost per seat of low-cost air carriers.
As such, the floor prices of air tickets would be VND570,000-787,500 per ticket for air routes with a distance between 500 and 850 kilometers and VND755,000-1,000,000 per ticket for air routes between 850 and 1,000 kilometers. The current floor price of air tickets is zero dong.
A representative of Vietnam Airlines said raising airfare caps and setting floor prices will help prevent local airlines from dumping air tickets and reduce the competitiveness in the local aviation market. This will also help local airlines recover from the Covid-19 pandemic.
However, an aviation expert said if Vietnam Airlines' proposal is approved, there will no longer be zero-dong and VND79,000 air tickets. Raising airfare caps and setting floor prices will reduce competitiveness in the local aviation market, affecting travel companies and consumers, he said.
Agricultural production in Mekong Delta amid age of digital transformation
Mekong Delta farmers have been adopting many advanced models in agricultural production, such as growing melons in net houses and hi-tech shrimp farming. Accordingly, pesticide spraying drones, seed sowing machines, and rice transplanters have appeared in some places. Digital transformation is an inevitable trend in the modernization of the agricultural sector because technology helps to enhance productivity and value through effective scaling farming and management systems.
Five years ago, Dr. Nguyen Thanh My, Chairman of My Lan Group in Tra Vinh Province, introduced many impressive production models applying high technologies to adapt to climate change. The most prominent was the model of rice production using smart fertilizers. This model was first implemented in Tra Vinh Province, then being adopted by farmers in Dong Thap and Hau Giang provinces. The evaluation from the production of hundreds of hectares of rice shows that the production cost of one kilogram of rice under this model is lower than that of the reference model from VND165-VND224 per kilogram; the rice yield is equal and higher; the profit is higher than that of the reference field by about VND1.9 million-VND2.1 million per hectare. The beauty of this model is that the water management following the applications of agriculture 4.0, such as installing solar-powered water level monitoring systems and automatic irrigation devices, creates convenience.
In Binh Thanh Commune, Phung Hiep District of Hau Giang Province, Mr. Vo Van Trung was the first person to grow melons in a net house. With 3,000 square meters, for nearly five years, by adopting high technology in melon farming, he has had an annual income of over VND500 million. From the efficiency of the melon production model of Mr. Trung, 12 local farmers have participated in the establishment of the Thuan Phat melon cooperative, with a total growing area of 9,000 square meters and an annual income of nearly VND2 billion for four crops per year.
Hau Giang Province is also replicating the model of growing Japanese and Israeli melon varieties in net houses. Accordingly, farmers have installed smart automated irrigation systems, which irrigate melons following the water consumption demand of the plant by smartphones, and fertilizer management systems for melons by smartphones, such as sensors, temperature, pH, and soil moisture. At the same time, they control the microclimate temperature and humidity of the environment by smartphones via the indoor air sensor, following the ambient temperature and humidity, as well as the temperature and moisture needs of melon.
Currently, agricultural production has been facing increasing labor scarcity, and labor prices have also climbed sharply. In some places, there is a shortage of workers in agricultural production, especially in the stage of pesticide spraying. Amid the above situation, the agricultural sector of Hau Giang Province has set up a team providing pesticide spraying service by drones following the needs of farmers. Currently, the provincial agricultural sector has put into use 10 pesticide spraying drones with about 10 remote pilots, proficient in flying spraying drones. Up to now, the team has demonstrated and provided services on 1,000 hectares. Mr. Tran Chi Hung, Director of the Department of Agriculture and Rural Development of Hau Giang Province, said that spraying plant protection drugs on rice plants by drones is a solution that saves time, effort, and cost, as well as protects the health of farmers and brings high efficiency. According to the forecast of experts, in the coming time, agricultural production will inevitably use the same devices to increase agricultural productivity and output. According to Mr. Tran Chi Hung, the agricultural sector has put into operation the trading floor and traceability of Hau Giang agricultural products for over the past two years, thereby, helping nearly 2,000 organizations and farmers to have favorable conditions to apply blockchain technology in the traceability of agricultural products. Farmers have mastered recording electronic diaries in operations and production, creating traceability codes of their agricultural products through QR Codes, and putting products on the trading floor for advertising.
In fact, many hi-tech agricultural production models have brought efficiency to farmers. However, it raises the question that why these models have not been replicated in the Mekong Delta? Mr. Nguyen Phuong Lam, Director of VCCI Can Tho, commented that digital transformation is an inevitable trend in the modernization of the agricultural sector because technology helps to enhance productivity and value through effective scaling farming and management systems. The Government has shaped the policy for modernization of the agricultural sector, but the implementation process is still asynchronous.
According to Mr. Nguyen Phuong Lam, thinking and synchronization are necessary to digitize effectively. It is difficult when a part of the agricultural sector applies digitalization whereas the others do not. At that time, the agriculture sector could not be synchronously connected. To digitize, farmers must have qualifications and agricultural certificates. For a broader view, first of all, there must be an appropriate and standardized agricultural planning, then synchronous application. Currently, the stage of state management has step by step digitized, located the farming areas, measured and stores data, and monitored developments. However, what they recorded is only in some fields and has not been applied on a large scale. Some enterprises boldly invest in monitoring water quality, seeds, diseases, and traceability but digital transformation still merely focuses on large-scale enterprises. For farming households, the digitalization picture remains vague, or in other words, it is not accessible due to resources and qualifications, said Mr. Lam.
For a long time, smart devices for agriculture have become the "national development strategy" in Japan, the Netherlands, and especially Israel. According to scientists, to achieve such results, investment in agricultural science research must have a stronger breakthrough, especially in the context of climate change, agriculture in the Mekong Delta is one of the most sensitive and vulnerable sectors. Prof.-Dr. Bui Chi Buu, former Director of the Institute of Agricultural Science for Southern Vietnam, said that connecting technology 4.0 with agriculture with a high level of mechanization, synchronization, and the large-scale land area will promote rapidly in quantity in the initial stage, instead of combining with high-tech agriculture because the investment capital is too large compared to the current economic capacity of Vietnam. The specialized farming area must be attached to the agricultural product processing factory. Vietnam can carry out high-tech agriculture and mass agriculture 2.0 and 3.0 at the same time to bring into play the most positive results. After all, the market will be the factor that decides the consumption of agricultural products and meets the goal of enriching farmers.
"We need a synchronous digitalization program. And before digital transformation, the necessary condition is large-scale agricultural production, i.e. large production is required for digitalization to be effective. To do this, enterprises must go first, and the cooperative model must reach a certain scale in terms of area and resources," Mr. Nguyen Phuong Lam proposed.
Shrimp exports to European market climb robustly
According to the departments of Industry and Trade of provinces in the Mekong Delta, shrimp exports have improved and posted robust growth in the European market.
Accordingly, Ca Mau was the leading province in shrimp exports. The provincial Department of Industry and Trade said that the export turnover of aquatic products, mainly shrimps, in the province in the first quarter of this year hit US$163 million, accounting for 15 percent of the plan, up 6 percent year-on-year. In Bac Lieu Province, the total seafood exports in Q1 were estimated at $163 million, achieving 18 percent of the plan, up 8 percent year-on-year. Of which, frozen shrimps reached $160 million, an increase of 8 percent compared to the same period last year. Similarly, some key shrimp-exporting provinces in the Mekong Delta, namely Soc Trang and Kien Giang, also saw positive growth.
The departments of Industry and Trade of Mekong Delta provinces said that export turnover in Q1 increased compared to the same period last year, thanks to impacts of the advantages of free trade agreements that Vietnam has signed with other countries in the world. Therefore, shrimp exports to these markets rose sharply. Especially, shrimp export turnover of Ca Mau into the European market jumped by 154 percent; that into Canada edged up by nearly 15 percent; that into Australia surged by nearly 41 percent; that into Switzerland rocketed by 568 percent.
Besides the improved shrimp exports, the prices of raw shrimps have also been at fairly high levels so farmers are extremely excited. According to statistics of Ca Mau Province, tiger shrimps sized 12 pcs per kilogram fetched VND210,000-VND220,000 per kilogram; white-leg shrimps sized 100 pcs per kilogram raised in plastic-lined ponds were sold at VND103,000-VND113,000 per kilogram while those raised in conventional ponds were sold at VND101,000-VND111,000 per kilogram.
Long An raises investment capital for construction of bridges
The Government of the Mekong Delta province of Long An has decided to increase the investment capital for the construction project of three bridges on a key road connecting HCMC and Long An and Tien Giang provinces from VND2,295 billion (US$99.55 million) to VND3,600 billion (US$156.15 million). 
Of which, VND3,000 billion (US$129.86) will come from the Central State budget while the remaining money will be collected from other resources.
The designs of bridges have been adjusted, widening from three to four lanes. The project will be kicked off in this year and is expected to complete in five years.
Deputy Director of the Department of Transport of Long An Province, Nguyen Hoai Trung said that the project saw the adjustment of design and structure of material, including of a steel-reinforced concrete bridge crossing Can Giuoc River changed into an arch bridge with the length of 2.7 kilometers and width of over 14 meters; the Vam Co Dong steel-reinforced concrete bridge turned into cable-stayed bridge; and Vam Co Tay bridge to be a blend between the steel-reinforced concrete bridge and cable-stayed bridge. The Vam Co Dong and Vam Co Tay bridges have the length of 6 kilometers and the width of 13 meters of each.
According to the Provincial Department of Transport, a network of 23 roads linking HCMC and Long An needs expansion to meet increasing public's travelling demand with a total capital of about VND24,000 billion (US$1 billion).
Accordingly, a project connecting Nguyen Van Bua Street in HCMC' Hoc Mon District and provincial road DT824 in Long An Province's Duc Hoa District will cost VND2,800 billion (US$121.48 million).
The National Highway 50 running through HCMC's Binh Chanh District and Long An Province's Can Giuoc District; the linking construction of Long Hau Road from HCMC's Nha Be District and DT826E in Long An Province's Can Giuoc District; and Le Van Luong Road from HCMC's Nha Be District to the provincial road DT826C in Long An Province's Can Giuoc District will be invested at costs of VND1,500 billion (US$65 million) , VND5,100 billion (US$221.35 million) and VND1,000 billion (US$43.36 million) respectively.
The two localities also came to an agreement on building a 8.6km-long road running parallel to the National Highway 50, starting from HCMC's Binh Chanh District to the key road, DT827E in Long An Province's Can Giuoc District with a total investment capital of VND4,300  billion (US$186.45 million).
Fitch Ratings revises Vietnam's outlook to positive
Fitch Ratings has revised Vietnam's outlook to positive from stable and affirmed its long-term Foreign-Currency Issuer Default Rating (IDR) at "BB".
Vietnam was among the few economies in the Asia-Pacific region and the "BB" rating category to maintain positive growth in 2020, at 2.9 per cent. The relative strength of Vietnam's performance was largely due to its success in bringing the coronavirus outbreak swiftly under control, despite the pandemic's impact on domestic economic activity and tourism inflows, alongside strong policy support and export demand.
The rollout of Vietnam's vaccination programme is off to a slow start, but the ratings agency nevertheless expects GDP growth to reach about 7 per cent in 2021 and 2022, in line with a broader global economic recovery sustaining export growth and a gradual normalisation of domestic economic activity based on its expectation of continued success by the authorities in containing domestic coronavirus infections.
Vietnam's external finances have strengthened further despite the pandemic. Exports rose by about 7 per cent in 2020 in US dollar terms, and the current account recorded a surplus of about 3.6 per cent of GDP. Strong export performance reflects a surge in demand for high-tech components associated with strong sales of IT equipment in the US and other advanced economies as well as continued benefits of trade diversion, associated with rising costs in China and the US-China trade war.
The bulk of the strong foreign direct investment (FDI) inflows in 2020 went into the manufacturing sector. Net FDI in 2020 was $15.4 billion (about 4 per cent of GDP), close to the previous year's level. We expect FDI inflows to stay healthy as Vietnam is likely to benefit from the ongoing trade diversion and also its entry into trade agreements such as the EU-Vietnam Free Trade Agreement and the Regional Comprehensive Economic Partnership.
Vietnam's economic prospects will remain susceptible to shifts in external demand due to the economy's high degree of openness.
In terms of macroeconomic policy and performance, the country has sustained high growth that reduces the GDP per capita gap vis-à-vis its peers while maintaining macroeconomic stability. With regards to  public finances, Vietnam witnessed further improvement in public finances, for example, through sustainable fiscal consolidation and debt stabilisation over the medium term, as well as a higher revenue base or a reduction in the risk of contingent liabilities. 
Businesses from Vietnam, Algeria, Senegal seek partnership opportunities
More than 200 businesses from Algeria, Senegal and Vietnam operating in various sectors joined an online trade exchange among the three countries on April 5 and 6.
Addressing the event, Vu Ba Phu, Director of the Vietnam Trade Promotion Agency (Vietrade) under the Ministry of Industry and Trade, said that in the context that countries have still closed their borders to prevent the spread of the COVID-19 pandemic, the event is an important activity to foster connections among enterprises of the three countries.
Phu said he hoped participants would optimise this opportunity to explore each other's potential and demand to set up partnership, thus supporting each other to overcome difficulties for common development.
Vietrade is willing to coordinate with and create favourable conditions for businesses from Vietnam, Algeria and Senegal to cooperate in an effective, stable and long-term manner, said Phu.
For his part, Vietnamese Ambassador to Algeria and Senegal Nguyen Thanh Vinh said that this is the second trade exchange that has been held since the pandemic broke out after the first one in November last year, aiming to give a chance for enterprises of the three countries to meet and exchange.
He affirmed that the embassy will accompany businesses of the three countries in exploring each other's markets and seek cooperation opportunities.
Representatives from Algeria and Senegal introduced the potential and cooperation demand of the two countries with Vietnam, while proposing measures to further promote mutual understanding among the firms and set up partnerships.
President of Algeria's Organisation of National Economic Development Roubai Nasreddine Mounir said that the potential market of Algeria is an important gateway for Vietnamese enterprise to strengthen investment and trade ties with Algeria in particular and Africa in general.
Vietnamese Trade Councilor in Algeria Hoang Duc Nhuan, who is also in charge of Senegal, Mali, Nigeria, Gambia and Tunisia, introduced the potential of import-export activities between Vietnam and Algeria and Senegal, as well as relevant regulations, payment methods and tax policies in the three markets.
He also called on businesses from Algeria and Senegal to attend upcoming trade events in Vietnam such as Vietnam Expo 2021 from April 14-17, and Vietnam AutoExpo 2021 from May 20-23.
Vietnam's customs statistics showed that trade between Vietnam and Algeria was 150 million USD in 2020, a 20 percent decrease from 190 million USD in 2019 due to the COVID-19 pandemic.
Vietnam mostly export coffee, rice, peppercorn, seafood, steel, computers, electronics and spare parts, and equipment to Algeria, while importing pharmaceuticals, minerals, and animal feed from the country.
Noting that the results have yet to meet cooperation potential between the two sides, he called on Algerian investors to increase investment in Vietnam, a gateway to the Asian market and especially a 650-million-strong ASEAN market.
Meanwhile, trade between Vietnam and Senegal was only 95 million USD in 2019./.
Cashew nut exports enjoy surge in volume throughout Q1
Vietnam exported 108,000 tonnes of cashew nuts worth a total of US$634 million during the first quarter of the year, representing an increase of 13.2% in volume and a decline of 5.8% in value compared to the same period from the previous year, according to the General Department of Vietnam Customs.
March alone witnessed the country ship 41,000 tonnes of cashew nuts worth US$240 million abroad, up 86.5% in volume and up 88.2% in value compared to February.
The average export price of cashew nuts in March recorded an increase of 0.9% to US$5,854 per tonne compared to February, a drop of 16.9% compared to March 2020.
During the three-month period, the average export price of cashew nuts suffered a decrease of 16.8% to US$5,862 per tonne, an annual fall of 16.8% against the same period from last year.
Local cashew nut exports to the United States, China, the Netherlands, Canada, and Germany all witnessed a upward trajectory, according to the General Department of Vietnam Custom.
The Import and Export Department says the global demand for cashew nuts reached a figure of US$9.94 billion in 2018 and is expected to reach US$13.48 billion by 2024, with the average growth rate hitting 5.2% annually between 2018 and 2024.
Oil and gas companies expect good performance in Q1 on higher crude price
Many Vietnamese companies in the oil and gas field might post positive results in the first quarter of 2021 thanks to the strong rally of crude oil in the international market.
As of March 31, crude prices rose more than 23.6 per cent. It even broke over US$70 a barrel in March.
The gain received support from lower global oil stocks. The Organisation of the Petroleum Exporting Countries and its allies, known as OPEC+, agreed to extend production curbs, and supply from the US was estimated to fall 4 million barrel a day.
The bullish oil price might have positive effects on business activities of oil and gas companies in this year's first quarter. In early April, PetroVietnam Gas JSC (GAS) reported revenue of over VND17.8 trillion in the first quarter, equivalent to 102 per cent of its quarterly target.
Its profit after tax was more than VND2.23 trillion, equivalent to 127 per cent of its plan, GAS said in a statement on its official website.
The company said that despite unstable demand from customers, lower than GAS' estimation and that of the same period last year, and some transportation issues to transfer oil and gas to the mainland from offshore basin, GAS still achieved business targets on higher oil prices.
GAS' price policy is normally 46 per cent of furnace oil (FO) price. Once oil prices rise, GAS will directly benefit from the higher sale price of gas and liquefied petroleum gas (LPG). It is holding a 100 per cent market share in natural gas and is accounting for the largest part in wholesale LPG.
Binh Son Refining and Petrochemical Company Limited (BSR) also expected good results in the first quarter. In an announcement, BSR estimated that it gained nearly VND21 trillion in revenue in the first quarter, with a profit of over VND1.8 trillion.
The company stated that the strong rally in the international oil price is the main reason for the good results.
Meanwhile, fuel demand is also expected to improve as the pandemic has been contained.
PetroVietnam Oil Corporation (OIL) said that the increase in oil prices might help it revert the provision for devaluation of inventories in the first quarter of 2021, as well as to improve domestic fuel output, especially aviation fuel when international routes are reopened.
The group of oil and gas companies providing services and products such as PetroVietnam Technical Services Corporation (PVS), PetroVietnam Drilling & Well Services Corporation (PVD), Petrovietnam Transportation Corporation (PVT) and PetroVietNam Chemical and Services JSC (PVC) also witnessed positive signs on stable operations and development of new projects.
Shares of these companies were also boosted by the higher oil prices and good business result outlooks.
In the first quarter, BSR shares increased sharply by 73.5 per cent compared to the beginning of the year, followed by PVD (30.6 per cent), PVT (17.2 per cent), PVS (22.3 per cent), OIL (17.2 per cent) and GAS (1.8 per cent).
Agriculture export value up 20 percent in Q1
Vietnam exported 10.61 billion USD worth of agricultural, forestry and fishery products in the first quarter of 2021, up 19.7 percent compared to the same period last year.
According to the Ministry of Agriculture and Rural Development (MARD), in March alone, exports reached 4.12 billion USD, up 20 percent from the same month in 2020 and 57.4 percent against the previous month.
In the first quarter, the export revenue of the main agricultural goods reached 4.59 billion USD and key forestry products 3.94 billion USD, while fishery exports were estimated at 1.69 billion USD.
Meanwhile, imports of agricultural, forestry and fishery products in the first quarter hit 7.74 billion USD, up 44.7 percent.
However, the agriculture sector saw a year-on-year reduction of 18.2 percent in trade surplus to 2.87 billion USD in the first three months of this year.
Several exports with revenue during January-March that were higher than in the same period last year included rubber, tea, fruit and vegetables, cassava, shrimps and timber, according to the ministry.
Revenue surged by 116 percent to 721 million USD for rubber, 41.5 percent to 3.7 billion USD for timber and wooden products, and 49.2 percent to 199 million USD for rattan, bamboo and sedge products.
There were some products that saw a decrease in export value, such as coffee (down 11.3 percent to 771 million USD), rice (17.4 percent to 606 million USD), cashew (5.8 percent to 634 million USD) and tra fish (pangasius) (2.6 percent to 373 million USD).
In terms of export markets, Asia accounted for 54.4 percent of total exports, followed by America at 32.2 percent and Europe at 11.8 percent.
Exports to Vietnam's four main markets, namely the US, China, Japan and the Republic of Korea, recorded growth rates of 45.8 percent, 39.5 percent, 3.4 percent and 9.5 percent, respectively.
The ministry said to increase the exports, it will promote international trade promotion activities. At the same time, it will help export firms implement market regulations and overcome technical barriers in agricultural trade in key export markets.
It will also update notices and warnings from trading partners and the World Trade Organisation (WTO) member countries.
For the domestic market, the ministry will collect information about prices, production and supply of agricultural products in localities nationwide, especially localities directly affected by the COVID-19 pandemic./.
Thailand's leading industrial group considers Vietnam top priority market
Siam Cement Group (SCG), one of Thailand's leading industrial companies, has earmarked Vietnam as its top priority market in the coming years.
"I think, at this point, Vietnam. Maybe secondly would be Indonesia," SCG CEO Roongrote Rangsiyopash said in an interview with the Asia Nikkei Review when asked about the group's priority markets.
Once a petrochemicals plant comes online in southern Vietnam, the company anticipates revenue from Southeast Asia excluding Thailand would rise to 35 percent of the total from the current 26 percent, he said.
SCG is the largest cement group of Thailand. In 2011, the US's Forbes Magazine listed SCG as Thailand's second biggest company and at the world's 620th position.
At a reception for Roongrote in December 2020, the then Prime Minister Nguyen Xuan Phuc said that projects such as SCG's Long Son Petrochemicals – LSP in the southern province of Ba Ria-Vung Tau are significant to Vietnam's socio-economic development, and appreciated the group's effective operation in Vietnam.
He suggested the Thai group pour more investments in intensive processing, especially post-petrochemical products, and pay more attention to the Vietnamese consumption market in the context of Vietnam joining three new-generation free trade agreements, namely the Comprehensive and Progressive Agreement for Trans-Pacific Partnership (CPTPP), the EU-Vietnam Free Trade Agreement (EVFTA) and the Regional Comprehensive Economic Partnership (RCEP).
The Vietnamese government will create the best possible conditions for foreign investors to operate effectively and successfully in the country, especially big groups like SCG, he promised./.
Local market sees new wave of M&A deals
Despite the difficulties caused by the coronavirus pandemic, many investors are still opting to invest in the Vietnamese hotel market, spurring a new wave of mergers and acquisitions (M&A).
Some entrepreneurs active in the hotel industry said there was a firm seeking to buy multiple three- to five-star hotels in Vietnam for up to VND7 trillion.
"The firm is a new business, but has much capital and has announced its cooperation with a foreign real estate investment fund," said an entrepreneur.
Tran Thi Thanh Tam, director of Chez Mimosa Hotel Management and Consulting Company, said that the M&A deals were done in the local market. In fact, many investors have acquired some hotels during the Covid-19 pandemic, mainly ones in provinces and cities with high tourism potential such as Dalat and Phu Quoc.
There have been more requests for finding and purchasing hotels, she said.
"We have received six requests for the purchase of hotels from two groups from Dubai and India and other local investment funds and individuals," said Tam.
"Data from online hotel room booking channels indicated that some 2,000 small hotels in Vietnam had shut down due to the pandemic," Tam said, adding that despite multiple difficulties, the hotel market still had potential, urging M&A deals.
A number of domestic and foreign investors are seeking to purchase hotels. Besides, foreign investors want to buy four- or five-star hotels or land lots to develop hotels in Vietnam's major cities such as Danang, Hanoi and HCMC, said real estate advisor Savills Vietnam.
"The demand from international investors to acquire hotels in Hanoi and HCMC is great," said Su Ngoc Khuong, investment director at Savills Vietnam.
However, even though foreign investors are eyeing four- or five-star hotels as Vietnam could soon reopen its door to international tourists, hotel owners are still doubtful about selling so soon.
"Many hotels have had to close down for three or four months due to few guests, but hotel owners did not sell their properties as they are expecting property prices to surge once the hotel market resumes," Khuong said.
Travel firms need to change business mindset due to COVID-19
Travel firms that have been crippled by coronavirus outbreaks for more than a year are required to change their business strategy to adapt to the new normal if they want to survive and get back on track once the COVID-19 pandemic is completely brought under control, according to industry insiders.
Coronavirus outbreaks have exerted a profound impact on the development of the tourism industry and they are considered a big test for local travel firms. With the preferences of domestic tourists undergoing rapid changes, the firms have no choice but to constantly update information, interact with customers in an effort to capture trends, and adjust their business strategy.
Hoang Nhan Chinh, head of the Tourism Advisory Council (TAB) Secretariat, says the TAB's statistics indicate that 83% of surveyed people are willing to travel within the next seven months, mostly summer months. Indeed, visitors are more interested in a flexible policy regarding tour cancellations rather than discounts and new products.
These survey results prompts Chinh to advise local tourism businesses to devise a flexible policy on tour cancellations in an effort to suit small groups and families, while promotional and stimulus schemes should be long-term with a specific focus on providing tourists with exciting experiences.
Since the initial outbreak of the pandemic, consumers have been increasingly taking to digital platforms to book travel services. In 2018 online bookings accounted for 19% of the total tours and market size, although the COVID-19 epidemic has made the use of mobile devices and digital tools even more essential. The TAB's latest survey also indicates that the demand of tourists for online services is now higher than for direct bookings.
Local firms should be also flexible and highly adaptable by converting forms of marketing, consultation, sales, and customer care services through online and digital platforms so as to attract a greater number of customers, Chinh suggests.
A recent report produced by consulting firm McKinsey & Company reveals that, providing online travel agencies offer booking services via text or social media platforms, it will present an opportunity for them to increase their overall market penetration.
Nguyen Van Tai, director of Vietsense Travel Company, says the deployment of digital marketing solutions has enabled the firm to reach more customers, shorten processing time, and reduce costs. Additionally, he notes, social networks help travel agencies to connect customers better and provide swift and accurate consultations.
Nguyen Tuan Anh, vice chairman of UNESCO Travel Club, underscores the importance of strengthening connectivity among enterprises, associations, and localities as a way in which to help them overcome the current challenging period.
Thai retailer to invest additional US$1.1 billion into Vietnam market
With a target to further expand its footprint in Vietnam as a high-potential market, Thailand's Central Retail Corporation Public Company Limited (CRC) has come up with a five-year plan with an investment value of approximately THB35 billion (about US$1.1 billion) to cover 55 provinces nationwide.
Yol Phokasub, Chief Executive Officer of CRC, revealed in a statement on April 2 that "CRC is forging on with a business expansion in Vietnam.
"Thanks to a strong collaboration from all sectors, Vietnam has emerged from the COVID-19 pandemic with a GDP (growth rate) of 2.91%, the lowest growth for the market but still a positive growth compared to other countries where the economy was hit hard globally with an average GDP reported at -4.4%. It is predicted that Vietnam's economy is set to bounce back to 6.8% in 2021."
According to the company, Vietnam's service sector posted a 2.34% growth, led by wholesale and retail trade with a 7% YoY growth in Q4/20, contributing 33.5% to the economy. It is also expected that the service sector will continue to grow steadily in 2021. This makes Vietnam one of the fastest growing and most lucrative markets in the world.
"Throughout CRC's nine-year operation in Vietnam, food remains a significant category, contributing to approximately 70% of the total revenue. The company aims to elevate Vietnam's retail sector while developing the ecosystem to serve as a 'Central Retail Lifestyle & Food Platform', solidifying the non-food category and enhancing the omnichannel platform. At the same time, CRC will continue our sensible and resilient way of doing business to create sustainable growth and carry on the vision of contributing to the country's prosperity while improving people's quality of life," Phokasub added.
Apart from expanding businesses across Vietnam, CRC also aims to enhance the customer experience through the development of its omnichannel platform including online sales channels such as Nguyenkim.com and Supersports.com.vn; e-commerce platforms such as Lazada, Shopee and TIKI; quick commerce such as Grab, Chopp, Now.vn. and Baemin; social commerce (Chat & Shop) such as Zalo; as well as "Hotline" and "Click and Drive" services.
In 2020, Big C developed omnichannel services in response to the COVID-19 crisis with a 5% sales contribution at the end of 2020 from 0% at the beginning of the year, while Nguyen Kim experienced a 8% proportion.
Currently, the company welcomes an average of 175,000 customers per day at 37 malls and over 230 stores across 39 provinces nationwide.
Philippe Broianigo, Chief Executive Officer, Central Retail Vietnam, said, "CRC has set up a five-year roadmap with key focuses to expand multi-concept penetration in all clusters across city centers, sub-urban and rural areas; revamp brands in the food category for better synergy and an enhanced customer experience; build brands for the non-food category and develop the omnichannel platform."
In 2016, Central Group became the new owner of Groupe Casino's Big C Vietnam chain after forking out US$1.14 billion. This was one of the mergers and acquisitions mega-deals that shaped Vietnam's retail space at the time.
In 2020, CRC opened four GO! Malls in Tra Vinh, Quang Ngai, Buon Ma Thuot, and Ben Tre, rebranded Big C to GO! adding five more branches, while opening the first branch of GO! Supermarket in Tam Ky in Quang Nam Province to target rural customers.
In 2021, CRC continues its business expansion with an investment value of approximately THB6 billion. Under the property category, the company will open four GO! Malls in Thai Nguyen, Ba Ria, Thai Binh and Lao Cai. Under the food category, it will open four GO! Hypermarkets, one mini GO!, and rebrand Big C to eight GO! Hypermarkets and seven Tops Markets.
The company's long-term plan is to expand the businesses covering 55 provinces nationwide within five years.
VND111.5 trillion needed for key projects in Khanh Hoa for next five years
The central coastal province of Khanh Hoa will need over VND111.5 trillion to develop key projects in the next five years to attract more investors and improve the quality of life of residents.
The investment in the key projects will contribute to developing Khanh Hoa Province into a centrally-governed city in line with the national urban classification plan for the 2021-2030 period approved by the prime minister on February 24, the provincial Department of Construction said in its plan for urban development in the 2021-2025 period.
Tran Nam Binh, director of the provincial department, said that of the proposed total capital, VND48.2 trillion sourced from the public investment plan will be allocated to its parts, with Nha Trang City set to receive some VND15 trillion. Cam Ranh City might be allocated over VND2.1 trillion, while Ninh Hoa Town will have over VND530 billion for its projects.
The remainder totaling more than VND63 trillion will be raised from foreign and local private sources, the local media reported.
The Khanh Hoa government will offer multiple preferential policies in the coming months to attract more investors, said Binh.
Some key projects prioritized for development in the coming years comprise three hospitals with a total cost of VND1.1 trillion, a provincial museum, infrastructure systems aimed at disaster risk management requiring a cost of VND4.6 trillion and an anti-saline intrusion dam in the Cai River.
Director of the Khanh Hoa Department of Transport Nguyen Van Dan said that it was necessary to rebuild and expand several streets and upgrade light systems in some parts of the province to meet the demand from residents due to the rapid population growth in the next five years.
Khanh Hoa Province covers over 5,100 square kilometers of land and has some 1.2 million people. The province boasts potential for tourism growth and is the south-central region's culture-economic center.
The province has set a target to welcome over five million tourists and make VND17.5 trillion in revenue from tourism this year.US$28.6 million proposed for railway investment to improve logistics
The Commission for the Management of State Capital at Enterprises has announced that it has petitioned the Ministry of Transport to allocate VND665 trillion (US$28.6 million) for railway investment in the period of 2021-2030.
Specifically, in a document to voice its opinion about the draft plan on the railway network in the period, the Commission has proposed the railway sector to carefully assess the railway infrastructure especially terminals, warehouses, and approach roads.

Moreover, the Commission stressed that studies should be focused on inadequacies that have hindered the connection and development of logistics service. Additionally, the Commission also predicted the transportation demand of commodity and the huge quantity of commodity must be transported from industrial parks and ports.
The Commission estimated that the railway sector needs more than VND665 trillion, 17 times higher than that in the period of 2011-2020, for the upgrade of infrastructure, warehouses and connection paths.
Imports of automobiles accelerate in March
The import of automobiles increased dramatically in March, according to figures released by the General Department of Customs (GDC).
But although more and more cars are coming into Vietnam, purchasing of vehicles tends to slow at the beginning of the year.
Statistics shows that last month more than 347 million USD worth of CBU (Completely Built-up Units) were brought into the country.
This was an increase of 69.3 percent in volume and 66 percent in value compared to the previous month and almost matching the figures for the first two months combined.
In the first quarter of 2021, 35,367 cars worth 770 million USD were imported, up 31.1 percent in volume and 35 percent in value against the same period last year.
Industry insiders attributed the surge to the increasing demand of transport businesses and private use after the economy stalled due to COVID-19.
While car dealers remained cautious about the prospect of car market, many expected more positive sale figures for the second quarter given the launch of many new models.
Automobile sales has continuously declined in the first two months of the year.
The Vietnam Automobile Manufacturers Association (VAMA) reported that car sales in February 2020 stood at only 13,585 units, down 48.6 percent compared to the first month of the year.
Car purchasing power in the first month of 2021 also suffered a decline of 45 percent compared to the previous month./.
Vietcombank posts record credit growth in Q1
The Joint Stock Commercial Bank for Foreign Trade of Vietnam (Vietcombank) posted credit growth of nearly 3.7 percent in the opening quarter of 2021, a record high for many years, Chairman of the Board of Directors Nghiem Xuan Thanh has said.
The State Bank of Vietnam has assigned Vietcombank a credit growth target of 10.5 percent for the year as a whole.
Thanh said the expectations of businesses and economic expansion contributed to the better operations of the banking sector, as it posted credit growth of over 2 percent in the first three months.
The figure usually inches up in the opening months of the year and increases afterwards, especially in the fourth quarter, he said, projecting that after the good increase seen in the first quarter, credit growth will likely surpass the 10 percent mark this year.
Vietcombank's bad debt ratio stood at 0.7 percent as of the end of Q1 - the lowest in the banking sector but up compared to the ratio of 0.65 percent at the end of 2020.
The State-owned bank earned a profit of about 7 trillion VND (303.59 million USD) in Q1, equal to 28 percent of its annual plan and a year-on-year surge of roughly 34 percent, while provisions for bad debts remained at 380 percent.
It posted a consolidated profit of nearly 23.07 trillion VND last year, and credit growth of 13.95 percent - the highest among Vietnamese banks./.
Vinacomin completes 26 percent of annual production plan in Q1
The Vietnam National Coal and Mineral Industries Group (Vinacomin) had fulfilled 24-26 percent of its annual production plan as of the end of the first quarter despite the adverse impact of COVID-19.
It produced 9.78 million tonnes of coal during the quarter, with 10.3 million tonnes sold.
The group's aluminum production topped 355,751 tonnes, while electricity output totalled 2.47 billion kWh in the period.
Revenue in the first quarter was estimated at more than 28.5 trillion VND (1.23 billion USD), with 4.8 trillion VND contributed to the State Budget.
Despite the formidable challenges posed by COVID-19, the group ensured stable employment for over 96,000 workers, each of whom earned an average of 12.2 million VND per month.
Regarding upcoming missions, Vinacomin General Director Dang Thanh Hai ordered member units to strictly follow the Government and ministries' COVID-19 measures and promote business and production activities in the new normal.
They should keep a close watch on thermal power plant demand for coal to outline coal production plans, and pay due regard to processing high-quality lump coal and coal dust to increase market share.
Hai also asked Vinacomin's members to ensure workplace safety and social order.
In April, Vinacomin targets producing 3.5 million tonnes of coal, 112,000 tonnes of aluminium, and 970 million kWh of electricity./.
Vinhomes withdraws from series of large-scale projects
Haiphong People's Committee announced the withdrawal of Vinhomes from a new urban project located in the North Cam River area in Haiphong city, following others in Quang Ninh and Long An. 

Vinhomes is withdrawing from large-scale projects in Haiphong, Quang Ngai, and Long An (Illustration image)
Accordingly, Vinhomes has decided to stop surveying and studying the infrastructure project of a new urban project in the North Cam River area.
In December 2019, Haiphong provided in-principle approval for Vinhomes to study the development of the infrastructure component of the new urban project in Thuy Nguyen district.
The prime minister approved the investment planning of the technical infrastructure project of the urban area in June 2016. The project would be complemented by Hoang Van Thu Bridge and the transport and technical infrastructure system covering numerous communes in Thuy Nguyen, Hong Bang, and Ngo Quyen districts.
The infrastructure project has a total investment capital of VND4.7 trillion ($204.35 million).
Previously, in December 2020, Quang Ngai People's Committee issued an announcement withdrawing its permission for investors to research, survey, and prepare investment proposals for 296 projects in the area, one of which is the Binh Chau tourism and resort complex of Vingroup.
Besides, in August 2020, Quang Ninh People's Committee also withdrew the plot allocated to a complex of golf course, tourism,  and amusement facilities and five-star hotels and resort at Khe Che Lake, An Sinh commune. The decision was also based on the proposal of the investor, Vingroup.
In addition, in July 2020, Vingroup proposed Long An People's Committee stopped studies to build the planning of a new urban project in the province.
Quang Ninh licenses giant photovoltaic cell factory project
The government of the northern province of Quang Ninh has granted the investment certificate for a solar photovoltaic cell factory project by Jinko Solar Hong Kong Company worth US$500 million.
Work on the project, which will be developed in the Song Khoai Economic Zone in Quang Yen District, will start late this month for completion in October, Thanh Nien Online reported.
The project is the first to be approved in the economic zone since it was established on September 24 last year. The project is in line with the goal to develop Quang Ninh into a modern industry and service province and a center that will develop actively and comprehensively in the northern region.
According to the Quang Ninh government, Jinko Solar Hong Kong is one of the largest and most modern producers of solar panels in the world. In 2019, it held a 12.6% share of the global market.
The company received the investment certificate for its Jinko Solar PV Vietnam project within six days, 12 days shorter than the regulated period. The Quang Ninh government approved the project within just one day.
The factory will use new imported production lines, machinery and equipment. The project is expected to generate annual revenue of nearly US$1.3 billion on average and create jobs for more than 2,000 laborers.
Quang Ninh Chairman Nguyen Tuong Van said the province had boosted the investment attraction to increase its budget revenue and gross regional domestic product.
Source: VNA/VNS/VOV/VIR/SGT/Nhan Dan/Hanoitimes