Another dairy firm eligible for export to China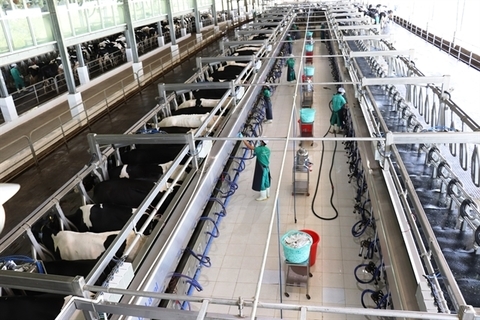 Illustrative image
A factory of the Vietnam Dairy Products JSC (Vinamilk) has been allowed by China's General Administration of Customs (GAC) to export its sweetened condensed milk and other condensed milk products to the country, according to the Vietnamese Ministry of Industry and Trade.
Vinamilk is the second Vietnamese dairy producer eligible for export to China, after TH Milk JSC whose sterilized and modified milk products have been put on Chinese shelves since October last year.
Vinamilk is running 12 farms across the country, including two under European organic standards and 10 meeting GlobalGAP standards.
The GAC said that it is weighing export documents of other Vietnamese dairy companies. With a population of more than 1.4 billion, China has a huge demand for milk and dairy products. China consumes the most milk in the world, with a total value of 60 billion USD.
Vietnam targets a rise from 120 million USD to 300 million USD in dairy export revenue to China in 2020.
Chairman of the Vietnam Dairy Association Tran Quang Trung said the domestic dairy industry has achieved good growth in recent years. Many large enterprises such as Vinamilk, TH True Milk, Moc Chau Cow JSC and Nestlé Vietnam have increased their market shares through developing new products./.
Thua Thien-Hue promotes tourism amid COVID-19 outbreak
The central province of Thua Thien-Hue is seeking to promote tourism amid the outbreak of the acute respiratory disease caused by a novel coronavirus (COVID-19).
At a working session with local departments on February 20, Chairman of the provincial People's Committee Phan Ngoc Tho said the locality has recorded no COVID-19 cases.
This is the challenging time for the tourism sector but also an occasion to promote the province as a safe and friendly destination, he said.
The official suggested promoting tourism in popular sites including Hue ancient citadel relic complex – a UNESCO world cultural heritage site, and developing potential markets such as Europe, North America and Japan.
In February, the number of tourists from China's Taiwan, Japan, Thailand, Germany and Italy increased remarkably, while that from mainland China, the Republic of Korea and Malaysia fell.
Director of the provincial Department of Tourism Le Huu Minh said in the next month, the number of visitors to the province is forecast to decline sharply due to the cancellation of tours and reservations under the influence of the epidemic.
The total damage of the sector in February-March is projected at over 76 billion VND (3.27 million USD).
Nevertheless, a silver lining of the cloud is that the local export turnover in February is projected at 66.63 million USD, a year-on-year rise of 39.42 percent, proving that the production and sale of agricultural products in the locality remain stable despite the ravaging COVID-19.
Besides maintaining business operation, provincial authorities have proactively taken measures to prevent the outbreak of the disease./.
HCM City aims to become leading metropolitan tourist destination in Asia
Ho Chi Minh City aims to become one of Asia's leading metropolitan tourist destinations by 2030, where visitors can experience unique values of local cultural heritage and lifestyle.
The target was set in the draft strategy on the city's tourism development to 2030 that was tabled for discussion at a seminar held by the municipal Department of Tourism on February 20.
Deputy Director of the department Vo Thi Ngoc Thuy said tourism is projected to contribute 17 percent to the southern economic hub's gross regional domestic product (GRDP), and tourism turnover will rise 107 percent as compared to present.
The document outlines a key strategy for the local tourism sector based on market orientations and development, which identifies major tourism products, and directions for management of tourism destination quality, infrastructure development, marketing and brand names, investment and policy, and scientific and technological application in tourism.
John Low, Senior Partner of Roland Berger's Southeast Asia Office, suggested HCM City roll out different tourism strategies and products to serve the diverse customer segments in Southeast Asia.
He recommended the city should focus on three major tourism products – culture and heritage, cuisines and shopping, in line with its potential.
At the seminar, representatives of travel companies said tourism value chain plays an important role in developing tourism products, suggesting the city improve its tourism support network and infrastructure, and invest more in building tourism brand names.
Ha Tinh's cage fish farmers restore production
Cage fish farmers in Thach Son commune, Thach Ha district, central Ha Tinh province, are investing to restore production after suffering heavy losses in early September 2019 due to heavy rains and flood that caused dozens of tonnes of fish to die.
Song Hai village was the most popular place for raising cage fish in Thach Ha district.
Local fish farmers turned to caged farming to take advantage of the Do Diem River that crosses through the area. The products are consumed in the province and in other large markets in the northern region such as Hanoi and Quang Ninh province.
Nguyen Van Binh, a cage fish farmer in Song Hai village, said to baohatinh.vn: "The incident in September 2019 caused my family more than 500 million VND (21,500 USD) in damages, leaving me in debt."
But Binh was still passionate about cage aquaculture, so he decided to invest, hoping to recover the losses caused by last year's natural disaster.
In October 2019, with financial support from family and friends, he designed his own cages to raise 1,000 fish.
Thanks to proper technical care, the fish have been growing well, reaching weights of 0.3-0.5kg, so he was able to sell them to restaurants and hotels in the area.
Binh said he would set up a network of buyers and gradually expand his business to 12 cages, hoping for a bumper harvest by the end of this year.
"To limit the risk of natural disasters, I'm planning to buy agricultural insurance," he said.
Nguyen Van Duc, head of Song Hai village, said: "After the September 2019 incident, many cage fish farmers here have overcome difficulties to restore production."
Currently, eight among 52 fish-raising households are investing in building cages and raising thousands of fingerlings.
Nguyen Van Sau, Head of the Thach Ha District Division of Agriculture and Rural Development, said in order to overcome damages caused by last year's flood, the provincial Fatherland Front Committee has decided to offer support totalling 707 million VND (30,400 USD) to local cage fish farmers.
Cage fish farming on the open waters of the river here has more advantages compared to traditional pond models, especially in terms of the fish quality and output, according to many local fish farmers. Cage fish farming in Thach Son commune has brought a high income to many households.
However, the job brings with it many risks due to natural disasters, especially flooding.
Therefore, during the farming process, the fish breeders need to follow the seasonal calendar, regularly monitor the weather's changes to take appropriate measures, aiming at minimising the damage./.
Mekong Delta province focuses on tourism development
Taking tourism as one of the five pillars for socio-economic development, authorities of the Mekong Delta province of Bac Lieu have been issuing several legal documents relating the management of the sector and boosting the exchange of information in this field with regional localities, according to insiders.
Director of the provincial Department Culture, Information and Tourism Cao Xuan thu Van said Bac Lieu aims to rake in 3 trillion VND (nearly 130 million USD) from tourism, an increase of from 18-30 percent over last year, with 3 million arrivals (10 percent increase), including about 90,000 foreign visitors.
To achieve the ambitious goal, provincial authorities will continue improving the state management over tourism, perfecting and raising the quality of the operation of local places of interest, and ensuring the hygienic and security environment.
They have facilitated the attraction of investment to major tourism projects in the province and developed coastal ones with its unique characteristics. Alongside, they are spending big sums of money on the improvement of traffic roads to tourist sites while developing the community-based model of homestay so as to attract more visitors.
Last year, Bac Lieu province bagged over 2.3 trillion VND, an increase of more than 42 percent over the figure in 2018, welcomed about 2.5 million arrivals, including 73,5000 visitors./.
Vietnam will promote agricultural mechanisation: PM
Prime Minister Nguyen Xuan Phuc has requested ministries, localities and businesses strengthen cooperation to develop agricultural mechanisation and processing of agricultural products.
Speaking at a teleconference with ministries, sectors and localities on promoting the development of the agricultural product processing industry and mechanisation in Hanoi on February 21, the PM said Vietnam has not yet focused on developing those fields.
Vietnam aims to rank among the world's top 15 most developed agricultural countries and become a global hub for agricultural logistics and processing.
Meanwhile, at present, agriculture has used a large labour force, mainly unskilled labour and has a low level of mechanisation, leading to low productivity.
Therefore, the State will develop policies to remove difficulties and promote the development of those fields, he said.
The Prime Minister urged the Ministry of Agriculture and Rural Development to submit to him a strategy on developing mechanisation and processing in the agricultural sector by 2030.
This ministry must also submit to the PM plans on developing the processing industry for vegetables, fruits, seafood, timber and wood products. Those plans will help Vietnam become one of the five leading producers of those products globally, he said.
Meanwhile, the Government will amend existing decrees to promote mechanisation in agriculture.
The Ministry of Industry and Trade must also implement a strategy to develop Vietnam's mechanical engineering industry, including tractors and machines for cultivation, preservation and processing of agricultural, forestry and fishery products.
The Prime Minister also asked credit institutions to have more funding sources for rural and agricultural development, especially for enterprises and projects in the fields of agricultural mechanisation and farming, forestry and fishery product processing.
PM Phuc said localities must find measures to develop organic agriculture using high technology.
At the conference, Minister of Agriculture and Rural Development Nguyen Xuan Cuong said Vietnam must enhance agricultural product processing and agricultural mechanisation to increase added value and competitiveness of farming products.
The application of science and technology for agricultural production and quality management will ensure control of quality, food safety and traceability for farming products, Cuong said.
The quality of human resources for the agricultural product processing industry and agricultural mechanisation should be improved, he said.
According to the minister, the sector also needs to focus on developing clusters for production and processing of agricultural products in localities, especially regions with large agricultural output.
At present, the rate of mechanisation has reached 94 percent in the stage of preparing land for production, 42 percent in the sowing and planting stage, 77 percent in the stage of breeding animals and planting trees and 65 per cent in the harvest stage.
Many localities have formed and developed agricultural production and processing chains. Now, Vietnam has about 7,500 enterprises of processing agricultural products with medium- and large-scales./.
IFC raises trade finance limits to support firms amid COVID-19
The International Finance Corporation (IFC) announced it has increased trade finance limits for Vietnamese banks to improve their capacity to cover payment risks in granting trade financing to local companies affected by the outbreak of the novel coronavirus (COVID-19).
The spread of COVID-19 has caused business disruption in Vietnam since the first case was announced in late January. The hardest hit areas include tourism and associated services, cross-border trade, manufacturing and agribusiness, among other sectors.
IFC is supporting Vietnamese businesses by increasing trade limits for four client commercial banks including An Binh Commercial Joint Stock Bank (ABBank), Tien Phong Commercial Joint Stock Bank (TPBank), Vietnam International Commercial Joint Stock Bank (VIB) and Vietnam Prosperity Joint Stock Commercial Bank (VPB).
The increased total limit of 294 million USD will enable these banks' capacity to cover payment risks in granting trade financing to local companies, mostly small and medium enterprises, IFC said in its press release on February 21.
"VIB welcomes this timely and meaningful initiative to cope with possible liquidity constraints and de-risking trends during this challenging period," said VIB's Chief Executive Officer Han Ngoc Vu.
"IFC's guarantee will help local banks significantly extend trade finance to more importers and exporters, some of which are credit-constrained and rely on bank trade facilities to manage cash flows and purchase raw inputs."
This initiative follows the State Bank of Vietnam's call to financial institutions to support local businesses, which may be affected by the coronavirus outbreak – particularly those in trade and supply chain linkages.
"Leveraging IFC's global experience in responding to several economic crises in the past, the decision to increase trade limits is an effort to ensure continued trade flows during this challenging phase. The expanded trade finance line will help mitigate trade finance risks, thus softening the impact of COVID-19 on the Vietnamese economy and the private sector," said Mehmet Mumcuoglu, IFC Financial Institutions Group Manager for East Asia and the Pacific.
Following this initiative, IFC is also exploring other expanded interventions to extend its support to Vietnam to mitigate the economic impact of COVID-19 and help the nation sustain robust economic growth, said Kyle Kelhofer, IFC Country Manager for Vietnam, Cambodia and Laos./.
Canada shares experience in risk management in agriculture
A seminar on risk management in agriculture – experience from Canada was held in Hanoi on February 21.
The event was a joint effort between the Ministry of Agriculture and Rural Development and the Vietnam Cooperative Enterprise Development (VCED) project.
The VCED project aims to form and develop five new large-scale cooperatives in the Mekong Delta provinces of Soc Trang, Binh Thuan, Ninh Thuan, Lam Dong and Ben Tre since 2015.
It helps improve farmers' income in a fair and sustainable manner via developing agriculture value chains in a new cooperative model, as well as enhance cooperatives' competitiveness in various areas, including management capacity, workshop and equipment upgrade, and trademark building.
Gaby Breton, co-Director of VCED project and chief representative of Canada's Socodevi in Vietnam, said the project has benefited many products such as grapefruit in Ninh Thuan, dragon fruit in Binh Thuan, grapefruit in Ben Tre, milch cow in Soc Trang and Lam Dong.
Farmers are also given an insight into agriculture insurance and risk management via the project, she said.
Jean Yves Drolet, expert in risk management in agriculture from Socodevi, said Socodevi now maintains business links with nearly 25,000 agriculture and forestry farms.
According to him, farmers in Canada are given access to farm and crop insurance, as well as loans with reasonable interest rates.
Participants at the event also discussed how to improve cooperatives' access to loans.
Socodevi now groups 27 cooperatives and organisations with an aim to share expertise and work with partners in developing countries. It has also made considerable contributions to Vietnam's socio-economic development over the past nearly two decades./.
Bac Lieu hopes 4-billion-USD LNG project will attract more FDI
The People's Committee of Bac Lieu province hopes the licence it granted to a Singapore company for a liquefied natural gas-fired (LNG) power plant in the province is going to be a significant factor in attracting further foreign direct investment (FDI).
Last month, the provincial People's Committee approved the construction of the plant by Delta Offshore Energy Pte. Ltd, the largest foreign project in the Mekong Delta to date.

Chairman of the provincial People's Committee Duong Thanh Trung hoped the plant, worth some 4 billion USD, would help change the province's economic structure.
It is expected to create thousands of jobs and contribute more than 3 trillion VND (129.6 million USD) a year to the State budget, he said.
Trung urged the company and its partners to ensure the project progresses on schedule, promising them most favourable conditions possible.
The 3,200MW plant will have four turbines of 750MW each and one with a capacity of 200MW, the former to go on stream at the end of 2023 and the latter in 2027.
Bac Lieu wants to attract investments in certain sectors such as renewable energy, hi-tech agriculture, trade, services, tourism, education, and healthcare, Trung said.
The province aims to become a regional and national energy hub by 2030, he added.
Bac Lieu has a 56km coastline where the wind blows steadily, making it ideal for generating renewable energy.
The project has lifted the province to 21st position from 44th in cumulative foreign direct investment (FDI) attraction in the country and third in the Mekong Delta, after Long An and Kien Giang provinces.
Vietnam attracted FDI worth 5.33 billion USD in January, up 2.8 times year-on-year, according to the Foreign Investment Agency under the Ministry of Planning and Investment.
Besides, investment through mergers and acquisitions was worth 534.8 million USD, it said.
Singapore was the largest investor with 4.16 billion USD, or 78.1 percent of all investment.
It was followed by the Republic of Korea with 264.5 million USD and Hong Kong with 212 million USD./.
PM instructs building socio-economic scenarios in COVID-19 epidemic context
Prime Minister Nguyen Xuan Phuc has instructed ministries, sectors and localities to quickly build their own development scenarios in accordance with the development of the coronavirus disease (COVID-19), in order to mitigate the impact of the epidemic while striving to fulfill set targets.
The instruction was part of an announcement released by the Government Office on the PM's conclusions regarding the impacts of COVID-19, update on growth scenarios and directions on measures to implement socio-economic targets for 2020.
The PM emphasized that with a long border and strong economic-trade exchanges with China, Vietnam is bound to be affected by COVID-19, which requires drastic, synchronous and effective measures to counter the impact in both short and long term.
The Ministry of Planning and Investment was assigned to coordinate with relevant ministries and agencies to draft a Directive of the Prime Minister. The draft should assess the development of the COVID-19 epidemic and its impacts on all aspects of social and economic life, suggest solutions to respond to COVID-19's effects, and update growth scenarios based on the epidemic's development.
In particular, for the scenario for a growth rate of 6.8 percent as set for the year, the draft must define the specific quarterly targets for every sector and fields accompanied by measures to fulfill the targets.
The PM also required ministries and sectors to propose mechanisms, policies and solutions within the power of the Government and the PM to help with the development of sectors, including tourism and services, such as visa exemption, visa extension, reduction of visa fee, logistic expenses, or taxes and other fees./.
Vietnam, RoK discuss ways to reach 100 billion USD in bilateral trade
Government officials from Vietnam and the Republic of Korea (RoK) have discussed measures to raise two-way trade to 100 billion USD this year despite regional and global economic difficulties caused by the novel coronavirus outbreak.
At their recent meeting in Seoul, Vietnam Deputy Minister of Industry and Trade Tran Quoc Khanh and the RoK's Deputy Minister of Trade, Industry and Energy (MOTIE) Park Ki-young agreed on four main orientations for the two ministries' action plan to achieve the goal.
The orientations include intensifying RoK investment attraction; supporting RoK businesses in Vietnam; increasing the competitiveness of Vietnamese exporters and creating favourable conditions for them, especially those operating in the fields of garment and textiles, footwear, wood processing, agro-fishery, and food processing; and stepping up the transfer of technology from the RoK to raise the competitiveness of Vietnam's automobile, garment, chemical, and manufacturing sectors.
The action plan is expected to be signed by Vietnamese Minister of Industry and Trade Tran Tuan Anh and RoK Minister of Trade, Industry and Energy Sung Yun-mo during the latter's Vietnam visit slated for late March or early April.
Amid the coronavirus outbreak, Khanh said that his ministry is willing to support RoK enterprises which are facing difficulties in customs clearance of imports from China.
For his part, Park affirmed Vietnam is the RoK's important partner, and hoped that Vietnam will become an essential link in the supply chain of Korean businesses, particularly in automobile manufacturing and electronic sectors.
Emphasising the necessity of diversifying the supply chain in the region, the Vietnamese official expressed his hope that the RoK will become a supplier of materials for Vietnam, especially in the fields of garment and textiles, footwear, and wood processing.
He suggested the RoK side to closely coordinate with the Vietnamese Ministry of Industry and Trade to push up the RoK Ministry of Agriculture's permission of Vietnam's exports of fresh fruits such as red-flesh dragon fruit and grapefruit.
During his stay in Seoul, Deputy Minister Khanh also had working sessions with Yoo Myung-hee, Minister for Trade under the MOTIE, and Kang Myung-soo, Standing Commissioner of the Korea Trade Commission./.
Japan supports HCM City to develop urban infrastructure
Japan on February 21 signed a memorandum of understanding (MoU) with Vietnam's southern economic hub of Ho Chi Minh City to strengthen the city's urban railway management capacity.
The sides concerned are the HCMC Management Authority for Urban Railways, the HCMC Urban Railway Company Limited No.1, and the Tokyo Metro.
The signing aims to prepare for the operation of the HCM City Urban Railway – Line No.1 and Ben Thanh – Suoi Tien metro line.
The Japanese company will share experience in urban railway management, technical cooperation, construction consultancy, and personnel exchange.
On this occasion, Japan pledged a non-refundable aid package for HCM City to upgrade the outdated sewer system.
Chairman of the provincial People's Committee Nguyen Thanh Phong said the aid will pave the way for Japanese companies to mobilise capital and utilise technology to implement projects in HCM City.
Meanwhile, Japanese Ambassador to Vietnam Umeda Kunio thanked HCM City authorities for supporting Japanese firms in implementing the construction of the metro Line 1 and hoped for more attention from them to complete the project as scheduled.
He asked municipal authorities to help Japanese businesses to carry out projects in other fields such as real estate and water environment improvement./.
HCM City vows best conditions for Indian investors
Ho Chi Minh City provides all possible conditions for foreign investors, particularly those from India, to do business in the city, Secretary of the municipal Party Committee Nguyen Thien Nhan told outgoing Indian Consul General Srykar Reddy on February 20.
Nhan congratulated the Indian diplomat for accomplishing his mission in Vietnam and spoke highly of what he has done to promote relations between HCM City and Indian localities as well as between the two countries.
The city leader thanked the Government of India for providing short-term and long-term scholarships for Vietnamese citizens, contributing to the development of local human resources.
He expressed his belief that Reddy, on his new position, will continue fostering the bilateral partnership.
Reddy, for his part, thanked the city's leaders for facilitating his work, saying the two countries have seen thriving cooperation in the areas of agriculture, energy and tourism.
Regarding tourism, about 169,000 Indian tourists visited Vietnam last year, compared to 85,000 in 2018 while the Vietnamese arrivals to India have also been on a rise, he said.
The Consulate General of India will remain active in bridging the two nations and their localities, he affirmed./.
Vietnamese seafood industry sails over coronavirus outbreak
Local seafood firms managed to avoid the impacts of the coronavirus crisis by diversifying their export markets.
The significant impacts of the epidemic have put a damper on Vietnam's export activities. Especially seafood companies that previously depended on exporting to China were hit particularly hard. However, by shifting business to the other markets, most of them have managed to mitigate the consequences of the epidemic.
Ho Quoc Luc, chairman of shrimp company Sao Ta Food JSC or Fimex Vietnam (HSX: FMC), said that China currently occupies about 0.5 per cent of their total exports as they mostly ship to Japanese restaurants – a niche market with high-profit margin.
Luc also said that the seafood demand of the Chinese market could rise slightly because China has been stockpiling food in great amounts. In addition to the plentiful stocks of pork and beef, seafood is also major export product of China. Specifically, the country has been a leading exporter of tilapia, however, the supply has been pulled down by the prolonged US-China tensions.
Regarding catfish, general director of Vinh Hoan Corporation (HSX: VHC) Ngo Thi Vi Tam said that the company mainly exports to China through sea routes. Therefore, its goods have been delivered before imports were restricted.
On the other hand, Nam Viet Corporation (HSX: ANV) stated that catfish exports to China may slow down in early 2020 because of the health crisis. Nevertheless, the issue will not last long due to the prolonged effects of the African swine fever and the return of the H5N1 epidemic. Thus, catfish and other seafood products will benefit from a foreseen shortage in pork and poultry.
Quang Ninh: Cam Pha gears toward green city
TTP Industrial Development Investment Group JSC on February 22 launched a campaign that aims to give a facelift to Cam Pha city in the northern port province of Quang Ninh.
On the day, municipal authorities joined 500 workers of the company planted hundreds of trees along the road that encompasses Bai Tu Long Bay in Cam Trung, Cam Thanh and Cam Binh wards.
Under the campaign named Green Dragon Cam Pha, TTP Group is promptly constructing a park and a square with dancing fountains and lights, that is one of the bright spots of the Green Dragon City covering nearly 100 hectares along Bai Tu Long Bay.
The new urban area, connected with the Quang Hanh high-class mineral hot spring resort in the city, will also house pedestrian streets and entertainment areas.
Bai Tu Long Bay and Ha Long Bay form impressive scenery of sea and islands. During the 27th meeting of the ASEAN Senior Officials on Environment in 2016, Bai Tu Long was officially endorsed as the 38th ASEAN Heritage Park./.
Construction starts on wind power plant in Soc Trang
BPP Vinh Chau Wind Power Co., Ltd (BPPVC) – a subsidiary of Banpu Public Company Limited (Banpu Power) of Thailand, started the construction of a wind power plant with a total capacity of 65MW in Vinh Chau town, the Mekong Delta province of Soc Trang.
Invested by the BPPVC, the wind power plant No.3's first phase has a designed capacity of 29.4 MW with seven turbines, and an investment of over 1.3 trillion VND (over 56.1 million USD). It is expected to be completed in December this year, generating about 84.7 GWh of electricity.
The second phase of the project will be implemented in 2021 with a total capacity of 30 MW at a cost of 1.4 trillion VND (over 60.47 million USD).
Speaking at the groundbreaking ceremony, Chairman of the provincial People's Committee Tran Van Chuyen highly valued the investor for its clean energy project in the locality, saying that the plant will contribute to creating jobs, and serving local production, business, and tourism activities.
Soc Trang has given priority to call for investment for 21 wind power development projects in the 2017-2020 period, including 18 ones in Vinh Chau town./.
Digital platforms improve competitiveness
Digital platforms are no longer exclusive to tech companies, and they have become increasingly popular in other sectors as they look to enhance their competitiveness.
These comments were heard at a seminar on the application of a digital platform economy in Hanoi this week.
The seminar was co-organised by the Vietnam Institute for Economic and Policy Research (VEPR) and UPGen Vietnam.
Vietnam has been adapting to the development of the global economy as well as science and technology in recent years, but the country is still facing issues such as laws, cyber security and privacy, as well as a shortage of expert IT staff. Vietnamese management agencies remain "confused" about new transport models such as Grab and Be, the seminar heard.
Tran Thanh Hai, former CEO of Be Group, said the market is very competitive and the key issues why Be is struggling to compete with Grab are policies and capital.
The country's technology start-up environment is facing many shortcomings, from the legal framework to service sectors, because technology always develops faster than the legal framework, Hai said.
Vietnam has many policies to promote digital platforms to support businesses, however, these policies have handed the advantage to foreign businesses, creating unfair competition, he noted.
Agreeing with Hai, Do Hoai Nam, UPGen Chairman, said the most difficult for Vietnamese tech enterprises is the ability to compete in terms of capital.
Domestic enterprises have to look at other factors, from creativity to technology, based on the local market.
To do that, the State plays a very important role in creating a fair playing field through legal mechanisms and frameworks, Nam noted.
The most important asset in the field of technology is a user database, Hai said.
Users are employing foreign services every day and they are exploiting rather than investing in the Vietnamese market, he said.
Therefore, domestic enterprises need their own data because this is a national resource, he emphasised.
He said the State needs a mechanism to control data resources, while domestic enterprises must focus on investing in technology and avoid dependence on services supplied by foreign tech corporations.
Nguyen Duc Thanh, VEPR Director, emphasised that firstly, domestic digital platforms must become more competitive.
This is also the strategy many countries are using to create a digital platform ecosystem, where cooperation and co-creation are connected, said Thanh./.
Bac Giang chooses three local products to shine
The northern province of Bac Giang province has chosen three local products to develop into five-star products this year as part of the One Commune-One Product (OCOP) programme.
The specialities are Luc Ngan district litchi, Chu township noodles and Yen The district chicken, said Nguyen Viet Toan, deputy director of the provincial Agriculture and Rural Development Department.
Toan said the province also targeted 30 other products reaching four stars.
Under the programme, a five-star product is defined as a high-quality product at international standards while a four-star product is a good product that could be improved to meet international standards.
To reach the goals, the province plans to focus on strengthening dissemination to make local producers in the value chain change their mindset and standardise products, labels and packaging.
Chairman of the provincial People's Committee Duong Van Thai told agencies to provide training for about 180-200 producers and 90-100 managerial officers of the programme and send managerial officers to learn from provinces and cities that had effectively implemented the programme.
The provincial department of science and technology was told to support OCOP products' brand management, including trademark design costs, trademark registration, printing stamps and certificates, establishing industrial property rights and creating brand identity, he said.
The provincial department of industry and trade was asked to support producers to upgrade stores and connect with businesses to consume OCOP products, especially encouraging businesses and co-operatives to build OCOP centres in the province, he added.
There are 93 OCOP products in the province so far, dividing into six categories of food, beverages, herbal medicine, fabric, decoration and tourism. Of which, 40 products reached three stars since last year.
The programme was approved by Prime Minister Nguyen Xuan Phuc in May 2018 to develop one strong product for each commune nationwide.
An estimated 45 trillion VND (1.9 billion USD) of State funds is being spent to run the programme./.
Vietjet slashes Asian route prices
Vietjet airlines has launched a special promotion offering half price fares throughout Vietnam and international destinations in Asia.
Passengers can book tickets until February 29 using the promotion code "BOOKNOW50" to get the discount, Vietjet said in a statement.
The offer will give people and tourists opportunities to experience new places the airline said.
It will apply to flights between February 20, 2020 and April 27, 2020.
Continuing to expand the international flight network, Vietjet brings many new, attractive and safe destinations with unique and beautiful culture such as Tokyo, Osaka, Nagoya, Fukuoka (Japan), Bali (Indonesia) and especially New Delhi and Mumbai - two cities of India, said the airline's vice president Nguyen Thanh Son.
Along with the promotion, passengers can also participate in the "Protect our planet - Fly with Vietjet" programme which aims to start a new journey to conquer new destinations, inspire and call on people from around the world to join hands to protect the green future, awaken the green dream of a beautiful nature and protect the earth./.
Vietjet AirlinesSpecial PromotionInternational DestinationBOOKNOW50International Flight NetworkVietnamplusVietnam NewsVietnam News Agency
Gold prices soar at home and abroad
The domestic gold price soared on February 21 while global prices hit a seven-year peak amid the ongoing novel coronavirus outbreak.
On February 21 afternoon, the price for one tael at Vietnam's biggest gold firm Sai Gon Jewellery Company (SJC) gold was sold at about 45.68 million VND (1,970.2 USD), an increase of 630,000 VND from the previous day.
Similar increases were also recorded at large gold firms Bao Tin Minh Chau and Doji.
Compared to the beginning of the week, prices for each tael of gold have increased more than 1 million VND.
On the global gold exchange Kitco, the precious metal gained nearly 3 percent within the week to reach 1,633.7 USD per ounce (1,968 USD per tael) on the same day.
According to Reuters, gold prices hit their highest level for seven years and also had their best week in more than six months as demand for the safe-haven asset increased after a spike in coronavirus cases.
In the local market, Bao Tin Minh Chau Gold Firm in Hanoi recorded more gold transactions on February 21 with 55 percent of buyers and 45 percent of sellers. The firm said on its website: "It is a good time for investors to trade gold to make a profit."
However, many gold traders on Ha Trung street, a well-known place that trades gold and foreign currencies in the capital, did not see much difference in the number of customers buying gold.
An employee from Hong Phat gold shop on the street who wished to remain anonymous told Viet Nam News that "they (gold investors) changed a lot. They used to shop for gold whenever the prices were higher."
"Our business declined much after Tet and also because of the epidemic. No one wants to buy anything," she added.
The same day, one of the country's biggest gold and jewellery firms Phu Nhuan Jewellery reported a reduction of 32 percent in revenue in January compared to last year.
A press release from the firm blamed the decline on higher gold prices and the coronavirus./.
Lai Chau province develops community-based tourism
Authorities in the northern mountainous province of Lai Chau are promoting policies for community-based tourism to develop the local economy and create jobs.
Tran Tien Dung, Chairman of the provincial People's Committee, the province boasts wild natural landscapes, fresh air and cool temperatures all year round.
Diversified cultural identities offer great potential to develop tourism, including community-based tourism, he said.
In the past few years, the province has invested the local budget and called on people and private investors to develop community-based tourism, Dung said.
Since implementing Project No 316 on developing Lai Chau tourism from 2016-2020, the province has given priority to developing key tourism products like community-based tourism with historical and cultural landscapes in Lai Chau city, Phong Tho district and Tam Duong district.
So far, community-based tourism products in the area have served thousands of tourists.
Between 2017 and 2019, the total number of visitors to Lai Chau reached 350,000. Each foreign guest spent on average 1.6 days in the area, while domestic visitors stayed for 1.75 days. Total income from tourism reached 450 billion VND (19.43 million USD).
There are eleven community-based tourism projects with 30 families offering homestay services in the province.
Sin Suoi Ho village has 113 households, ten of whom offering homestay services.
In the past, visitors coming to the village to see enjoy the scenery and local food on day trips.
Now, tourists can immerse in daily life like farming and gardening, Dung said.
Each month, hundreds of tourists visit the village, most of whom are foreigners.
Visitors can stay here for weeks and months to experience farming, fruit picking, making dumplings and weaving cloth, said local resident Hang Thi Su.
Visitors are warmly welcomed into our homes, where they share rooms with us to learn about our customs and lives, she said.
"We always work with different areas to spread State and local policies on developing tourism, especially enhancing people's knowledge about protecting the environment at tourism spots," said Tran Manh Hung, Deputy Director of the provincial Department of Culture, Sports and Tourism.
"We have also organised tourism training classes for locals," he said.
In the next few months, the department will co-operate with other agencies to develop tourism in a sustainable way with community-based tourism as the key.
"The province will help locals to preserve their traditional cultures, build clean toilets and develop traditional handicraft production," said Dung./.
Southwestern border province busts major smuggling case
Customs officials of the southwestern border province of An Giang on February 22 busted a smuggling case with 25,000 medical face masks and three cartons of medicines to Cambodia. This was the first of such case in the province since the outbreak of the acute respiratory disease caused by a novel coronavirus (COVID-19) earlier this year.
A man riding a motorcycle bearing no number plate loaded with 13 carton boxes broke the barrier at the exit gate and was about to do the same at the entry gate near the Cambodian side without making customs procedures when he was blocked.
A check revealed that the boxes contain the masks and the medicines, but the man, a Vietnamese, could not produce any receipt or document on the origin of the goods.
Further investigation into the case is underway./.