Agriculture sector remains fairly resilient to COVID-19
While the COVID-19 pandemic has devastated the tourism industry and hit industrial production hard, agriculture and community-based agro-forest production have proven resilient in the tourism-intensive central region.
Despite an average reduction at 30 per cent of revenue, farmers in suburban Đà Nẵng, Quảng Nam and Quảng Ngãi have maintained stable incomes compared to other sectors thanks to food chain distribution channels.
Traditional fishing and self-sufficient farm production have helped residents in the Chàm Islands off the coast of Hội An, the Lý Sơn Islands off Quảng Ngãi Province and gardeners in rural areas of Cẩm Thanh Commune in Hội An and Hòa Ninh and Túy Loan villages in Đà Nẵng keep going throughout the pandemic.
Restaurants, cafes and souvenir shops in Hội An – the most popular tourist destination in central Việt Nam – have closed, but farmers in organic gardens in Cẩm Thanh are still supplying people in Hội An and Đà Nẵng.
"Our organic-based gardener group still provide from 50kg to 70kg of fresh vegetables to local markets each day during the COVID-19 time. We even opened a new 1ha gardening zone in the commune for growing high yield crops and cash beans and nuts," said the head of Hội An's Thanh Đông organic cooperative, Lê Nhượng.
"Tourism service in the ancient town completely collapsed after four waves of the coronavirus pandemic and we also suffered a 50 per cent reduction of income from tourist arrivals and lower orders from the local market," he explained, adding floods and torrential rains last year also damaged the farm.
He said homegrown rice and garden products have helped the farm's 10 members keep going even as COVID-19 cuts their income.
Nhượng said the farm used to host 3,000 visitors per year, but had lost at least US$29,000 from the impact of the pandemic on tourism.
Meanwhile, the Chàm Islands, 20km off the coast of Hội An, have been quiet since the start of the COVID-19 outbreak.
The islands, a core zone of the Hội An-Chàm Islands world biosphere reserve site, had annual revenue of VNĐ35 billion ($1.5 million) from visit tickets, but this figure has dropped to nearly zero.
Homestays, hotels, guides, motorbike rental shops, restaurants and boat services have all suffered as the number of visitors has slowed to a trickle.
Huỳnh Thị Thùy Hương from Chàm Islands Marine Area Protected managing board, said people working in the tourism and service sector had switched to make a living from fishing.
A report from the islands' People's Committee revealed that Chàm Islands, with a population of 2,400 earned $3.6 million, of which 65 per cent was from eco-tourism, per year pre-pandemic.
Nguyễn Thị Vân, who owns Vân Đức homestay, said in the past she could earn at least $18 from a tourist for her room and food service, but that's no longer the case.
She said her husband, who worked as a diving tour guide, had started fishing from a small boat to provide seafood for their family to eat.
Hương said 80 per cent of the population had previously left the fishing industry to get involved in tourism, so they had sold their fishing boats and fishing equipment.
She said small boat fishing is only a temporary solution to ease difficulties amid COVID-19 and they all want tourism to recover soon.
Trần Quý Tây, an official from the Chàm Islands' People's Committee, said some seafood agents on the islands had stayed in business by moving their trading online.
He said cargo ships help transport seafood from the islands to online buyers on the mainland and the seafood supply chain has not been interrupted during the pandemic, and no infections had been reported on the islands.
Off the coast of Quảng Ngãi Province, Lý Sơn Islanders have also been hit hard by the consequences of COVID-19.
More than 1,000 people working in tourism became unemployed, while transport – a key service between the islands and mainland – only saw revenue of VNĐ32 million ($1,300) from passengers and cargo in the first six months of 2021.
The islands hosted around 39,000 visitors in the first half of the year, a steep drop from 265,000 in 2019.
Chairwoman of the Islands' People's Committee, Phạm Thị Hương, said purple onion and garlic – the major breadwinner for the population of 22,000 – had a bumper harvest of 22 tonnes in the first half-year crop, but the price fell to VNĐ20,000 ($0.8) per kilo, a fifth of the previous price.
She said COVID-19 had limited the number of trips between the islands and mainland and demand for farm produce on the mainland had fallen due to widespread income reductions.
Quảng Ngãi Province has started social distancing as the number of SARS-COV-2 infections topped 100 in two weeks.
The islands, which have yet to record a case, are also closed to all trips.
Lê Văn Sơn, a tour guide of the Sea Tour Quảng Ngãi travel agency, said tourism labourers had found odd jobs to keep food on the table.
He said the fishing season has not yet come, while tourism was closed.
Chu Mạnh Trinh, a community-based education expert, said COVID-19 was a big challenge for most sectors, but agriculture was the most resilient sector during the pandemic.
He said farmers consistently preserve the natural farming practices that help build sustainable outcomes to overcome the hardship of COVID-19.
He said fish, livestock, rice and garden products supply major necessities to downtown shops.
Trinh said agriculture and fisheries in coastal rural areas have proven their sustainable value during the pandemic over the last 18 months.
He said living costs in rural areas are lower than in towns, where tourism and industrial production were heavily interrupted by COVID-19, leaving thousands of people unemployed.
Nguyễn Quang Dũng, head of the Túy Loan Co-operative, in suburban Hòa Vang District of Đà Nẵng, said the cooperative's output had fallen 30 per cent due to COVID-19.
However, he said, farmers still supply 500kg of fresh vegetables to customers in Đà Nẵng and the central region daily.
Dũng said the members of the 45-farmer cooperative still earned VNĐ4 million ($173) each per month, down 25 per cent from before COVID.
He said the farm, under the Việt Nam Agriculture Practice (VietGAP)-Participatory Guarantee system (GPS), has not stopped production for a single day during the pandemic.
Although Đà Nẵng has been affected by all the four waves of COVID-19, rural farms in Hòa Bắc Commune have maintained supply to the city.
Đỗ Thị Huyền Trâm, manager of a community-based farmstay, said COVID-19 had limited travellers due to social distancing orders, but it could not break production.
"Each farmer in the commune can produce stable food from a minimum 500sq.m garden and 1,000sq.m rice farm. Only watermelon and sugarcane had a few difficulties in sales due to poor storage," Trâm said.
She said farmers in the commune earned nothing from tourism during COVID-19, but farming ensures stable incomes.
According to the city's General Statistics Office, said Đà Nẵng's economy enjoyed 4.99 per cent growth in the first six months of 2021 compared to the same period last year.
However, the unemployment rate in the first half of this year was 7.27 per cent.
Investors line up to develop Vung Ang III Power Plant
Along with the joint venture of Siemens Energy, Korea Electric Power Corporation, and Power Engineering Consulting JSC 2, numerous other investors have expressed interest in developing Vung Ang III Power Plant.
Some days ago, the joint venture of Siemens Energy, Korea Electric Power Corporation, and Power Engineering Consulting JSC 2 (PECC2) submitted a proposal to develop the $4.59 billion Vung Ang III Power Plant.
Besides them, a joint venture between T&T Group and PV Power has also submitted a bid to develop the plant under the independent power producer (IPP) model with the total investment capital of $3.55 billion. The project is expected to cover an area of 123.8 hectares. According to the investor's proposal, it will develop a liquefied natural gas (LNG) storage and Vung Ang III LNG power centre with a total capacity of 3,000MW.
In October 2019, a consortium of Siemens and Samsung C&T worked with Ha Tinh People's Committee to submit a proposal for Vung Ang III. Their proposal would set the capacity of the project at 1,200-1,500 MW. The investment capital was estimated between $1.5 and $1.8 billion.
All of these foreign investors want to switch the project from coal-fired to LNG power generation.
In October 2020, three domestic investors also submitted a proposal to Ha Tinh People's Committee to develop Vung Ang III Power Plant. These parties included Tan Co Consulting and Trading JSC, Vietracimex, and a joint venture between Hoanh Son Group JSC and Dong Thinh Phat Investment and Development JSC. 
Long An to establish six logistics centres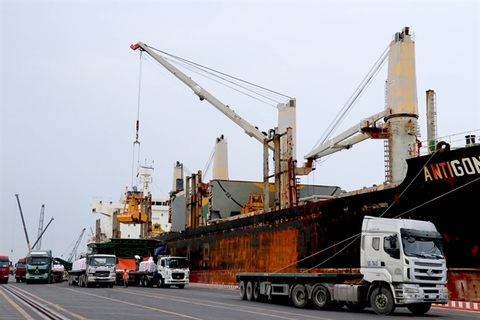 Long An International Port. The Mekong Delta province is to set up six logistics centres to meet transportation, and export and import demands. 
The Mekong Delta province of Long An plans to set up six logistics centres to meet transportation, and export and import demands, according to the provincial Department of Industry and Trade.
The centres are also expected to help local firms improve their competitiveness, the department said.
Of the facilities, three will be located in Thanh Phu, Thanh Loi and Luong Hoa communes in Ben Luc District, with a total area of 110ha. The others are at the Binh Hiep international border gate economic zone, the My Quy Tay border gate economic zone, and the Long An international port.
The centres in Thanh Phu Commune and the Long An international port in Can Giuoc District have been put into operation.
All of the centres are connected to roads, waterways and sea routes, providing transportation, logistics and goods distribution services.
Apart from the building of logistics centres, Long An has taken measures to develop a competitive, multi-model transportation sector where information-technology is optimised.
At the same time, it has worked to speed up the implementation of major transport projects to complete the transport infrastructure system connecting industrial clusters and parks with the Long An international port, thus meeting the travel and transportation needs of people and businesses. 
Enterprises provide lodging for workers to remain open

Many HCM City businesses have made plans to set up temporary accommodation for their workers to ensure they can continue operating amid the intense COVID-19 outbreak.
According to the HCM City Export Processing and Industrial Zones Authority (HEPZA), 100 enterprises have furnished such plans.
Nguyen Dang Hien, general director of Bidrico, told Nguoi Lao Dong (Labour) newspaper his company has accommodation for over 300 workers.
The company has signed up a hospital to test its 328 workers for COVID before they start to stay in the factory.
"The company cafeteria normally only serves breakfast for about 50 people, but now it can serve three meals a day for over 300," Hien said.
"We are also improving other facilities to ensure [good] living conditions for workers."
VEXOS Vietnam Co., Ltd in the Tan Thuan Export Processing Zone in District 7 has switched to a closed production process and has encouraged workers to live on the factory premises since July 8.
It provides them with all essential daily items from pillows, blankets and mattresses to towels and soaps.
It has also renovated the restroom area to create bathrooms, and installed a vending machine.
Pham Thi Chau, head of the company's human resources department, said workers who agree to stay in the factory are paid double their salary.
The deputy head of the Saigon Hi-Tech Park management, Le Thi Bich Loan, said foreign enterprises such as Intel, Schneider and others have rented hotel rooms nearby for their workers.
The head of the Business Association of the Saigon Hi-Tech Park, Ho Uyen, said to minimise the spread of at factories, businesses have been increasing the frequency of testing.
HCM City has 1.6 million workers, 320,000 of them working in 17 industrial parks and manufacturing zones.
Many factories in the districts of Binh Tan, Binh Chanh, Cu Chi, and 7 have been shut since COVID infections were found there.
In neighbouring provinces too businesses have started implementing plans to create safe conditions for workers.
In Long An, 362 businesses have submitted plans for approval by province authorities.
In Ben Tre, the province Department of Planning and Investment has instructed businesses to close down if they do not meet pandemic prevention and control conditions.
MoF proposes to impose tariff on exported gold

The Ministry of Finance (MoF) has just proposed to increase export tax on gold products of less than 95 per cent purity to 2 per cent from 0 per cent.
The proposal is in the draft decree to amend and supplement Decree 122/2016/ND-CP on export tariffs, preferential import tariffs, list of goods and flat-rate duties, mixed tariffs, and out-of quota import tariffs.
With the existing regulations on trading, importing and exporting gold, there are two export tax rates of 0 per cent and 2 per cent for gold, gold jewellery and fine works of at least 8 karat purity.
Companies are not allowed to export raw gold, only fine works and gold jewellery under the Business Registration License.
However, recently, there has been a phenomenon of gold exporting enterprises declaring gold fine works of less than 95 per cent purity and declaring the customs code with a tax rate of 0 per cent.
As the tax base for exported gold is still according to the enterprise's declaration, the customs authority does not have enough basis for inspection and verification. Meanwhile, companies conducting gold quality inspection before exporting all declare that the gold is below 95 per cent purity, the re-examination documents of foreign partners also show the same results, causing the risk of lost tax revenues.
MoF said that the world and domestic gold markets have fluctuated strongly in recent years, mainly due to the uncertainties of the world economy, trade wars, a well as a sharp drop in the US dollar compared to other major currencies, and especially the complexity of the pandemic, affecting investors' sentiment all over the world.
Gold exports surged recently. Data compiled by the General Department of Customs showed that in the first half of this year, the export turnover of gold reached US$380 million.
In 2020, the amount was $2.6 billion, up more than $600 million compared to 2019 and $2 billion over the same period of 2018. Of which goods made of gold with gold content of less than 95 per cent under the code 7114.19.00.90 account for a large part, about $2.1 billion.
Last year, there were 469 enterprises exporting and importing gold products including pearls, precious stones, semi-precious stones and their products, jewellery made of other materials, and metal coins.
Fresh business models vital to riding pandemic wave
Vietnamese businesses being are encouraged to adjust their strategy and address the lack of capital as well as difficulties in accessing funds.
Lam Thi Ngoc Hao, head of national corporates and business transformation at KPMG in Vietnam, said that the current wave of the pandemic has disrupted previously working business models. Quarantines, transport disruptions, and changing consumer behaviours have put mounting pressure on many companies which are now facing growing cash flow problems amid rising expenses and a changing business environment.
As of the end of 2020, around 800,000 private companies were operating in different sectors in Vietnam, 96 per cent of which were micro and small businesses and 2 per cent were medium-sized enterprises. Despite the pandemic, the private sector contributed 42.68 per cent to the country's GDP in 2020. However, 87.2 per cent of Vietnamese businesses have been negatively affected by COVID-19 with cash flow being one of their biggest problems.
Speaking at the virtual launch of the KPMG NEXT 2021 programme titled Money Matters, Hao said that businesses need to flexibly adapt to the rapid changes during the pandemic to reduce risks and maintain revenues. "They need to know which of their products and stores are profitable and which ones generate losses to decide whether to scale up or down, and delay unnecessary spending to maintain cash flows," she added.
Nguyen Trung Kien, co-founder and Vietnam country partner of Asia Partners, said that all enterprises have experienced rapid changes such as evolving customer demands and the needs to enhance collaboration within their organisations during the social distancing period. Therefore, businesses should prioritise spending on things that help them adapt to the new working environment, such as remote working equipment.
In addition to minimising unnecessary costs, enterprises should continuously improve technology to catch up with the digitalisation trend. Those with many office branches and physical stores need to start considering an omnichannel strategy.
Kien explained that as customers switch to online shopping, many of them will visit physical stores less often. This should prompt businesses to streamline expenses on their store system while reviewing and polishing up their online customer experience. He advised businesses to invest in apps or human resources to manage e-commerce systems and improve customer experience.
"To turn a crisis into an opportunity, businesses should use this time to build up a team of talents and a technology base that will allow them to grow when the pandemic is over," Kien stated.
After the pandemic, businesses will have an urgent need for new financial sources to accelerate their recovery and development. As credit institutions are tightening lending, one solution could be to call for capital from investors to ensure sufficient cash flow.
Although financiers have higher confidence in the recovery and development of Vietnam's economy, they have become more picky regarding suitable businesses. Therefore, businesses need to prepare reasonable financial plans to maximise benefits for shareholders and stakeholders to facilitate the capital raising process.
Warrick Cleine, chairman and CEO of KPMG in Vietnam and Cambodia, said that in the past it was easier to raise large funds in Vietnam than smaller ones because the local system for venture and seeding capital is very small. International investors look for large deals because they target economies of scale. However, it is not easy to find both large and small capital sums during the pandemic.
"Investors are looking for returns, so companies need to have good balance sheets and business models. Scalable investment that allows capital to increase multiple times is also very important," Cleine suggested.
KPMG NEXT is the company's corporate social responsibility programme targeting small- and medium-sized enterprises in Vietnam that are looking to fast-track their sustainable growth. Throughout its 5-year journey, KPMG in Vietnam has organised several field trips to the likes of Thailand, Singapore, and Taiwan, attracting more than 200 leaders and 126 business representatives from different regions and sectors in Vietnam.
Domestic retailers to cement dominant position in Vietnam

Local businesses have promptly applied omni-channels to adapt to the new normal situation.
The increasing presence of foreign brands in Vietnam has been seen a push for domestic retailers to participate in the race for market share and keep their leading position in the market as the country remains one of the most promising markets in the world, especially its effective results in containing the Covid-19 outbreak and support policies for businesses.
The global research market and consulting firm Mordor Intelligence estimated the Vietnam retail industry's revenue to gain a compound average gross rate (CAGR) of more than 10% in the 2021-26 period.
The figure was made at the base of the country's ongoing urbanization and evolving demand trends among young urban consumers to drive strong growth in modern retailing channels, such as convenience stores and the rapid expansion of e-commerce.
In the latest move, Thailand's Central Retail has planned to expand its market share in Vietnam, looking to reach nearly 90% of the country's provinces and cities through its US$1.1 billion investment capital for the next five years.
The reason for the new investment, according to the retailer, came from that Vietnam's service industry will continue to grow strongly in 2021, making it one of the fastest and most attractive markets in the world.
Central Group conglomerate's subsidiary, after acquiring Big C Vietnam from France's Casino Group in 2016, has been operating 37 commercial centers and 230 stores in 39 provinces.
A statistics of property consultancy Savills Vietnam showed that among 66 newly-registered foreign-direct investment (FDI) projects conducted in the first quarter of 2021, there were five shopping malls and supermarket projects, with investment capital of nearly $13.5 million, equivalent to 27% of the total newly-registered FDI capital in the capital.
All five projects are developed by foreign investors from Japan and South Korea who are ready for long-term operation in Vietnam.
"The retail market is attractive to foreign investors thanks to the steady population growth and rapid surge in consumer spending," Savills said.
The retail market, recently, has witnessed strong expansion from domestic players through the opening of new stores across the country as competing with foreign rivals like Central Retail.
Truong Hai Auto Corp. (THACO), the Vietnamese automaker, after acquiring the South Korean Emart retail system, is planning to expand the chain's network to up to four hypermarkets by 2022 and over 10 discount stores by 2025.
Trade and services are one of five pillars including automobiles, real estate, and agriculture, and logistics that help it realize its goal of becoming a multi-sector industrial corporation.
This year, it plans to earn more than VND1.8 trillion (US$78.2 million) in revenue from the Emart system, marking an increase of about 10% year-on-year and contributing about 2.2% of the group's total revenue, Tran Ba Duong, Chairman of THACO said.
Masan Group, owning more than 3,000 VinMart and VinMart+ retail and agricultural chains VinEco, is expected to open another 300-500 outlets by year-end. Earlier, Vingroup, the Vietnamese conglomerate, sold its subsidiary VinCommerce, which operated VinMart and VinMart+ and VinEco to Masan Group in a merger deal in 2019.
Danny Le, CEO of Masan Group said they will hit a key milestone this year with VinCommerce becoming profitable. The company is turning its focus on expansion to build the nation's No.1 network while keeping our profit momentum intact.
Its subsidiary Masan Consumer posted double-digit top and bottom-line growth in the first half of 2021, despite the overall fast-moving-consumer goods (FMCG) market de-growing in the period.
The BRGMart chain managed by Hanoi-based BRG Retail has continuously opened new stores from 2020 to 2021, expanding its network to up to 75 supermarkets and minimarts, Nguyen Thai Dung, Chairman of BRG Retail told The Hanoi Times.
"We will open up to 100 supermarkets and minimarts in Hanoi, Hai Phong, Hai Duong, Hung Yen, Ba Ria-Vung Tau, and Ho Chi Minh City by the end of this year," Dung added.
According to the Ministry of Industry and Trade, Vietnamese enterprises are now accounting for 80% of a total number of nearly 1,100 supermarkets, 240 shopping centers, and nearly 2,000 convenience stores across the country.
Over the past years, domestic players have rapidly expanded their scale to capture market share through merger & acquisition (M&A) deals. This has significantly changed the landscape of the retail industry in recent years, local insiders said.
Vu Thi Hau, Chairwoman of the Vietnam Retailers Association (VRA) underlined Vietnamese retailers are growing stronger than previously.
"They are aware how to take advantage of the home field to leverage their development, typically through M&A deals with the desire to expand their market share in the domestic ground," she told The Hanoi Times. "It proves the Vietnamese retailers are completely capable to dominate the market."
Local insiders commented the firms have taken advantage of understanding the local market, consumer habits as well as effectively focused on customization and localization strategies.
Covid-19 has created more momentum for the shift from traditional trade to e-commerce, Hoang Quang Phong, Vice President of the Vietnam Chamber of Commerce and Industry told the online conference entitled "Digital transformation-Solution to boost retail growth" last month. Impacts from the pandemic including travel restriction have aggressively boosted online shopping.
Local retailers have promptly turned their business strategies to developing omni-channels to adapt to the new normal situation.
Soi Bien chain has put into use the "All-in-one" payment solution with high security. The solution helps employees both sell goods, manage orders, make payments, control the status of goods and manage revenue. "We are preparing to sell on e-commerce platforms in the coming time," Bui Van Hau, Managing Director of Hanoi-based Soi Bien food chains told The Hanoi Times.
BRG Retail, last year, also launched its app BRG Shopping as well as enhanced cashless payment to create convenience to customers. "Training human resources, applying new technology and caring customers are a priority of the chain, in parallel with outlet expansion," Dung said.
Dang Thanh Phong, PR Manager of MobileWorld JSC (MWG), one of the pioneering retailers applying omni-channels successfully, saw the Vietnamese retailers have improved their weakness of capital and technology application compared to the previous years. The retailer owns a huge number of outlets at thegioididong.vn (mobile devices chain), Dien may Xanh (electronic products chain), and Bach Hoa Xanh (grocery chain) across the country and in overseas markets.
"They are both actively and strongly investing in applying technology into the management of chains, invention, and customer care. It is key factors to help them accelerate their capacity as well as competitiveness in the tougher competition," he told The Hanoi Times.
Hau from the VRA commented that the Vietnamese retailers have emerged from their weaknesses which were capital shortage and backward technology application in the previous years. Enterprise's strategy must always be associated with the development of the market. Meeting the needs of consumers helps businesses survive. "So it is not surprising that retailers have to change to adapt," she added.
Meanwhile, the $1 billion plan of Central Retail is to focus on developing the multi-sectoral platform to improve customer experience, branding for non-food categories as well as enhancing its presence in urban and rural areas to strengthen its dominance in Vietnam.
Philippe Broianigo, CEO of Central Retail in Vietnam, said they will develop the omni-channel including nguyenkim.com and supersports.com.vn, build e-commerce stores on Lazada, Shopee, and Tiki and cooperate with food apps such as Grab, Now, Beamin, and Chopp.
Local insiders predicted the population scale of Vietnam will increase by 2% per year, and reach 106 million people by 2050, which will be a good sign for retailers. Looking at the potentials of the retail market, they said Vietnam is a "promising land" for domestic firms, and also an ideal destination for foreign businesses.
Information-communications technology sector earns nearly 65 billion USD in H1
Total revenue of the information and communications technology (ICT) sector is estimated at nearly 65 billion USD in the first half of 2021, up 22 percent year-on-year, according to the Ministry of Information and Communication.
Of the figure, 57.6 billion USD came from the hardware and electronics industry.
The export turnover of hardware and electronic products is estimated at 50.5 billion USD, accounting for 31.6 percent of the country's total export value with a trade surplus of 7.7 billion USD. The earnings mainly came from the export of computers and spare parts and mobile phones and components.

The telecoms industry posted a total revenue of nearly 66 trillion VND (2.86 billion USD) during January-June, up 5.29 percent against the same period last year.
This year, the ministry set a target of around 140 billion USD in the revenue of the ICT sector, a year-on-year rise of 14 percent.
By the end of June, the sector had around 47,000 enterprises, which employed 1.055 million workers./.
Thanh Hoa improves quality of farm produce for export
The central province of Thanh Hoa is carrying out various measures to improve the quality of its farm produce to meet requirements of export markets, thus tapping advantages from free trade agreements (FTA) that Vietnam has signed.
According to the provincial Department of Industry and Trade, the FTAs have brought about great opportunities for agricultural products of Vietnam and Thanh Hoa in particular.
At the same time, after fluctuations in export markets due to the COVID-19 pandemic, local businesses have defined orientations in their export activities.
Statistics from the department showed that in the first three months of 2021, Thanh Hoa earned 4.3 million USD from exporting food and farm produce, a rise of 19 percent year on year, along with 21.3 million USD from aquatic products, up 10.4 percent over the same period last year.
The department attributed the growth to the confusion of local exporters amid the complicated development of COVID-19 in the first quarter of 2020, which was solved in the same period this year. However, the growth is a positive sign showing the stability in farm produce export of the province in the context of COVID-19 pandemic's complicated developments that have forced border gates to limited operations.
However, experts held that in order to meet standards and overcome technical barriers in export markets, Thanh Hoa should make new breakthroughs in production scale and production process, while giving adequate investment in processing activities to enhance farm produce's values in the market.
A representative from the Import and Export Management Division under the provincial Department of Trade and Industry said that in order to remove difficulties facing local exporters, it has supported them in implementing recommendations from the Ministry of Industry and Trade and authorised agencies in border gates to regulate the shipping of goods to border gates, thus avoiding the overloading situation.
Besides, the division has assisted the firms in conducting trade promotion activities in foreign markets, thus seeking new markets and expanding exports through official channels, said the representative.
The representative held that currently, local farm produce has become competitive enough to reach choosy markets such as Japan, the US and EU countries. With a diversity in weather conditions and terrains, the province has advantages in agricultural production with diverse products and high development potential in export.
However, local exporters pointed out that agricultural production regions in Thanh Hoa have been small in scale with unequal quality of products. At the same time, agricultural production has yet to follow planning, making it difficult for management and infrastructure development. The production crop has yet to be regulated properly, leading to the unstable supply and preventing the application of science and technology, causing the increase in cost and difficulties in quality, food safety and disease management, they said.
Recognising the problems, the province has planned to organise production following market demand, while focusing on ensuring safe production process to enhance competitiveness.
Local businesses are advised to continue coordinating closely together in popularising regulations in origin traceability and labeling as well as in relevant matters to production regions, thus enhancing the quality of products and meeting standards of targeted markets.
In a long term, Thanh Hoa will give directions and guidelines to local farmers and production facilities on how to produce goods in line with the market's demand and conduct production process towards VietGap and safe standards, thus improving competitiveness of their products.
Meanwhile, the province will also implement technical solutions in cultivation to reduce cost, especially by applying technologies in producing, processing and storing products, thus conquering most choosy markets, diversifying markets and enhancing the value and efficiency of production activities./.
RoK increases banana imports from Vietnamese market
Vietnam made up the sixth largest supplier of bananas to the Republic of Korea (RoK) during the opening five months of the year after exporting 2,900 tonnes, worth US$2.3 million to the market, according to the Korea International Trade Association (KITA).
This figure represents an annual increase of 13.6% in volume and 48.3% in value, the KITA said.
The association revealed that the RoK imported a total of 155,300 tonnes of bananas valued at US$131.5 million throughout the reviewed period, up 3.4% in volume and 8% in value year on year.
The average price of bananas exported to the RoK increased by 4.5% compared to last year's corresponding period, hitting US$846.3 per tonnes.
However, the average price of bananas imported from Vietnam remained low at US$791.6 per tonne, with the import proportion from Vietnam making up 1.9% of the RoK's total banana imports.
According to industry experts, Vietnam continues to enjoy advantages in terms of increasing its market share in the RoK. This is largely due to preferential import duties which are in line with the Vietnam-Korea Free Trade Agreement (VKFTA).
Yet, Vietnamese bananas continue to face fierce competition with those from the Philippines, which continues to represent the largest provider of this fruit to the RoK.
Bananas remain a popular fruit in the RoK, although they must be imported due to unfavourable local farming conditions.
Binh Dinh asked to welcome return of foreign tourists under pilot scheme
Property developer FLC Group has put forward a proposal that the south-central coasta province of Binh Dinh should consider a pilot plan aimed at welcoming the return of international tourists with vaccine passports via charter flights to the province.
The move comes amid Phu Quoc island city and Khanh Hoa province planning to deploy a pilot project that will see the return of foreign tourists who have valid vaccine passports ahead in the second half of the year.
In line with the scheme, international tourists to Binh Dinh province must have a certificate stating that they have received two shots of the COVID-19 vaccine, along with a negative PT-PCR test within 72 hours ahead of departure.
The formulation of a pilot plan can be considered as one of the important solutions in realising the dual goal of containing the pandemic outbreak whilst simultaneously developing tourism within the locality.
FLC also revealed that it has closely co-ordinated efforts alongside other travel operators, along with preparing relevant accommodation infrastructure and aviation transport ahead of the return of international guests through the pilot scheme.
A synchronous ecosystem, including aviation transport and high-end accommodation facilities such as FLC Quy Nhon, are anticipated to help FLC to quickly deploy charter flights, whilst launching unique tourism products for Binh Dinh province in particular and the tourism market in general.
Most notably, local airline Bamboo Airways has officially co-operated alongside the International Air Transport Association (IATA) to launch the IATA Travel Pass digital health certificate on a trial basis, thereby marking a solid step forward to restore international routes moving forward.
The pilot plan can be considered an important strategy aimed at restoring the international tourism market, which has been severely impacted by the pandemic, especially Europe, America, and Asia.
VIB posts profit growth of 68% in H1
Vietnam International Bank (VIB) recorded pre-tax profit of over VNĐ3.95 trillion (US$170 million) in the first half of 2021, up 68 per cent year-on-year.
VIB's return on equity ratio (ROE) was 32.8 per cent, among the highest in the banking industry, while the bank's non-performing loans remained low at 1.3 per cent in the period, according to its H1 financial report published on Monday.
Over the past six months of 2021, the bank's total revenue also saw a strong increase of 52 per cent to surpass VNĐ7.3 trillion compared to last year's corresponding period.
Besides prioritising support for customers affected by the COVID-19 pandemic in a timely manner, VIB continued to improve its operating efficiency, thus reducing the period's cost to income ratio to 37 per cent, the bank said in a statement.
As of June 30, 2021, the bank's total assets reached over VNĐ277 trillion while its outstanding credit balance hit over VNĐ185 trillion, 8.1 per cent higher than that seen early this year, according to the data. Meanwhile, funding from customers showed an increase of 12.1 per cent.
With its effective retail business strategy, VIB's outstanding retail balance experienced positive growth at 14.2 per cent in the period, accounting for nearly 90 per cent of total outstanding credit balance amid the pandemic.
The retail portfolio has helped VIB reduce concentration risks and better adapt in the current volatile market environment. It is also one of the banks that has the highest retail credit portfolio in the country. 
Last month, VIB distributed bonus shares to shareholders at 40 per cent in order to increase charter capital to over VNĐ15.5 trillion ($665 million).
Advanced technologies that VIB has been applying have facilitated customers, enabling them to easily open payment accounts, online savings and transfer money online instead of visiting the banks' transaction offices or branches.  
VIB has also implemented many programmes that encouraged customers to make online transactions such as exempting all transfer fees for transactions via MyVIB Mobile Banking application and via e-Banking at https://ib.vib.com.vn; launching new lines of cards for online shopping - VIB Online Plus and VIB Online Plus 2in1, as well as teaming up with partners to offer discounts of up to 50 per cent for customers to pay for shopping, food, cosmetics, and healthcare services. 
Amid the complicated development of COVID-19, in addition to ensuring its safe and sustainable business operations, VIB has also cooperated with the State Bank of Việt Nam, relevant management agencies, partners and customers in fighting the pandemic and minimising negative impacts on the lives of local people and the economy.
Since the beginning of this year, VIB has slashed lending interest rates from 0.5 per cent to 2 per cent for nearly 10,000 affected customers. 
At a recent meeting with the Việt Nam Banks Association and other credit institutions, VIB committed to reduce lending interest rates for individual and corporate customers by 1.5 per cent in July, focusing on those heavily impacted by the pandemic.
As part of its ongoing efforts to help the State in the battle against the pandemic, VIB also has contributed VNĐ20 billion to the national COVID-19 Vaccine Fund. With the donation, VIB hopes to contribute to administering free vaccines to all people in order to return life to normal as well as stabilising the local economy. 
Source: VNA/VNS/VOV/VIR/SGT/SGGP/Nhan Dan/Hanoitimes

Shares to move sideways with low liquidity