Hanoi tax authorities collect taxes from Google and Apple content developers
The Hanoi Department of Taxation have collected over VND39 billion (USD1.69 million) from content developers on Google and Apple during the first seven months of this year.
The Hanoi Department of Taxation have collected over VND39 billion (USD1.69 million) from content developers on Google and Apple during the first seven months of 2021. Illustrative photo
According to the department, they have collected taxes from 392 people that provide content services on various applications including Google Play and Apple Store.
The department have collected VND 203 billion (USD8.83 million) in taxes from these content developers since 2018.
The municipal tax authorities are also seeking to collect more taxes from online businesses. They are checking on the information of 32,085 businesses that are using online delivery services and 756 housing rental businesses.
The department has co-operated with banks and delivery service providers to monitor the online businesses for tax collection.
Vietnam enjoys major trade surplus with UAE 
Vietnam enjoyed a trade surplus of over 2.5 billion USD with the UAE in the first seven months of this year, according to the Vietnamese Trade Office in UAE.
The UAE is one of Vietnam's ten largest importers globally and its biggest trade partner in the Middle East and Africa, and Vietnam has boasted the trade surplus with the country for years.
Latest data from the General Department of Customs shows that the two-way trade hit nearly 3.1 billion USD in the first seven month of the year, a year-on-year increase of 37.8 percent. Vietnam's exports to the UAE totalled 2.8 billion USD during the period, up 40.8 percent year on year; while imports exceeded 286 million USD, up 13.3 percent.
Mobile phones and parts made up the largest share of the exports, with total value reaching 1.85 billion USD, surging 48.1 percent year on year. It was followed by computers, electronics and components at 264.4 million USD, up 17.4 percent; and machinery, equipment and parts, 148.1 million USD and 43.1 percent.
The highest growth was seen in the shipments of cashew nut which were valued at 23 million USD, tripling the same period last year's figure. It was followed by pepper which recorded export revenue of close to 40 million USD, up 185 percent.
The UAE is likely to be a very promising market for Vietnamese exporters in the coming years. The bilateral trade is expected to reach 5 billion USD this year./. 
Shares advance but bank stocks pressure indices
Viet Nam's benchmark VN-Index gained slightly on Friday, supported by the rise of heavyweight stocks, but the VN-Index failed to conquer 1,450 points as some other blue-chips in the banking group dropped pressuring the indices.
On the Ho Chi Minh Stock Exchange, the VN-Index increased 0.1 per cent to close at 1,345.31 points.
The index had increased 0.78 per cent to close Thursday at 1,343.98 points.
Nearly 599 million shares worth VND19 trillion (US$835.8 million shares) were traded on the southern exchange.
The market breadth was positive as 194 stocks declined, while 213 rose and 43 ended flat.
The 30 biggest stocks tracker, VN30-Index, rose 0.07 per cent to finish at 1,448.33 points.
Of the VN30 basket, 10 stocks increased while 15 decreased.
In the VN-30 basket, Phu Nhuan Jewelry (PNJ) gained 3.9 per cent, followed by insurer Bao Viet Holdings (BVH) and Vincom Retail (VRE) rising 2 per cent.
VPBank (VPB), beer producer Sabeco (SAB) and dairy firm Vinamilk (VNM) all advanced above 1 per cent.
Hung Vuong Joint Stock Corporation (HVG), Angiang Fisheries Import Export JSC (AGF) and Kien Hung JSC (KHS) were the most prominent stocks in the seafood industry, all reaching the ceiling prices.
I.D.I International Development & Investment Corporation (IDI) bounced back more than 6 per cent and is heading to the old peak of January 2021. Minh Phu Corporation (MPC) and Sao Ta Foods Joint Stock Company (FMC) both surpassed 4 per cent.
On the other side, banking stocks lost ground and put pressure on the market, with losers including Vietcombank (VCB), Military Bank (MBB), Tien Phong Bank (TPB), Sacombank (STB), Vietinbank (CTG) and HDBank (HDB).
"After yesterday's correction, the market struggled in the morning but gained at the end of the afternoon," said BIDV Securities Co.
"Market breadth turned positive with reduced liquidity compared to the previous session, showing signs of positive sentiment again when the market touched the support level of 1,330 points. Meanwhile, foreign investors were net sellers on both HoSE and HNX. The recovery at 1,330 points is supporting the recovering trend back to 1,350 points," it said.
Foreign investors net sold VND538.92 billion on HOSE. They were net sellers on HNX with a value of VND357.67 billion.
On the Ha Noi Stock Exchange, the HNX-Index lost 0.11 per cent to end at 350.05 points.
Some 121 million shares worth nearly VND2.4 trillion were traded on the northern exchange. 
Top legislator receives Salo mayor, international entrepreneurs
National Assembly Chairman Vuong Dinh Hue discussed educational and business cooperation with the mayor of Salo city in Finland and leaders of some international corporations during meetings in Helsinki on September 10 as part of Hue's official visit to Finland.
Talking to Mayor Tero Nissien and representatives from universities and firms in Salo, Chairman Hue expressed his support for stronger partnership in cooperation and training between Vietnam and Finland, as education is a strength of the Northern European nation.
He noted that nearly one quarter of the 11,000-strong Vietnamese community in Finland are students (2,500), and the figure is expected to further rise.
Hue also informed his guest that during his meetings with the President, the Speaker of the Parliament and the Prime Minister of Finland, the two sides reached consensus on promoting Vietnam-Finland cooperation across the fields, including education.
Mayor Nissien said hundreds of Vietnamese students are studying at Turku University in his city. He said Vietnamese students are hard working and capable, who also contribute to strengthening the cooperation between the two countries.
The mayor noted the high economic growth rate and the potential of Vietnam, saying that he hopes to expand ties with the Southeast Asian nation in innovation, business administration, tertiary education and distance health care.
Meanwhile, at their meetings with the Vietnamese legislative leader, executives of several international corporations operating in health care, education and energy expressed their wish to expand production and business activities in Vietnam. They said they are ready to collaborate with Vietnamese partners to supply or produce quality medical supplies for COVID-19 prevention and control at reasonable costs. The corporations are also willing to share experience with Vietnam in the fields of education, startup and renewable energy.
Talking to Peter Vesterbacka, Chairman and co-founder of Finest Future, an Espoo-based organization specializing in education and startup, Hue appreciated Finest Future's engagement in education, innovation and startup projects in Vietnam, including a scholarship programme for Vietnamese students.
He said Vietnam attaches importance to science-technology and innovation, and asked the Chairman and co-founder of Finest Future to collaborate with Vietnam in those fields.
At his meeting with executive officers of Gerbion group, which is working with Vietnam's T&T group in a joint programme in purchasing and transferring technology for producing rapid COVID-19 PCR test devices, NA Chairman Hue said he supports the group's business and investment strategy in Vietnam.
Meanwhile, leaders of the French group NG Biotech told the Vietnamese NA leader that the group is building a factory producing rapid testing kits in Vietnam with the intention to help Vietnam cope with the current difficulties in pandemic control and set up long-term partnership with Vietnamese partners.
Chairman Hue also received representatives from Wärtsilä, a Finnish company leading the world in marine and energy smart technology and solutions, the JAKS Resources Berhad of Malaysia, and HIPRA group of Spain./. 
VNPT, Nokia sign cooperation agreement on digital infrastructure development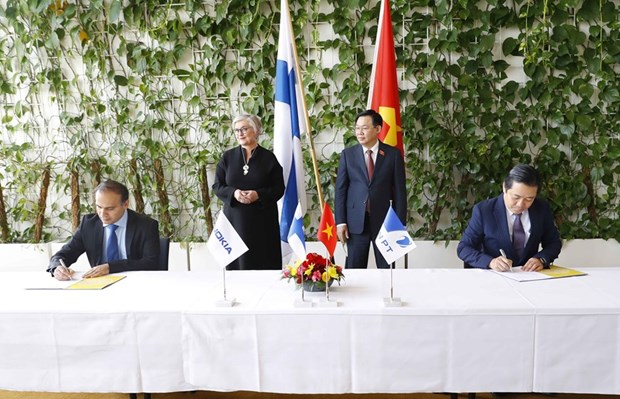 National Assembly Chairman Vuong Dinh Hue (R) and Speaker of the Finnish Parliament Anu Vehvilainen  witness the signing of a cooperation agreement between VNPT and Nokia Corporation  (Photo: VNA)
National Assembly Chairman Vuong Dinh Hue and Speaker of the Finnish Parliament Anu Vehvilainen on September 10 witnessed the signing of a cooperation agreement between the Vietnam Posts and Telecommunications Group (VNPT) and Nokia Corporation on the upgrade and development of VNPT's digital infrastructure.
The signing of the deal took place within the framework of the top Vietnamese legislator's on-going official visit to Finland.
Under the agreement, the two sides agreed to strengthen strategic cooperation to upgrade the capacity of backbone and core networks, develop 4G, 5G, and IoT platforms, continue commercial testing of 5G service, and cooperate in developing and applying new networking technologies.
The deal is expected to open up many potential opportunities related technological solutions for corporate customers.
The two sides will also consider the possibility of cooperation in other fields in the time to come.
Earlier, NA Chairman Hue received Nokia's leaders, during which he revealed that Vietnam is currently speeding up digital transformation and developing the digital economy.
He suggested Nokia enhance cooperation with Vietnam businesses in this field, adding that by investing in Vietnam, Nokia can expand its investment in other ASEAN countries.
Nokia's leaders affirmed that the corporation will effectively carry out the freshly signed agreement and wants to maintain long-term operations in Vietnam./. 
Project looks to bolster Vietnam's dragon fruit exports to Europe
A project to improve the quality of tropical fruits grown in Vietnam sponsored by the Dutch government has kicked off, offering chances for sustainable exports of dragon fruit to the challenging market of Europe.
Vietnam's dragon fruit growing areas have been quickly expanded over the years to about 60,000ha. At present, consumption of the fruit heavily depends on the Chinese market.
The project aims to enhance chances for exports of the fruit to the European market, heard a recent webinar arranged by an affiliate of Eurofins Scientific testing laboratories company.
It is also hoped to support farmers to apply right farming methods to meet technical standards of European importers, as well as connect importers in the Netherlands and tropical fruit growers in Vietnam.
The project focuses on introducing tools, solutions and technology to help farmers enjoy higher yield.
Of note, it will apply Eurofins Scientific's quality testing technology on soil for dragon fruit cultivation, along with in-field activities on farming techniques based on its own recommendations and process. Outcomes will be publicised widely.
Together with products' quality and a trustworthy long-term supply planning, control over the use of pesticide is an important factor for the exports of dragon fruit to Europe.
Vietnamese exporters are advised to learn of eligible substances and the accurate amount required by each importer so as to inform fruit growers.
In addition to the Netherlands, countries in western and eastern Europe are viewed as potential importers of Vietnam's dragon fruit.
The project, runs until March 2024, is to support four Vietnamese southern provinces - Binh Thuan, Long An, Ben Tre and Dong Thap - to improve the quality of three local tropical fruits - dragon fruit, mango and grapefruit - for exports to the European market./. 
Ukrainian city hopes to bolster cooperation with Vietnam
Vietnamese Ambassador to Ukraine Nguyen Hong Thach recently visited and had working sessions with leaders and businesses of Chernihiv city.
Leaders of Chernihiv said the Ukrainian city boasts strengths in export of farm produce, agricultural machinery and bunker gear. Such products are being shipped to some Southeast Asian nations, but have yet to gain a foothold in the Vietnamese market.
Local authorities voiced a hope that the Embassy of Vietnam in Ukraine will help connect the countries' firms by taking into account the holding of a virtual business forum in tandem with COVID-19 prevention and control.
Chernihiv has set up sister city relations with two Vietnamese localities of Can Tho and Ca Mau, and will work to renew fields of cooperation and stand ready to create the optimal conditions for Vietnamese firms to cooperate and invest in the Ukrainian city.
For his part, Thach said economic-trade cooperation between Vietnamese localities and Chernihiv remains modest compared to their potential.
The two sides need to arrange trade promotions and diversify export items, he stated, agreeing on the organisation of a business forum in the coming time.
Then, the Vietnamese diplomat worked with two major businesses of Chernihiv in animal husbandry, meat processing and farm produce export, which are hoping to ship their products to Vietnam and import materials from the Southeast Asian nation, particularly rice.
During his trip, Thach also met with the Vietnamese community in the city./.
CLMV nations seek to promote post-pandemic trade, investment
A Vietnamese delegation led by Deputy Minister of Industry and Trade Tran Quoc Khanh attended the virtual 13th Cambodia - Laos - Myanmar - Vietnam Economic Ministers' Meeting (CLMV EMM 13) on September 10.
The event was held within the framework of the 53rd ASEAN Economic Ministers' Meeting and related meetings in Hanoi from September 6-15.
Participants highlighted the need to promote trade, investment and connectivity among the countries to implement the post-pandemic economic recovery plan.
The Vietnamese delegation suggested the nations continue with cooperation activities in the 2021-2022 CLMV Action Plan in combination with realising goals in the Initiative for ASEAN Integration and the Master Plan on ASEAN Economic Community till 2025.
It also proposed facilitating export-import among the countries, especially customs clearance at border gates, encouraging linkages among firms in the region in the fields of farm produce processing and export to form supply chains.
Concluding the event, Khanh wished that the CLMV countries and the ASEAN Secretariat would continue assisting Vietnam in fulfilling its role as the host of the CLMV economic cooperation mechanism in 2022./. 
Tourism takes the initiative in adapting to new circumstances
Amid the complex development of Covid-19, not only individuals and businesses but also tourism management agencies and localities have introduced plans to overcome the difficulties, including providing online tour programmes using digital technology.
Visitors have the chance to admire a 360-degree virtual monument tour on the website https://trungbayonline.hoangthanhthanglong.vn.
The website introduces an exhibition space featuring the Ly - Tran - Le Dynasties, woodblocks from the Nguyen Dynasties, as well as several online exhibitions, including "Kinh do mai muon doi" (The eternal capital), "Dat nuoc tron niem vui" (The country full of joy), "Doc lap" (Independence), and "Vi tuong huyen thoai" (Legendary General), among others.
Visitors can enjoy fascinating virtual experiences without leaving their home. These innovations have helped the tourism industry keep pace with trends in the digital age and also helped visitors access historical values.
Despite many difficulties posed by COVID-19, Vietnam's tourism industry has intensified its digital transformation.
A series of applications on digital platforms have been researched, deployed, and put into use recently by the Vietnam National Administration of Tourism to enhance the experience for tourists. In particular, tourism communications on digital platforms have been promoted, with projects such as Google Arts & Culture - Wonders of Vietnam, "Vietnam: Travel to Love!" on YouTube, and the Vietnam Tourism Yellow Pages utility platform (https://trangvangdulichvietnam.vn).
Preparing for a "vaccine passport" programme for international visitors to a number of destinations in Vietnam, such as Phu Quoc Island in the Mekong Delta province of Kien Giang, the Tourism Information Center has created a certification system at https://travelpass.tourism.vn, to welcome visitors when international tourism activities are reopened./.
Vietnam, US ensure continuity of goods supply chain
Vietnamese Minister of Industry and Trade Nguyen Hong Dien recently held phone talks with US Secretary of Commerce Gina Raimondo to discuss bilateral economic and trade issues.
Dien, who is also Chairman of the Vietnam-US Trade and Investment Framework Agreement (TIFA) Council, suggested the US Department of Commerce enhance discussions to achieve progress in market economy recognition and give objective and fair opinions in line with the World Trade Organisation (WTO)'s regulations in trade defence investigations.
The maintenance of goods supply, manufacturing activities and export-import are the top important priorities of the Vietnamese Ministry of Industry and Trade, Dien said, adding that Vietnam will step up vaccination, thus creating favourable conditions for firms to mobilise workers back to work.
About existing bilateral economic and trade issues, Dien stressed that Vietnam is ready to increase dialogues with the US to deal with them. He also hailed the US for offering opinions to further perfect existing legal framework.
Raimondo, for her part, said economy and trade remain a high priority under President Joe Biden's policy, stressing that the US enterprises want to invest in many fields in Vietnam, with energy as a top priority.
The US will actively work with Vietnam to ensure the continuity of goods supply chain amid the complicated developments of the pandemic in the country, she said.
Dien suggested Raimondo convey his message to the US Government about giving further priority to assisting Vietnam in vaccines, accelerating the implementation of signed vaccine supply contracts, and facilitating vaccine production technology transfer.
Both sides expressed their belief that the bilateral ties will maintain stable growth momentum, with economic and trade collaboration as a focus and key driving force.
Over the past five years, Vietnam's export to the US has surged by 230 percent while the US's shipment to Vietnam has soared by over 175 percent. The US became Vietnam's largest importer while Vietnam was the 10th biggest trade partner of the US./. 
European firms confident in Vietnam's pandemic control
European firms still showed strong confidence in Vietnam's ability to control the pandemic and for the Southeast Asian economy to pull off a strong recovery in a near future, heard an online conference organised by the European Chamber of Commerce (EuroCham) in Vietnam on September 9.
The firms, however, stressed the importance of mass vaccination drives, uninterrupted flow of goods and services as well as shorter time to process foreign workers' entry to Vietnam, said Alain Cany, Chairman of EuroCham.
"There is no disguising the fact that this fourth wave outbreak is having a dire impact on business. The EuroCham Business Climate Index is now recording the lowest sentiment in more than a decade," he said.
Measures must be taken to allow workers to go back to work as soon as possible
"If lockdowns, social distancing, and travel restrictions continue for much longer, new investment projects could be put at risk and companies could consider relocating elsewhere in the region," he said.
This is especially important as other countries in the region have started to reopen while demand in European markets is showing signs of recovery. As the fourth outbreak of the virus paralysed Vietnam's industrial and manufacturing sectors, European firms have been forced to move their production elsewhere. Since April, 18 percent of European firms' orders have left the country while another 16 percent may have to follow soon.
"What our members need now is a clear roadmap out of these current measures; one which resolves the roadblocks to their commercial operations and gives them a predictable path on which to plan the reopening of their businesses," he said.
The chairman called for a more streamlined process to grant entry for foreign workers and investors.
"In particular, we urge the government to create a fast-track process for foreign business leaders, experts, and their families returning to Vietnam. The current procedure is both time-consuming and burdensome. It also represents a significant barrier to the trade and investment activities which will be essential to achieving economic growth post-pandemic," he said.
Speaking of the country's current three-on-site strategy - a string of measures to allow firms to keep their operations running by providing workers with accommodation, food and COVID-19 testing within their factories - European firms voiced their concerns over a number of limitations and shortcomings.
"Meanwhile, the current 'Three-in-One' policies need to be refined. While the principle is sound, it places a huge burden on both companies and their workers in practice," Cany said.
Firms placed great importance on a vaccination roll-out which prioritises those most at risk to allow a gradual opening up of cities and provinces so that commercial operations can resume; consistent, centralised regulations to reduce confusion for companies and to ensure the smooth circulation of goods; alongside a streamlining and simplification of customs requirements./. 
Vietsovpetro to manufacture two rig bases for PTTEP Thailand
Vietsovpetro, has won a bid to manufacture bases of the ZWP12 and ZWP15 rigs for the Zawtika 1D field development project invested by PTTEP Thailand.
The ZWP12 and ZWP15 rigs' bases are built at lots M9 and M11 in the Martaban basin,Myanmar waters at a depth of about 132m and 156m.
The ZWP12 rig base weighs about 5,200 tonnes, and the ZWP15 rig base is about 6,300 tonnes. The construction and launch of the bases are expected to finish in 15 months, starting from this September.
According to Vietsovpetro, as the bidding and construction of the rig bases have being carried out amid COVID-19, the company has rolled out numerous measures to ensure the compliance with regulations on pandemic control and prevention, and the quality and progress of the project./. 
Agricultural digital transformation int'l forum to take place next week
The Vietnam Agricultural Digital Transformation International Forum 2021 will take place on September 16, providing a platform for discussions on pressing issues and strategies of Vietnam's agriculture within the region and the world at large, heard a virtual press conference on September 10.
It will be co-held by the Ministry of Foreign Affairs, the Vietnam Digital Agriculture Association (VIDA), and online newspaper VnExpress under the theme "Keeping up with market trends, ensuring the pivotal role of the economy during and after thd COVID-19 pandemic," expecting to attract more than 1,000 delegates.
The forum will also facilitate policy dialogue between the government and the private sector and other stakeholders.
The AgriTech Expo 2021 will also be held via livestreaming and video teleconference within its framework.
The plenary session will include a discussion on several topics, namely difficulties and advantages for digital transformation in Vietnam; disruption of supply chains in Vietnamese localities: current situation and solutions; opportunities for Vietnam's agriculture to make breakthroughs; strategic directions to develop agriculture in a new context; and solutions and resources for Vietnam's digital agriculture: what agribusinesses must do to develop sustainably in a volatile and risky market.
Assoc. Prof. Tran Dang Xuan, a lecturer from Japan's Hiroshima University, is scheduled to deliver a speech on applying Japanese advanced technology and experience in agricultural digital transformation in Vietnam. Agricultural experts from Israel and the Netherlands will also talk on their countries' experience in the field./. 
Quang Ninh proposes 2,200 billion VND general port in Q4 2021
The northern coastal province of Quang Ninh has proposed a project on building the Van Ninh general port at total investment of 2,248.5 billion VND (99 million USD), which, if approved, is expected to start construction in the fourth quarter of 2021, according to the Vietnam Maritime Administration.
The administration said in a document submitted recently to the Transport Ministry that at the request of the provincial People's Committee, the project has been added to the development planning for seaports capable of accommodating 10,000 DWT vessels.
Currently, under the research for a sea port development master for 2021-2030 with a vision to 2050 submitted to the Prime Minister last July, Van Ninh along with Van Gia port, is designated as a general port, handling liquid and gas products as well as passengers, serving domestic waterway transport and capable of accommodating ships of up to 20,000 DWT and larger when meeting conditions.

Therefore, the proposal of Quang Ninh is in line with the research.
Previously, at the end of August 2020, the People's Committee of Quang Ninh province sent a document to the Ministry of Transport on the investment plan for phase 1 of Van Ninh general port.
Accordingly, the overall target was to build a general cargo and container port capable of receiving ships of up to 20,000 DWT, with a throughput capacity of 1.68 million tonnes per year by 2024 and 2.8 million tonnes per year by 2028.
The province hoped to start construction of the port in the fourth quarter of 2021; and put it into operation in the fourth quarter of 2023./. 
Various Vietnamese products on show at China-ASEAN Expo
A wide range of Vietnamese agriculture, forestry and fisheries products, processing food, wood furniture and handicrafts, consumption good, as well as tourism and trade services are on display at the China-ASEAN Expo (CAEXPO) which opened on September 10 in Nanning, China.
These products are brought to the event by over 60 Vietnamese firms and their partners in China at a pavilion spanning across more than 2,000 sqm in Nanning International Convention and Exhibition Centre.
CAEXPO 2021 takes place to boost economic cooperation and trade between China and ten ASEAN member states. Nearly 4,000 foreign companies from over 40 countries and territories worldwide are showcasing their products and services in 905 pavilions, up 13.4 percent from 2020.
The expo was launched together with the 18th China-ASEAN Business and Investment Summit (CABIS) where governmental officials and business leaders will exchange views and seek partnership in trade, investment, cross-border financial services, technology innovation and digital economy.
Chinese Vice President Wang Qishan attended the opening ceremony of the two events during which he read a congratulatory note from President Xin Jinping.
Vietnamese Deputy Prime Minister Le Van Thanh and other leaders from Laos, Cambodia, Malaysia, Thailand, Singapore and Pakistan also delivered their remarks via pre-recorded videos at the ceremony.
Exhibitors from other ASEAN member states bring to the expo various products in the fields of aviation, marine transport, coffee, footwear and agriculture, while those from China, including tech giant Huawei, display goods in electronics, agriculture, engineering, food packaging, and equipment.
Latest customs data shows that ASEAN remains China's biggest trade partner as the two-way trade spurred by 33.3 percent year on year to 553.9 billion USD in the first eight months of 2021. The value accounted for 14.5 percent of China's foreign trade.
Launched in 2014, CAEXPO has been an important platform for enhancing bilateral trade and relations between China and ASEAN. This year, 26 high-level forums and 148 economic and trade promotion activities will take place in the framework of the four-day event, alongside a host of events to celebrate the 30th anniversary of the ASEAN-China dialogue ties./. 
18th CAEXPO, CABIS to bring new momentum for China-ASEAN economic growth: Deputy PM
The 18th China-ASEAN Expo (CAEXPO) and 18th China-ASEAN Business Investment Summit (CABIS) will create a new motivation for the development of economic-trade ties between ASEAN and China as well as the growth of both sides, stated Deputy Prime Minister Le Van Thanh while delivering a video speech at the opening ceremony of the two events on September 10.
He noted that the 18th CAEXPO and CABIS are being organised while the ASEAN and China are celebrating the 30th anniversary of bilateral dialogue partnership and the first year of their five-year action plan.
As both ASEAN and China are facing unprecedented impacts from COVID-19, the two sides should stay more united and promote regional cooperation with ASEAN playing the central role to push back the pandemic and speed up post-pandemic economic recovery, he stressed.
He suggested that both sides focus on promoting the ASEAN-China economic connectivity and optimising regional economic agreements, while enhancing the efficiency and role of digital economy towards digital government, digital economy and digital society.
Both sides should strengthen cooperation in pandemic prevention and control, including collaboration in vaccines and improving the medical response capacity for ASEAN countries he said.
The Vietnamese Deputy PM lauded the positive progresses in the Vietnam-China relationship, stressing that the Government of Vietnam will continue to create favourable conditions for foreign firms, including those from China, to invest in the country in all fields.
He proposed that the Chinese Government further broaden its door and facilitate customs clearance process for Vietnamese products, especially farm produce and aquatic products.
CAEXPO is one of the 10 leading trade fairs of China, which has been held annually since 2004.
This year, Vietnamese businesses continue to participate in the event with the largest scale among ASEAN countries. About 80 Vietnamese firms are directly displaying products on an area of 2,000sq.m, while 200 others are joining online. They introduce Vietnamese strong products such as farm produce, aquatic products, processed food, furniture and handicrafts, consumer goods, as well as tourism and trade services./. 
SMEs get aid to export via e-commerce
The Enterprise Development Agency under the Ministry of Planning and Investment in coordination with Amazon Global Selling Vietnam on September 9 held a webinar to launch a programme for firms interested in export via e-commerce.
The 90-Day Amazon Launchpad programme is part of the ministry's Go Digital Go Global aid package for enterprises' digital transformation during 2021-2025, aiming to help small- and medium-sized ones bring their products to global markets using digital tools and platforms. Amazon Global Selling is among partners of the package.
In the first phase of this package, Amazon Global Selling Vietnam will assist more than 50 selected businesses with different levels of assistance, from providing information and knowledge via email, webinars to direct support by Amazon personnel in the process of business planning on cross-border e-commerce.
During 90 days participating in the programme, they will also have the opportunity to access other support activities of the Go Digital Go Global aid package such as learning, applying digital tools for market research and analysis based on exploiting big data and artificial intelligence.
In addition, the businesses will be assisted in switching to trans-border e-commerce platforms, application of digital content publishing tools, intelligent promotion tools and goods traceability solutions.
This support activity is being implemented by Amazon Global Selling Vietnam from September to November 2021.
The programme to support enterprises in digital transformation for 2021-2025 period is chaired by the Ministry of Planning and Investment, with the coordination of the United States Agency for International Development (USAID), for the goal that 100 percent of enterprises are aware of digital transformation. In addition, at least 100,000 enterprises are supported to use a digital transformation readiness evaluation tool and other digital solutions and at least 100 manufacturing and processing enterprises successfully adopt digital transformation./. 
Vietnam's peppercorn exports to Germany facing difficulties amid COVID-19
Vietnam's peppercorn exports to Germany face various obstacles due to the ravages of COVID-19 in many countries across the globe, according to the Vietnam Trade Promotion Agency (Vietrade) under the Ministry of Industry and Trade.
The country's competitiveness edge has been hard-hit by surging delivery costs.
Meanwhile, economic recovery in Germany results in rising demand for the spice, Vietrade noted, adding that peppercorn supply in the European market is entirely dependent on imports.
Germany imported 4,533 tonnes of peppercorn totalling 13.71 million EUR (16.16 million USD) from Vietnam in the first half of this year, a year-on-year decline of 21.9 percent in volume and 4.5 percent in value, data from the Directorate-General of the European Commission (Eurostat) showed.
The share of Vietnam's peppercorn in the market fell to 31.82 percent in H1 from 36.34 percent recorded in the same period last year.
Given the fact that some small-scaled Vietnamese suppliers have yet to fulfil stringent requirements of the German side on pesticides and origin tracing, Vietrade advised the peppercorn sector to exert efforts to meet requirements on product quality and origin./. 
Success of FDI firms vital for Vietnam: PM
The Vietnamese Government is always ready to create the best conditions for and stand side-by-side with European firms operating in the country, while wishing that EU countries facilitate Vietnamese investments in fields that Europe has demand for, thus fostering balanced and long-term win-win trade and investment cooperation, Prime Minister Pham Minh Chinh has said.
He made the statement during a working session in Hanoi on September 9 with the head of the European Union (EU) Delegation to Vietnam, the ambassadors of European nations to Vietnam, and representatives of the European Chamber of Commerce in Vietnam (EuroCham) and firms in the country.
The PM appreciated his guests' practical and effective contributions to the Vietnam-EU relations development, and thanked the EU and its member countries for their commitment to present over 10 million doses of vaccine and medical supplies to Vietnam.
He extended his sympathies to firms in Vietnam over the difficulties caused by the complexities of COVID-19, saying that the success and loss of foreign investors are also the success and loss of Vietnam itself.
The Vietnamese Government has rolled out various measures to contain the spread of the pandemic and build an economic recovery plan in tandem with safely adapting to the situation in short- and long-terms, he stated.
Speaking highly of the Vietnamese Government's preventive measures, the EU diplomats and business leaders voiced their hope that the implementation of pandemic control measures at localities will be more flexible and effective, and emerging incidents at grassroots level will be handled in a prompt manner.
The Government leader reiterated the policy on free vaccination for all people, including foreigners who are staying in Vietnam. He added that priority has been given to workers at industrial parks, processing and high-technology zones and foreign businesses, including European ones.
He urged EU ambassadors and firms in Vietnam to help promote the Vietnam-EU ties to a higher level, and push for the early ratification of the EU-Vietnam Investment Protection Agreement (EVIPA).
The PM also asked the EU diplomats and business leaders to continue helping Vietnam access vaccine and medicine and technology transfer; call on the European Commission to remove the "yellow card" on Vietnam's fisheries sector; and support Vietnamese people living and studying in European countries.
PM Chinh affirmed that the Government will continue to gather suggestions and recommendations of EU firms and stand ready to fulfil their requests when possible.
The EU diplomats and entrepreneurs said that Vietnam will remain an attractive investment destination in the coming time, and affirmed their wish to further promote investment and long-term business operation in the Southeast Asian nation.
At the event, Eurocham handed over medical supplies worth 40 billion VND (1.76 million USD) donated by firms to Vietnam's Ministry of Health./.
Phu Quoc Int'l Cruise Terminal approaches 75 percent completion
According to the People's Committee of Phu Quoc City in the Mekong Delta province of Kien Giang, the done work volume of the construction project of the Phu Quoc International Cruise Terminal reached more than 75 percent despite of the complicated situation of Cvodi-19 outbreak.
The Package 2 including 120 meter-long wharf and the 1,000 meter-long passenger boarding bridge has been basically finished while the Package 3 consisting of the construction and installation of the 120 meter-long wharf, safety signage system, 850 meter-long seawall, lighting system, water supply system has reached the target.
The construction project of the Phu Quoc International Cruised Terminal is one of the main works in the city, said Chairman of the People's Committee of Phu Quoc City Huynh Quang Hung.
It has a significant effect on the strategy of the social and economic development in Phu Quoc, especially the tourism and service sectors. When the pandemic can be brought under control, Phu Quoc will receive the largest number of visitors on international giant ships, he added.
The terminal covering on an area of 179.3 hectares locates in the town of Duong Dong on Phu Quoc Island for luxury cruise ships carrying 5,000 - 6,000 passengers.
Kicked off in 2015, the construction project include items including a breakwater, wharf, marine fairway, passenger terminal, power plant, water supply station, parking lot, inner streets. The investment cost is approximately VND 1,664 billion (US$72.7 million).
All to play for in bancassurance growth
Bancassurance is prefigured to gain new momentum thanks to its win-win doctrine which generates a generous amount of upfront fees for banks, while insurers could leverage banks' wide-ranging network despite the rigorous social restrictions.
Preliminary statistics from the Ministry of Finance has revealed that the total new premium revenues of life insurance companies in the first half of 2021 from the bancassurance channel reached more than $339 million, while the agency channel was around $595.7 million and other channels hit $17.4 million.
In addition to accelerating digital engagement across the customer journey, insurers have also been reinforcing cross-selling initiatives through bancassurance. Non-interest income growth will become the main driver and take unprecedented priority in banks' income, and bancassurance is among the crucial elements, according to Viet Dragon Securities.
Bancassurance is seen to continue to grow much faster than the agency channel. At some insurance companies such as Prudential, Dai-ichi Life, Sun Life, MB Ageas, and FWD, new premium revenues from bancassurance in the past six months has increased equal to, or even higher than, revenues from agency channels.
So far in 2021, new premium incomes from Prudential's bancassurance channel has surpassed the traditional agency channel, while that of MB Ageas nearly doubled the new premium fee from the agency channel. Sun Life Vietnam also reported its new premium income accounting for nearly 90 per cent of total new fee revenue.
The strong growth of the bancassurance channel with revenue similar to that of the agency channel also helped Dai-ichi Life rise to second among foreign-invested insurers in Vietnam regarding new premium fees in the first half of 2021.
By the end of the period, Manulife's market share of premium income reached 19.1 per cent. The significant driving force for Manulife's continuous growth is that the company had cross-selling insurance contracts with privately-held banks that have large customer data such as ACB, TPBank, Techcombank, and SCB, along with reputable foreign banks such as Shinhan Bank and ANZ, which helped speed up exploitation activities.
"There has also been significant investment in technology at the insurance companies in Vietnam, which explains why Vietnam's life insurance market has experienced double-digit growth over the past few years," said Naren Baliga, COO at Manulife Vietnam.
Tanh Tran, deputy head of Yuanta Securities, said that fee income is likely to be a core topline focus among the banks in H2. The current operating conditions emphasise that the Vietnamese banks must diversify their earnings sources to be less dependent on interest income.
"We expect upfront fee recognition from bancassurance exclusivity deals and bancassurance sales to continue providing support for banks' fee income and earnings in the second half. In addition, we also expect a wave of renegotiated bancassurance exclusivity deals in 2021- 2022," Tran said.
Southern-based lender HDBank is meanwhile allegedly in the process of renegotiating its tie-up with Japan's Dai-ichi Life. Yuanta Securities also anticipated that Techcombank and VPBank would renegotiate their partnerships to get higher upfront fees that will probably be within the range of those of their peers.
VPBank is said to be dealing with AIA for a forthcoming exclusive bancassurance deal. If successful, the bank could bag a generous amount of upfront fees. MB Securities predicted this transaction to take place in 2022 at the latest.
VietinBank, on the other hand, is slated to receive upfront fees from monopoly bancassurance partnership with Manulife by the end of 2021 or in the first quarter of 2022 after Manulife completes the acquisition of Aviva.
Vietnam has traditionally been one of the top countries with the highest growth rate of insurance premiums in the world, with an average annual growth rate of over 9.3 per cent. Although continuously recording high growth, Vietnam has a relatively low market penetration rate of only 2.7 per cent by 2019 (non-life insurance is 0.8 per cent and life insurance is 1.9 per cent), much lower than other countries in the region (averagely at 3.3 per cent).
"We believe that the non-life insurance industry will quickly return to the average growth rate of 15 per cent as in the previous period, while life insurance will maintain a high growth rate of 25-30 per cent per annual," said Khanh Do, analyst at Bao Viet Securities Company.
Despite the high growth rate, the market penetration rate of the bancassurance channel is modest, at only 19 per cent, much lower than the average rate of about 60 per cent in developing countries.
"The low rate lies in several reasons, such as limited products, customers having little understanding of products distributed through banks, and legal issues," Do told VIR.
However, in the past few years, these problems have been gradually solved by insurance companies as well as banks, gradually increasing the efficiency of bancassurance. For example, the renewal rate through bancassurance was only 70 per cent by 2020, but has been increased to 80 per cent by 2020, and even 9 per cent for some companies, according to Do.
Banks readjusting focus with subsidiary divestments
Vietnamese banks are withdrawing capital from their subsidiaries to refocus on major banking services, with the move opening the door for foreign investors to make inroads in the financial market.
State-owned bank VietinBank last month signalled its interest to divest from a handful of subsidiaries.
Particularly, the bank targets to divest 15 per cent in VietinBank Securities, reducing its ownership from 75.6 to just over 50 per cent.
Vietinbank Securities has witnessed exceptional growth in its performance in the first half of 2021 thanks to the huge appetite of new retail traders. The brokerage recorded a revenue of more than VND413 billion ($17.96 million), up 76 per cent on-year. After-tax profit reached VND167 billion ($7.26 million), equivalent to a 17-fold increase on-year. The company is among the seven most experienced brokerages in Vietnam.
Simultaneously, VietinBank is also lowering its capital in VietinBank Capital to VND300 billion ($13 million). It is waiting for approval from the State Bank of Vietnam (SBV) to divest 50 per cent of its capital in VietinBank Leasing by December.
Last year, Japan's Mitsubishi UFJ Lease & Finance Co., Ltd. acquired a 49 per cent equity interest in VietinBank Leasing. The deal size, however, was not disclosed publicly and the transaction could not be completed as competent authorities require more time to grant approval.
"VietinBank and VietinBank Leasing will continue to coordinate with the transferees to accelerate the approval of the competent authority for the legal transformation of VietinBank Leasing," VietinBank said in a public statement.
KB Securities noted, "In our assessment, proceeds from expected deals would not have a significant impact on VietinBank's operation. However, after successful divestment, VietinBank could boost the efficiency of its core business in banking services and diversify its techable portfolios."
Last month, SHB confirmed that it would temporarily lock its foreign ownership limit ratio at 10 per cent from its previous 20 per cent, and is now negotiating with several foreign investors.
The bank also entered a strategic agreement to sell its consumer finance arm, SHB Finance, to Ayudhya Bank (Krungsri) of Thailand – a member of Mitsubishi UFJ Financial Group from Japan in a $156 million deal. Accordingly, SHB would transfer 50 per cent of SHB Finance's charter capital to Krungsri and the remaining ownership would be transferred to the Thai bank after three years.
MUFG, the largest shareholder of Krungsri (holding nearly 77 per cent stake), is also the largest strategic foreign investor of VietinBank with approximately 20 per cent ownership in the bank.
Elsewhere, MSB last week announced its public auction of its contributed capital shares at its asset management and exploitation arm MSB AMC. According to the bank's semi-annual financial report, MSB is contributing VND100 billion ($4.34 million) of capital to AMC. This divestment would help MSB to restructure its portfolio and refocus its priority on the bank's strengths.
In early 2020, MSB successfully negotiated the transfer of 50 per cent of its FCCOM to Hyundai Card – the credit card company of South Korean automaker Hyundai. However, due to the impact of the pandemic and a change in partner strategy, the $42 million deal has turned sour.
"Currently, there are a few potential partners working with MSB on the FCCOM divestment, and the deal is expected to be completed in 2022," said Nguyen Hoang Linh, CEO of MSB. "Moreover, we are mulling over a few options regarding foreign partnership, such as reserving a part of the bank's capital for foreign investors. In the short run, international strategic partners will transfer international know-how and help MSB to diversify funding sources."
Vo The Vinh, head of Research and Investment Strategy at Guotai Junan Securities Vietnam, said, "We expect MSB to complete the process of selecting a new partner soon and close this deal by the end of 2021 or early 2022. With the average price-to-book ratio of recent deals, we expect MSB to make at least VND500 billion ($21.7 million) in profit from the sale of FCCOM, thereby adding resources to the bank's business."
In late July, Sacombank also confirmed its intention to offload entire capital from brokerage arm Sacombank Securities JSC. The move is in line with the bank's comprehensive restructuring strategy, including divestment from ineffective businesses. The bank could bag VND150-170 billion ($6.5-7.4 million) if the deal is successfully executed.
Source: VNA/VNS/VOV/VIR/SGT/SGGP/Nhan Dan/Hanoitimes  

VN-Index bounces back on blue chip recovery