Vietcombank to spend $3.6m to buy Vietnam Airlines' new shares
Vietcombank has registered to buy 8.35 million shares of the national flag carrier Vietnam Airlines in an expected deal worth VND83.5 billion (US$3.6 million).
In the rescue package approved by the National Assembly last year, Vietnam Airlines was allowed to issue additional shares worth VND8 trillion at the face value of VND10,000 apiece to existing shareholders to raise capital.
With current holdings of 14.8 million shares, equivalent to 14.8 million purchase rights, Vietcombank subscribed to buy 8.35 million shares, corresponding to the distribution rate of 56.4 per cent (which means an existing shareholder can buy 564 shares for every 1,000 shares held).
The deal is expected to take place over three days from September 14.
After the deal, Vietcombank's ownership in Vietnam Airlines would increase to 23.1 million shares, equivalent to 1.044 per cent of the airline's charter capital.
Vietnam Airlines' shares (HVN) unexpectedly declined 6.4 per cent on Wednesday after seven consecutive rising sessions. The shares continued to slip 4.7 per cent on Thursday morning to VND25,550 ($1.11) per share. 
Online event connects technology demand-supply between Vietnamese, Dutch firms
An online event was held in the northern port city of Hai Phong on September 16, offering a chance for organisations and businesses from the Netherlands to introduce and seek opportunities for cooperation and trade with Vietnamese enterprises in various fields such as agriculture and energy. 
The event attracted the participation of representatives of 14 organisations and enterprises in the Netherlands as well as Dutch businesses Hai Phong city and local firms. Many businesses also took part in the event via live broadcasts on ISC Youtube channel and other social network platforms.
Tran Quang Tuan, Director of Hai Phong city's Department of Science and Technology - the event's organiser - said over the past time, the city has built and implemented a programme on promoting domestic and international cooperation in science and technology which aimed to encourage enterprises in the locality to invest in innovation and applying advanced and modern technology and equipment in production and life. 
The business matching event between Vietnamese and Dutch enterprises was part of the programme, he said.
Guido van Rooy, Executive Director of the Dutch Business Association in Vietnam, said the event created an opportunity for organisations and businesses of the two countries to exchange information, learn about technology and partners' demand towards negotiating and signing sale contracts. He believed that it would help businesses of both sides promote technology transfer.
Addressing the event via videoconference, Dutch Ambassador to Vietnam Elsbeth Akkerman emphasised the similarities between Hai Phong and the Netherlands, especially in the seaport sector.
She said the majority of Vietnamese goods exported to the European market are shipped through the Netherlands and the country is also Europe's largest foreign investor in Vietnam.
According to the ambassador, to enter the European market, Vietnamese goods have to overcome many challenges in terms of environmental, labour, and origin standards and meet its strict requirements in terms of quality, design and safety, adding that Dutch businesses always support Vietnamese partners with technological solutions.
The event would contribute to finding potential partners in Hai Phong in many fields such as agriculture, high-tech maritime and renewable energy, she said./.
Huge FDI capital poured into COVID-19 hotspot of Binh Duong
While foreign direct investment (FDI) in some neighbouring localities plunged due to the impact of the COVID-19 pandemic, major FDI continued to pour into the southern province of Binh Duong, one of the localities hardest hit by the COVID-19 pandemic.

During the opening eight months of the year, Binh Duong attracted more than US$1.493 billion in FDI capital.
In terms of the figure, newly-registered capital reached US$476.6 million with 42 projects, while adjusted capital increased by US$792.9 million with 21 projects.
Furthermore, capital contributions and share purchases made by foreign investors stood at roughly US$ 223.9 million with 78 projects.
Despite the damaging impact caused by the pandemic, August alone saw the locality attract  approximately US$34 million in FDI.
Majima Toshihiro, general director of Takako Vietnam Company, revealed that the factory's capacity has been operating at between 70% and 80% compared to normal, adding that Binh Duong remains a good place in which to invest in.
Kim Won-sik, chairman of the Korea Business Association in Binh Duong, said the locality has bright prospects ahead for development due to large economic factors such as its complete infrastructure system, incentive investment policies, and ever-improving business climate.
Pham Thanh Dung, director of the Center for Investment, Trade Promotion and Industrial Development, said the industry and trade sector has recently deployed a range of policies aimed at supporting firms in order to improve product and brand value.
Numerous programmes have therefore been launched in an effort to assist enterprises in applying science and technology, along with putting their products for sale on e-commerce platforms.
The export value throughout the eight-month period was estimated at US$23 billion, representing an annual rise of 37.3%, with some of the province's key export products witnessing a sharp increase such as wood, up 44.2%, machinery and equipment, up 54.3%, textiles, up 22.1%, and footwear, up 22.3%.
Nguyen Thanh Toan, director of Binh Duong Department of Industry and Trade, said the Department is now seeking new outlets for their products, while simultaneously devising a plan to organise a trade promotion programme after the pandemic is fully brought under control.
So far, a total of 18 countries and territories worldwide have injected money into Binh Duong, which is home to 29 industrial parks with 18,000 enterprises, including nearly 4,000 FDI businesses.
Vietnamese motorbikes discounted to stimulate demand during COVID-19
Due to the impact of the COVID-19 pandemic and social distancing in many provinces and cities across the country, the consumption of the Vietnamese motorcycle market has dropped sharply in the last five months.
Therefore, many car manufacturers and motorbike dealers have implemented promotions and discounts to stimulate market demand, but the growth is forecast to be difficult.
The business data of Honda Viet Nam, which accounts for 80 per cent of the country's motorcycle market share, showed that its motorbike sales decreased by 14.5 per cent last month compared to July and decreased by 43.9 per cent over the same period last year.
This is the fourth consecutive month that Honda's motorbike sales have declined.
Motorcycle sales began to decrease from May, coinciding with the fourth outbreak of COVID-19 and the social distancing in many provinces and cities across the country to prevent and control the pandemic, which causes the demand for motorbikes to drop.
August and September is usually the time when the motorbike market is very eventful when students buy motorbikes as a means of transportation to prepare for the new school year and many graduates upgrade their motorbikes to go to work, but this year it is quite the opposite.
In order to stimulate market demand in the context of the pandemic, many motorcycle manufacturers in Viet Nam including Yamaha, Honda and Suzuki, have continuously implemented promotions and reduced prices to attract customers in recent months.
In addition to the companies' promotions, dealers are even more aggressive in reducing the selling price of many models below the suggested retail price of the producers.
Some motorbike dealers in Ha Noi said the reason that dealers strongly reduced the selling price was due to the complicated situation of the COVID-19 pandemic, the implementation of social distancing in many provinces and cities across the country. People's demand for motorbike shopping has declined significantly.
Especially, big cities like Ha Noi and HCM City, which are the localities that consume the most motorbikes, are implementing social distancing, so the number of vehicles consumed is almost zero.
This is also the reason for the sharp drop even though producers and agents continuously launched incentive programmes to attract customers.
Not only that, although factories have moderate production activities, but with monthly production output, if prices are not reduced for consumption, product inventory will be very high and warehousing is also a problem. Dealers also adjust prices to support capital flows.
Experts said that the pandemic situation has been complicated since the end of April, in addition to complying with social distancing to prevent the pandemic, most people had to save money as they could not go to work.
The reduction in prices was also very unlikely to boost sales, as evidenced by the continuous decline in car sales from May so far, said experts.
Moreover, in addition to choosing traditional petrol motorbikes, consumers are also tending to switch to more eco-friendly electric motorbikes with affordable prices of brands such as VinFast or Pega, which partly makes the sales of gasoline-powered motorbikes decline, forcing this market to reduce prices to compete.
Tetra Pak expands investment in VN
Tetra Pak has announced an additional investment of five million euros in its 120 million euro packaging material factory in Bình Dương Province on September 16.
The additional investment reaffirms its confidence in Việt Nam's economic rebound from the COVID-19 pandemic and its continuing commitment to support food and beverage producers in Việt Nam.
"This additional investment of five million euros reflects our confidence in the strong recovery of Việt Nam's post-pandemic economy," said Eliseo Barcas, Managing Director for Tetra Pak Vietnam. "This investment also enables us to better serve our customers by offering greater capacity, more exciting packaging innovation and reducing our environmental footprint."
The new investment is expected to increase the factory's annual output from the current 11.5 billion to 16.5 billion packages, thereby meeting the growing needs for aseptic packages in Việt Nam and regional markets. In addition, it empowers the factory to produce premium carton packages to replace imports.
The upgrade will also include the installation of 2,300 solar panels on the factory's roof. This effort is part of Tetra Pak's ambition to achieve net zero greenhouse gas emissions in the company's operations by 2030.
"As the business environment is being surrounded by many challenges brought on by COVID-19, the expansion of Tetra Pak factory in Bình Dương Province is indeed a refreshing highlight, reflecting the company's leadership in the food packaging industry," said Trần Quang Trung, President of the Vietnam Dairy Association.
"The expansion would surely give dairy producers peace of mind on the continuous supply and quality of the carton packaging, which has become very important in the context of the current disruptions in the global value chain. Sourcing packaging material from a local production as in Tetra Pak Bình Dương factory is, no doubt, a big advantage for not just dairy but other food and beverage manufacturers."
With the investment, Tetra Pak continues to reinforce its strategic focus to protect food, people, and the planet, which is even more important during the pandemic.
"The pandemic has stressed the importance of safe and nutritious food in protecting people's health. Working with local food manufacturers, we have delivered about seven billion units of liquid food packaged in cartons to Vietnamese people over the past nine months, an equivalent growth of almost 14 per cent on a year-over-year basis," Barcas said.
Put into operation in mid-2019, Bình Dương factory was Tetra Pak's eighth facilities in the Asia Pacific region that is set to produce aseptic cartons for domestic and export markets in ASEAN, Australia and New Zealand.
In 2020, Tetra Pak Bình Dương was certified with the most-demanding LEED Version 4 Gold, which helps the factory save 17.6 million litres of water, recycling or salvaging 65 per cent of generated waste, and decreasing 4,000 tonnes of CO2 emissions a year. 
Stock market a favoured investment channel for local investors
The stock market is becoming a favoured and profitable investment channel for investors amid the COVID-19 pandemic but it also poses many challenges for regulators and market members.
Money flowing into the stock market comes from many different channels and mainly from domestic investors. The stock market has lured massive participation of "F0" investors (people participating in the market for the first time) entering the market from early 2020, when the COVID-19 pandemic first spread.
The number of new accounts opened in August soared to 120,500, many of which were individual investors.
The strong cash flow flooding the stock market in August has spurred market liquidity. In August, the average trading value per session on HOSE via matching transactions reached VND21.7 trillion (US$954 million), up 15.9 per cent compared to the previous month. For eight months, HOSE recorded an average trading value of VND17.9 trillion per session, up 375 per cent over the same period last year.
An F0 investor from HCM City told tinnhanhchungkhoan.vn that he had just joined the market three months ago. The pandemic had forced him to close his restaurant. This investor spent VND3 billion and in August recorded a profit of more than VND200 million.
His group of friends, who were real estate investors, have also invested in stocks, some of whom have many years of experience but some others have just joined for a few months. Their accounts all had over VND5 billion, he said.
Not only individual investors, but many businesses also participated in this channel.
Nguyen Xuan Phu, Chairman of Sunhouse Group, said the group had a department in charge of analysing securities investment opportunities. In 2020, the profit from securities investment accounted for about 30 per cent of the group's profit.
Many investors believe that there are short waves in the market at the moment, so it is possible to apply the market strategy to buy in every 5-10 per cent adjustment, then consider selling at the 1,350 area. It was the abundant cash flow and the love of surfing that created the excitement of the market.
Vinh Hoan Joint Stock Company (VHC) has spent VND57 billion in stocks and VND50 billion in bonds, disbursing into three stocks of Kinh Bac Group (KBC), Vietinbank (CTG) and Dat Xanh Real Estate Services JSC (DXS).
Tran Phu Electromechanical Joint Stock Company also has started investing in securities in the first half of 2021. As of June 30, this company owns 2.47 million Refrigeration Electrical Engineering Corporation (REE) shares with an initial price of VND124 billion, the value is now VND143 billion, equivalent to a temporary profit of VND9 billion.
Stanley Chou, Chairman of Vietnam Enterprise Investments Ltd (VEIL), a fund managed by Dragon Capital, said that the complicated development of the fourth COVID-19 wave would cause certain uncertainties to the economy in the second half of this year and the following years.
GDP growth forecast was also adjusted from six per cent to five per cent to match the current situation, he said
In the face of efforts to accelerate vaccination and disease control, the macroeconomic picture will become promising. Currently, VEIL's investment management team is finding stocks with long-term growth and new opportunities from the IPO market.
Nguyen Thi Phuong Lam, Analysis Director of Viet Dragon Securities Company, said the economy will gradually reopen in the fourth quarter of 2021 and vaccines play a key role to protect COVID-19 patients from the risk of severe conditions.
She said the authorities of HCM City can consider opening the economy regarding each industry and field. Companies operating in sectors that have been deemed as essential such as food processing, transportation, healthcare and e-commerce will reopen sooner.
"FDI companies and export companies play a pivotal role in the national economy, so these companies should be the target of concern in the first round of re-opening," Lam said.
"Resuming businesses will face difficulties in terms of workforce availability or challenges in the application of safety regulations in production plants.
"The supply chain will not immediately be smooth as the opening takes place unevenly in provinces and cities. This can also lead to difficulties in short-term shortages or delays in the supply of input materials.
"Many long-term investors believe that the cash flow in the market is highly speculative, posing a potential risk as if there is just one piece of negative information, there will immediately be a massive sell-off," she said.
Le Quang Minh, Analysis Director of Mirae Asset Vietnam Securities Company, said that pandemic and stricter distancing measures had put great pressure on third-quarter business results. Earning per share (EPS) in the second half of this year will increase by nearly 12 per cent compared to last year, he said.
EPS growth this year is forecast at around 33 per cent. In a worse scenario where distancing measures extend to the fourth quarter, EPS growth for the year will be adjusted to about 26 per cent.
Another factor that can affect cash flow in the post-lockdown market is that many investors have expressed their intention to withdraw a part of their money from the stock market to invest in real estate, or to return to their main business activity.
Minh expects that the two main export markets - the US and China - will continue to boost Viet Nam's exports in 2021 and the following years.
"Export growth will gradually regain its momentum as the implementation of vaccination programmes are sped up in industrial parks and economic hubs. In the context of exports being promoted, industries such as seaports, logistics will benefit," he said. 
Samsung to expand foldable devices production capacity in Vietnam
Samsung Electronics Co. will begin expanding the production capacity of foldable devices at its plant in Vietnam's northern province of Bac Ninh within the second half of this year, as reported by The Korean Economics Daily.
Accordingly, Samsung's display unit Samsung Display Co. will increase its annual production capacity of foldables by 47 percent from the current 17 million to 25 million.
The project targets a full operation by the end of this year or early next year at the latest.
Experts say that once Samsung completes the expansion, the company will be able to produce 10 million units of Z Fold models and 15 million units of Z Flip models a year.
Samsung's decision to ramp up capacity is mainly driven by soaring market demand. Its third-generation foldable models recorded 920,000 pre-orders in the Republic of Korea, 1.8 times more than its latest smartphone Galaxy S21. The number of pre-orders for the new foldable phones was even higher in China with more than 1 million.
In Vietnam, Samsung is running six plants and building a research and development centre. Investing more than 17.7 billion USD in the country so far, the company is employing 110,000 employees.
It generated an annual export value of over 56 billion USD last year. In the first seven months of 2021, the Samsung Vietnam still grew 10 percent on-year despite COVID-19./.
Vietnam's coffee exports to RoK likely to increase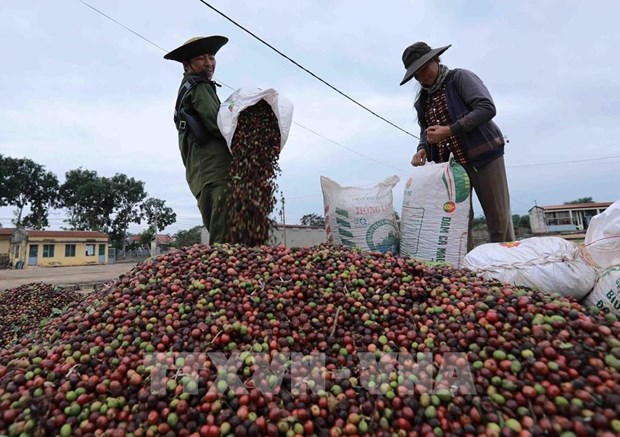 Farmers gather coffee beans before processing in Buon Ma Thuot city in the Central Highlands province of Dak Lak. 
Vietnam's coffee exports to the Republic of Korea (RoK) are forecast to grow in the near future as the RoK's demand for the product has been on the rise, according to experts.
Although the fourth wave of COVID-19 infections is still complicated in the RoK, the country's coffee consumption demand has not been affected by the pandemic, they said.
Meanwhile, the International Monetary Fund (IMF) raised the RoK's economic growth outlook to 4.3 percent this year and 3.4 percent in the following year which is higher than the 3.6 percent and 2.8 percent estimated in April this year, in spite of concerns about the pandemic's impact.
According to the Agency of Foreign Trade under the Ministry of Industry and Trade, in 2020 and the first months of this year, the RoK's coffee imports have increased due to a rise in demand for coffee at home under the influence of the COVID-19 pandemic.
Statistics from the International Trade Centre showed that RoK's coffee imports in the first six months of this year reached 94,840 tonnes worth 432.4 million USD, representing year-on year increases of 11.7 percent in volume and 30.3 percent in value.
The RoK increased coffee imports from most of the main supplying markets in the first half of this year. The country imported 19,500 tonnes of coffee worth 30.82 million USD from Vietnam in the period, up 12.8 percent in volume and 5.2 percent in value compared with last year's figures.
The Vietnamese share of the coffee market as part of the RoK's total imports increased slightly from 20.35 percent in the first six months of 2020 to 20.56 percent in the first six months of this year.
According to a representative of the Agency of Foreign Trade, the Korean culture of enjoying tea, which has existed for a long time, has gradually shifted to using coffee in many different forms. Therefore, coffee is widely used in offices, restaurants, and families in the RoK. Coffee consumption in the RoK accounts for about 6 percent of the total coffee market in the Asia-Pacific region and is one of the world's leading coffee consuming nation./.
Coffee tourism offers chance for Vietnam's agro-tourism: webinar
A webinar on coffee tourism's product development and promotions was held on September 16 by the Vietnam National Administration of Tourism (VNAT) and the Embassy of Colombia in Vietnam, with the participation of more than 200 delegates of the two countries.
Coffee tourism is an emerging type of tourism and currently offered mainly in the Central Highlands, home to the largest areas of coffee cultivation in Vietnam. Tourists can visit coffee plantations and learn of coffee growing and processing methods, among others.
At the webinar, delegates from Vietnam and Colombia shared experience and information in coffee tourism, including its development in connection with community-based tourism, linkage between stakeholders in coffee tourism's product development and promotion, along with cooperation prospects between the two countries.
VNAT Vice Chairman Ha Van Sieu said as Vietnam is one of the world's top coffee exporters, the combination between tourism and coffee production will raise both sectors' position and facilitate agro-tourism development in Vietnam.
The webinar is the first of a series of webinars on ecotourism and community-based tourism development to be held this year under a memorandum of understanding inked by the Ministry of Culture, Sports and Tourism of Vietnam and the Ministry of Commerce, Industry and Tourism of Colombia.
At present, Vietnam and Colombia are in the top 10 coffee exporters of the world.
Vietnam is the world's second leading coffee exporter, shipping an average amount of about 1.6-1.8 million tonnes per year, raking in 2.6-2.8 billion USD./.
Public capital disbursement gains speed in Quang Ninh
The northern province of Quang Ninh is working hard to complete the disbursement of the entire public investment capital which were allocated for projects in the province at the start of 2021.
With regard to key projects, it is striving to disburse at least 80 percent of capital by September 30 and 100 percent by December 30.
The provincial administration has shown its determination to reduce or revoke capital from projects whose investors fail to disburse investment capital as schedule.
To accelerate capital disbursement and project implementation, Quang Ninh has set up special working groups at the provincial and district levels to tighten supervision of investors' performance.
The provincial People's Committee has ordered measures to be drastically carried out to speed up the pace of projects financed by the budget and non-budget sources, and promote the disbursement of public funds in both quantity and quality, especially in key projects. Besides, it has also required leaders of departments, sectors, localities, investors, and project management boards be held responsible for the work.
As of August 30, Quang Ninh achieved 52.2 percent of the public investment disbursement target. Excluding the recently allocated capital, the rate reached 67 percent.
The province has cut unnecessary expenses, reduce regular expenditures, increase budget reserves for COVID-19 prevention and control, and prioritise capital for key projects that can help fuel overall development.
Local authorities are stepping up procedures in order to begin four key projects with total investment of over 283.2 trillion VND (12.4 trillion USD) this October, namely the Ha Long urban area complex, the Quang Ninh LNG-fired power plant, Phase 1 of the Van Ninh general port, and the Dong Trieu golf course.
On September 2, Quang Ninh launched a 100-day emulation campaign to speed up three key projects - Cua Luc 1 Bridge, the coastal road linking Ha Long and Cam Pha cities, and Van Don - Mong Cai Expressway - which are currently under construction and scheduled to be put into use by the end of this year.
Once operational, they are hoped to help complete the expressway system in the northern region, serve as a gateway connecting northern localities of Vietnam with ASEAN countries and China, and create an impulse for regional connectivity.
On September 2, Quang Ninh launched a 100-day emulation campaign to speed up three key projects - Cua Luc 1 Bridge, the coastal road linking Ha Long and Cam Pha cities, and Van Don - Mong Cai Expressway - which are currently under construction and scheduled to be put into use by the end of this year.
Once operational, they are hoped to help complete the expressway system in the northern region, serve as a gateway connecting northern localities of Vietnam with ASEAN countries and China, and create an impulse for regional connectivity.
Quang Ninh is striving to achieve the highest possible growth in the fourth quarter and the whole year.
To obtain a double-digit growth rate, the provincial People's Committee has built three growth scenarios for Q4 and the entire year, with advantages, difficulties, and growth in each sector taken into account.
The Standing Board of the provincial Party Committee agreed that Quang Ninh will exert efforts to achieve this year's targets, set in the provincial Party Committee's Resolution 02-NQ/TU, at the highest possible level. Accordingly, the gross regional domestic product (GRDP) growth is expected at over 10 percent and budget revenue to match the economic expansion.
The GRDP growth rate in the first nine months of 2021 is estimated at 8.2 percent.
In particular, the processing and manufacturing industry has increased by 36.2 percent year on year, serving as the main driving force for the industrial sector. It has made up for the pandemic-caused downturn in services, tourism, coal, and electricity sectors.
Meanwhile, nearly 34.38 trillion VND (over 1.5 billion USD) has been collected for the State budget, equivalent to 67 percent of this year's target. Administrative reforms and the business environment have continued to be improved.
Quang Ninh is one of the three nuclei of the northern key economic region and viewed as a strategic locality in northern Vietnam.
It looks to expand its GRDP by 10 percent on an annual average during 2020 - 2025, and the per capita GRDP to over 10,000 USD by 2025. The urbanisation rate is expected to surpass 75 percent, while the rate of poor households to go down to below 1 percent.
The province plans to complete new-style rural area building by the end of 2030./.
Reference exchange rate up 9 VND
The State Bank of Vietnam set the daily reference exchange rate at 23,119 VND/USD on September 17, up 9 VND from the previous day.
With the current trading band of /-3 percent, the ceiling rate applicable to commercial banks during the day is 23,812 VND/USD and the floor rate 22,425 VND/USD.
The opening-hour rates at commercial banks stay stable.
At 8:30 am, Vietcombank listed the buying rate at 22,630 VND/USD and the selling rate at 22,860 VND/USD), both unchanged from September 16.
BIDV also kept both rates unchanged at 22,660 VND/USD and the selling rate at 22,860 VND/USD. /.
Vietnamese businesses in UK support pandemic fight in home country
Vietnamese businesses in the UK donated over 2 billion VND (more than 87,800 USD) to support COVID-19 prevention and control efforts in Vietnam at a ceremony marking the 15th anniversary of the Vietnam Business Association in the UK (VBUK).

At the ceremony held on September 15 in London, Vietnamese Ambassador to the UK Nguyen Hoang Long called on the VBUK to maintain its role as a bridge between the business community in the UK and Vietnam.
He said that bilateral trade between Vietnam and the UK has increased about 10 times from 600-700 million USD in 2007 to 6.5 billion USD in 2021, and is expected to reach 10 billion USD thanks to the implementation of the UKVFTA.
The Ambassador emphasized that this is a great opportunity that Vietnamese businesses in general and Vietnamese businesses in the UK in particular need to take advantage of.
Pham Minh Nam, chairman of VBUK in the just-concluded tenure, said that the association successfully connected the business communities of the UK and Vietnam, and assisted many European and UK companies in setting up partnerships with Vietnamese firms.

The VBUK also actively work to help Vietnamese expatriates in the UK to keep and develop the traditional culture through various community activities.
Assessing the potential for cooperation between domestic and Vietnamese enterprises in the UK, Phuong Hoang, Chairman of VBUK for the 2021-2026 term said that the implementation of UKVFTA with preferential tariffs has opened up great opportunities for Vietnamese businesses in the two countries to promote trade, increase import-export activities and investment./.
High-level webinar looks into digital economic development
A high-level webinar on digital economy – the key of growth in new normal context took place on September 16, under the sponsorship of the Party Central Committee's Economic Commission, in coordination with the Vietnam e-Commerce and Digital Economy Agency under the Ministry of Industry and Trade.
In his opening remarks, deputy head of the Party Central Committee's Economic Commission Nguyen Duc Hien said the 13th National Party Congress laid out the guideline on accelerating national digital transformation and development of digital economy based on science, technology and innovation.
He stressed that the Politburo's Resolution No.52-NQ/TW dated September 27, 2019 on several policies and guidelines for proactively joining the fourth industrial revolution also set the development of digital economy as a pillar and a key strategic task in the process of national digital transformation for subsequent years. It also set the target that the digital economy will account for 20 percent of GDP by 2025 and 30 percent by 2030.
Hien said despite a boom in fintech, telecoms, production of computers and electronics, information technology and communications services, the digital economy still faces a number of barriers, one of which is the loose and inconsistent institutions and legal environment.  The fast development of new business forms poses challenges to management work of State agencies.
Policymakers, experts and business executives discussed new development trends of the digital economy in Vietnam, and pointing out opportunities and challenges faced by enterprises during the digital transformation process. They stressed the need to complete institutions and legal framework for the digital economy, step up digitalisation in State management agencies, promote electronic payment, improve human resource quality, and facilitate new business models, products and services.
Hien said the Economic Commission will study recommendations made at the event and closely monitor the implementation of the Resolution 52-NQ/TW in order to build a scheme on guidelines and mechanisms for industrialisation, modernisation till 2030 with a vision to 2045 to submit to the Party Central Committee in October 2022./.
Vietnamese farm produce favoured in China
Vietnamese food and farm produce have gained popularity in the Chinese market thanks to their quality and improved supplies, said deputy head of the Ministry of Industry and Trade's Vietnam Trade Promotion Agency (VIETRADE) Le Hoang Tai.
During a teleconference on farm produce trade between Vietnam and Chinese's Guangdong held by VIETRADE on September 16, Tai described China as among Vietnam's top important economic partners. In the first seven months of this year, two-way trade hit 28.8 billion USD, up 24.6 percent annually despite COVID-19 pandemic.
He said there remains room to boost export of farm produce to China and Guangdong in particular given the huge demand.
The Trade Consul at the Vietnamese Consulate General in Guangzhou Nguyen Duy Phu said Guangdong has a population of about 120 million people, a gross domestic product of nearly 1.6 trillion USD and foreign trade turnover of around 1.1 trillion USD in 2020, showing the locality's huge potential as a market for Vietnamese goods.
Two-way trade between Vietnam and Guangdong reached 41 billion USD in 2020, or 20-21 percent of total trade between the two nations. Of the figure, Vietnam's exports were worth 21 billion USD.
Phu suggested domestic firms seek commercial trustees as many major partners in Guangdong do not directly import goods but via trust services, particularly those exporting across the land border./.  
Vietnam, Australia cooperate in organic food trade
Canberra-based Mekong Organics held a ceremony on September 15 to launch the "Promoting organic food certification & trade between Australia and Vietnam" project which is supported by the Australian Government.
The event was held online with the participation of 150 delegates from the two countries, including representatives of the Ministry of Foreign Affairs and the Ministry of Agriculture, Water and the Environment of Australia, the Ministry of Agriculture and Rural Development of Vietnam, and Departments of Agriculture and Rural Development of many Vietnamese localities, and representatives of associations, businesses, cooperatives and many experts in organic agricultural products.
Speaking at the event, Project Manager Nguyen Van Kien, Director of Mekong Organics, said that the project will be carried out from September 2021 to May 2022 with an aim to expanding the production and trade of organic products in the Southeast Asian nation.
The project will conduct training for the Vietnam organic agriculture industry, with 200 participants that are farmers, co-operatives, businesses, government staffs, associations and women about organic food production, certification and trade using experience from the Australian and Vietnamese organic agriculture industry, with the aim of scaling up bilateral trade in this sector.
A series of webinars or forums will be held after each training chapter to promote the organic food trade between Australia and Vietnam.
The project will also develop an online trade forum to promote trade of organic food, certification and technology between the two countries./. 
Hanoi's COVID-19-free zones strive to bolster production
Hanoi authorities have exerted the best efforts to help enterprises in COVID-19-free zones, or 'green zones', maintain operations.
The capital city has named three zones in accordance with COVID-19 situations as well as its geographical, residential and production traits.
Efforts are being made to firmly maintain 'green zones' and gradually turn 'red zones' into 'orange' and then 'yellow' zones and return to the 'safe' status.
Nguyen Van Thuoc, director of a textile accessories firm with 140 workers at the Thach That-Quoc Oai industrial park, said that the company has received approval to have 70 percent of its workforce returned to work.
To date, over 90 percent of employees has received COVID-19 jabs, he added.
Head of another textile company in Son Tay township on the outskirts of Hanoi said that since late August, local authorities have allowed 500 workers to return to work.
The firm devised plan to have half of its total workers, or 1,000, to be at work, which has been submitted to the Son Tay steering board for COVID-19 prevention and control for consideration.
Many localities in Hanoi have strived to create favourable conditions for firms to maintain operations while complying with COVID-19 prevention and control measures even before they are classified as the 'green zones'.
Hoai Duc district are home to 3,575 firms and production facilities, including 313 firms at 10 industrial clusters, with a total 7,288 workers.
Vice Chairman of the People's Committee of the district Nguyen Trung Thuan said that during social distancing, firms at the industrial cluster wishing to maintain operation need to build plans for the 'three on the spot' and 'one route, two destinations' models and submit them to the People's Committee for approval. 
Some 825 businesses in the district received permission to resume production in August and September.
Similarly, Quoc Oai district is determined to protect its 'green-zone' status and promptly designs production plans in tandem with COVID-19 prevention and control efforts.
It is home to the Thach That-Quoc Oai industrial parks and the two clusters of Ngoc Liep and Yen Son, with 92 firms in total. The district has allowed 58 firms with 1,320 workers to resume operation.
Hanoi has so far had more than 600 'green-zones' for businesses, which receive approval from local authorities. The firms are sparing no efforts to realise the twin targets of curbing the spread of COVID-19 and maintaining operation.
The municipal People's Committee has permitted 19 district-level localities to resume certain services starting 12:00 noon on September 16, given the progress in the COVID-19 fight.
The Hanoi Department of Health said there are 19 district-level localities free of community infection cases between 6am on September 6, when the capital started applying Directive No. 20/CT-UBND of the municipal People's Committee, and 6pm on September 15.
These localities are allowed to reopen some business and service establishments, starting 12:00 noon on September 16, including book and stationery stores; vehicle, electronics, refrigeration, and household appliance repair services; and takeaway food and drink services.
These establishments must be closed before 9pm every day.
The Hanoi administration requested the establishments to operate under local authorities' monitoring and examination and carry out all regulated anti-pandemic measures, including ordering their staff to make health declaration and comply with the 5K principle, asking customers to scan QR codes, frequently disinfecting their establishments, and minimising direct contact.
The municipal Health Department also told the district-level People's Committees to align anti-COVID-19 measures with the situation in their localities.
It noted that Hanoi has basically put the outbreak under control as the number of community infections has declined over the last three weeks. It has basically completed mass testing citywide and administered the first shot of COVID-19 vaccine to almost all people in the targeted group.
The hashtag 'green zone', or 'safe zone', has increased in popularity over recent days and reflects the determination of many localities to control the ongoing fourth wave of COVID-19 around Vietnam. Setting up more such "green zones" to fight the pandemic is an effective measure to prevent the virus from spreading./. 
AEM 53 affirms need to improve post-pandemic trade, investment flow
The 53rd ASEAN Economic Ministers (AEM) Meeting and related meetings took place from September 8-15, during which the ministers highlighted the significance of intra-bloc economic cooperation as well as collaboration between the grouping and partners.
During the event, the ministers discussed many important issues and existing problems, highlighting the need to recover trade, service and investment activities after COVID-19 is controlled, while updating the implementation of pandemic prevention and control measures, and recognising common endeavours of the ASEAN Economic Community and the region in promoting post-pandemic economic recovery.
They adopted the Bandar Seri Begawan Roadmap: An ASEAN Digital Transformation Agenda to Accelerate ASEAN's Economic Recovery and Digital Economy Integration (BSBR) that highlights existing ASEAN initiatives that are crucial in supporting ASEAN's ongoing digital integration.
They also recognised the outcomes of the implementation of cooperation initiatives and priorities by Brunei, the ASEAN Chair in 2021, while discussing ASEAN's long-term action plans and programmes towards sustainable economic development in the region.
At consultations among ASEAN Economic Ministers and dialogue partners, the ministers discussed the implementation and upgrade of a number of existing free trade agreements between ASEAN and partners.
They gave opinions on Japan's initiative on ASEAN-Japan innovative and sustainable growth, while adopting two joint statements with China and the UK, which forcused on measures to boost partnership as well as trade and investment cooperation between the association and the two partners.
During the 53rd AEM Meeting and related meetings, Vietnam actively contributed ideas on intra-bloc economic cooperation with an aim to promoting regional economic integration and reinforcing regional supply chains. Vietnam also gave a number of proposals on the collaboration orientations between the ASEAN and partners in the future.
Regarding the post-pandemic economic recovery plan of CLMV countries (Cambodia, Laos, Myanmar, Vietnam), Vietnam suggested a number of solutions to strengthen trade and investment ties as well as connections among the countries. Vietnam also encouraged the strengthening of linkage among CLMV firms in farm produce and food processing and export./. 
French, Italian firms applaud Government's support measures
Many French and Italian businesses have expressed their high appreciation of the Vietnamese Government's measures to help firms surmount pandemic-caused difficulties.
The latest survey of 63 French companies conducted by the French Chamber of Commerce and Industry in Vietnam (CCIFV) shows that some additional measures issued by the Vietnamese Government, such as reducing social security contributions and waiving the penalties for late payment, are necessary for businesses to sustain operations, reported the Dau tu (Investment) newspaper.
However, longer-term solutions are still needed when it comes to added value tax and corporate income tax, respondents said in the poll.
CCIFV Director Adam Koulaksezian told the Dau tu (Vietnam Investment Review) newspaper that they welcome the Vietnamese Government's issuance of some support measures for enterprises amid the pandemic.
A small French business operating in Vietnam's food industry for 10 years voiced its hope to access loans with lower interest rates and a one-year grace period. Some others are expecting tax exemption and assistance in salary and house rent payment.
Michele D'Ercole, Chairman of the Italian Chamber of Commerce in Vietnam, said applying the "three on-site" model, which involves eating, sleeping, and working without leaving, is a big challenge to companies and manufacturers, but Italian businesses are exerting all-out efforts as customers around the world are waiting for their products.
He noted that businesses welcome any support measures taken by the Vietnamese Government such as exempting taxes and cutting interest rates, energy costs, or rent expenses.
Italian companies have already accessed the support measures rolled out by the Government in 2020, and they will continue making use of this advantage to cope with the pandemic's impact this year, D'Ercole went on.
Ho Chi Minh City and neighbouring provinces like Binh Duong, Dong Nai, and Long An are still facing the COVID-19 complexity, he added, pointing out that the most important thing now is to quickly vaccinate workers in these localities so that factories can resume operations as soon as possible.
After the Vietnamese Government approved Resolution No 68/NQ-CP that features a relief package worth 26 trillion VND (1.14 billion USD), a new aid package of about 24 trillion VND in terms of taxes and fees is currently under consideration.
Prime Minister Pham Minh Chinh recently signed off Resolution No 105/NQ-CP on support for enterprises, cooperatives, and business households amid the COVID-19 outbreak. Accordingly, the pandemic-hit groups will benefit from exemption and reduction of taxes, fees, and land rent; reduction of electricity, water, and telecoms charges; along with other policies assisting workers and employers./. 
Vietnam works to promote trade, investment, agricultural cooperation with EU
During the recent Europe trip, National Assembly Chairman Vuong Dinh Hue and leaders of three ministries conducted many activities to promote trade, investment and agricultural cooperation with European countries and proposed the European Commission (EC) consider removing the "yellow card" on Vietnam's fisheries sector.
The NA leader and members of the Vietnamese high-ranking delegation lobbied competent agencies of the European Council and the European Parliament (EP) as well as European partner to hasten the parliaments of European countries and the EP to soon ratify the EU-Vietnam Investment Protection Agreement (EVIPA). So far, only eight out of 27 EU member parliaments have approved the deal.
The Vietnamese delegation spread the message that investing in Vietnam means penetrating the over 600-million-strong ASEAN market and the broader Asian market of 5 billion population, as Vietnam has been a full member of 17 new generation free trade agreements (FTA).
Minister of Industry and Trade Nguyen Hong Dien underlined that once the EVIPA is ratified and implemented, the trade of goods between the two sides will be increased and two-way trade between Vietnam and the EU will become more balanced.
Meanwhile, Minister of Planning and Investment Nguyen Chi Dung said European investors are interested in the supply of hi-tech products based on digital platforms in connection with technology transfer.
Regarding agricultural partnership, Minister of Agriculture and Rural Development Le Minh Hoan said that through working sessions with agricultural chiefs of European countries, opportunities are expected to open up for Vietnam to promote the export of farm produce to the EU.
He proposed a number of initiatives to strengthen cooperation with EU partners in research, personnel training and innovation in the future, along with collaboration in forestry and the development of co-operatives, circular economy and bio-economy. Specific cooperation frameworks will be issued in the time to come, he added.
Meanwhile, during high-level meetings, when NA Chairman Hue mentioned the removal of the EC's "yellow card", the EP President and European Council President underlined that Vietnam's legal regulations regarding the prevention and fight against illegal, unreported and unregulated (IUU) fishing are relatively sufficient. However, they pointed out a number of problems in the implementation of the regulations in some localities of Vietnam, expressing their hope that Vietnam will soon deal with the issue.
Recently, Prime Minister Pham Minh Chinh chaired an online meeting with localities on IUU fight and measures to lift the the "yellow card". The efforts manifest Vietnam's high determination to remove the warning./. 
PetroVietnam rolls out measures to ensure operations in new situation
Despite impacts of COVID-19, the Vietnam Oil and Gas Group (Petrovietnam) fundamentally fulfilled its set targets in the first eight months of this year.
The ongoing pandemic has dealt a major blow to the group's major activities. Of particular note, dry natural gas consumption and supply saw a decline of 15 percent in January-August compared to the same period last year.
In addition, the firm is facing difficulties in mechanisms and policies and asking to streamline excessive procedures.
Amid such challenges, PetroVietnam General Director Le Manh Hung has ordered serious implementation of preventive measures.
In a bid to ensure health conditions for workers and maintain stable and safe operations and investment, four groups of tasks and solutions have been devised to combat COVID-19.
The company has exerted efforts in ensuring health for workers and adhering to COVID-19 prevention and control. It also worked to access COVID-19 vaccines and roll out inoculation drive for workers.
In addition to implementing the 'three on the spot' and 'one route, two destinations' models, PetroVietnam has taken the initiative in applying scenarios in case a COVID-19 infection is detected to devise appropriate solutions, as well as ensuring input materials so as to stabilise the market.
It also strives to guarantee progress of investment projects, especially ones that are due in 2021 and the following year.
PetroVietnam reported that its pre-tax profit in the first eight months of the year surpassed the set plan by 177 percent and tripled the figure for the same period last year, reaching 30.2 trillion VND (1.32 billion USD).
During the period, the group's crude oil output surpassed the plan by 12.7 percent, and the outputs of petrol, oil and fertiliser were also higher than the targets.
The group's total revenue hit over 390.7 trillion VND, exceeding the plan by 17 percent and up 24 percent on a yearly basis. Its contribution to the State budget soared by 38 percent to 56.9 trillion VND.
PetroVietnam cut costs by 2.04 trillion VND, equivalent to 75 percent of its yearly target. It also contributed 733.8 billion VND to the COVID-19 fight, of which 554.9 billion VND went to the COVID-19 vaccine fund.
The group has been reviewing legal regulations to identify any obstacles to its operations and propose settlement recommendations.
The Resolution of the 13th National Party Congress views institutional reform and completion as one of the three strategic breakthroughs for the 13th tenure.
During its operation, PetroVietnam has realised that many legal regulations have affected its operations.
Not only hoping for the current Oil and Gas Law to be amended to create a driving force for sustainable development, the enterprise has also been working to review obstacles that legal regulations have caused for its operations so as to submit revisions to competent agencies.
At present, there are about 60 contents and issues related to legal rules that need to be amended to create optimal conditions for the development of not only PetroVietnam but also other businesses, such as some stipulations in the Law on Public Investment, the Law on the Management and Use of State Capital, the Law on Enterprises, and the Law on Bidding.
For example, under the existing Law on Bidding, PetroVietnam will encounter difficulties in executing investment projects, especially its joint projects with foreign partners, which may lead to slow implementation and subsequently, economic losses.
In addition, given the oil and gas industry's specific features, a number of problems facing PetroVietnam's operations have yet to be mentioned, fully mentioned, or properly mentioned in current laws.
Apart from reviewing legal barriers, the group is also coordinating with the Ministry of Industry and Trade to draft the revised Oil and Gas Law, which is expected to be submitted to the National Assembly at the coming session./. 
Vietnamese farm produce favoured in China

Vietnamese food and farm produce have gained popularity in the Chinese market thanks to their quality and improved supplies, said deputy head of the Ministry of Industry and Trade's Vietnam Trade Promotion Agency (VIETRADE) Le Hoang Tai.
During a teleconference on farm produce trade between Vietnam and Chinese's Guangdong held by VIETRADE on September 16, Tai described China as among Vietnam's top important economic partners. In the first seven months of this year, two-way trade hit US$28.8 billion, up 24.6% annually despite COVID-19 pandemic.
He said there remains room to boost export of farm produce to China and Guangdong in particular given the huge demand.
The Trade Consul at the Vietnamese Consulate General in Guangzhou Nguyen Duy Phu said Guangdong has a population of about 120 million people, a gross domestic product of nearly US$1.6 trillion and foreign trade turnover of around US$1.1 trillion in 2020, showing the locality's huge potential as a market for Vietnamese goods.
Two-way trade between Vietnam and Guangdong reached US$41 billion in 2020, or 20-21% of total trade between the two nations. Of the figure, Vietnam's exports were worth US$21 billion.
Phu suggested domestic firms seek commercial trustees as many major partners in Guangdong do not directly import goods but via trust services, particularly those exporting across the land border. 
Long An Province near HCM City gradually restoring economic activities
Long An Province has started to gradually reopen its economy, its Party Committee Secretary, Nguyen Van Duoc, has said.
It would initially allow enterprises that have workers living on-site and those produce essential goods and participate in global supply chains to resume operations, he said.
After October 15, depending on the COVID-19 situation, it would allow the resumption of more business activities and further loosen restrictions, he said.
The province held an online dialogue on September 15 with enterprises based in industrial parks to discuss reopening.
Duoc said epidemic prevention and control efforts so far have had positive results, and the province has vaccinated almost everyone aged above 18 years and is speeding up their second shot, with priority given to factory workers.
He told the business executives at the meeting to pay attention to healthcare for workers living on-site, regular COVID testing and proactive handling when infections are discovered.
The province would "actively support and create favourable conditions" for businesses to resume operations, he promised.
Many delegates called on the province to create conditions for their employees who live in HCM City to come to work in the province and reconsider the mandate that enterprises need to have shuttle buses to transport their workers.
Nguyen Minh Tuan, HR director of Avery Dennison RIS in Long Hau Industrial Park, Can Giuoc District, said his company has around 3,000 workers, but only 800 stay on-site to work as required.
Of the employees 2,000 live in HCM City, including 150 experts, he said.
Therefore, the company wants the province to enable them, especially experts, to commute to Long An for work so that it can resume normal functioning, he said.
Nguyen Thanh Thanh, head of the Long An Economic Zone Authority, said the province would create favourable conditions for experts to come to work, but businesses need to comply with safety regulations and the experts have to stay in the province temporarily instead of commuting every day.
Provincial authorities at the meeting also provided specific guidance related to resuming business activities and supporting testing, among other things.
The People's Committee has issued guidelines for resuming business activities from September 15 to October 15.
During this period an enterprise is only allowed to operate with 50 per cent of the workforce at a time and workers have to temporarily live in Long An.
They must have gotten at least one dose of a COVID vaccine and have a negative RT-PCR test result within the last 72 hours.
Employers need to test them periodically.
If a worker wants to go home, the company must organize transportation and not allow them to use personal vehicles.
Only workers who have had two doses of vaccines should be allowed to travel by personal vehicles.
Enterprises strictly manage cash flow and make use of all financial resources
As the Delta variant of COVID-19 spreads, significantly disrupting production, firms are either experiencing or anticipating constraints on cash and working capital.
In this regard, enterprises have to strictly manage cash flow and make use of all financial resources.
Mohammad Mudasser, Deals Director of PwC Vietnam, said cash flow scrutiny was crucial for businesses which were seeing their revenue decrease.
In addition, PwC Vietnam said delayed receivables collection and earlier payment settlements have resulted in tightened cash flow for many businesses. Therefore, managing cash pressures in uncertain times is vital.
Mudasser said: "We are living in extraordinary times where business as usual is being redefined. In a disrupted world, cash flow control becomes critical. A Treasury function can help prioritise future spending based on operational necessity, evaluate alternate financing mechanisms (like supply chain finance) and use data and analytics to enhance transaction/credit risk management."
At a seminar to seek solutions to manage cash flow and maintain liquidity in difficult times, many experts and entrepreneurs agreed that tight cash flow management, creating good liquidity along with mobilising all financial resources are very important for businesses at this time.
Nguyen Thai Hanh Linh, deputy general director and CFO of Bibica Joint Stock Company, said that in the past few months, Bibica's revenue has dropped sharply, while production costs under the "three on-site" model, logistics costs and employee support costs have increased.
Considering liquidity and cash flow management as key, then firm has applied a centralised cash flow management model, where subsidiaries transferred all cash flows to the parent company which would divide into two to serve the current production and business demand and to reserve for investment and development after the pandemic.
Linh said: "We cannot use up the existing money to maintain operations, and then when the pandemic is over, there will be no capital for development, reopening businesses and subsequent strategies. So we always have a reserve."
In another case, Phu Nhuan Jewelry Joint Stock Company (PNJ) had to close 90 per cent of its stores and had almost no revenue for the past two months.
CEO Le Tri Thong told local media that cash flow to maintain the company's operations in the past few months was not small, however, thanks to the forecast and provisioning of scenarios in advance, the firm has solutions to turn cash flow quickly as it has worked with domestic and foreign partners to make them pay early since April and May.
Thong said though there was no revenue, it has completed the annual plan from June.
Also thanks to the forecast from the beginning of 2020, Thanh Thanh Cong Group has restructured all business activities, especially corporate governance. The company has also created provisions and reserves to be able to use during the pandemic.
Dang Van Thanh, chairman of group, compared the back-up to dry food that helped the firm stay strong even when it had no revenue for the past three months.
Thanh said: "When the market was stable, the group participated in bonds, promissory notes of banks and we sell them to solve shortfalls in cash flow and create good liquidity for subsidiaries."
Thanh said in corporate governance, financial management was important, helping to manage financial resources for businesses.
He added: "A leader who controls and manages good corporate governance will not let businesses fall into too difficult a situation."
As not many enterprises can create backup financial sources themselves, Nguyen Quoc Bao, chairman of Thanh Cong Mobile, said: "Businesses need to create good liquidity to access banks," adding to create good liquidity they could reduce profits and prices of items so that partners could more quickly pay for them.
Economist Le Tri Hieu said the lack of cash flow has impacted liquidity of hundreds of thousands of businesses, leading many to close.
Besides the backup funds or bank access, the more important thing was to have a plan in the next six and next 12 months, said Hieu.
At the same time, Bao, chairman of Thanh Cong Mobile, said firms should exploit all other financial resources like friends, partners, joint ventures or equitisation of capital.
Bao said: "Working with many people is better than working alone. That's a way for businesses to save themselves instead of relying too much on bank loans."
He added businesses should create close relationships with investment funds, large customers, and securities companies so that they can support businesses. In addition, businesses also step on the stock exchange to create cash flow for businesses in the long run, not only to deal with the current pandemic.
Viet Nam becomes largest tuna exporter of Israel
The export value of Vietnamese tuna exports to the Israeli market by mid-August jumped by 34 per cent to nearly US$25 million compared to the same period last year, or accounted for 5.6 per cent of the total tuna export value, according to the Vietnam Association of Seafood Exporters and Producers (VASEP).
Israel continues to represent the nation's third-largest single tuna export market, behind only the US and Italy.
According to VASEP, tuna export turnover was estimated at over $410 million in seven months of this year, up 21 per cent annually. Viet Nam's major importers include the US, Europe, Israel, Canada and Japan. The US was the largest importer with a value of over US$170 million.
Despite experiencing a decline in 2019, since the end of 2020, tuna exports to the market have consistently bounced back, with the average export price in the market hovering at US$5,464 per tonne.
Most notably, Vietnamese frozen tuna fillets coded HS03048700 remain the key export product in the market, accounting for 47 per cent of the total export value.
According to statistics released by the International Trade Centre (ITC), the first half of the year saw the country surpass Thailand to become the largest tuna supplier to Israel, accounting for roughly 31 per cent of their overall import value.
Furthermore, Israel simultaneously reduced tuna imports from other countries, while also increasing imports from the Vietnamese market.
At present, there are eight local enterprises, including Tuna Vietnam, Bidifisco, and Havuco which are actively involved in exporting tuna to the Israeli market.
Despite a wealth of export opportunities for Vietnamese tuna to the market, the local tuna industry is projected to face numerous difficulties due to the fourth wave of the COVID-19 pandemic, with several enterprises reducing their processing capacity.
VASEP has repeatedly been petitioning the government to quickly vaccinate workers in the fisheries sector to ensure the supply chain is not disrupted.
As workers in fisheries sector mostly work in cold environments, the risk of COVID-19 transmission is high. Meanwhile, many of them have yet to be vaccinated.
Competitors, technical and trade barriers are also causing difficulties for the sector. Several global competitors and European markets want to upgrade criteria for exporting to Europe – the second biggest tuna importer of Viet Nam.
Source: VNA/VNS/VOV/VIR/SGT/SGGP/Nhan Dan/Hanoitimes  

Foreign investors maintain confidence in Vietnam's economy