Vietnam's coffee exports to S Korea forecast to increase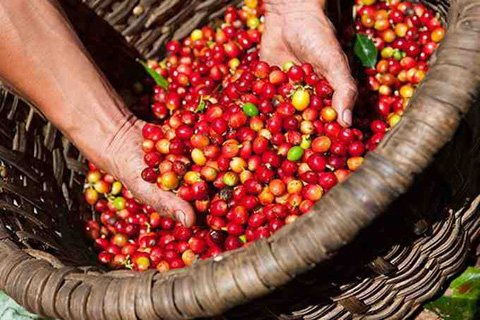 Viet Nam's coffee exports to South Korea are expected to increase as the northern Asian market is forecast to have higher demand for imported coffee.
The Ministry of Industry and Trade's Import and Export Department said that South Korea's coffee imports rose in 2020 and the first months of 2021 due to the strong increase in demand for coffee as people stay at home during the COVID-19 pandemic.
According to the Import and Export Department, South Korea's coffee imports from Viet Nam in the first half of this year reached about 19,500 tonnes, worth US$30.82 million, up 12.8 per cent in volume and 5.2 per cent in value year on year.
Viet Nam's coffee accounted for 20.56 per cent of South Korea's total coffee imports in the first half of this year, a slight increase from the figure of 20.35 per cent in the first half of 2020.
The department said coffee is more popular in offices, restaurants and families in South Korea. Coffee consumption in this market has accounted for about 6 per cent of the total Asia-Pacific coffee market and it is one of the world's leading coffee consumption markets.
South Korea's total coffee imports in the first six months of 2021 reached 94,840 tonnes, worth $432.45 million, an increase of 11.7 per cent in volume and 30.3 per cent in value year on year.
According to the Ministry of Industry and Trade, Viet Nam's total coffee exports in the first eight months of this year were 1.07 million tonnes, earning $1.99 billion, down 6.9 per cent in volume, but up 1.1 per cent in value compared to the same period last year.
Of which, the coffee exports in August reached 105,000 tonnes, earning $207 million. The exports were down 14.1 per cent in volume and 11.9 per cent in value month on month. However, they increased by 4.8 per cent in volume and 12.3 per cent in value year on year.
The average export price of Viet Nam's coffee in the first eight months stood at $1,071 per tonne, up 8.6 per cent over the same period last year.
The General Department of Customs reported that Viet Nam's Robusta coffee exports in the first seven months of 2021 decreased by 6.5 per cent in volume, but increased by 1 per cent in value year on year.
Viet Nam saw strong a reduction in exports of this key coffee product to many key markets compared to the same period last year, including Germany, Italy, Japan, the US, Spain and Belgium.
Meanwhile, the exports increased to some markets, such as Russia, China, Egypt and Indonesia, reported the Cong thuong (Industry and Trade) magazine.
Vietnam's power company seals contract for hydropower project in Nepal
Vietnam's Power Engineering Consulting Company 1 (PECC1) on September 20 signed a contract to provide assessment and design services to Tanahu hydropower project in Nepal.
The contract was inked with a joint venture between Vietnam's Song Da Corporation and Nepal's Kalika Group.
The Tanahu project aims to meet power demand particularly during dry winter months, minimise fossil fuel-based power generation, stabilise Nepal's electricity supply system, and reduce transmission losses.
Under the freshly signed deal, PECC1 will update and assess hydrometeorological conditions; and perform technical design and construction drawing for a series of items, including a 140m concrete dam, the highest of its kind in Nepal to date, and a spillway to discharge flood.
Speaking at the ceremony, PECC1 General Director Nguyen Huu Chinh said the event marks a milestone in the sides' cooperation, pledging its best human resources serving the project./.
Viet Nam's coffee exports are expected to suffer impacts from the pandemic.  
Local steel consumption plunges, exports skyrocket
Despite domestic steel consumption dropping considerably due to the COVID-19 pandemic, Vietnam's iron and steel exports in August recorded an upward trajectory, according to the General Department of Vietnam Customs.

Vietnam exported a total of 1.53 million tonnes of iron and steel worth approximately US$1.5 billion, representing rises of 33.8% in volume and 35.2% in value month on month. The export value for August posted a 2.5-fold increase compared to the same period last year.
August saw Vietnam earn the highest export value of iron and steel this year and marked the second consecutive month that export turnover of the products has exceeded US$1 billion.
The country exported 8.54 million tonnes of iron and steel worth nearly US$7.1 billion throughout the opening eight months of the year, up 43.4% in volume and 127% in value year on year. Typically, about 2.7 million tonnes were exported to other ASEAN markets.
Despite iron and steel exports to China decreasing by 13.2%, exports of these products to the European Union and the United States witnessed 7.5-fold and 4-fold rises against the same period last year, respectively.
A high demand for iron and steel locally and overseas in the first months of the year has fuelled 8-month consumption of the products, mostly  hot-rolled steel coil, metal-plated, and color-coated corrugated iron.
Forum promotes Vietnam-Czech Republic trade, investment
The Vietnamese Embassy together with the association of Vietnamese enterprises in the Czech Republic, on September 19, held a forum on promoting trade and investment between the nations.
Speaking at the event, Vietnamese Ambassador to the Czech Republic Thai Xuan Dung highlighted the importance of trade and investment promotion, particularly when both countries and others are seeking solutions for post-pandemic recovery.
He said the forum aims to help participating firms discuss issues related to the EU-Vietnam Free Trade Agreement (EVFTA) so that they can come up with more suitable business plans and strategies.
Trade between the nations hit 936 million USD in the first half of 2021, up 28 percent on-year, thanks to both sides' efforts and the EVFTA's impact.
Participants focused their discussion on opportunities for Vietnamese enterprises with the coming-into-force of the EVFTA and challenges for trade and investment promotion amid COVID-19.
They talked about problems in cooperation and seeking partnerships. They also gave initiatives to help Vietnamese competent agencies support Vietnamese firms in recovering production and business and in boosting collaboration with partners from the EU and the Czech Republic.
In an interview with the Vietnam News Agency on the sidelines of the event, Nguyen Manh Tung, former head of an association of young entrepreneurs in the Czech Republic, said currently many Czech businesses want to learn about their Vietnamese peers, Vietnam's export products, and changes brought about by the EVFTA to find opportunities for cooperation.
Their biggest restrictions are the language barrier and a shortage of information on Vietnamese companies and products, Tung noted. He recommended boosting the sharing of Vietnam's production and logistics processes for the Czech side./.
Firms to resume operations as city lifts lockdown in parts
Ha Noi's decision to partially lift the lockdown in parts of the capital city marked as low risk of COVID-19 has allowed a large number of businesses to resume operations, said firms.
Nguyen Thai Son, deputy director of an aluminium producer in Phu Thi Industrial Park in Gia Lam District, said the district authority has given the green light for his workers to commute to work from their residences. It has significantly lightened the burden for the firm after a long period of implementing the 3-on-site production model, which has been financially and logistically taxing.
Megapharco, a pharmaceutical company based in Chuong My District, said the firm has restarted production since September 7 after a long hiatus since it recorded a COVID-19 infection among its workers. Megapharco has pledged to implement strict COVID-19 safety measures.
Nguyen Van Thuoc, director of a textile company in Thach That District, said 90 per cent of his 140 workers have been vaccinated. For the time being, the local authority has allowed 70 per cent of them to go back to work under the condition that they must register to live near the factory and in COVID-19 free areas.
Meanwhile, measures have been discussed to allow firms in medium-risk and high-risk areas to resume operations. The idea is to create a safe bubble to protect industrial compounds and allow them to function at minimum risk of spreading the virus.
Hoang Van Tien, a union representative from Power Grids Viet Nam JSC, said his firm managed to stay open by employing the 3-on-site model from the beginning of the fourth outbreak (late April). During the two-month lockdown, 60 workers have stayed put within the compound and subjected to weekly COVID-19 tests. As of September 19, more than 93 per cent of them have received one jab and 5 per cent fully vaccinated.
Key components of the production model include weekly COVID-19 tests and limiting workers' contact with the outside world, according to Pham Hoang Long, director of ICHI Viet Nam.
Based on the success of Power Grids Viet Nam, the Hoang Mai District authority has replicated the model in nine other firms in the district.
In addition, the city has recently announced a number of new policies designed to support newly established firms and to assist workers affected by the outbreak. Notable among those include credit extension, postponement of loans and other payments, interest and banking fee cuts for businesses.
The city has also been in touch with commercial banks to help businesses secure much-needed capital to jumpstart operations in the new normal.  
Localities, firms urged to foster spice exports
Localities and firms in the spices and seasoning industry should devise production recovery plans, apply advanced technologies, diversify products and capitalise on recent new-generation free trade agreements to which Viet Nam is a signatory to bolster exports once COVID-19 is brought under control, a senior trade official has said.
Le Hoang Tai, Vice Director of the Trade Promotion Agency (Vietrade) under the Ministry of Industry and Trade, said Viet Nam's agriculture sector along with the spices and seasonings industry have enjoyed a remarkable transition which turns the country into a supplier of those products for the global market.
Trade promotions and technical support have helped firms in the sector to surmount difficulties and develop sustainably by moving to produce more value added items, he said.
Vietnamese firms have also worked to gradually meet more stringent requirements of foreign trade partners and are able to provide added value products with high quality and food safety, Tai said.
He added among Vietnamese spices, peppercorn has gained a foothold on the international market and holds a lion's share in export revenue.
At present, demand for peppercorn and others has been on the rise while global exports of such products declined due to difficulties caused by the ongoing COVID-19 pandemic including skyrocketing logistics fees.
During a recent virtual conference on Vietnamese spices and seasonings, First Secretary and Head of the Vietnamese Trade Office in Saudi Arabia Tran Trong Kim said the Middle Eastern nation consumed many kinds of spices, mainly imports from foreign countries, including Viet Nam, adding that the country had a high demand for organic food and spices.
However, Middle Eastern people had a habit of seeing, touching and feeling products before ordering them, so businesses should send samples to customers first. They should also send their goods to the Trade Office for display at the showroom on Viet Nam's export staples and other economic events.
Statistics showed that Viet Nam earned an average of US$10 million from exports of spices to Saudi Arabia each year.
Kim said imported food and beverage products had to be certified by the Saudi Food and Drug Authority (SFDA) which promulgates regulations on food hygiene and safety while supervising and advising people to remove products that are harmful to health.
That meant SFDA not only regulates but also strictly enforces food safety standards, whereby the agency has issued regulations on the allowable limit of antibiotics for all types of food, fresh fruit, vegetables and spices.
Therefore, Vietnamese businesses should contact Vietrade's Export Support Centre for support to avoid losses during transactions with partners.
The firms should also ask partners to make payment by letter of credit (LC), Kim said, adding that a deposit payment should also be included.
Moreover, Vietnamese goods exported to Saudi Arabia were packaged under names and brands of distributors. Thus, businesses needed to focus on building their own brand for their products to increase the position and reputation of the business, Kim advised.
Besides Saudi Arabia, India was also considered a lucrative market for Vietnamese spices, experts have said.
Bui Trung Thuong, Viet Nam's Trade Counselor in India, said that India's annual import turnover of flavorings and spices reached $1.4 billion, of which pepper imports reached $120 million with only $20-30 million from Viet Nam.
In order to foster exports to India, Thuong urged businesses to accelerate their appliance of science and technology and study the spices of other countries available in the market so that they could make products that could better meet the tastes of customers there and sharpen their competition with that of other countries.
For the European market, Pham Van Hien, Director of LTP Import Export B.V., one of the leading importers and suppliers of Asian-European Foods & Beverage in the Netherlands, said in order for Vietnamese spices to penetrate the European market, businesses needed to carefully study this market.
If companies did not have a market research department, they could participate in trade fairs such as Anuga of Germany to promote their products while updating information about the market on the websites of European associations and industries.
With tropical weather and diverse ecosystems, Viet Nam is rich in spices, including many very special and popular flavours such as cinnamon, anise, pepper, cardamom, cashew and chili.
Currently, Viet Nam is one of the leading exporters of a number of spices like cashew and peppercorn, which account for 80 per cent and 90 per cent of the world export volume, respectively. Vietnamese products are becoming better in quality thanks to improved technology in all stages from production to harvesting, processing and packaging.
Hong Kong entrepreneur highlights prospect of trade with Vietnam
A leader of the Sunwah Group has highlighted the prospect of trade cooperation between Vietnamese and Hong Kong businesses and made suggestions for the Vietnamese firms that want to access the Guangdong - Hong Kong - Macau Greater Bay Area (GBA) of China.
Speaking within the framework of a teleconference on September 20, Johnson Choi, Executive Director and Vice President of the Hong Kong-based conglomerate, said the ASEAN - Hong Kong Free Trade Agreement and Investment Agreement have brought about numerous benefits for all the signatories, including the trade and investment ties between Vietnam and Hong Kong.
He held that Vietnam and other ASEAN countries can make use of Hong Kong's internationally recognised financial and commercial services and prepare to welcome a wave of investment to expand their production, service, industrial, and real estate sectors.
In fact, Vietnam has attracted a number of enterprises from the mainland China and Hong Kong who come to the country to establish their second bases, given the local advantages in land, labour cost, and human resources. As a result, bilateral trade and investment have recorded breakthrough development, according to the businessman.
Talking about Vietnamese firms' intention to access the GBA, Choi said the GBA, with a population of over 70 million, generates many opportunities for Vietnamese companies in terms of technology, innovation, financial services, trade, and logistics.
The GBA is a major market for Vietnamese goods such as farm produce, fishery products, and coffee, so the country should increase high-quality products by upgrading their processing, packaging, and logistics processes so as to approach this market, he recommended.
The Sunwah leader, who is also Chairman of the GBA Entrepreneurs Union, said Hong Kong is always ready to assist Vietnamese enterprises to access the GBA market, adding that it will help the country's businesses to not only enter the market but also connect with potential investors and executives here.
The teleconference on Vietnam - Hong Kong partnership was organised by the Vietnamese Ministry of Industry and Trade and the Commerce and Economic Development Bureau of the Hong Kong Special Administrative Region Government./.
Lack of human resources, funds prevents businesses from reopening
Many businesses in the south have been allowed to reopen a few days ago but a worker shortage is preventing them from doing so.
The owner of an organic rice production business in District 7, Tran Huu Tin, was happy when the city began to loosen social distancing requirements and allow businesses to resume.
But after two weeks of trying to recruit and posting messages, he has not received any job applications, and he is now very worried.
At the end of June four of his employees first tested positive for COVID-19, and a week later the number jumped 10-fold, and his business lost nearly half its workforce. Hiring has not been easy with the epidemic still raging.
"People are very reluctant to go to work since they have to live on the premises and also fear the risk of COVID-19 infection," he said.
Le Xuan Tan, a director of Hanh Phuc Wood Co., Ltd. in Dong Nai Province, said hundreds of workers have fled the city because following the virus outbreak and his firm faces an enormous problem finding workers to resume work.
The situation is particularly dire in labour-intensive sectors like footwear and wood processing.
Chu Tien Dung, chairman of the HCM City Union of Business Associations, said businesses are waiting for the Ministry of Health to issue criteria for employees to return to work so that they could hire. Travel regulations across the country also need to be made consistent to enable the recruitment of workers in other areas across the country.
Another barrier to reopening is funding since, after more than three months of closure, many businesses have exhausted their resources after earning no revenues but still paying bank interest, rents, employees' social insurance premiums, and taxes and fees, which had to be paid in full, he said.
So, to be able to afford reopening, many businesses and trade groups have called on the Government to help access financial relief packages, cut lending interest rates, and waive or reduce taxes and other fees, he added.  
Duc Giang Chemicals steps into billion-dollar club after rising over 200%
After trading around VND20,000 per share, Duc Giang Chemicals Group (DGC) shares started a rally trend from April 2020 despite the impact of the COVID-19 pandemic.
On August 10, the company's market price officially registered in the "3-digit" club with the closing price of VND101,700 per share. The uptrend has continued until now.
Data compiled in the last five sessions from September 10 to September 17 showed that DGC shares climbed for six consecutive sessions, and even hit the biggest daily gain of 7 per cent on September 13 and September 17. On last Friday's session, which was on September 17, the company's market price closed at VND141,900 per share, up 219 per cent over the beginning of the year.
At that price and with more than 171 million shares outstanding, DGC's market capitalisation reached nearly VND24.3 trillion, or US$1.05 billion, meaning it has become the newest member of the billion-dollar club on Viet Nam's stock market.
On Monday, DGC shares continued to extend their rallies, up 5.29 per cent to VND149,400 per share at 1:45pm, raising its market capitalisation to nearly VND25.2 trillion, or US$1.1 billion.
Although many businesses were under pressure due to the impact of the ongoing fourth wave of COVID-19 since the second quarter, Duc Giang Chemicals has benefited from lower Chinese production performance in the phosphorus segment, boosting the price of Duc Giang Chemicals' products.
China's phosphorus production halved compared to last year.
Statistics show that the price of yellow phosphorus and thermal phosphoric acid (TPA) skyrocketed 70 per cent and 36 per cent, respectively, since the beginning of the year, mostly in the past few months.
In its second-quarter financial results, the company posted strong growth in the first half of 2021. Its consolidated net revenue in the second quarter alone reached VND2.04 trillion, up 29.3 per cent over the same period last year. Excluding expenses, the company's profit after tax jumped 23.7 per cent to nearly VND333.1 billion.
In the first six months of 2021, Duc Giang Chemicals' net revenue reached nearly VND4 trillion. Of which export sales alone were more than VND2.8 trillion, accounting for over 70 per cent of total revenue, while the rest was sold domestically. The profit after tax during the period reached VND625.1 billion, completing about 57 per cent of the profit target for the whole year.
In a recent report, Viet Capital Securities (VCSC) sees bright prospects for Duc Giang Chemicals' deep-processing phosphorus products on China's production cuts. The company is expected to run these new production lines at maximum capacity after putting them into operation in late 2021 – early 2022.
VCSC raised its target EV/EBITDA (enterprise value/earning before interest, tax, depreciation and amortisation) forecast by about 20 per cent to 8.5x and increased its core EBITDA forecast for 2021 - 2023 (excluding contribution from the real estate segment) by 17 per cent.
Moreover, the average selling price (ASP) for the period 2021 - 2023 (based on phosphorus content) is also forecast to climb by 12 per cent.
Duc Giang Chemicals is the first producer to successfully produce Chloramine B, an important disinfectant used in COVID-19 prevention. This is not only a milestone for the company, but also for the country's chemical industry.
Before that, the country was completely dependent on the import of Chloramine B from advanced countries, resulting in a shortage of local disinfectants and pushing the price of the product to the highest level due to the global COVID-19 pandemic.  
Power bill cut for 2.4 million customers in Hanoi amid COVID-19
The Hanoi Power Corporation under the Vietnam Electricity group (EVN Hanoi) has reduced power prices by more than 249.7 billion VND (10.96 million USD) in daily activities for 2.4 million consumers to ease difficulties caused by COVID-19.
The firm also cut the costs for 163 accommodation establishments hit by the pandemic, along with medical facilities serving COVID-19 prevention and control efforts.
The policies on electricity bill reduction have been publicised at points of payment and websites of the company, said EVN Hanoi Deputy General Director Le Anh Duong.
The corporation also works with relevant agencies in verifying information of the beneficiaries, he added.
Customers are urged to make use of online payment service in an effort to curb the spread of COVID-19./.
Viettel to sell nearly 40% of Vinh Son shares
According to an announcement from the Ha Noi Stock Exchange (HNX), the exchange will hold an auction for Vinh Son JSC shares, owned by Military Industry and Telecoms Group (Viettel), on Tuesday.
The auction offers a batch of shares with a volume of nearly 4.6 million units, equivalent to 39.9 per cent of Vinh Son's charter capital. The starting price of the auctioned shares is nearly VND922.5 billion (US$40.3 million).
In the latest update, there has been one Vietnamese individual registering to buy all shares in the batch of this auction. The deadline for submitting the competitive offer form is at 2pm on Tuesday.
Vinh Son has a charter capital of VND1.15 trillion. As of June 30, the company's shareholder structure has three shareholders including two organisations and one individual. Of which, Dragon Village Real Estate JSC owns 60 per cent, Viettel holds 39.9 per cent and Nguyen Khanh Trung personally owns 0.1 per cent of the capital.
The company operates in the real estate sector, with outstanding construction project the 75.51ha Rose Valley Urban Area in Vinh Phuc and Ha Noi.
However, this project is in the process of initial investment and has not yet recorded revenue in the second quarter of 2021. The company's main source of income in the past few years has come from a number of non-core activities such as renting photo locations.
In the first half of 2021, it recorded net revenue of nearly VND85 billion, down 12 per cent year-on-year, with profit after tax reaching VND3.4 billion. Compared to the plan for the whole year, Vinh Son has only completed 19 per cent of the revenue target and 23 per cent of the full-year profit plan.
The auction of 4.6 million shares of Vinh Son is part of Viettel's investment divestment plan under the restructuring plan for the 2016 - 2020 period approved by the Prime Minister.
Accordingly, Viettel is determined to boost its plan to divest investment capital in non-core industry to focus on investing in core activities of telecommunications infrastructure construction and operation.  
Enterprises in industrial parks in two 'safe districts' in HCM City resume operation with half staff
The Management Board of HCM City Export Processing Zones and Industrial Parks Authority (HEPZA) has approved a pilot programme to allow enterprises in export processing zones and industrial parks in District 7 and Củ Chi District, considered 'safe' districts, to resume operation beginning Monday.
Enterprises must ensure pandemic prevention measures according to the guidelines of the Health Ministry, as well as meet the set of criteria for safe production. The number of employees must not exceed 50 per cent of the enterprises' total number.
Enterprises must ensure that only employees granted Covid "green cards" are allowed to work. The employees must reside in areas classified as green zones as announced by agencies. Safe green zones are those with no COVID cases detected within seven days. Employees must also show a negative test result before resuming work.
Customers or partners who directly transact with businesses must also have a COVID green card. Otherwise, they will need to have a negative test result within the previous 72 hours from a medical facility. 
Every five days, enterprises must organise testing for workers and send the results to health centres in the districts where the export processing zones and industrial parks are located.
According to Hepza, a COVID green card will be issued to individuals who are fully vaccinated against COVID-19 with a vaccine licensed by the Ministry of Health. The employee must have had the second dose at least 14 days prior to resuming work. 
A green card will also be issued to people who have recovered from a COVID-19 infection certified by a medical authority. If they were in home quarantine, they must take an antibody test as prescribed by the health sector to determine if their level of protection is sufficient.
The yellow card will be issued to individuals who have received at least one dose (of a vaccine that requires two doses) from a vaccine licensed by the Ministry of Health. They must have had the shot at least 14 days before resuming work.
They must also show negative test results certified by the Department of Health and updated into the electronic database system for yellow card issuance and renewal.
According to Hepza, enterprises whose employees are issued yellow cards must continue to implement the "3 on-site" model. Launched a few months ago, the "model, which involves eating, sleeping and working without leaving the site, aims to keep production going while ensuring that prevention measures are met.
Hepza said that enterprises should arrange production locations exclusively for employees with green cards and yellow cards to ensure safety. Enterprises should arrange separate dining and resting areas for workers in green and yellow production areas.
Based on the enterprises' registered list of employees, Hepza will issue either a green or yellow card to employees. Once the cards are issued, the employee will have a QR code on a mobile app called "HCM City Health". 
For those who do not use a smartphone, enterprises will need to print the QR code on the electronic medical declaration page for their employees.
A number of businesses have had to close temporarily due to the impact of lockdown measures, seriously disrupting supply chains, while others have reported labour shortages and limited production capability, causing output to drop dramatically.
Speaking at a recent meeting with economic and medical experts, Nguyễn Văn Nên, secretary of the city Party Committee, said the city was under huge pressure to reopen the economy and that the city would develop a roadmap for reopening so that it can adapt to and live safely with the virus.
The rate of first-shot coverage in the city has reached more than 93 per cent. The city has set a target to vaccinate all adults aged 18 and above by the end of the year.
The city has imposed various levels of social distancing restrictions since late May. On August 23, the city was placed under the toughest measures, ordering people to "stay where they are" except for emergencies.
HCM City has recorded more than 336,000 cases since late April when the fourth wave began.  
Vietnam businesses in UK support pandemic fight in home country
Vietnamese businesses in the UK donated over 2 billion VND (equivalent to more than 87,800 USD) to support COVID-19 prevention and control efforts in Vietnam at a ceremony marking the 15th anniversary of the Vietnam Business Association in the UK.
At the ceremony held recently in London, Vietnamese Ambassador to the UK Nguyen Hoang Long called on the Vietnam Business Association in the UK to maintain its role as a bridge between the business community in the UK and Vietnam.
The Ambassador emphasized that this is a great opportunity that Vietnamese businesses in general and Vietnamese businesses in the UK in particular need to take advantage of.
The association also actively work to help Vietnamese expatriates in the UK to keep and develop the traditional culture through various community activities.
Bilateral trade between Vietnam and the UK has increased about 10 times from 600-700 million USD in 2007 to 6.5 billion USD in 2021, and is expected to reach 10 billion USD thanks to the implementation of the UK-Vietnam Free Trade Agreement./. 
Reference exchange rate up 2 VND on September 21
The State Bank of Vietnam set the daily reference exchange rate on September 20 at 23,134 VND/USD, up 2 VND from the previous day (September 20).
With the current trading band of +/- 3 percent, the ceiling rate applicable to commercial banks during the day is 23,828 VND/USD and the floor rate 22,439 VND/USD.
The opening-hour rates listed at commercial banks saw a slight upward trend.
At 8:25 am, Vietcombank listed the buying rate at 22,645 VND/USD and the selling rate at 22,875 VND/USD, rising 5 VND from the previous day.
BIDV also adjusted the rates up by 5 VND to stand at 22,675 VND/USD (buying) and 22,875 VND/USD (selling).
Similarly, Vietinbank raised both rates by 3 VND to 22,653 VND/USD (buying) and 22,873 VND/USD (selling)./. 
Global trends in sustainable ocean economy development
The ocean is the largest and most critical ecosystem on Earth and is inextricably linked with sustainable development of the planet. However, excessive pressure operating at multiple levels and scales has severely and negatively impacted the ocean. Over the last decades, key indicators from water and environmental quality to ecosystem diversity and productivity, as well as the status of natural resources across the planet have trended downwards.
The pandemic has given pause to some of these trends and called into question the kind of recovery we seek – one that is not purely economic, but green and sustainable as well.
It is therefore not surprising that for many countries driving a post-pandemic green recovery is emerging as a top concern and priority. The Organisation for Economic Cooperation and Development views the ocean as a new economic frontier, which is indispensable to a sustainable and prosperous future.
The ocean economy under a business-as-usual scenario can be expected to grow from $1.5 trillion (2010) to $3.0 trillion (2030), securing an additional nine million full-time jobs during this period. The potential to create governance and management regimes which can achieve, or over-achieve, these targets while ensuring the sustainability of our oceans is a key challenge for this decade.
Management of the ocean economy is a relatively new idea. Traditionally, it was managed through involved economic sectors, such as fisheries, shipping, and tourism. With a lower intensity of use, this approach may have been adequate. Consequently, management of the ocean was largely based on a set of economic sector-based policies, coupled with a conservation or protection policy. However, such approaches do not seem to deal with the increasing intensity of ocean activity and the cumulative pressures they create.
More holistic, ecosystem-based, and knowledge-based approaches that ensure the sustainability and resilience of marine ecosystems are needed to optimise the overall ocean economy. Integrated ocean management applies such approaches and can include a number of tools, such as an ecosystem-based management, integrated coastal zone management, and area-based measures, through imposing management control such as marine protected areas.
Efforts have recently been made to assess the ocean economy in a more integrated way, called ocean accounting, which uses international standards for the measurement of the economic, social, and environmental aspects of the ocean and coasts. National accounts for the ocean economy contain and organise information that describes countries' economies and helps decision-makers and the public understand near-term policy outcomes and long-term sustainability issues.
National ocean accounts prioritise three indicators of the ocean economy – the ocean's products, measured through GDP; an ocean balance sheet, which measures the change in non-produced and produced assets; and ocean income, which measures the benefits to national income attributable to ocean activities as measured through the gross national income.
The ocean economy is made up of a number of sectors. For lower middle-income countries, the ocean economy makes a significant contribution to GDP. For six selected marine sectors, the contribution to GDP over the 2005-2015 period amounts to 9-11 per cent (see figure). For ASEAN countries, these six economic sectors are close to reaching $50 billion in value.
However, each country has a specific portfolio of sectors in terms of contribution to GDP, as well as national income, and the ocean balance sheet in terms of sustainability goals. Forming ocean accounts which identify the contribution of the ocean economy to income and GDP in the broader context of sustainability is a valuable first step to realising the full national potential of the expanded ocean economy.
In addition to government initiatives, the impact investment market for the ocean has expanded rapidly, creating capital flows for investment in ocean economic activities. For example, the $5-billion Accelerating Blue Investment in Asia-Pacific will leverage public sector funds to create investment opportunities able to attract financing from a range of sources, including the private sector. Technical assistance and funds from the Asian Development Bank and other donors, along with innovative financing instruments such as revenue guarantees and credit-enhanced blue bonds, will gradually increase.
In the framework of the eighth meeting of the 12th Communist Party of Vietnam, the Central Committee announced Resolution No.36-NQ/TW on the strategy for the sustainable development of Vietnam's marine economy by 2030, with a vision to 2045, which calls for developing the marine economy sustainably based on green growth and conservation of biodiversity and marine ecosystems while ensuring harmony between economic and natural ecosystems, conservation and development, and the interests of coastal and landlocked localities.
Moreover, the resolution aims to strengthen links among sectors for higher productivity, quality, efficiency, and competitiveness, while promoting the potentials and advantages of the sea and creating a momentum for national economic development.
Turning to the implementation of this important resolution, Vietnam has started to develop the country's marine spatial planning for exploitation, sustainable use of coastal resources, and several sectoral plans for ports planning, fishery, and energy. This is the first time that Vietnam has developed robust plans related to a blue economy in a systematic manner to sustainably develop the marine economy in line with international standards.
To support and kick-off the development of these plans, the United Nations Development Programme (UNDP) is now supporting the Vietnam Administration of Sea and Islands to launch the study Blue Economy in Vietnam, which focuses on the six marine economic sectors oil and gas, renewable energy, fishery, tourism, transportation, marine ecosystem, and environment. Given the limitation of available, comprehensive, and systematic data, the study focuses on the definition, methodology, and processing of data collected from available sources.
The study uses several lenses to look at the ocean economy and to advance understanding and give recommendations. Each approach may be somewhat limited by data but robustness of analysis is improved through an integrated approach which includes several factors.
First is ocean accounting. The analysis tries to adhere to the principle of ocean accounts based on the System of Environmental Economic Accounting of the UN. For each sector, the three key indicators ocean products, ocean balance sheet, and ocean income are investigated.
Secondly, for each sector several scenarios to 2030 are made under business-as-usual and other management regimes. The effect of these regimes on the ocean economy will be assessed, and some optimisation of the scenario will be considered to optimise the overall ocean economy.
Next, an analysis of costs and benefits of different approaches to the ocean economy, estimated on a sector level will be undertaken. This can help with decision making in relation to which investments are to be prioritised in the public investment programme or with development partners.
Finally, for each ocean economy sector, the interlinks of the sector to the 17 sustainable development goals (SDGs) will be assessed. The way in which the ocean economy can facilitate, or constrain, progress within the SDGs will be assessed and may help with decision-making in relation to the national efforts under Agenda 2030.
The initial review of the study shows that it is feasible for Vietnam to apply an integrated, systematic approach and advanced methods following international standards.
Firstly, despite the requirement of further capacity building, with this approach, it is possible to gradually shape the initial database for policy analysis and orientation to be more integrated and aligned with the actual situation in Vietnam. This is important for establishing a database for regular collection, compilation, and assessment.
Secondly, while sectoral development policies might be suitable for specific sectors, when viewed in a broader context, they might present irrelevant issues that need further improvement to achieve the common goal of optimising the blue economy and sustainable development. Therefore, it is necessary to have cross-sectoral integrated, spatial planning to develop the blue economy.
Lastly, it is crucial to have a close coordination mechanism among different sectors and regions throughout the collection and sharing of information, as well as basic research. Further development and implementation of marine spatial planning and other related planning requires greater coordination among stakeholders under a common and comprehensive steering organisation.
Vietnam, with its expansive coastline of 3,200km that comprises more than 3,000 big and small islands and is home to more than 50 per cent of the population living in 28 coastal provinces, has a great potential for sustainable marine economic development.
The ocean is a new economic frontier, which is indispensable to both a sustainable and prosperous future. UNDP is committed to deepening its partnership with the government of Vietnam and the Ministry of Natural Resources and Environment to formulate and implement marine economic development programmes that accelerate the country's SDGs.
Latest draft of national Power Development Plan VIII up for comments
The Ministry of Industry and Trade has just released the latest draft of the national Power Development Plan VIII for comments from relevant agencies, with the goal of submitting the document to the government within September.
Renewable energy is expected to account for around 25 per cent of total generation capacity by 2030
In the latest draft, the total installed capacity of the whole power system will come to around 130,370-143,839MW by 2030. Hydropower would account for 17.7-19.5 per cent of the total installed capacity, while coal-fired thermal power will make up 28.3-31.2 per cent, oil and gas-fired thermal power (LNG included) 21.1-22.3 per cent, renewable energy (wind and solar power and biomass) 24.3-25.7 per cent, and imports would account for about 3-4 per cent.
Total power output from production and import by 2030 would be about 551.3-595.4 billion kWh, with 15.4-16.8 per cent to be coming from hydropower, 44-45.5 per cent from coal-fired power, 23-23.8 per cent from oil and gas-fired thermal power, 11.9-13.4 per cent from renewable energy, and 2.9-3.6 per cent from imports.
The total investment demand of the power sector is set at $12-13 billion a year in the PDP VIII, meaning a total investment of $320 billion by 2045.
Earlier in March, the Ministry of Industry and Trade submitted a statement on approving the Power Development Plan (PDP) VIII, but the former government apparatus could not deliver a final decision on it.
The new government has reviewed the draft and according to Deputy Prime Minister Le Van Thanh, it reflects an irrational distribution of power sources among the country's different regions, leading to power being transmitted from the south to the north at escalating investment cost.
"More prudence is needed with the planning and we cannot rush this legislation to ensure implementation and the best results," said Thanh.
The PDP VIII is one of Vietnam's major sectoral plans. It aims to ensure that power generation is a step ahead of production to ensure sufficient supply, ensuring national socioeconomic development and people's demands at optimal cost.
The total investment demand of the power sector is set at $12-13 billion a year in the PDP VIII, meaning a total investment of $320 billion by 2045.
This was calculated based on the target to raise the current generation capacity from 69,258MW in 2020 to 102,193MW by 2025 and 137,662MW by 2030 and then an estimated 276,601MW by 2045.
The power sector's total capital demand during 2011-2018 was estimated at about VND102 trillion ($4.43 billion) per year.
In the first half of this year, total power output from production and import reached 128.51 billion kWh, up 7.4 per cent on-year. Of which, hydropower reached 30.46 billion kWh, making up 23.7 per cent; coal-fired thermal power was 66.67 billion kWh, or 51.9 per cent; gas turbines contributed 15.66 billion kWh (12.2 per cent); renewable energy 14.69 billion kWh (11.4 per cent); and imported power 624 million kWh (0.5 per cent).
Manufacturers jostle with reduced capacity
Despite the added pressure, many foreign manufacturers in Vietnam's southern provinces still strive to maintain production activities in line with their commitment to long-term investment in the country.
Since mid-July, pharma manufacturer Davipharm has been utilising a stay-at-work model so that it can continue supplying medicines to patients and protect its team and business in Vietnam.
Most of the medicinal products manufactured in the Binh Duong factory are for the local market, therefore the negative impacts of the pandemic are particularly being felt in local sales numbers due to lack of access to the hospitals and patients as well as disruption in distribution, according to Magdalena Krakowiak, head of Public Affairs and CSR at Polish group Adamed Vietnam, which owns Davipharm.
But as the pandemic is considered as a force majeure and its unforeseeable circumstances prevent the company from fulfilling some contracts, compensation for breaching the terms of agreement do not apply. "It works the other way round too. If our suppliers or clients cancel the orders or experience a delay, we can't demand the indemnity either. Nevertheless, the consequences of all those cases are severe for the company's operations," Krakowiak said.
There is also a heavy impact from the backlog in supply chain issues. The active pharmaceutical ingredients' sources must be diversifying and purchasing departments are challenged by finding alternative sources providing more flexibility. However, the registration regulations are not ready for the pandemic circumstances, not allowing companies to smoothly switch sources.
On the other hand, Krakowiak noted that the company has not experienced the disruption in the import of Adamed's medicines yet. However, this is due to the higher stocks built up before the pandemic started resulting from legal issues, namely from backlogs in the extension of marketing authorisation for medicines.
Meanwhile, the Sapporo brewery in the southern province of Long An is implementing a similar stay-at-work solution under the direction of the local authorities. Katsuhiko Usui, general director of Sapporo Vietnam, told VIR, "We arrange for employees to stay at the brewery so that production can be maintained normally. Long An Brewery is an important base for Sapporo Group, not only serving the domestic market but also meeting the needs of exporting products to dozens of countries around the world. Therefore, ensuring the safety of the brewery is one of our top priorities."
From June, the Sapporo office in Ho Chi Minh City has arranged a work-from-home system for employees. In 2020 the company set up a system for internal working processes so that staff could operate remotely.
Binh Duong, Dong Nai, and Long An are the country's largest recipients of accumulated foreign direct investment but the former has recorded more than 100,000 COVID-19 cases, while the latter pair are also dealing with a spike in infections.
Data from the General Statistics Office reveals that the index of industrial production in these three provinces contracted by 12.6, 13.3, and 20.9 per cent on-year, respectively, in August. The figure for Ho Chi Minh City shrank 49.2 per cent on-year.
As manufacturing hubs become the largest pandemic hotspots, it has also dragged down manufacturing output. The Vietnam Manufacturing Purchasing Managers' Index (PMI) fell to 40.2 last month, down from 45.1 in July and signalling the worst deterioration in the health of the manufacturing sector since April 2020.
Andrew Harker, economics director at IHS Markit said, "Vietnamese manufacturers are facing a near-impossible task at present as the restrictions put in place to try and contain the spread of the COVID-19 outbreaks in the country constrain their ability to produce goods. Some are closed outright, with others operating at reduced capacity and with scaled-down staff members."
"Manufacturers using a stay-at-work model are still facing severe delays in receiving inputs, with reduced capacity at ports often causing delivery delays," Harker added. "As a result of all this, manufacturing output has declined and businesses also revised down their expectations as the prospect of an extended period of restrictions becomes more likely."
Krakowiak of Adamed Vietnam also said, "The management board of Adamed and Davipharm is carefully observing the situation in the country. We hope for the crisis to be over soon and the business and lives to be back to normal but it is contingent on adequate delivery of vaccines."
Along with vaccine donations from Poland, in the coming weeks more than eight tonnes of medical equipment and personal protective equipment will be shipped from this country to Vietnam.
"If Vietnam can deliver two jabs to most of its population by April 2022, we would be reassured that business operations can continue. Regardless, Adamed plans investment in Vietnam as a long-term initiative," Krakowiak said.
Indonesian startups penetrate blossoming Vietnam
Similar market conditions and lively startup communities in Vietnam and Indonesia have led to stronger cross-border partnerships.
Indonesia's buy now, pay later (BNPL) startup Kredivo last week announced its foray into Vietnam by forming a partnership with Vietnam-based family investment office Phoenix Holdings. The Vietnamese entity, Kredivo Vietnam JSC, will leverage Kredivo's extensive BNPL expertise as well as Phoenix Holdings' broad local network and know-how.
Kredivo CEO Valery Crottaz said, "The launch of Kredivo in Vietnam, our first market outside of Indonesia, is another key achievement and milestone for the business this year. Vietnam came as a logical choice given the low penetration of credit cards in the country and a rapidly growing middle class; the fast-growing e-commerce market; and the similarities in demographic and consumption patterns to Indonesia.''
Trung Anh Nguyen, CEO of Phoenix Holdings said, "The partnership with Kredivo came very naturally and made a lot of sense for both parties. Phoenix Holdings has a deep understanding and network across Vietnam while Kredivo is the leading BNPL platform in Indonesia, and poised to become the leading BNPL platform in Vietnam and the region, with a clear vision to provide access to fast and affordable credit to 10 million individuals across the region by 2025."
Likewise, East Ventures, Gojek's venture capital arm, also participated in the $2.7 million funding round of Vietnamese digital media startup Vietcetera at the end of August. Melisa Irene, partner at East Ventures, told VIR, "This is our fourth investment in Vietnam, after CirCo in 2018, Sendo in 2019, and Kim An in 2020. While our fund's majority investment is in Indonesia, we also look at opportunities in other countries in Southeast Asia."
"In Vietnam, we are looking for categories that we understand well in Indonesia, like coworking spaces, lending, commerce, and media," Irene added.
She emphasised that Vietnam has the second-largest population after Indonesia in ASEAN, with a fast-growing sizeable digital economy, making it an attractive destination for regional expansion. Moreover, Vietnam is globally recognised for strong technical human resources.
Indeed, Kredivo and East Ventures are only following a long line of Indonesian startups that have ventured into Vietnam in the recent years. Gojek, Indonesia's very first unicorn, is already a familiar brand all across Vietnam. On August 19, it introduced GoCar – its four-wheel ride-hailing service – in Ho Chi Minh City. The service is available exclusively to frontline healthcare workers for now, and will be expanded to serve the general public later this year. Gojek also plans to roll out cashless payment services before the year is over.
Another Indonesian unicorn, J&T Express, also ramped up its presence in Vietnam to serve the huge e-commerce delivery demand. The Jakarta-based company currently boasts more than 1,900 post offices and employs around 25,000 employees nationwide.
Commenting on the expansion of Indonesian startups in Vietnam, Nguyen from Phoenix Holdings said that Vietnam has become one of the most promising markets in Southeast Asia given its striving economy, young and urban middle class, and rapid digitalisation.
Thanks to significant local and foreign investments, with a particular focus on financial services, a number of homegrown fintech companies have achieved strong growth. In addition, Nguyen said that Vietnam's pro-business and stable political environment combined with its robust legal framework have also been fostering investment partnerships to the benefit of Vietnamese consumers, the financial industry, and the country's long-term development.
Indeed, the similarities between Vietnam and Indonesia allow startups to find success and scale up in both markets. Irene from East Ventures noted that both regions have huge young population and similar internet penetration rates (70.3 per cent in Vietnam and 73.7 per cent in Indonesia as of January 2021).
She noted that the two populations of the countries also have similar age structures with young people accounting for more than half, with about 55 per cent in Vietnam and 70 per cent in Indonesia.
"Digital adoption in the early days centres upon big cities with close to 10 million in population: in Jakarta then Jabodetabek (greater Jakarta area) in Indonesia and Ho Chi Minh City and Hanoi in Vietnam. It helps us to roughly predict the directions. We think Vietnam's digital economy might be 3-4 years behind Indonesia but the gap might be closed relatively fast," she noted.
Lam Dong approves two high-tech pig farming projects
The Central Highlands province of Lam Dong has agreed in principle to the implementation of two high-tech pig farming projects with total investment capital of VND450 billion (US$19.7 million).
The first project, with investment from Vi Na Farm Livestock JSC based in Dong Nai Province, will be conducted in Loc Ngai Commune, Bao Lam District, Lam Dong Province, on an area of over 42ha.
The project aims to build a modern and environmentally friendly pig farm with a scale of 4,300 breeding sows and 10,000 gilts per year.
The VND350 billion project is expected to provide the market with 93,600 high-quality breeding pigs and 10,000 meat pigs per year.
Lam Dong Province also approved another high-tech pig farming project with investment from Me Non Production Trading Company. The project will be built in My Duc Commune, Da The District, on an area of 20.5ha.
The VND100 billion project will build a farm with 1,200 sows and provide about 32,000 piglets per year.
Since the African swine fever epidemic ended in August 2020, Lam Dong Province has been carrying out a plan to restore pig herds throughout the province to stabilise production and supply to the market.
The whole province currently has about 46,000 breeding sows and about 400,000 meat pigs with nearly 100,000 tonnes of live meat.
Source: VNA/VNS/VOV/VIR/SGT/SGGP/Nhan Dan/Hanoitimes  

Post-pandemic cooperation prospect of Vietnam, Hong Kong