Input cost inflation is the main concern for the second half of 2021.
While the expansion of the consumer price index (CPI), seen as a gauge for inflation, remained under control, growing prices of input materials and heating up economic activities are factors that could increase inflationary pressure on the remaining months of the year.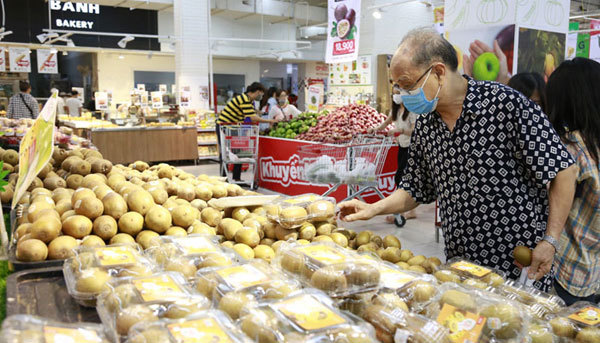 Customer at a supermarket in Hanoi.
In April, Vietnam's CPI declined by 0.04% against last month but rose by 1.27% compared to late 2020. This put the average CPI growth in the first four months by 0.89%, the lowest growth rate since 2016, while core inflation in the January – April period increased by 0.74%.
Economist Nguyen Tri Long noted the CPI growth since early 2021 came as a result of ongoing government's management policy.
"Vietnam's inflation target of 4% remains intact," Long said, however, saying surging input materials prices for production and business activities could spur prices of goods and services in the coming time.
Meanwhile, the country's GDP growth in the first quarter remained lower-than-expected at 4.48%, for which Long said the government may turn to further easing monetary and fiscal policies to boost growth in the remaining quarters.
"Policy makers should take this into consideration and find a balance in efforts to realize different economic targets," stated Long.
Viet Dragon Securities Company (VDSC) also pointed out a surge in demand and global supply chain disruption as factors leading to sharp rising of global input costs over the past few months.
"Input cost inflation will be the main concern for the second half of 2021," it noted.
According to IHS Markit, supply constraints led to a sharp increase in input costs for Vietnamese producers during the first four months of this year. The latest data showed that input costs rose at the fastest rate in just over three years and manufacturers have already passed on higher input costs to their customers. Looking into the sector data in detail, record cost increases were seen in many industries such as animal feed, steel, paper products, and chemicals.
Taking animal feed production chain as an example, costs for corn fed to livestock increased by 46% year-to-date, and soybean prices were up more than 18% versus the beginning of 2021.
"If production costs continue to rise, burden will be passed to consumers while simultaneously contributing to the increase of CPI in 2021," stated the VDSC's report. 
Regarding the steel industry, prices have been boosted by iron ore shortage and China output cuts. Although a surge in steel prices helped local steel producers record good performance in the first quarter of this year, soaring prices are negatively affecting the construction and housing sectors. 
Cautious easing monetary policy required
Director of the Price Management Department under the Ministry of Finance Nguyen Anh Tuan said price management continue to be a difficult matter given high uncertainties surrounding input materials costs, including petroleum or steel.
"A number of public goods and services, including healthcare and education, is on track for a rise as planned, which are also putting pressure on economic management efforts, not to mention serious Covid-19 pandemic situation and its impacts on the economy," said Tuan.
"Inflation control should be a priority for the time being, at the same time, the government would continue to provide supporting policies for businesses and people affected by the pandemic," he added.
"Strong economic performance on the back of solid macro-economic base with inflation under control would further stabilize the economy," Tuan asserted.
On this issue, economist Long noted to ensure the realization of both inflation and growth targets, he expected the government to adopt a more cautious approach by easing monetary and fiscal policies.
Hanoitimes

Vietnam's consumer price index (CPI) is set to average 2.89% in 2021, below the government's target of 4%.