Vietnam is Asia's bright spot amid trade tensions, said the latest report on Viet Nam's economy by the United Overseas Bank Limited (UOB), which forecast the country's economy will expand 6.7 per cent in 2019.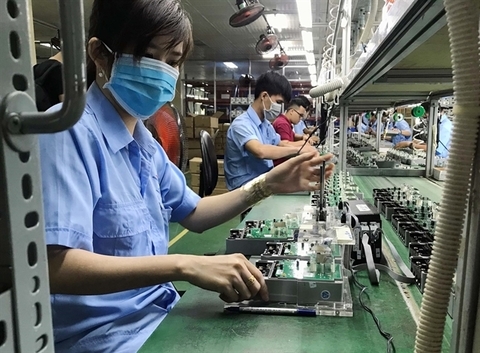 An electronic equipment production line at VINASINO Electrical Equipment JSC. UOB expects Viet Nam's economy to expand 6.7 per cent in 2019.
Robust domestic demand and increasing foreign direct investment (FDI) are expected to continue fuelling Viet Nam's economic growth this year, the report, released on Tuesday, said.
The country's economy expanded 7.1 per cent in 2018, the fasted growth in 11 years. All major sectors recorded growth, including manufacturing, construction, and wholesale and retail which rose 13 per cent, 9.2 per cent and 8.5 per cent, respectively.
In the first half of this year, the economy grew 6.8 per cent, driven by significant growth of exports and industrial production which was buoyed by increasing foreign investment in labour-intensive, export-oriented manufacturing and processing industries.
"We are projecting Viet Nam's gross domestic product (GDP) growth at 6.7 per cent and inflation of around 3.4 per cent for 2019. This will rank Viet Nam as one of the fastest growing economies in the world," the report said.
The US-China trade tension which shows little signs of abating has been affecting global supply chains. The threat of high tariffs on Chinese imports has forced manufacturers to consider shifting their production to alternative locations in order to mitigate the impact from the trade tariffs.
According to the report, ASEAN countries, particularly Viet Nam and Malaysia, will be the most favoured destination of investment relocation of multinational enterprises (MNEs).
Data showed that FDI inflows in Viet Nam surged since the onset of US-China trade tensions in the third quarter of 2018. Ending 2018, FDI into Viet Nam increased 9.1 per cent year-on-year, reaching a record high of US$19 billion.
The number could exceed $20 billion this year with more new projects launched, the report forecast, showing in the first seven months, the number of new FDI projects in Viet Nam increased 25 per cent over the same period of last year to 2,064 projects.
Strategic location, competitive wages, young population and excellent network of trade agreements are strengths of Viet Nam as an export production base which make it attractive for production relocation of foreign enterprises.
In terms of monetary policy, the report expected the State Bank of Viet Nam to maintain its stable policy with the refinancing rate of 6.25 per cent throughout the year.
"The preservation of policy is significant given external uncertainties, especially the ongoing US-China trade dispute," it said, adding that strong economic growth also eased pressure on the central bank to introduce more stimuli to achieve growth target.
It forecast the USD/VND exchange rate will be higher at VND23,400 in the third quarter and VND23,600 in the last quarter this year.
However, in the mid- to long-term, the Fourth Industrial Revolution (Industry 4.0) may undermine Viet Nam's current advantages such as low labour and land costs as it will face challenges from other cheaper locations and advancing technologies.
Viet Nam's leaders are keenly aware of the challenges and benefits of Industry 4.0, and are taking steps towards its implementation.
Economic reforms along with Industry 4.0 could potentially increase the size of Viet Nam's economy by between $28.5 billion and $62.1 billion, equivalent to economic growth rate of 7-16 per cent annually, by 2030. VNS