Vietnam's home appliances are seen by consumers as good as foreign made products, but they still cannot catch the eyes of Vietnamese consumers.
Vuong Quang Minh in district 3, HCMC, said he bought an LCD TV made by VTB nearly 10 years ago and the TV has been running well with no problems.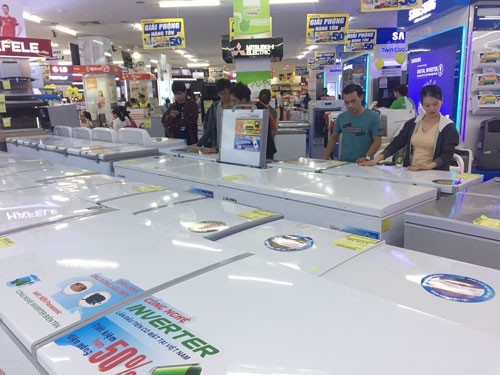 Truong Gia Quyen in district 2, HCMC said no problem has occurred with his Reetech air conditioner over the last 12 years.
However, not many people share Minh's and Quyen's view. They believe that Vietnam's products mean low-quality.
Though Asanzo, VTB, UBC, Shark and Darling TVs, Hoa Phat, Reetech, Aqua, Kangaroo and Alaska water purifier are equipped with advanced technologies, they have selling prices much lower than imported products of the same kind.
Despite the low selling prices, the sales of 100 percent Vietnamese made products remain very modest. Nguoi Lao Dong cited a report as showing that Vietnam-made TVs just account for 5-7 percent of total TV sales, while refrigerators are 2 percent, and blenders 20 percent.
Only Vietnam's water purifiers account for 90-95 percent of market share, but this is because foreign manufacturers show little interest.
Only Vietnam's water purifiers account for 90-95 percent of market share, but this is because foreign manufacturers show little interest.
According to Vu Duong Ngoc Duy, CEO of VTB Electronics, Vietnam-made electronics cannot hold the upper hand over imports, even when the domestic industry was protected by import tariffs in the past.
The situation has become even more serious as CBU imports now bear a tariff of zero percent.
Meanwhile, domestic manufacturers have to pay tariffs of 3-5 percent for electronic components for domestic assembling.
Duy affirmed that the quality of Vietnam's electronicsis not lower than foreign-made ones because manufacturers, Vietnamese and foreign, use components from the same suppliers. Vietnam's products prove to be more competitive with lower prices and better post-sale services.
He said VTB also uses advanced technologies to create added value for users. However, all of its efforts still have not lured customers.
According to Nguyen Y Nhi, marketing director of Asanzo Electronics, in 2018, the manufacturer sold 4 million products, including 815,000 TVs, joining the top 3 manufacturers in the home electronics market and holding 18 percent of market share.
However, about 70 percent of Asanzo's sales are from the rural market. An analyst commented that in large cities like Hanoi and HCMC, Vietnamese branded TVs cannot find their foothold, because urbanites, with better incomes, don't want cheap TVs, but need high-quality ones.
However, the domestic market is still attractive. Sources said a big Vietnamese corporation is planning to launch home appliance products in Q4. It plans to introduce TVs to the market first, before launching other products, including refrigerators and washing machines.
Kim Chi

Samsung has affirmed that it will continue us to choose Vietnam as its biggest production base, from which Samsung's mobile phones will go to the world market.

Vietnam is poised to become a leading electronics powerhouse in the Association of Southeast Asian Nations, or ASEAN, in the coming years if it sustains its current pace of growth, according to a report from Singapore's DBS Bank.