As Vietnam is estimated to need an average of US$210 billion for infrastructure per year through 2030 to meet its development targets, an ADB expert suggested the country should adopt new approaches to get the huge capital.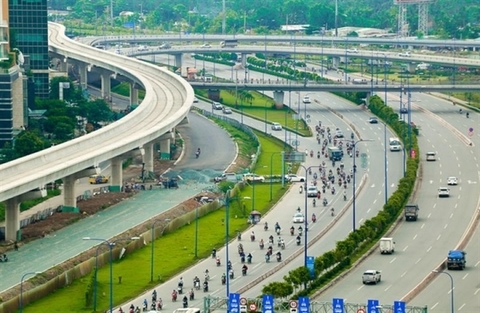 Viet Nam will need to invest US$110 billion between 2021 and 2025 for infrastructure. — Photo cafef.vn
Donald Lambert, Principal Private Sector Development Specialist from ADB's Southeast Asia Department, said the Global Infrastructure Hub also estimated that the country needs to invest $110 billion between 2021 and 2025 for infrastructure and to meet the Sustainable Development Goals. Based on historical trends, this will leave a projected $22 billion funding shortfall for Viet Nam.
According to Lambert, $22 billion over five years is a big number, but it's not insurmountable. In fact, Viet Nam is in a better position than many. Whereas the Philippines, India, and other Asian countries have privately funded a large portion of their infrastructure, the private sector has historically only funded 10 per cent of Viet Nam's. That means there is a lot of scope for Viet Nam – particularly given its compelling growth story – to attract more infrastructure investment.
To make this happen, the ADB expert recommended that Viet Nam should pursue three complementary strategies.
"The first strategy is more catalytic use of development assistance," Lambert said, noting this required a different mindset.
He explained that Viet Nam is no longer a low-income country, but it is also not ready to fund itself exclusively through private investment and domestic capital markets. A transition period is needed where Viet Nam uses donors' assistance to catalyse private investment that would not come otherwise.
"This transition period will, however, require new tools. This includes issuing counter-guarantees to ADB and other development partners so they can use their strong international credit ratings to de-risk projects."
Viet Nam should also prioritise development assistance to strengthen the financial sector, providing stand-by facilities or other enhancements to make it easier for State-owned enterprises tasked with key projects to access affordable financing, and allowing development partners to issue dong-linked bonds to lower the cost of capital for Vietnamese borrowers.
Using development assistance to attract private investment closely ties to the second priority: passing a strong law on public-private partnerships (PPP).
"The law needs to better mitigate the risk that the demand for an infrastructure project falls short of projections," Lambert said, adding that Viet Nam already does this with feed-in-tariffs for power generation projects. The PPP law should afford similar protection to other sectors, particularly transport. This can be achieved through minimum revenue guarantees or ensuring that availability payments extend automatically beyond the current ceiling of five years.
Lambert said the final strategic priority is better mobilisation of domestic capital markets. The passage of the new Securities Law in November 2019 was a good step as are recent regulatory changes that encourage companies to turn to the bond market instead of banks to fund long-term obligations. — VNS

The Asian Development Bank (ADB) has approved $2 million in new funding to support efforts to combat the spread of the novel coronavirus (nCoV).

The project will serve the energy demand of residents and businesses of Ho Chi Minh City and its surrounding areas.