Minister of Information and Communications Nguyen Manh Hung has stressed that Vietnam strongly supports the development of technologies and business models such as fintech and ride sharing app.
Besides, in 2019, the government allows, on a trial basis, the payment with mobile phones.
Payment with smartphones (mobile money) might be in conflict with the banking system and few countries in the world are willing to apply.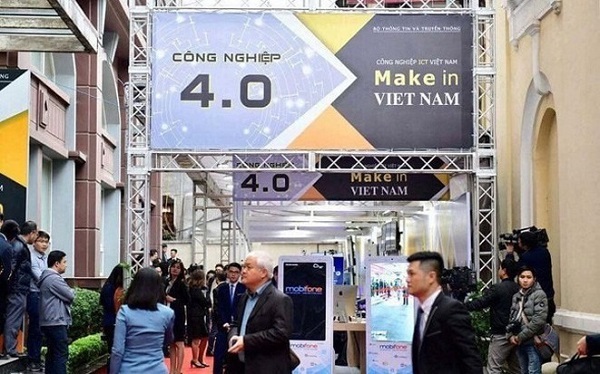 Overview of the forum. Photo by Cafef
"The Vietnamese government is ready to experience new things such as fintech, high-tech taxis and even looking forward to the Sandbox framework. Thus, Vietnam is not conservative. Adopting new things is a fierce fight that not everyone is willing to take," Hung said at the national tech forum with the slogan "Make in Vietnam" held in Hanoi earlier this week.
From the view of a regulator, the minister said that the adoption of new technologies needs open-minded management, "Such is our mindset for development. Obsolete legal framework is not appropriate to regulate innovative things. However, the majority of people think the opposite and their mindset has to be changed," he said.
However, the minister acknowledged that most of the time, new things have to struggle to superimpose the old-fashioned ones.
He cited the typical competition between ride sharing service and traditional taxis.
The rapid development of ride-hailing firms namely Uber and Grab, which own no vehicles or drivers but have threatened the long- lasting business of a number of domestic transportation enterprises and are posing headache for regulators.
The yet to end issue has been put on the table with the question how to address the new business models in terms of policies.
According to Minister Hung, the policy discussion about Grab is not over yet, but there have been great strides on both sides, the government and the enterprises, in the understanding of the issue. Hanoitimes
Ha An