While Vietnam's economic growth is expected to ease to 6.7% in 2019, it is set to outperform the rest of Southeast Asia and remain the fastest growing economy in the region.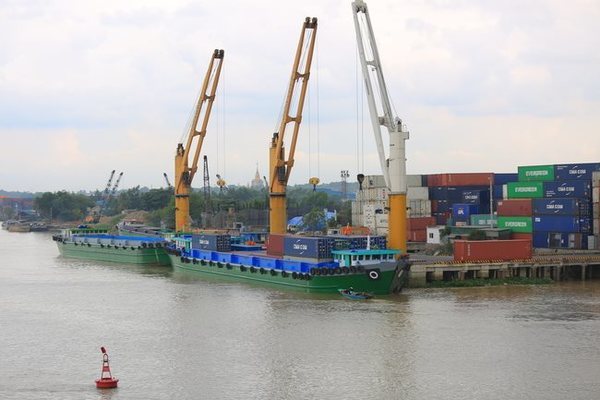 Container barges dock at a port in the southern province of Dong Nai. Vietnam is expected to outperform other Southeast Asian economies
According to the Institute of Chartered Accountants in England and Wales (ICAEW)'s latest Economic Update: Southeast Asia report, released last week, Vietnam will benefit from positive trade diversion effects as well as healthy domestic demand and solid foreign direct investment (FDI) inflows.
As the U.S.-China trade dispute and weakened Chinese domestic demand weigh on exports and growth across the region, Vietnam appears to be faring well, according to the institute.
It pointed out that a 33% year-on-year increase in exports to the world's largest economy in the first half of this year helped to offset slower trade with China and other countries in the region.
Supported by solid exports and industrial production in export-oriented manufacturing and processing industries, the Vietnamese economy rose to 6.7% in the second quarter of 2019, which is slightly lower than the 6.8% growth recorded in the first quarter of the same year.
Meanwhile, domestic demand is expected to remain healthy this year and next. Household spending is expected to remain solid amid stable inflation and rising incomes, while sustained tourism should support the service sector.
In addition, medium-term prospects for FDI remain bright, with solid FDI inflows expected to continue supporting investment. As a result, the State Bank of Vietnam is predicted to keep its refinancing rate unchanged at 6.25% over the next year.
Modest deceleration expected amid increased trade protectionism
Although Vietnam's economy is expected to further benefit from positive trade diversion effects, trade momentum will continue to trend lower given the weaker Chinese import demand and generally increased trade protectionism, the institute said.
Potential tariffs from the United States also present a key risk to Vietnam's growth. On top of the higher duties on several steel and aluminium products already in place, three product groups – computers and their parts, textiles and fisheries – are at risk of facing higher tariffs, covering some US$18.4 billion, or nearly 39% of Vietnam's exports to the United States in 2018.
"It is estimated that if the Trump administration were to raise tariffs by 10% on US$18.4 billion of Vietnam exports to the United States, Vietnam's GDP growth would slow to roughly 5.9% per year in 2020-2021," according to the institute.
Mark Billington, ICAEW regional director, Greater China and South-East Asia, said, "We expect the challenging external conditions to continue weighing heavily on the overall growth across Southeast Asian economies as well as on regional trade flows. Looking ahead, Vietnam's growth will moderate to 6.3% in 2020 and then to some 6% per year in 2020-2021." SGT
Thanh Thom

Industrial production expanded 9.6% in January-September period this year, according to the General Statistics Office.

Experts all agree that the development of the aviation industry with more airports and air routes put has helped change the central region.