In the past eight months, imports of China's agricultural, forestry and fishery products to Vietnam increased by 50.3% over the same period last year.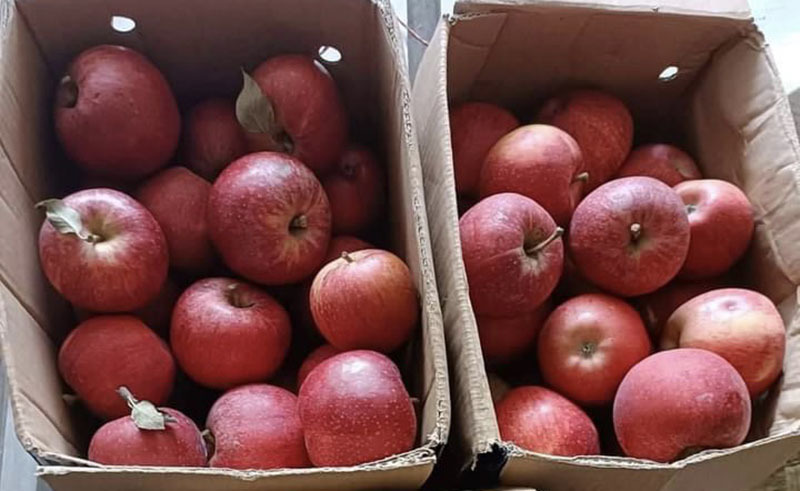 Chinese apples are offered for super cheap prices on online markets. (photo: TL)
According to the Ministry of Agriculture and Rural Development's recent report, in the January-August period of 2021, Vietnam's import turnover of agricultural, forestry and fishery products is estimated at 28. 8 billion USD, an increase of over 44% year on year. The import value of main agricultural products reached 17.8 billion USD, up 57.7% year on year.
Notably, Cambodia became the largest agricultural product exporter to Vietnam during this time, with a turnover of $2.9 billion, accounting for 10% of market share. Cambodia's cashew products accounted for 72.2% of its total export value to Vietnam. The US ranked second, with an export turnover of $2.7 billion, accounting for 9.3% of market share.
China was the third largest export market of agricultural products to Vietnam in this period, accounting for 7.3% of the total value of Vietnam's agricultural imports.
According to the Vietnam General Department of Customs, Vietnam's imports of Chinese agricultural, forestry and fishery products reached US$2.1 billion, up 50.3% over the same period of 2020. Eight out of nine commodity groups witnessed a sharp increase in import turnover.

Specifically, vegetables and fruits imported from China reached 236 million USD, up 34.4%; seafood nearly 103 million USD, up 39%; rubber 131 million USD, up nearly 190%; wood and wood products 681 million USD, up 71.4%; pesticides and raw materials 233 million USD, up 21.5%; fertilizers of all kinds 340 million USD, up 52%; animal feed and raw materials 133 million USD, up 23.4%.
Chinese vegetables and fruits are being sold widely in the local market, especially online markets, including apples, grapes, pomegranates, and melons at very cheap prices.
T. An

The Vietnamese Ministry of Finance believes that it is necessary to have regulations to control exports and imports transacted through e-commerce platforms.