The Vietnamese manufacturing sector ended the year 2020 in growth territory as business conditions improved following disruptions caused by a succession of storms in November, with output, new orders and employment all increasing in December,
according to a report released by IHS Markit on January 4, 2021.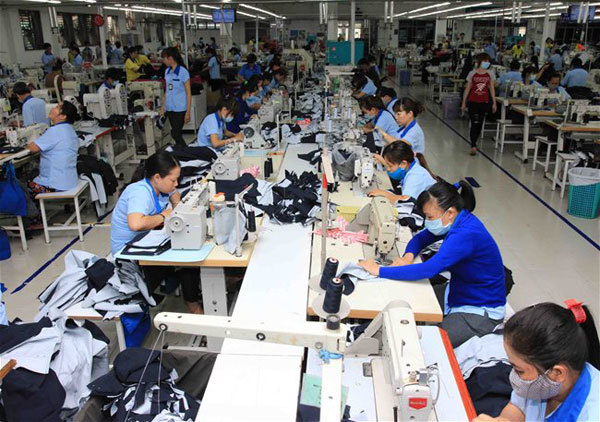 Employees work at a clothing company in HCM City. Vietnam's manufacturing sector ended 2020 in growth territory. – Photo: Thanh Hoa
The Vietnam Manufacturing Purchasing Managers' Index (PMI) rose to 51.7 in December, up from 49.9 in November and returning to a level broadly in line with that seen in October. This figure signaled a modest improvement in business conditions, the third in the past four months.
Data showed a return to growth for manufacturing output as production recovered from the storm-related disruptions in the previous month. New growth in orders was central to the expansion in production.
New business increased for the fourth consecutive month and at a solid pace that was faster than that seen in November. Improving customer demand was reported by respondents. Demand also strengthened in international markets, leading to an increase in new export orders for the first time in three months.
Higher new orders resulted in increased production requirements, thus encouraging firms to expand their staffing levels. December saw employment rise modestly for the second time in three months.
Rising production and expanding workforce numbers meant that firms were able to reduce backlogs of work, and to the greatest extent since August.
In line with the output and employment situation, purchasing activity returned to growth in December. However, the survey pointed out difficulties in securing inputs and rising costs.
Supply shortages and disruptions caused by the Covid-19 pandemic prolonged the delivery times of suppliers. The challenges in securing raw materials also contributed to a sharp increase in input prices.
Output prices also rose at a faster pace in December, although the rate was still much weaker than that seen for input costs. The increase in charges was the steepest since July 2018.
Manufacturers remained confident that output would increase in 2021, with respondents expecting less disruption from the pandemic. Reports suggested that this would be especially true for export demand, which was severely impacted in 2020.
"PMI data showed that the Vietnamese manufacturing sector ended 2020 on a positive note, as the temporary disruption from the storm in November gave way to growth in output, new orders and employment in December. The average PMI reading over the fourth quarter was the highest of the year, suggesting building momentum heading into 2021," said Andrew Harker, economics director at IHS Markit.  SGT
If you want to get over the rapids, you must first get off the boat. Will the next decade reach the goal of industrialization without success?

The Ministry of Planning and Investment (MPI) is compiling a plan to develop the automobile industry in the post-Covid-19 period with many new solutions.