An investment promotion conference was held in Tokyo on July 1 where Prime Minister Nguyen Xuan Phuc said Vietnam will be the "promised land" for Japanese investors.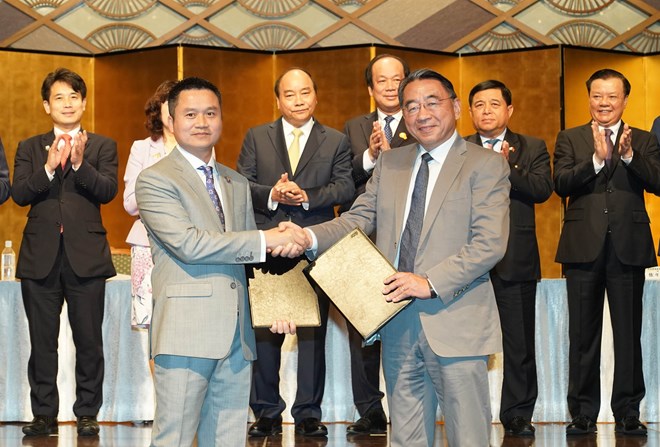 Prime Minister Nguyen Xuan Phuc (third, left, behind row) and other officials witness the exchange of cooperation documents between Vietnamese and Japanese businesses at theinvestment promotion conference in Tokyo on July 1 


The event, part of PM Phuc's visit to Japan, wasattended by representatives of about 1,200 businesses from both countries.

In his speech, the Vietnamese government leadersaid Vietnam has stable politics and society, trade advantages, and an importantgeo-political and economic position in the region and the world.

With an economic growth rate of 7.08 percent in2018, Vietnam was one of the fastest growing countries in the world. Withexport revenue approximating 500 billion USD, it was also among the 25 largesttrading economies, he noted, adding that Vietnam attracted more than 35 billionUSD of foreign investment in 2018.

The PM also highlighted the signing of the freetrade agreement and the investment protection agreement between Vietnam and theEU on June 30.

He added Vietnam is striving to makebreakthroughs in institutional reforms, governance capacity improvement,environmental standard upgrade, human resources training, along withinfrastructure and logistics development, so as to promote its competitivenessand create the best possible environment for investors.

PM Phuc suggested Japanese firms invest incertain fields in Vietnam, including processing; manufacturing; clean andhi-tech agriculture – which he described as an "export gold mine"; and energy,especially green and renewable energy, which is in great demand in the country.

Another potential field is tourism, he said,noting that Vietnam ranks sixth among the 10 tourist destinations with thefastest growth rates in the world as the number of foreign visitors to thecountry increases by 30 percent annually.

Tens of billions of USD has been invested inthis industry in the Southeast Asian nation, which is forecast to possiblybecome a "tourism giant" in the world. However, Japanese investors are somewhatlagging behind in the development of resort and tourism areas here, he said.

At the event, PM Phuc particularly askedJapanese investors to increase investing in infrastructure development,especially key facilities, in Vietnam. He also suggested them pay attention tothe Vietnamese retail market, which is valued at over 150 billion USD, with apopulation of nearly 100 million and a fast rising middle class.

The Government leader also described digitaltrade as a hugely potential area in Vietnam, whose internet economy is worth 9billion USD, expanded by 35 percent annually between 2015 and 2018, andaccounts for 4 percent of the GDP – the highest rate among ASEAN economies. Thevalue of the Vietnamese internet economy is predicted to hit 33 billion USD by2025.

He stressed that the Vietnamese Government andall-level administrations will always listen to Japanese investors' opinions soas to promptly address problems facing them and make the local investmentclimate more attractive to global investors, including those from Japan.

The Vietnamese Government considers Japanesebusinesses a leading partner in national development, PM Phuc added.

At the conference, PM Phuc and officials of thetwo countries witnessed the presentation of 32 investment certificates andmemoranda of understanding on cooperation between Vietnamese localities andbusinesses and Japanese investors. The documents, worth over 8 billion USD intotal, are in multiple spheres such as in real estate, infrastructure, retailservices, apparel, high technology, energy, aviation, transportation,logistics, labour export, education and health care.

Also on July 1, PM Phuc attended a ceremony inTokyo marking 25 years since the launch of the first Vietnam-Japan air route ofthe national flag carrier Vietnam Airlines.
Vietnam welcomes high-quality projects from Japan: PM
Vietnam encourages high-quality projects invested by Japanese corporations, Prime Minister Nguyen Xuan Phuc said, pledging to organise regular dialogues to tackle difficulties for Japanese investors.
He had a round-table talk with Japan's leading corporations in the fields of finance, energy, construction, manufacturing, logistics and high technology in Tokyo on July 1.
PM Phuc told participant about several free trade deals Vietnam has engaged in like the freshly signed EU-Vietnam Free Trade Agreement (EVFTA), saying Vietnam will strive to accelerate the signing of the Regional Comprehensive Economic Partnership (RCEP) in 2019.
So, investing in Vietnam would allow Japanese firms to expand their market not only in the ASEAN region but also in the EU, he said.
Japanese investors, comprising Toyota, Canon, TEPCON, Yusen Logistics, Sojitz, and JXTG, showed their interest in developing support industries for the automobile manufacturing in Vietnam, expecting to help boost local content in the field.
They spoke highly of Vietnamese Government's efforts to remove bottlenecks for the enterprises, suggesting more attention be paid to the training of design and maintenance engineers for FDI companies.
Besides, the Japanese sides said that Vietnamese Government should focus on developing infrastructure, particularly a comprehensive transport system which is well connected to ports in big cities.
In this regard, PM Phuc hoped Japanese companies will continue their official development assistance (ODA) in infrastructure development, a prioritised field of Vietnam.
According to Minister of Planning and Investment Nguyen Chi Dung, Vietnam has huge demand for infrastructure construction, a major breakthrough in the country's development strategy. Vietnam is mobilising capital for infrastructure development from state budget, public-private partnership, and ODA. Therefore, the country wants to have regular dialogues with foreign investors who are interested in the sector.
For his part, Minister of Labour, Invalids and Social Affairs Dao Ngoc Dung recommended Japanese firms join in vocational training in Vietnam so that they can recruit suitable employees for their business.
Earlier on the day, PM Phuc hosted a reception for President and CEO of MUFG Bank Kanetsugu Mike, during which he lauded the bank for its practical contributions to the sound relations between the two countries.
He asked MUFG to match prestigious enterprises with the Vietnamese market's needs, hoping to receive the bank's support to develop Vietinbank into an international-standard bank, to realize the country's strategy to branch out the banking system.
Kanetsugu Mike, for his part, stressed regular dialogues with businesses are important for Japanese firms, expressing his hope that MUFG will work to help Vietnamese authorities and Japanese investors get connected. VNA