The rising vehicle imports are posing huge competitive pressure on domestically-produced vehicles.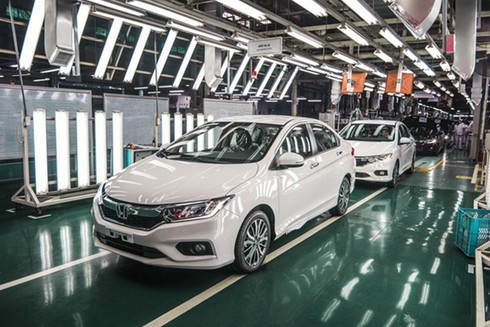 Vehicle sales in Vietnam this year are expected to increase over 21%.
Vietnam will lead Asia in vehicle sales this year as the region's sales are forecast to decline due to weakening outlook in its biggest auto markets, analysts forecast.
According to analysts from financial information services provider Fitch Group, total vehicle sales in Asia will decline 6.9% in 2019, which is largely the result of weakening sales in China and India – the region's two biggest markets.
 While India is part of a wider trend of weak sales in the subcontinent – and most markets in the region are forecast to decline by double digits, the US' decision to impose an additional 10% tariff on US$300 billion worth of Chinese imports, now delayed until October 1, will further weaken sentiment levels in China and weigh on demand for new vehicles, causing a potential decline of market's vehicle sales to a projected  9.2% in 2019.
 In this context, Fitch forecast that South East Asia will remain the bright spot and is the only market in the region forecast to grow in 2019, led by Vietnam.
 "The best performing markets in the region are in South East Asia, where we forecast vehicle sales in 2019 to increase 21.1% in Vietnam, 13.8% in Thailand and 10.2% in Singapore," Fitch analysts said, adding that Vietnam's 21.1% growth in total new vehicle sales this year will be led by 27.5% rise in passenger vehicle sales.
 The analysts also expected the region-leading growth in Vietnam to be linked to new regulation, as vehicle importers and distributors increasingly adjust to government regulations surrounding the quality, technical safety and emission standards for vehicles entering the country. This will lead to an uptick in the volume of cheaper vehicles from neighboring ASEAN countries entering the Vietnamese market.
 In fact, vehicles imported to Vietnam have been rising significantly so far this year. According to reports from the General Department of Vietnam Customs, the country imported 109,000 cars worth US$2.4 billion in the first nine months of this year, a year-on-year whopping surge of 167.8% and 157%, respectively. The cars mainly originated from ASEAN countries.
 Domestic makers face challenges
 The rising vehicle imports are posing huge competitive pressure on domestically-produced vehicles.
 Data from the Ministry of Industry and Trade showed that the current correlation between domestically-produced vehicles and imported vehicles had changed significantly. In 2018, the number of domestically-produced vehicles was 3.72 times higher than imported ones. In the first six months of this year, it was only 1.74 times.
 According to the ministry, it is necessary to issue solutions supporting and promoting the domestic automotive industry to compete with imported cars, especially those from ASEAN. It has so far proposed the government not apply special consumption tax for automobiles which are locally-produced, as part of efforts to reduce the price of cars.
The ministry also expected the government to adjust import tax on the principle that the import tax rate on components, spare parts and raw materials must be lower than the import tax rate on completely built-up cars, or at floor level according to international commitments in each period.
In addition, the tax rate will be reduced to 0% for parts of cars with 9 seats or fewer, such as engines and gearboxes, which are valid until 2025.
However, the ministry also noted that the domestic sector would not maintain its advantage in the market if it did not attempt to improve quality and lower production costs to increase competitiveness, especially against vehicles imported from ASEAN, which enjoy preferential import tariffs. Hanoitimes
Ngoc Thuy

Some experts and government units have voiced concern over the future growth prospects of the local automobile sector due to the upsurge in car imports from foreign markets in recent months.  

Experts think the plan to spend $4.3 billion to develop the automobile industry will be in vain.

The car sales in Vietnam are forecast to reach 500,000 units per year in 2020 and 1 million per year by 2030, with a turnover of US$12 billion each year.