Vietnam offers big incentives to foreign investors to attract investments, but the benefits from FDI have been modest, experts say.
Participants at a recent workshop on industry policies in the 4.0 era all agreed that contributions by FDI (foreign direct investment) to Vietnam's socio-economic development are still low.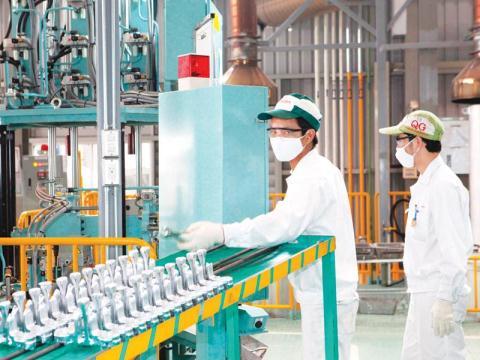 Hansjörg Herr from the Berlin School of Economics and Law commented that countries like Vietnam need foreign direct investment, and that FDI can create technology transfer, but it would be an illusion to think that FDI will help Vietnam catch up with other countries.

He said Samsung organizes production on a very large scale in Vietnam, but only focuses on simple production phases. The possibility of Vietnam undertaking higher-value phases is low. This suits the manufacturer's policy on optimizing profit.
Vietnam offers big incentives to foreign investors to attract investments, but the benefits from FDI have been modest, experts say.
 Vu Duc Quyet, former director of the Bac Ninh Industry and Trade Department, agreed with the German expert, saying that foreign invested enterprises bring entire production lines, from technology and machines to workers, and the products generated are foreign ones.

Regarding Samsung, he said the production phases in Vietnam are all simple. It is difficult to join Samsung's production lines, and it is even more difficult to squeeze into high-value production phases.

Thus, it is impractical to hope that Vietnamese enterprises can rely on foreign invested enterprises' support to accelerate industrialization and master high technologies.

Regarding improving corporate governance models and management, Quyet said this is impossible, because the managers are from South Korea.

The most outstanding contribution of the foreign invested economic sector, according to Quyet, is that it generates jobs for workers.

"If looking at their production process, one sees that everything, from input to output, from investment capital to materials, equipment and technology, from sales to exports, is under the control of Samsung," he said.

Meanwhile, foreign invested enterprises can create headaches to state management agencies with transfer pricing and tax evasion.

Quyet stressed that the contribution by FDI to Vietnam's economy is undeniable, but the value as well as the opportunities for Vietnam are not commensurate with what it has to pay.

An analyst warned that the reliance on foreign invested enterprises in the long term may cause unpredictable uncertainties. If the enterprises leave Vietnam, domestic production may suffer badly.

The analyst believes that the strategy on attracting FDI needs to be adjusted according to the industrial development strategy in different stages.
Kim Chi 

The bump in FDI during the first six months of the year is expected to continue as a number of factors take hold.

In the face of escalation of the US-China trade conflict, FDI to Vietnam will increase, with most of it coming from South Korea, China, Hong Kong and Taiwan.