Vietnam, with its highly open economy, is facing many risks from the US-China trade war which has not shown any sign of easing, experts said at a workshop in HCM City on June 25 on the impacts of the trade war.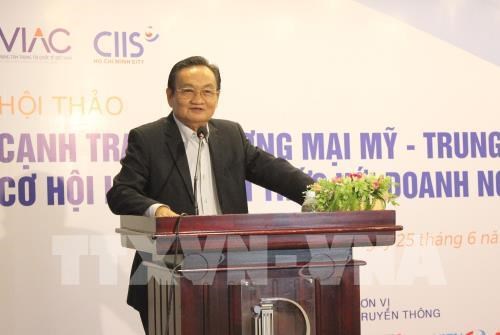 Vice Chairman of the Vietnam International Arbitration Centre (VIAC) Tran Du Lich speaks at the workshop 


Vice Chairman of the VietnamInternational Arbitration Centre (VIAC) Tran Du Lich said even though exportsof Vietnam and China to the US are similar, it does not mean that it will beeasy for Vietnamese goods to replace Chinese counterparts in the US market.
Heexplained that China has many large-scale firms which produce goods at bigvolume at competitive costs, and when countering difficulties in the US market,those firms will shift to other markets, including Vietnam. In such a situation,Vietnamese firms will face direct competition from Chinese counterparts, notonly in export market but also right in the home ground.

In addition, as many Vietnamesefirms import materials from China, there is real possibility that Chinese firmscan take their goods to Vietnam to fraudulently change the origin of the goodsfor export to the US. The economist stressed the need to warn Vietnamese firmsof this danger, which can cause serious damage to Vietnam's exports.

Dr Pham Sy Thanh, director ofthe Chinese economy research programme at the University of Economics andBusiness under the Vietnam National University – Hanoi, pointed to the negativeimpacts of the trade war on Vietnam. As China gives priority to consumingdomestic goods, Vietnam's exports to China have dropped in the first six monthsof this year.

Regarding investment, the surginginflow of investment in consumer goods production is creating great pressure ondomestic producers, as prices of industrial properties and labour costs will bepushed up and the competition for workers and materials will become fiercer.

In the first five months of thisyear, Chinese investment into Vietnam totaled 2 billion USD, 85 percent ofwhich went into processing and manufacturing. This means export goods ofVietnam may increase in the time ahead but the real benefit will not go todomestic firms.

Thanh also urged domesticmanagement agencies to keep strict supervision of Chinese-invested projects toprevent the use of outdated and polluting technologies.

According to Nguyen Thanh Hung, Chairmanof the Import-Export Association of Dong Nai province said more Chineseinvestors are coming to Vietnam to build factories or purchase Vietnamesecompanies to produce goods for export to the US. In such circumstances,Vietnamese companies have not been able to seize the few opportunities from thetrade war. Instead they are facing growing competition in the domestic market. -VNA

The US-China trade war and Chinese yuan devaluation have increased the risk of a widening trade gap, with more imports from China flowing to Vietnam.

Rising fears about the US-China trade war are forecast to continue to drag down market sentiment and dampen investor confidence.  

The Sino-American trade war is escalating in unpredictable ways. Contrary to some analyses, its impacts on Vietnam are arguably beneficial. A vulnerable economy such as Vietnam's is unlikely to benefit from this global war.