Vietnamese key leaders, one after another, have left their posts at Sabeco, the largest brewer in Vietnam. Meanwhile, Thai billionaire Charoen Sirivadhanabhakdi is making a rare deal in Southeast Asia.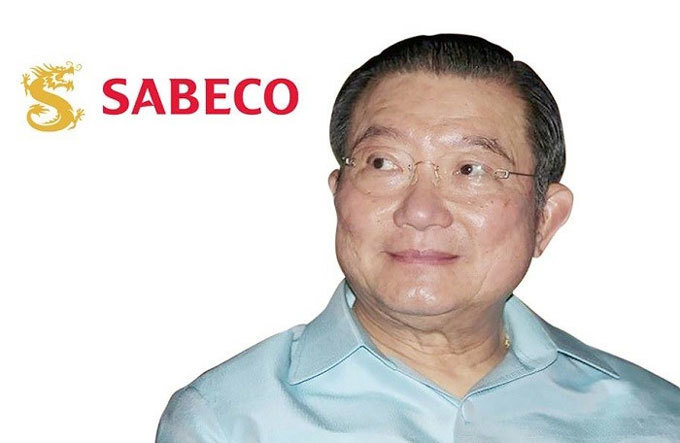 Thai billionaire Charoen Sirivadhanabhakdi
Sabeco's board of directors has released a decision on dismissing Hoang Dao Hiep from the post of deputy general director, according to the Ho Chi Minh City stock exchange.
As such, after three years of Sabeco falling into Thaibev's hands, the board of directors now has one Vietnamese – Lam Du An, who is now deputy general director.
Prior to that, in mid-2018, Thai billionaire Charoen Sirivadhanabhakdi officially completed the plan to replace Vietnamese officers at key posts at Sabeco after three months of reshuffling the brewer with the largest market share in Vietnam.
Two Chinese-Singaporean men have been put into the two highest positions at Sabeco. Neo Gim Siong Bennett assumed the post of CEO on August 1, 2018, replacing Vietnamese Nguyen Thanh Nam.
At the shareholders' meeting held on July 21, 2018, Koh Poh Tiong, of Singaporean citizenship, was appointed to the post of chair of Sabeco's board of directors.
Nguyen Thanh Nam was sent to Sabeco by the Ministry of Industry and Trade (MOIT) as the representative of the state's capital share at Sabeco. Nam then replaced Vu Quang Hai.
The other three members of the board of directors also have relations to the Thai billionaire, including Tran Kim Nga, Michael Chye Hin Fah (Singaporean nationality) and Pramoad Phornprapha (Thai nationality).
Under a decision by Sabeco's board of directors, Koh Poh Tiong is the first legal representative, while Neo Gim Siong Bennett is the second legal representative of the enterprise.
Neo Gim Siong Bennett, born in 1946, graduated from Nanyang University in Singapore. He has many years of experience in the beer, oil and gas, maritime industries and supply chains. He has worked in Asia, the US and UK.
After falling hands into the Thai billionaire, Sabeco has met with many difficulties and seen turnover decrease partially because of Decree 100 which imposes heavy fines on drunk drivers and the Covid-19 pandemic. However, it still can obtain high profits, trillions of dong, thanks to effective cost control.
In late 2017, Vietnam Beverage, a subsidiary of ThaiBev, spent $5 billion, to acquire 53.6 percent of Sabeco's shares from MOIT.
ThaiBev said in order to implement the deal, ThaiBev and BeerCo Ltd, a 100 percent ThaiBev owned subsidiary, got six loans, totaling $5 billion.
Sources said that ThaiBev has merged Sabeco and the beer production division in Thailand for an IPO that would have the value of $10 billion. The amount of Sabeco shares held by ThaiBev is worth $2.7 billion. 
V. Ha

Anheuser-Busch InBev and SAB Beer announced their merger in Viet Nam on January 12 following the approval of the Ministry of Industry and Trade.

The Ha Nhi, an ethnic minority group in Bat Xat, in the northern mountainous province of Lao Cai, has a traditional beer that has existed for hundreds of years, but few people have  had a chance to enjoy it.