Vietnam and Thailand are two major rice exporters to the Hong Kong market, but Vietnamese rice prices are 50% lower than those offered by its rival, leaving wide room for growth for Vietnamese rice exports to the former British territory.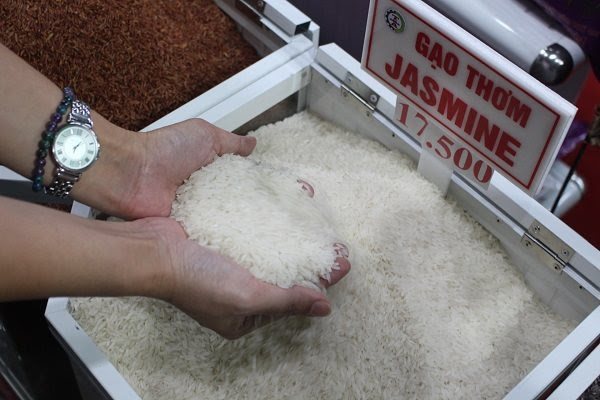 File photo of a person examining the high-quality Jasmine rice at a local firm. Vietnam has exported a large volume of fragrant rice to Hong Kong
Based on 40 years of experience in running a rice import business, Food Che Fuk James, managing director of Hong Kong-based firm Kwong Sun Hong, said at a business networking event in Can Tho City yesterday, gathering municipal agencies and a business delegation from Hong Kong, that Vietnamese rice is a better option than Thai rice based on price.
However, when it comes to quality, Thai rice outpaces Vietnamese rice as it remains perfectly soft, puffy and tasty for two hours after it is cooked. On the other hand, Vietnamese rice is popular at Hong Kong's fast food restaurants because of its reasonable price.
The Hong Kong market has set low quality standards for rice shipments to the territory. Rice exporters are also currently exempt from duties when shipping rice to the Asian financial hub, according to Lu Benjamin, director of Hong Kong-based Lui Hing Hop Company.
The Lui Hing Hop leader added that he has not heard of any Vietnamese rice shipments being rejected for export to Hong Kong to date.
Speaking at the meeting, Nguyen Trung Kien, vice chairman of the Vietnam Food Association, said that Vietnam had exported 90,000 tons of rice to Hong Kong as of September, chiefly fragrant rice. The rice export volume to the former British colony is expected to reach 90,000-120,000 tons next year, said Kien.
In the nine-month period, the Mekong Delta city of Can Tho exported US$6.6 million worth of rice to Hong Kong, much higher than the figure of US$1.8 million recorded for the whole of last year, said Nguyen Minh Toai, director of the municipal Department of Industry and Trade.
At the event, local participants introduced new types of fragrant Vietnamese rice to the Hong Kong side and pledged to control residue levels in rice shipments to the territory, said the food association representative. SGT
Trung Chanh
Experts believe Vietnam needs a long-term strategy to increase the quality of its rice exports to create sustainable growth in the future.  

Vietnam shipped abroad 586,000 tonnes of rice in September for $251 million, pushing the total rice export volume and value in the first nine months of this year to 5.2 million tonnes and $2.24 billion, respectively.