Escalating trade tensions and rising protectionism have caused a formidable pressure on Vietnamese steel sector, according to insiders.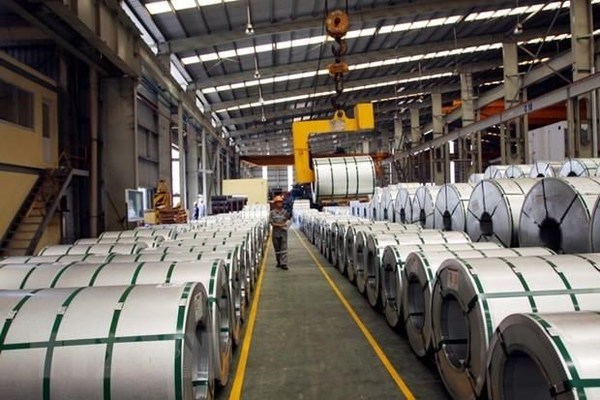 Escalating trade tensions and rising protectionism have caused a formidable pressure on Vietnamese steel sector
The Vietnam Steel Association (VSA) has said local steel producers faced difficulties in the first months of 2019 when prices averaged just 650 USD per tonne, a fall of 12 percent compared to the same time last year, driven by trade tensions.
Vietnam mainly shipped steel and iron to the markets of the Association of Southeast Asian Nation (ASEAN), the US and the European Union. Although exports to popular partners like Cambodia, Indonesia and Malaysia were kept steady, shipments to two other major outlets - the US and the EU - saw strong declines in both volume and value.
Some 285,000 tonnes of steel and iron were exported to the US during January-June, earning the country 223.2 million USD, representing a reduction of 35 percent in volume and 41 percent in value.
Exports to the EU, meanwhile, dropped 30 percent in volume and 41 percent in value to 204,000 tonnes and 137 million USD.
In the period, Vietnam splashed out some 4.97 billion USD on steel imports in the period, up 0.8 percent in value as compared to the same time last year. Of the total imports, steel and iron originating from China accounted for 42.4 percent, particularly low-quality products sold at low prices caused pressure on domestic ones.
VSA Vice President Trinh Khoi Nguyen said abundant steel supply and cheap steel and iron products originating from China have exerted intense pressure on local steel industry.
To this end, the VSA recommended the Government should not approve or grant license for new steel projects, especially products with abundant supply such as cold/hot rolled steel, structural steel and galvanised steel products. Meanwhile, local firms are suggested not to expand investment at this time.
In addition, competent authorities need to raise technical barriers for imported products while policies and measures should be put in place to prevent the shift to Vietnam, including from China, of the investment and production that has unsuitable technology, consumes much energy and cause environmental pollution.
"In the context of deep global integration, protectionism measures like anti-dumping lawsuit, subsidy lawsuit and tax evasion lawsuit should be applied in a timely way to protect domestic production. Besides, it is a must to abide by the World Trade Organisation's regulations," Nguyen highlighted.
Meanwhile, General Director of Thep Viet Steel Company Do Duy Thai said that as a country which is free for trade, the US still applies anti-dumping measures to safeguard its manufacturers, and the move has brought success to the nation.
"Therefore, protectionism measures are also important to Vietnam. Although they may leave negative impact on the country's economy, the more important question is that whether Vietnamese steel can meet quality requirements and have competitive prices or not," Thai added.

Vietnamese companies filed complaints against Chinese steel products, accusing them of being sold at prices below the fair market value in Vietnam with dumping margin at 21.3%.  

The anti-dumping duties imposed on stainless steel has not created a monopoly in the market, said the Ministry of Industry and Trade (MoIT).