Vinasun, the No 1 taxi company in the taxi market, is bogged down in difficulties amid the appearance of of ride-hailing firms and the Covid-19 pandemic.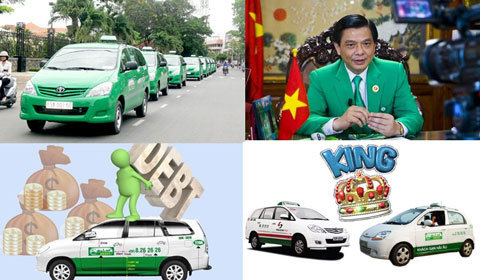 Taxi firms have to compete with ride hailing apps
Vinasun, a taxi firm of Dang Phuoc Thanh, a well known businessman, has released the Q4 2020 consolidated finance report which shows unprecedented bad results. The leading taxi firm took a loss for the fourth consecutive quarter and reported a loss for the first time in its history.
In 2020, Vinasun had revenue of over VND trillion, a decrease of 50 percent and incurred a loss of VND210 billion.
The company attributed the loss to the prolonged impact of the Covid-19 pandemic.
In previous years, Vinasun had to struggle to compete with ride hailing firms such as Uber and Grab, but it still could make a profit.
But Covid-19 has dealt another strong blow to Vinasun. The firm had to cut 1,400 jobs in 2020.
Vinasun's share price has been flat in the last year, though the stock index increased significantly. Vinasun shares were traded at around VND10,000 per share, equal to the face value and much lower than the VND30,000 per share in mid-2014.
Prior to that, a series of investment funds injected money into Vinasun as they believed that Grab and Uber could not dominate the Vietnamese market. After several years of investments, GIC and TAEL have incurred a loss of tens of percent.
At the time of the investments, Vinasun was a stock with potential. Vinasun, together with Mai Linh, was dominating the taxi market. However, the market changed rapidly when ride hailing firms appeared, offering cheaper services.
As a result, Vinasun for the first time saw profit decreasing in 2016. In the first half of 2017, the profit decrease was up to 33 percent. Its market share also fell.
While Vinasun and Mai Linh shares saw their share prices fall, some emerging brands continued to thrive. A number of shares saw record sharp price increases in 2020 such as HPG of Tran Dinh Long's Hoa Phat Group, REE of Nguyen Thi Mai Thanh's Refrigeration Engineering Enterprise, HSG of Le Phuoc Vu's Hoa Sen Group and VCB of Vietcombank.
Commenting about the cutting of more than 1,000 jobs at Vinasun, analysts said this was unavoidable in the context of the 4.0 industry revolution. The same will occur in many other industries, including textiles and garments. However, when some jobs disappear, new jobs will be created. 
V. Ha

The Vietnamese stock market saw an unprecedented plunge on January 19. But panic did not occur.
The stock market ended 2020 with diverse notes, from the selloff in Q1 which sent the VN-Index down to 660 points, the lowest in four years, to the recovery and strong rally, especially in Q4.